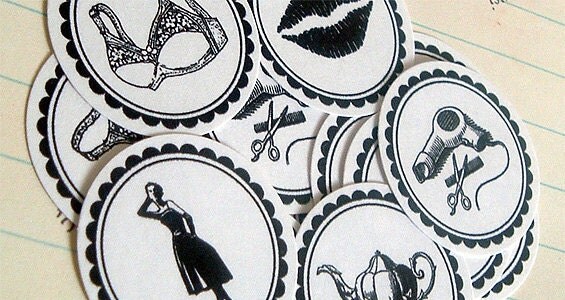 Labeling your listing with great keywords is the best way to get buyers to your item from search — both on Etsy, and from search engines like Google.
I created this list by analyzing our top search terms and categorizing the types of words and phrases buyers are searching for, so these can make great search terms! Also, make sure to read our step-by-step article about How to Get Found in Search.
Ok, let's begin! Ask yourself these questions about your item:
1. What is it?
Eg. necklace, jewelry, bowl, print
2. What is it specifically? What type?
Eg. hoop earrings, v-neck sweaters, long sleeved shirt, cocktail ring
3. Who is it for?
Eg. women, men, baby girl, children, girl, adult, pets, dog, teachers
4. What is the main material?
Add the major material to your tags, if it is something you think a buyer might search for to find your item. Add minor materials or component materials to the "materials" box. Eg. leather, organic cotton, canvas, felt, metal, 14K gold, sterling silver, glass
5. What is the main color?
Buyers are not likely to look for minor colors in your piece, so stick to the main color(s) or important color combos! Eg. ivory, red, carnation pink, navy blue, neutral, rainbow, black and white
6. What method or technique did you use to make it?
Eg. hammered (for metal jewelry), burned (for woodworking), handspun yarn, appliqued, embroidered
7. Where will the item be used?
Eg. kitchen, hair, office, beach, garden, car, nursery
8. What size is it?
Eg. plus size, 1X, medium, XS, oversized, extra long, chunky, 7mm, 18in, 8 x 10 (art), 7.5 (shoes)
9. What style is it?
Eg. goth, victorian, hippie, punk, tribal, impressionist, post-modern, feminine, sophisticated, southwestern, Japanese
10. What imagery or motifs are on the item?
Eg. owl, landscape, nature, plaid, geometric, floral, animal
11. Are there synonyms?
Eg. Infant for young babies, handbag for purses and clutches, kids for children, drink for tea, trousers for pants, travel mirror for compact mirror.
12. What is the scent or flavor?
Eg. chocolate, fruit, sweet, spicy (for bath and beauty and food items).
13. What era is it from?
Eg. 1940s, mod, Victorian (for vintage items)
14. What occasion is it for?
Eg. Christmas stocking, Valentine's Day card, baby shower invitation
15. What is your Shop Name?
Consider labeling a few items with the name of your shop to make sure it appears if someone searches for you without first selecting "Shops" from the drop-down menu. A few listings will do, since buyers can access your shop from one of your items.
Helpful Tips