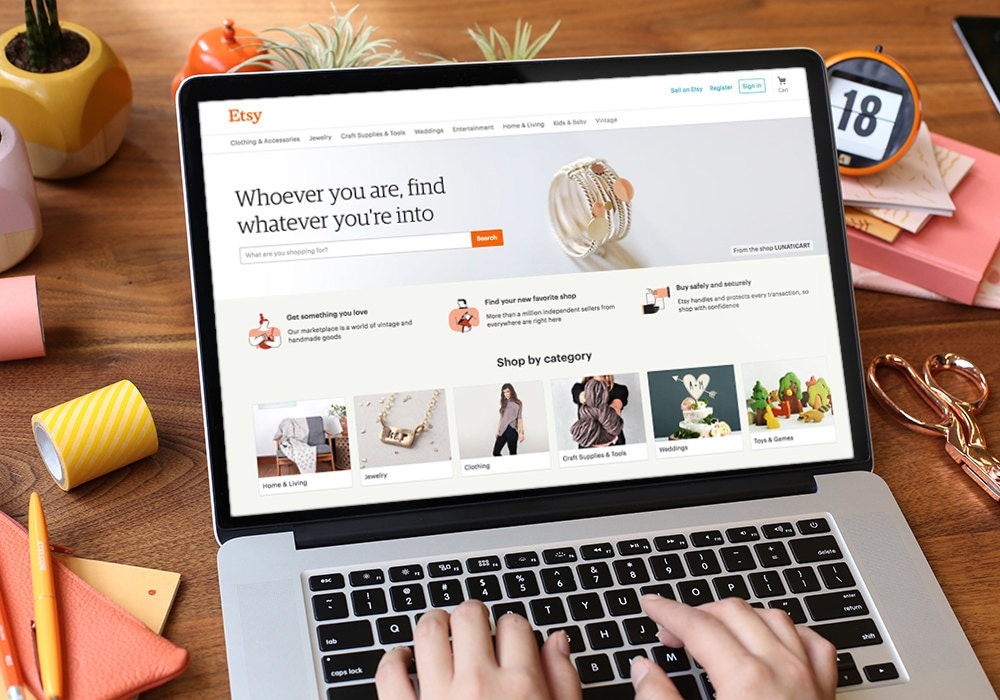 Getting you more sales is our top priority. It's the job you've hired us to do. And, to do it well, we need to create a great shopping experience that helps more people find what they're looking for and feel compelled to buy it. A great selling experience starts with a great buying experience.
To that end, we're excited to announce the following steps we're taking to improve the buying experience on Etsy.com, based on insights we've learned about the way people shop:
1. A new tool for running promotions
Promotions can grab the attention of shoppers and encourage them to make purchases. In the coming weeks, we'll launch a new tool that allows you to easily run sales and other promotions in your Etsy shop. We'll roll out new search filters and other tools that allow shoppers to easily find the items that you put on promotion. We'll also provide more information on pricing your items effectively to prepare for future promotions.
2. Building buyer trust
We know you work hard to build your shop's reputation, creating high quality products and fulfilling your orders in a way that delivers a great experience. We want you to get the credit you deserve. Soon, we'll begin testing new ways to highlight important details about your shop (like your star rating and reviews) on listing pages, in order to help shoppers make informed purchase decisions. We recently began running a test that shows this information to buyers who visit listings in a mobile browser and we're seeing positive results.
3. Additional product recommendations
Buyers tell us that they want more product recommendations to help them navigate the many great items sellers offer on Etsy. In 2013, we began showing recommended items from various shops on listing pages that shoppers come to from Google ads paid for by Etsy. We found that giving buyers more options by presenting them with recommendations resulted in a significant increase in overall purchases.
Based on that success, we'll begin a test that displays recommended items on some listing pages depending on the source of traffic. During the experiment, which begins later this week, your items may appear on listing pages in other shops, giving you more exposure on Etsy.com and more chances to be discovered by shoppers. We'll show you how much traffic you're getting from other shops in Shop Stats. Similar items from other shops may also appear on your listing pages during the experiment. If you prefer, you can create and share modified links to those pages that don't display recommended items from other shops. Find out how.
Learn more about our approach to testing new features and tools to support your business and create a great shopping experience.
4. Continued improvements to search
We're working to improve the search experience on Etsy.com so buyers can find what they're looking for. Earlier this year, we launched item attributes that allow you to add standardized, category-specific attributes to your product listings. Now, we're testing category search filters based on your item attributes, with the goal of connecting buyers with more tailored results. We'll continue to update you on our search experiments and let you know when any changes become permanent. Read more about search improvements we're working on.
5. Sharing buyer insights
With over 40 million items and tens of millions of shoppers, we have a treasure trove of data and insights on how people shop on Etsy.com. We want to use that knowledge to help you sell more. Starting next month, we will share regular reports with you about buyer insights and behaviors. We'll tell you what those insights mean for your business, how you can use them to sell more, and what we're doing on our end to create better tools and features for both sellers and buyers.
We know you put a lot of trust in us. We'll continue to do everything we can to make Etsy the best place to shop so that we can grow your sales and build your business together.