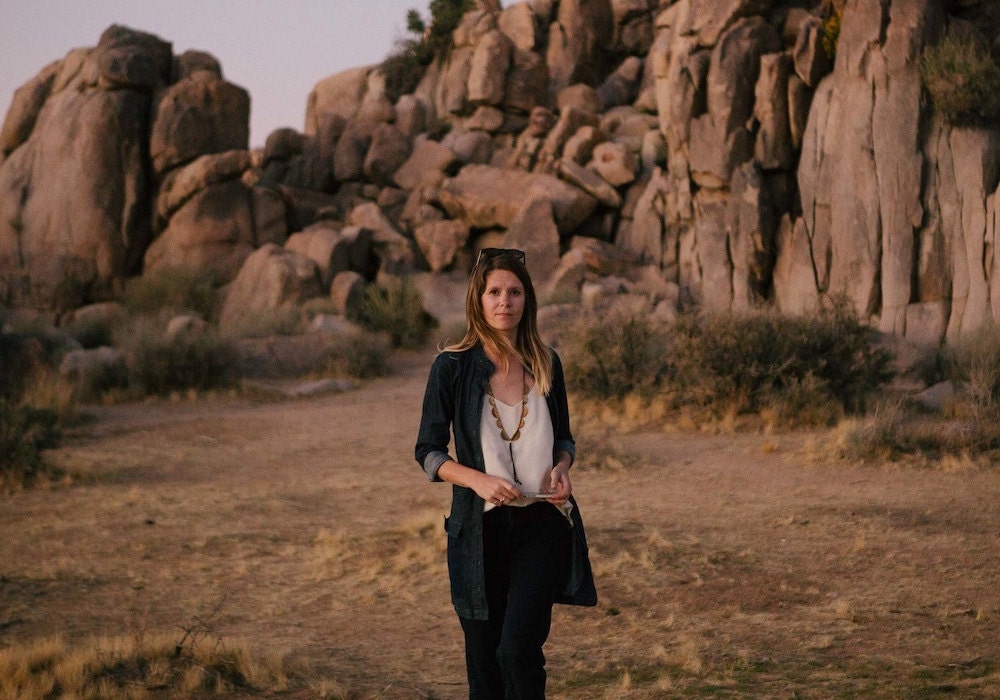 It takes a bold spirit to say "yes" to a year-long road trip in a travel trailer with someone you've been dating for four months, but in 2013, that's exactly what Laura Preston did. If that wasn't enough, she took up quilting with no prior experience and launched her own business for her creations, all while driving around the US. Before swapping her New York City lifestyle for a nomadic one with her then-boyfriend (now husband) John, Laura was a painter. "I thought it would be so dreamy and romantic to have time and space to paint outside," says Laura. "I didn't realize that painting large-scale oil paintings in this 200-square-foot trailer that moves every few days just doesn't work."
They had been on the road for about eight months when Laura started searching for a different creative outlet. "I came across these modern quilters who were making works of art with fabric," she says. "I had never seen anything like it before." Armed with some YouTube videos and a mishmash of crafting blogs, Laura pieced together her own quilting education. Less than two years later, Vacilando Quilting was open for business and Laura was still roaming the country with John. The couple's journey turned into a six-year excursion, and it wasn't until last year that they set up camp permanently, in San Marcos, Texas.
With the trailer now reserved for vacationing, Laura couldn't be happier with the space and stillness of her home studio. Their move came at exactly the right time, as there was no predicting how 2020 would affect Vacilando Quilting. "After the pandemic started, I thought that things were going to get really slow," says Laura. "But it turned out everyone wanted a quilt since they were stuck at home, and to support small businesses in the process." This has been Laura's busiest year on Etsy yet. She's hired multiple production quilters to keep up with demand, more than doubling the size of her team in just six months.
Read on to find out how Laura's wanderlust takes shape in her designs and what she's learned about handling unexpected challenges along the way.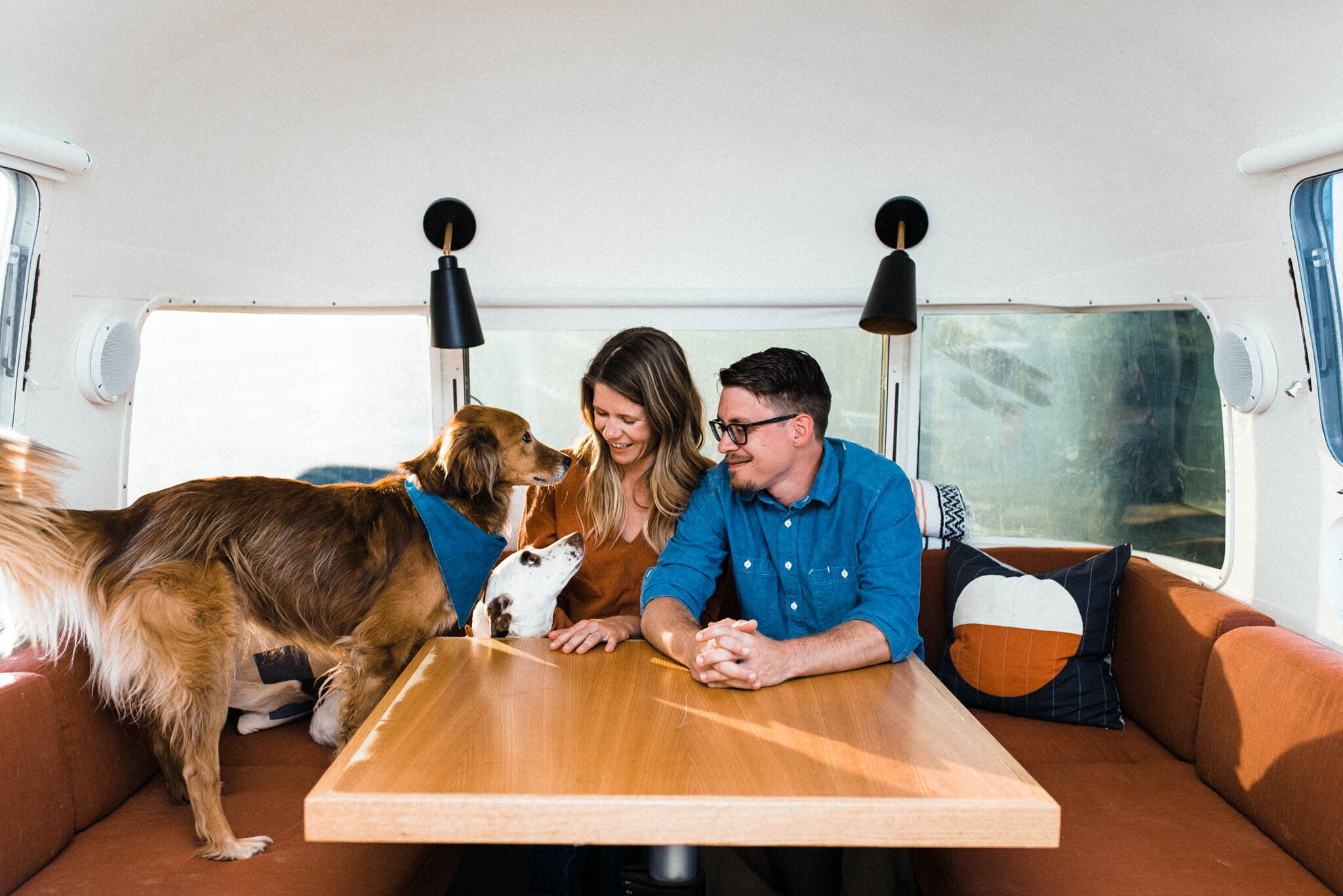 What inspires your designs?
While I was traveling, the landscape in my backyard was different every week which was an endless source of inspiration. Everything that I design is inspired by a place that I've visited, whether that's the colors of a sunset or the shapes that the framing of the house creates or just the feeling of a place. Living in an Airstream, I was outside so much more. As I went on hikes and saw these beautiful landscapes, I felt like I was more present, noticing colors and shapes.
I try and distill their shapes down to their most simplest form and turn that into a quilt. A little light bulb goes off in my head when I see something cool-looking, and I'll take a photo. I share those photos in my item listings because I feel like it gives the design more of a purpose. People can see where the design came from instead of just wondering how the artist got to that point.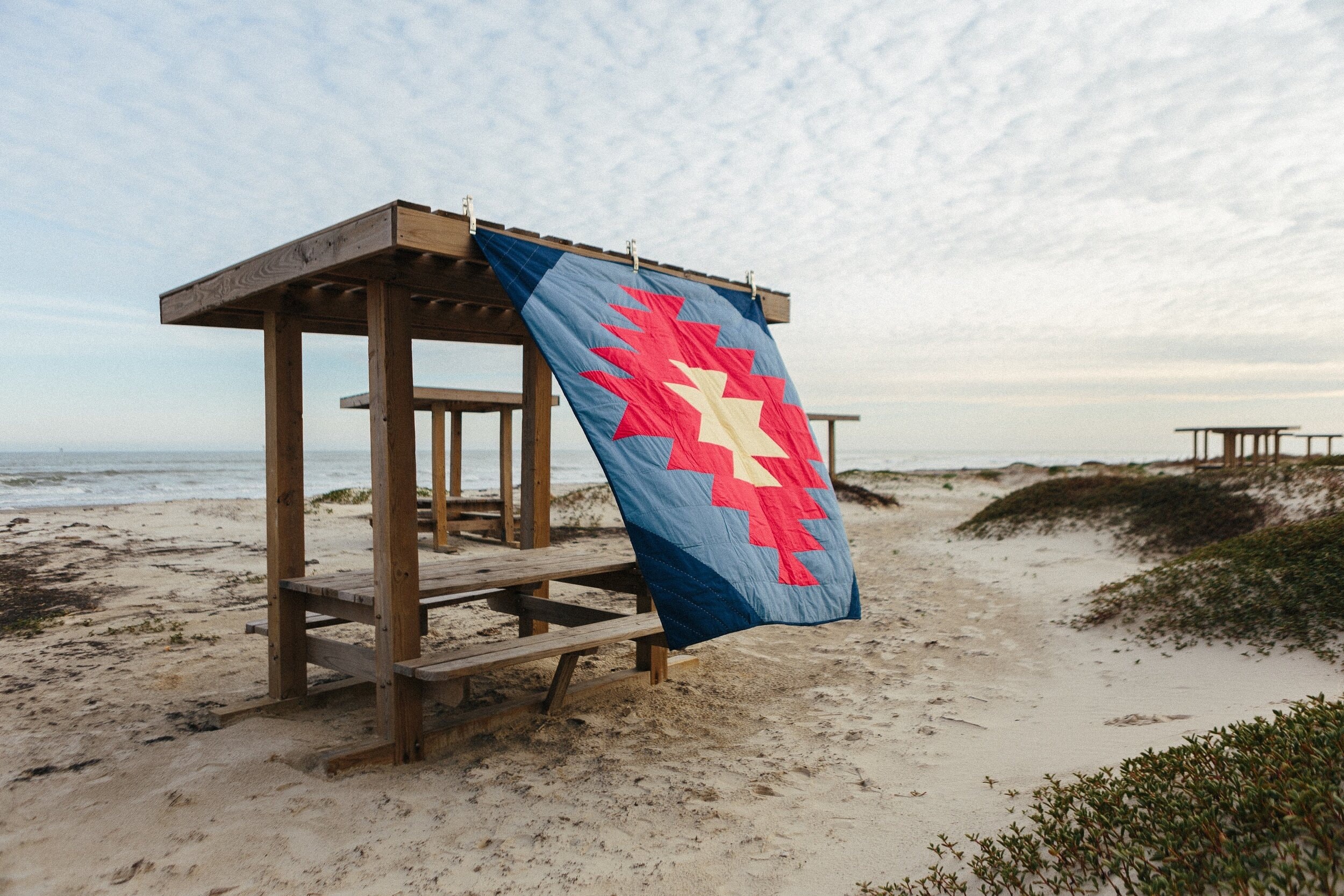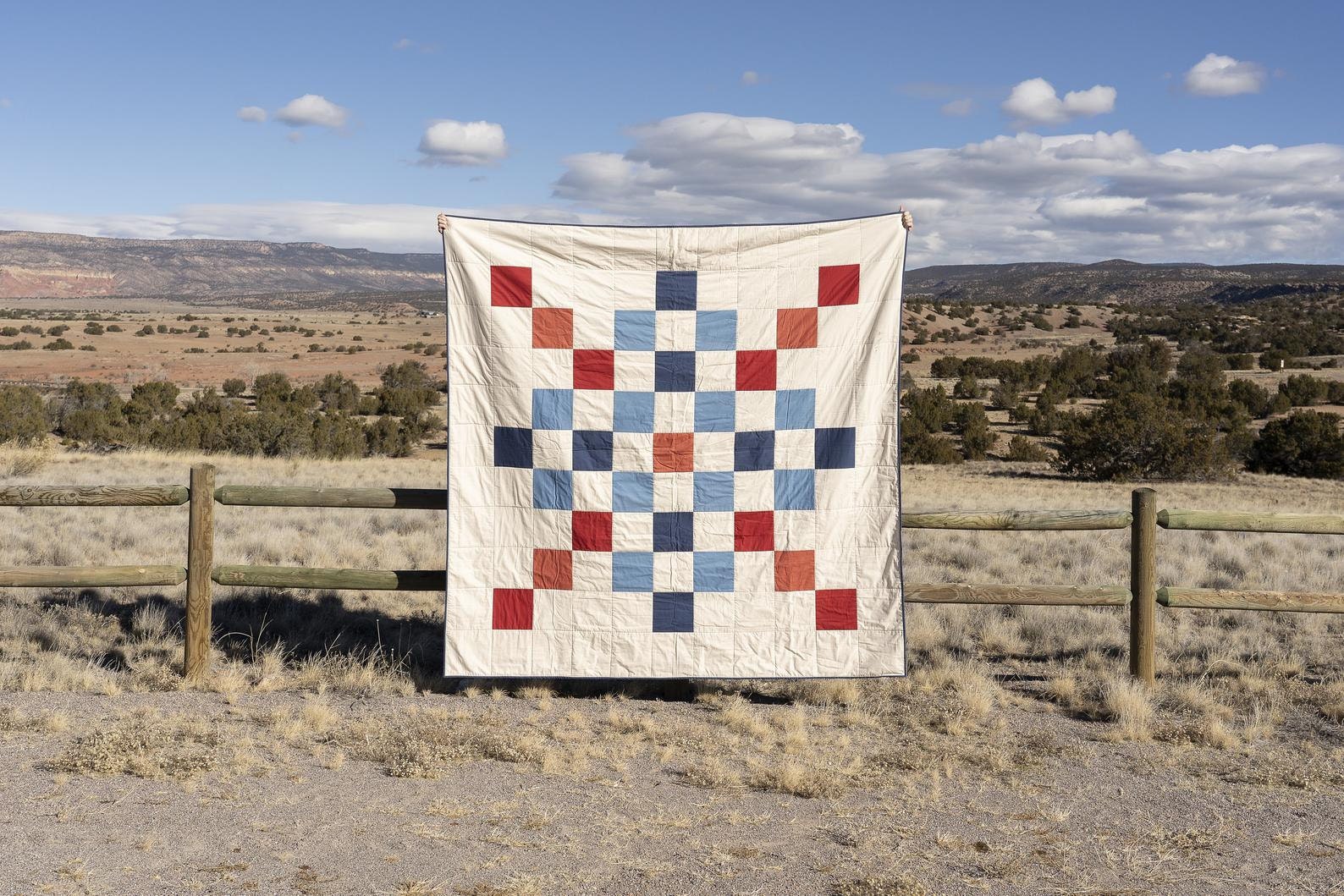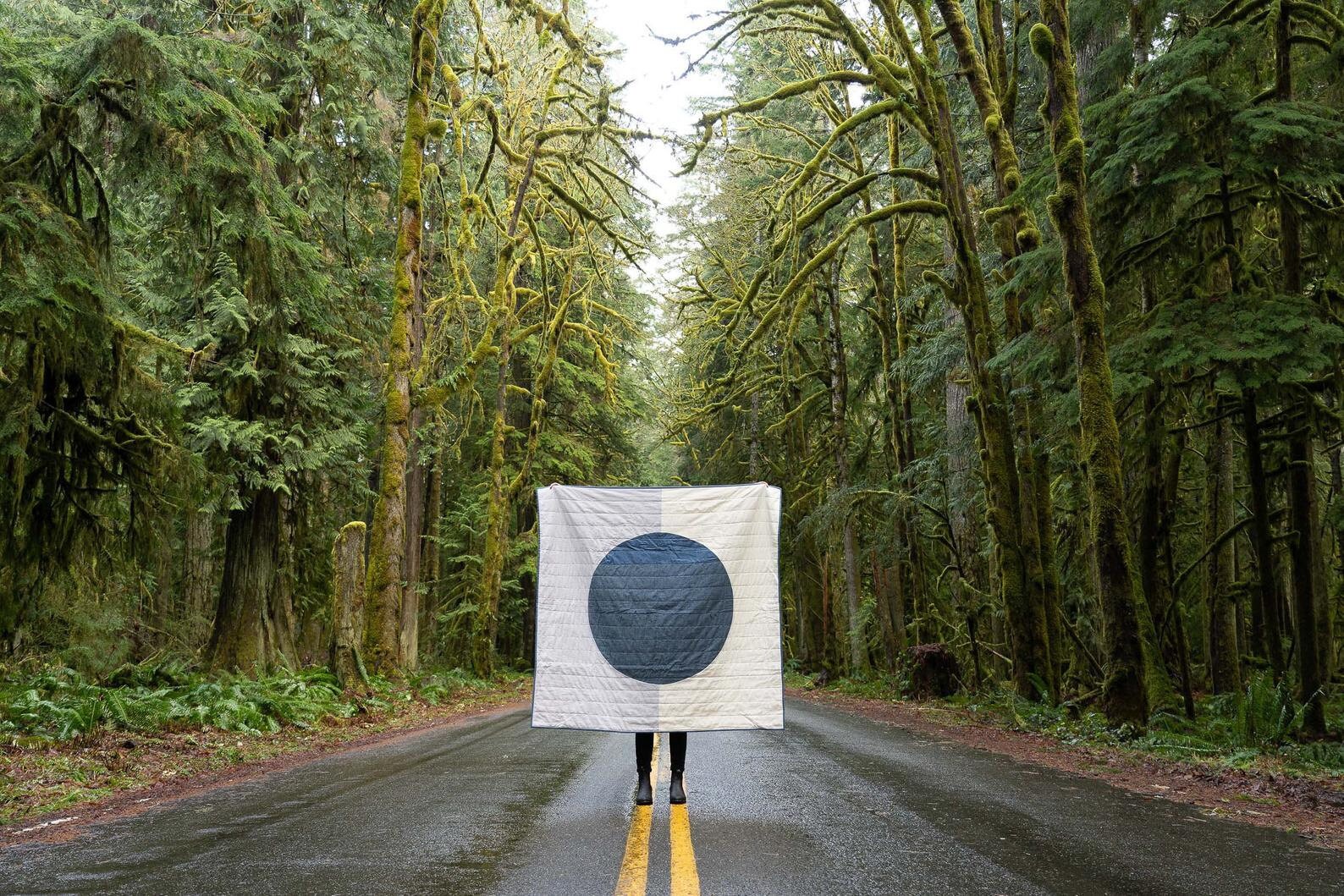 What drew you to quilting over other textile work, like sewing or weaving?
A quilt is like a 2-D painting on a piece of fabric that you can use. I gravitated towards it as a practical household object that could also be beautiful. And there's sentimentality in a quilt. It's handmade by someone who loved making it, and made it with so much care, and it becomes part of your home and your family. It's this embodiment of comfort.
That's what makes it really special. It combines all of these things, like art, history, and craft, that are so important to me but also to other people. A big part of why I do what I do is to carry on that tradition and share it with others. Having all of that rolled into one super cozy thing that you can wrap up in every night is worth the time and patience it takes to make it.
You had to scale your business unexpectedly this year. What did you learn from that experience?
The puzzle of trying to figure out how to get more quilts to more people has been a fun challenge. Expanding your team can be scary, but it's probably the best investment I've made in my business so far. It allows me to focus on the things I'm best at and work on the bigger picture instead of being reactive and stuck in the day-to-day production. I hired people to do the things I'm weakest at so I can focus on the things I find the most joy in doing. If you're looking to hire employees, trust your intuition. Those gut feelings will guide you when it comes to hiring the right person.
Growing pains can be exhausting, but they don't last forever. Focus on that light at the end of the tunnel. Remember: You are incredibly capable of doing hard things. I always remind myself that this is my business, one that I created and can run however I think is best. This means that if I need to make a change, raise prices to adjust to demand, or stop selling something that doesn't work for me or my business, I can make that decision. I've been trying to give my team plenty of grace during these crazy times, as well as take care of myself, my body, and my mental health.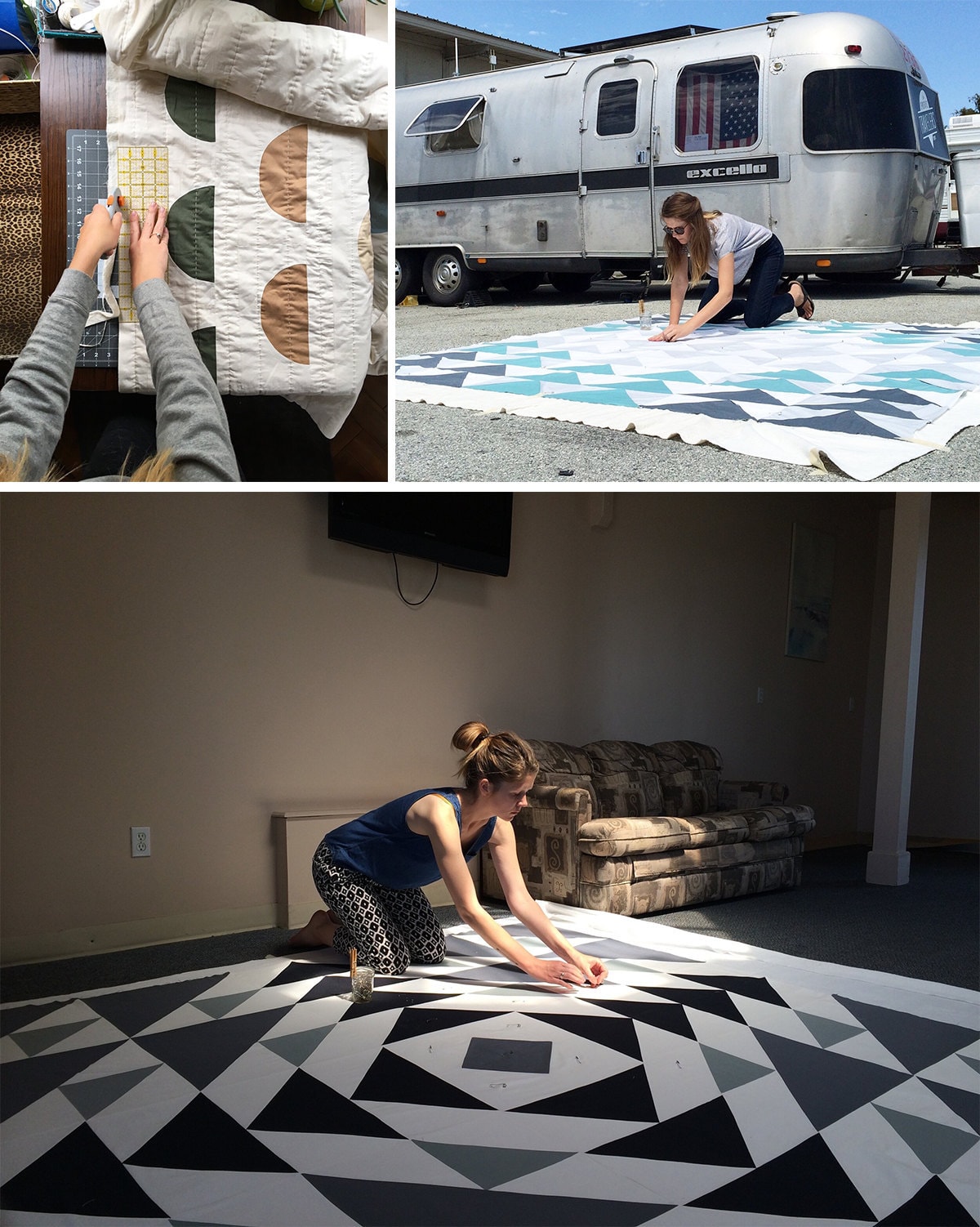 You sell a quilt pattern in your shop and many people are taking up DIY hobbies this year. What was that like and what tips do you have about selling kits, tutorials, or DIYs?
I wanted to give people something that was comprehensive and had all of the information they would need to make a quilt from start to finish. I wrote it in a way that was going to be approachable and I wanted it to be a different type of quilting pattern. It was a fun process. I love sharing the knowledge that I've gathered over the years and making quilting as simple and easy as possible. I also love inspiring people to get creative and trust their own unique style and design decisions.
Craft education isn't a quick and easy passive income. It takes a lot of marketing to make a pattern, tutorial, or kit successful. I get lots of questions about the quilt patterns via email and Instagram every week, and I try to share the quilts people make on social media. That takes time that I didn't expect to be spending outside of writing the pattern. Make sure that teaching and educating is something that you love to do before diving into writing patterns or tutorials.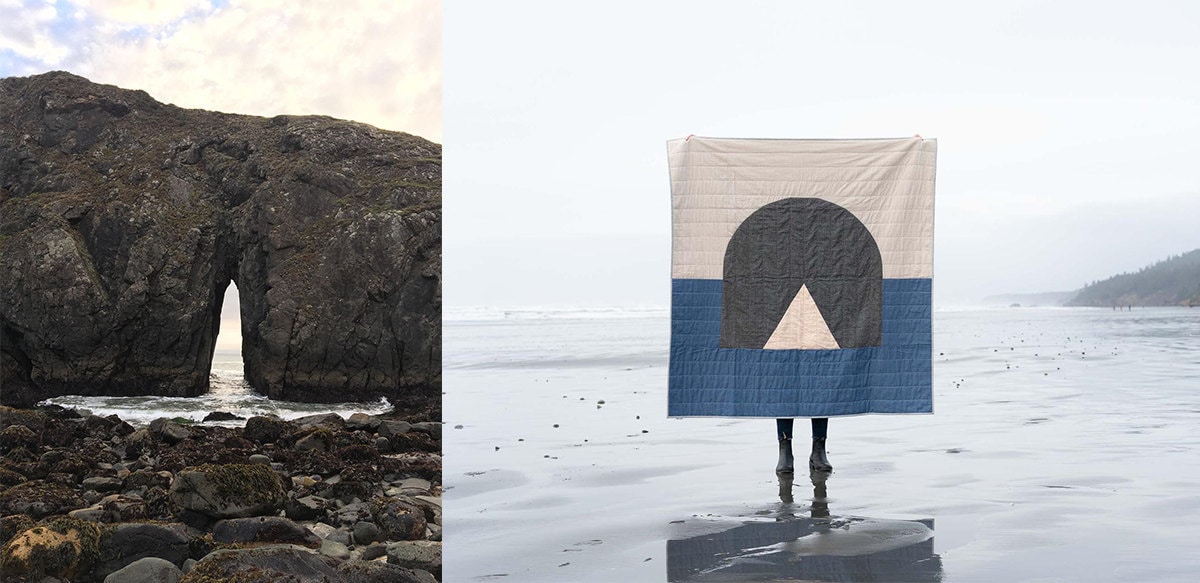 Tell me about a meaningful connection you've made on Etsy.
I collaborated with April of the home decor shop Little Korboose, and we're dear friends now. She puts a lot of emphasis on being as sustainable as possible and not wanting to add textile scraps to the landfill. She had tons of fabric scraps left over from their screen-printed tea towels, so we worked together on a design. Our collaboration has always been really natural, and we both have a lot of respect for each other. We also collaborated on pieces that were inspired by a trip we took to Peru.
Collaborating with other creatives is such a gratifying way to expand your creativity. Getting someone else's feedback and seeing something through their eyes and incorporating that into your work just makes your work stronger. I've done a few collaborations with various creatives and companies, and they've all been great learning experiences.
Have you made any special connections through Etsy? Share your story in the comments below.
Photographs provided by Laura Preston and her husband, John Ellis.