At the beginning of 2013 I held a chat meeting with my team leaders to program the goals for our team for the new year. We decided to hold a national meetup, but how to fund it?
We thought about crowdfunding and on August 12 the campaign ended and it was a success. Now I am here with what I've learnt from this experience, hoping it will serve to some of you, either to fund an event or a personal project.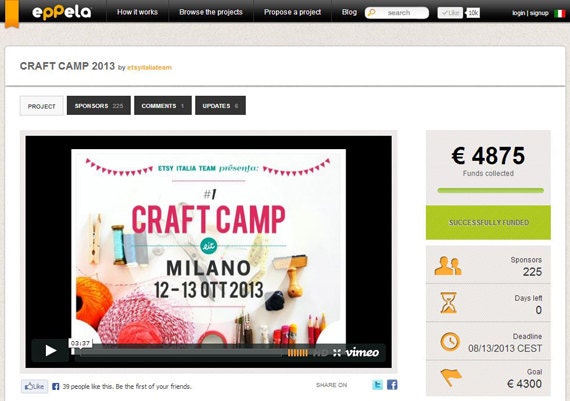 Choose the crowdfunding platform well.
Be sure they will be there if needed with a great customer care for you and the donators, check out their fees and how everything works: are they going to promote the project? will they help you out with shaping it? All this will make a huge difference!
Chose your prizes very well.
That's tricky, I think it must be done according with the public you're talking to. We had gadgets and workshops as prizes, and they went very well; then we had sponsor packages, but the expensive ones didn't sell out, probably because sponsors will be more interested in having a contract and not just donating.
Be sure to have a very small donation option, too. Even few euros will make the difference!
Set a realistic goal – but don't be afraid to dare.
This probably depends on your personality; I'm an optimistic so I set a quite high goal for the campaign, going 20% over the minimum we needed to cover all costs & expenses.
At a point of the campaign I've hated myself for doing it, because it seemed we wouldn't reach it. But, surprise, we got even over it at the end, so my advice is: trust your community!
Remember to include in the goal all the costs and the platform fees or you might find yourself with less money you expected.
Gather contacts for the press among your friends, family and team members.
In Italy it's hard to get to the press and almost all of the press relases we sent hit a rubber wall, we got little or no results.
After a moment of desperation, we gathered ourselves and scratched every Facebook or Twitter contact, every relative, friend of relative, any people working in the press we could think of and, at last, we got some attention from a couple of national websites and a national radio that brought a lot of traffic.
Social media are great tools to get in touch with journalists, just try to not be invasive and also to find the ones that might be really interested in what you will do.
Also consider:
Monthly magazines close their numbers at least a couple of months before the issue goes out, contact them with large advance.
Newspapers usually focus on some great story, so you might want to shape your press release in a way that might interest your national or local press.
Use social media and your team members to advertise relentlessy.
The key is to create hype: if your team mates will talk about it everywhere, it will spread by word of mouth.
What we did was to:
Create a hashtag (#CraftCamp2013) to use on Twitter and Facebook.
Create a meme / photo campaign. This was the funniest part of all! We used old pics and cat pics. We asked people to send us the photos of their cats and we wrote funny sentences referring to the campaign on them, including the hashtag. People shared, the word spread, it worked!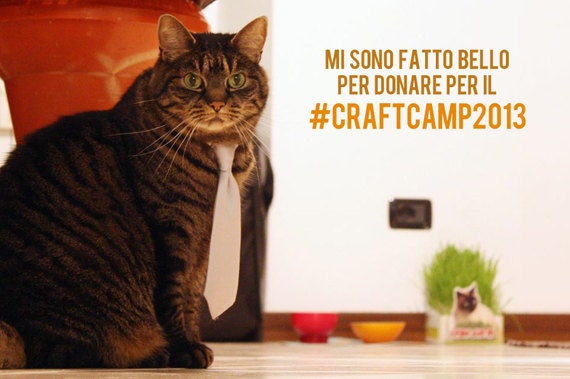 You might also want to convo each and every team member about the campaign. If your team has many members it's a lot of work but it's worth it; we sent about 2600 convos, and it made the difference. My fingers still hurt!
Be ready to work very hard during all the period of the campaign.
Our campaign lasted 25 days; I can say I've almost worked only for that for all the duration and luckily there was a bunch of us helping out, yet at the end I was exhausted. This means: do not do it alone, gather a group of volunteers and be sure they're engaged to help out from start to finish. That's the only way you're not going to hate everybody and make it to the end of the campaign alive.
If your team name contains ETSY, be sure to specify that it's NOT Etsy having the crowdfunding.
Be prepared to repeat it everywhere and again and again! Not everybody goes to read your info (ie on your Facebook page) so people might be confused and wonder why to donate to something organized by such a large company. Be sure to be clear about who does all the work so to get the credit!
And now, good luck with your campaign!
Words by Francesca Baldassarri
Francesca Baldassarri is a web designer turned crafter and on her way to be a full time Etsy seller. She lives in Terni, Italy, where she crafts accessories for men; she travels up and down the boot organizing events for Etsy Italia, the team she leads.