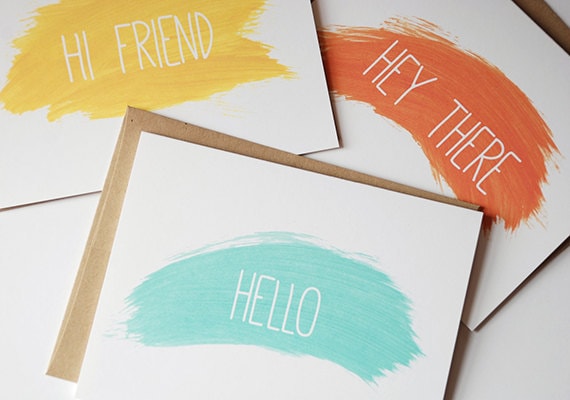 Communication is one of the most important skills necessary to running a successful online shop.  Despite never meeting our buyers face to face, there are many opportunities to communicate effectively.  In this article, we will outline good times to communicate, tips and tricks for communication, interactions from an international perspective, and words of advice from experienced and successful sellers.
While your personal communication style as a seller helps make your shop on Etsy unique, we want to start a discussion amongst sellers about those just plain good sense tips that can translate across different writing styles. Keep it genuine and unique to you? Yes!  Never thought about spellchecking? Nooooo!
Do communicate: 
To thank the customer for their purchase. It is also a good idea to provide them with an estimated ship date and an invitation to contact you with any questions via convo or email.
After item ships. Take the extra step to let your customer know you have shipped their item, the method of shipping you used (and a tracking number if you have one). You can suggest that they Convo or email you if there are any problems. This can prevent future issues or confusion.
To answer Convos in a timely manner. Simply answering your Convos may not only help you make sales, but it will reassure your shoppers and buyers that you are around and focused on their business. Always acknowledge their questions and try your best to provide them with specific answers and potential solutions.
When buyer's Paypal and Etsy address differ. A message to clarify which address they would like the item shipped to can prevent potential issues later on.
To estimate a date for a custom item. If you know the order is going to take several weeks, let your buyer know up front and keep them posted throughout the order process to assure them that things are running smoothly. If you are going to miss the deadline, be sure to communicate this to your buyer as soon as possible.
To solicit feedback and respond after feedback is received. Let your buyers know how much you appreciate their purchases and leave nice feedback. It is also good to send a friendly thank you after you receive feedback. Just remember to keep it quick, simple, and free of any promotional speak (spam).
Don't communicate:
When you are angry. When writing in anger or frustration, it is difficult to remain objective or create a solution to the problem. The other person will likely pick up on your tone, which usually exacerbates the problem. Instead, take a deep breath and step away from the computer, and come back to the message with a fresh perspective. Remember: Your goal is to come up with a solution that works for both of you.
Too much. Sending too many Convos, emails, promotions or reminders might be perceived as a nuisance to your buyer. Be careful to strike a balance when sending messages.
To demand feedback. Take care when asking for feedback.  Remember that leaving feedback on Etsy for a transaction is optional. If you do ask for feedback, be friendly and polite.
8 Ways to Improve Your Communication With Customers
Set up a dedicated email address for your shop correspondence to keep your personal emails separate. This is a great way to keep all of your business related communication in one place, keep organized and prevent mix-ups.
Carefully word the subject line of a Conversation or e-mail. The subject line is one of the most important parts of your message.  It tells the recipient what to expect at a glance.
Use all of the public places in your shop to give customers an idea of how they can expect to hear from you. Places in your shop to do this include your shop announcement, profile, policy page, item descriptions and your outgoing transaction message.
Create your own internal service policy where you outline communication expectations and stick to your own service goals.
Create Convo templates for your most frequently asked questions and Convos that you send the most often.  Always add a personal touch to each message.
Be simple in your explanations to customers. Too much information can confuse people. Focus on the information will most help the customer.
If you plan to be away, post the details about the dates and changes to your service in your shop announcement and use auto-responses with info about when you will back and when your buyers can expect to hear from you.
Communicating With International Buyers
Oftentimes we forget that Etsy is open for international sales; keep these tips in mind to make shopping in your store from another country a breeze.
Shoppers outside the U.S. can oftentimes find it very confusing and frustrating to encounter words or phrases that are unfamiliar to them. Sometimes your choice of words could be inadvertently offensive.
Avoid the use of slang or idioms, including: nuts and bolts, ballpark figure, kick off, take it easy, get in touch.
Avoid buzzwords: Mickey Mouse, no strings attached, across the board, touch base.
Avoid cliches: Beat a dead horse, rule of thumb, full steam ahead, easy as pie, all over the map.
Don't use Etsy jargon: Some people may not be familiar with all the terms we commonly use on Etsy, so spell out in clear language what you are trying to say rather than using abbreviations.