Etsy sellers turn to each other for advice and support every day. In the Forums and on Etsy Teams, shop owners across the globe come together to offer advice, network and learn from one another. In March, the München Etsy Team hosted a one-day conference for online sellers based in Munich and the surrounding region. The team, which is led by Captain Stefanie Ramb of Krambeutel and received a 2015 Etsy Teams Fellowship, organized workshops on product photography, optimizing titles and tags, and PR and marketing. The workshops were led by a variety of Etsy sellers, Etsy Admin and industry experts, including Cornelia Würbser of Concuela, Eva-Dewi and Johanna of Nauli and photographer Simone Naumann. Stefanie says the event has united the team's current members and helped them reach other creative entrepreneurs in the region. "My favorite part was the feeling of doing something useful and helpful together," Stefanie says. "By helping others learn, I learn."
Read on for more inspiring stories from the Etsy community, information about new tools for running your shop, educational opportunities and more.
Celebrating Our Global Community
Every day on Etsy, creative entrepreneurs around the world take the leap to start their handmade, vintage and supply businesses in our global marketplace. On April 16, Etsy reached an important milestone when we made an initial public offering on the Nasdaq stock exchange. The day was a celebration of our global community. Etsy sellers from around the world represented our community at an Etsy Market in New York City's Times Square, just outside the Nasdaq building. The sellers and products in the market told the stories of the real people who make Etsy diverse and unique. During our Nasdaq bell-ringing ceremony, Chad Dickerson, Etsy's chief executive officer, and Kristina Salen, our chief financial officer, were joined by Etsy sellers ringing handmade and vintage bells purchased from Etsy shops. We invited sellers around the world to join the celebration by sharing their stories on social media. To learn more about the Etsy Market, check out this Etsy News blog post.
New Tools for Your Shop and Other Site Updates
Etsy's Seller Handbook Gets a Makeover
We're thrilled to announce a revamped Seller Handbook designed to be a comprehensive yet approachable source of advice and inspiration for sellers of any experience level around the globe, whether you're a new seller just getting started, a more experienced shop owner looking for ways to grow or a seasoned business pro. New features include an easier-to-navigate landing page, better search capabilities and content translated into a variety of languages. To visit the Seller Handbook landing page on your desktop computer or your mobile Web browser, go to our new URL: www.etsy.com/seller-handbook
Entrepreneurship Education
In March, Etsy Admin in Australia partnered with education provider General Assembly to host three classes about the business benefits of blogging. A panel of experts, including Anna Hickey, an Etsy Australia PR and Communications specialist, spoke at the event, which drew a total of more than 600 attendees.
Thirty Team Captains in the United Kingdom gathered in Bristol, England in March to share their experiences, network and plan for Christmas 2015. The weekend kicked off with a scavenger hunt aboard the SS Great Britain. Captains then attended workshops about social media and leadership and learned about planning team selling events.
Selling in Person
In March, 45 Etsy sellers took part in a curated mini-marketplace at the One of a Kind Show & Sale in Toronto. The marketplace featured a wide range of handmade goods created by Etsy sellers, including Ali Harrison of Light & Paper, Natalie Eldershaw of Prints & Needles and Anthony Kentris of Route 401.
Seller Studio Visits
The Seller Studio Visit program brings Etsy Admin into the homes and workspaces of shop owners, giving us more insight into how you manage your businesses and use Etsy's tools. In March, we visited Etsy shop owners near our Hudson, New York and Brooklyn, New York offices. First, we visited the brick-and-mortar store and studio space of Karmabee, an Etsy shop founded by Karen Berelowitz in Kingston, New York. Karen turned her lifelong love of doodling into a t-shirt and stationery business back in 2007 and has made more than 600 sales in her Etsy shop alone since then.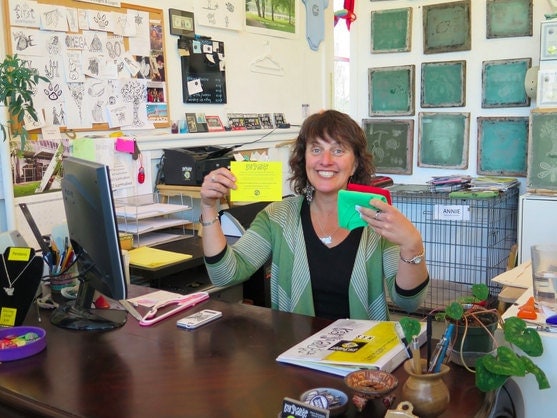 We also visited Lucie Piedra and Meg Oliver, who run their shop, L&M Studio, from their studio in Catskill, New York. Meg and Lucie met during an artists' residency in Woodstock, New York and decided to start a ceramics business together. They make all of their products by hand and pride themselves on offering unique one-of-a-kind home accessories. Lucie and Meg's studio also doubles as a retail space.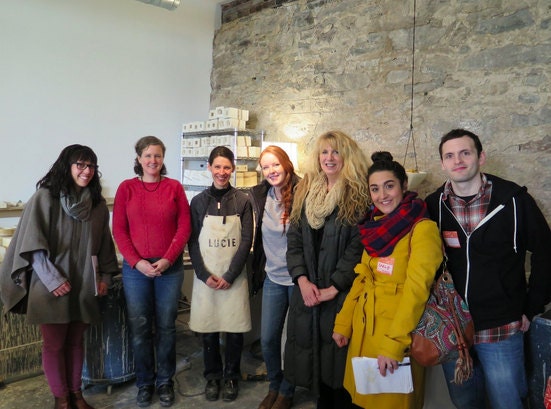 Our last stop in March was to the Brooklyn, New York studio of Olivia Ewing, who sells jewelry inspired by nature in her shop, OliviaEwing. One of her specialties is creating customized rings using molds made from twigs.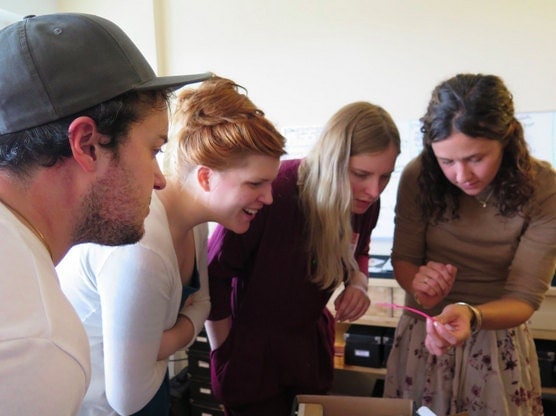 Etsy's Net Neutrality Advocacy Expands to the European Union
During the past year, the Etsy community has joined together to fight for net neutrality – the principle that the Internet should be a level playing field, giving every business the opportunity to succeed, regardless of size. In February, our combined efforts paid off when the US Federal Communications Commission voted to establish rules that protect net neutrality, rejecting a proposal that would have allowed big companies to cut deals with broadband providers for faster Internet access, relegating everyone else to the "slow lane."
Since then, we've expanded our advocacy for net neutrality beyond the US. On March 20, we sent a letter to the Members of the European Parliament encouraging the EU to adopt clear rules that allow any business to access the market and compete on equal terms with bigger competitors. We'll keep monitoring this debate and keep the community informed as it develops. Learn more about our net neutrality advocacy efforts in the US here.
Etsy Wholesale Partners With Whole Foods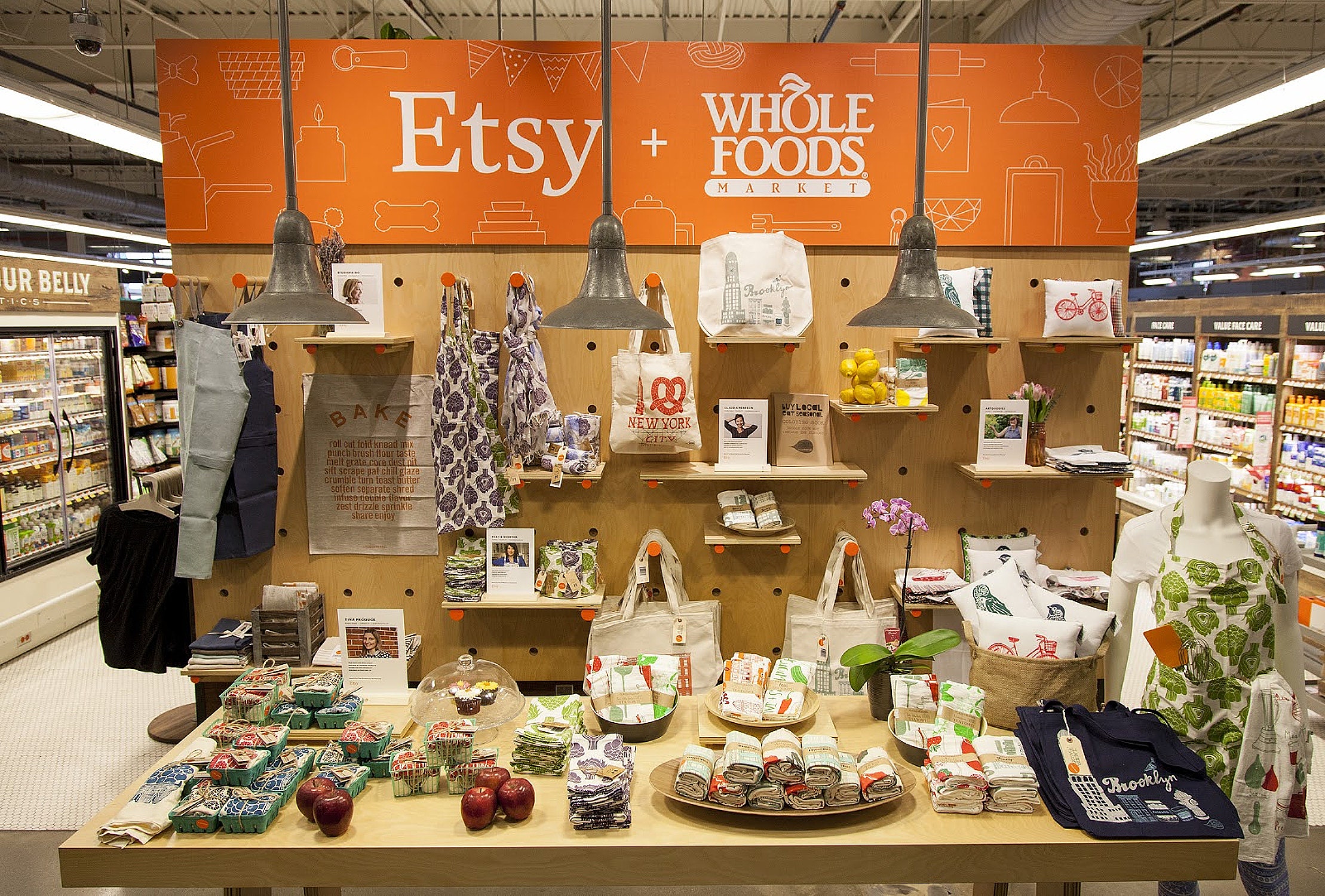 Products from Etsy Wholesale sellers Lisa Price of Artgoodies, Claudia Pearson, Jane Buck of Foxy & Winston, Christina Weber of Studiopatró and Christina Basgen of Tina Produce are currently being featured in New York area Whole Foods stores. The printed tea towels, scarves, totes and more will be sold in the Whole Body section of the store on an Etsy and Whole Foods branded display that will showcase each maker's unique story. New Wholesale sellers will be featured every four to eight weeks, giving even more small makers an opportunity to be featured. All Etsy Wholesale sellers are eligible to participate in the retail partnership. Learn more about Etsy Wholesale here or apply to become a Wholesale seller.
Craft Entrepreneurship Offers Classes in Four New US Cities
Etsy is expanding the Craft Entrepreneurship program into four new cities: Santa Fe, New Mexico; Detroit, Michigan; Austin, Texas; and Madison, Wisconsin. Since its launch in 2013, Etsy's Craft Entrepreneurship Program has helped more than 450 creative people in underserved communities across the United States and the United Kingdom start Etsy shops. The program has flourished, thanks in no small part to the contributions of 14 exemplary local teachers — all of whom are Etsy sellers trained in leadership and facilitation. Read more about what's new with Craft Entrepreneurship on the Etsy News blog.
Do you want to bring Craft Entrepreneurship to your city or become a teacher yourself? Apply today.
Tell Us Your Community Story
This is just a sampling of recent community news. Do you have an inspiring story about the Etsy community? Please share in the comments below!
Also, check out the revamped Seller Handbook and sign up for the Etsy Success Newsletter for business advice and inspiration throughout the year.

Words by Kimm Alfonso
Kimm Alfonso is Etsy's Director of Seller Development. Her team connects, empowers and educates Etsy's global community of sellers, at all stages of their business development. Kimm was a Team Captain for years before joining Etsy and runs Kimmchi, the T-shirt shop she founded in 2007.