"We don't talk about courage enough," said Etsy's CEO Chad Dickerson, as he addressed the crowd of more than 400 Etsy shop owners who attended the first Etsy Up Conference on August 11 and 12 in New York City. "But it is essential to success, no matter what you do or how successful you are."
In his keynote address, Chad spoke about leaps of faith he had taken in his life, including being the first of his family to leave North Carolina, and his move to San Francisco, California, where he followed his passion for technology. Chad encouraged shop owners to follow their own passions and view potential "failures" as "experiments," from which to learn. "I found Chad's keynote to be inspirational," said Jason Oliva, who sells his artwork in his New York City-based Etsy shop of the same name.
Inspiration was easy to find at the two-day event, which included keynotes by Apartment Therapy founder Maxwell Ryan and author and female empowerment advocate Nely Galán as well as panel discussions and sessions by successful Etsy sellers. "I liked how all the speakers felt relatable," said Carolina Ossa, who runs Hello Chiqui, a Miami, Florida-based shop that sells macrame home decor and craft kits. "Even the people who've been successful have gone through ups and downs."
Many of the sessions were streamed live online, thanks to Etsy's partnership with CreativeLive. The live video stream of the two-day conference had more than 40,000 views from around the world. Viewers were able to ask questions and participate in the discussion by using the hashtag #EtsyUp on Twitter and Instagram as well as participate in Facebook Live Q&As via the Etsy Success Facebook page.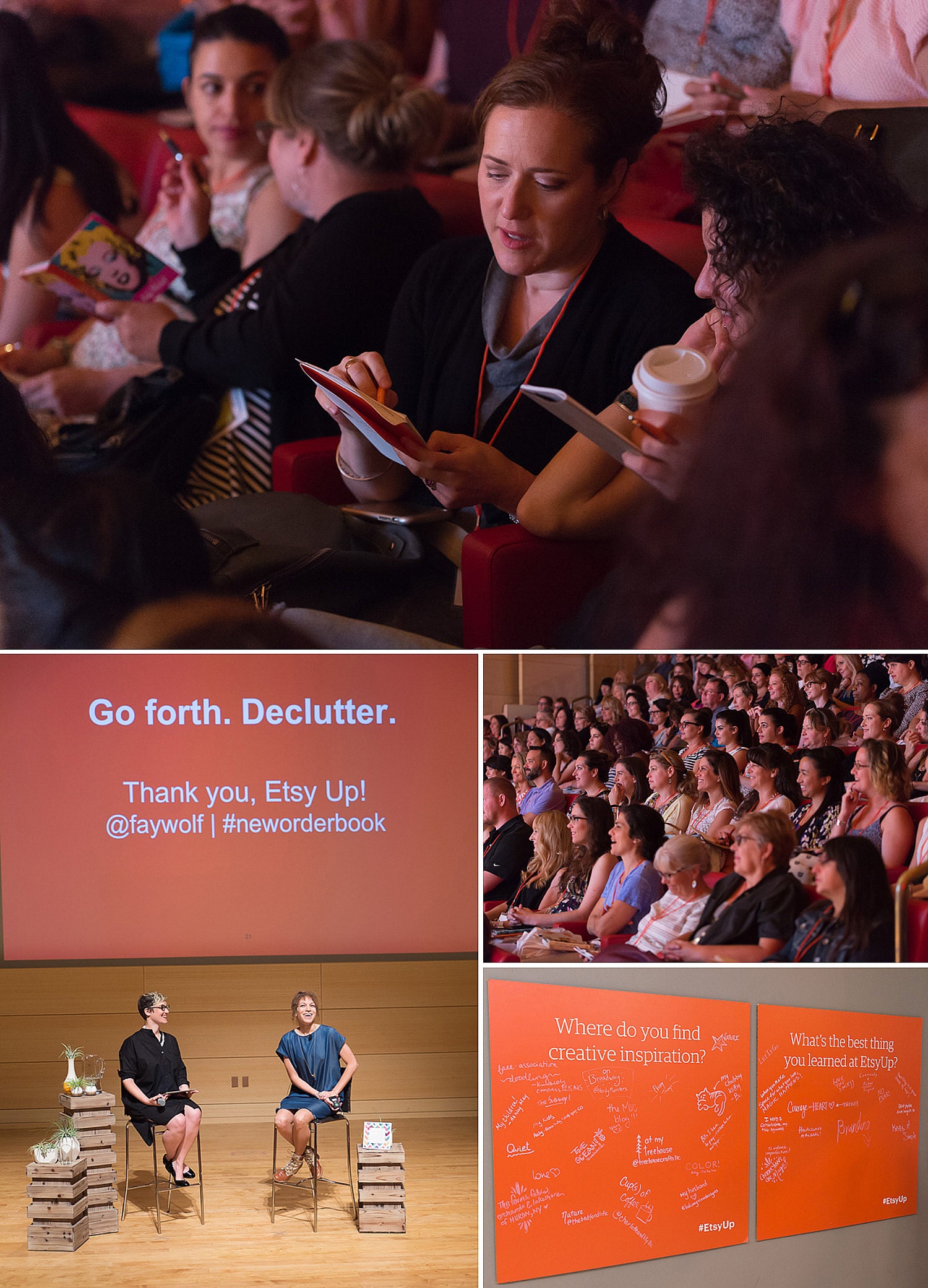 Among the live-streamed sessions was a keynote by Fay Wolf, an artist, musician and author of New Order: a Decluttering Handbook for Creative Folks (and Everyone Else). The audience soaked up Fay's organization tips for tackling physical, digital, and "internal" clutter, advice perfectly primed for makers. "Fay's keynote and book about decluttering for creative folk was a high point," said Jason Oliva. "I literally read her book and started her process before the conference ended." Carolina of Hello Chiqui was also a fan of the session. "When Fay Wolf spoke — she was one of my favorites — she said, 'When you make space, magic happens.' That really stuck with me, and I think it will stick with me forever," said Carolina.
All told, the Etsy Up conference included more than 30 sessions on a variety of topics, including attracting press and influencers, social media marketing, expanding your Etsy empire, optimizing your Etsy shop, evocative branding and product development. There was also a photography and lighting workshop, hosted by Canon. "It was so helpful to get specific techniques and tips from Canon," said Allison Glancey of strawberryluna, a Pittsburgh, Pennsylvania-based shop, who designs and sells posters and prints with her husband Craig. "That course brought my entire intimidation factor down from a 9 to a 3. And I can handle a 3 now with the tips shared in that course!"

For some shop owners, like Erin Dollar of Cotton and Flax and Amy Stringer-Mowat of AHeirloom, who were both Etsy Up speakers, a highlight of conference was the opportunity to meet face-to-face with sellers they had previously spoken with only online. "Amy and I have been in touch over email and have done two successful product collaborations in the past," said Erin, "but it took us until last week to finally meet in person at Etsy Up!"
The two-day event was full of opportunities to meet and mingle with other creative entrepreneurs, said Allison of strawberryluna. "I was really grateful and excited to reconnect with old Etsy seller friends from all around the country who came to Etsy Up," she said. There were ample opportunities to meet new people and trade stories and tips, she said, including at lunch breaks and at the PayPal Sellerbration cocktail reception at Manhattan's 230 Fifth penthouse lounge. "The learning opportunities didn't stop with the keynotes and panels," said Allison. "They seemed to extend into the social gatherings, too. I just love the space that Etsy created for nonstop shop talk at Etsy Up. That would be my favorite aspect of the event."
Missed the event or the live stream? We will be posting videos of the live-streamed Etsy Up sessions on YouTube in the coming weeks. We'll announce when they are available in the Etsy Success newsletter. You can also subscribe to the Etsy Success YouTube channel to receive notifications when the new videos are posted.
Did you attend the Etsy Up Conference or watch the live streaming video online? What was your favorite part or the best tip you learned? Please share in the comments below.