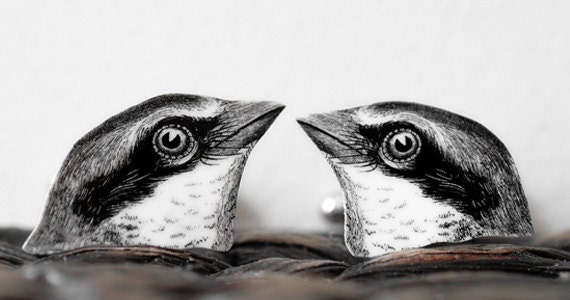 Twitter is a great way to connect with potential buyers and spread the word about your shop. The key with Twitter (and all social media) is that it is less about explicitly trying to promote things, and more about forging connections, sharing interesting tid-bits and having fun!
We polled sellers for their top tips on using Twitter, and here's what they said!
Getting Started
First, you'll need a Twitter account. Use your shop name so that it is easy for people to find you!
Learn the basics, such as how to reply to someone (@), how to retweet (RT), and how to use hashtags (#). Twitter's Help Center answers these questions and more!
Be sure to connect your Twitter account to your Etsy shop to make it easy for people to follow you!
Learn more: Twitter for Small Business
Say What?
Figuring out what to post on Twitter is the most important aspect! Luckily, it's an easy answer — things that you find interesting, and that you think your followers will find interesting. Here are some of sellers' top tips for creating an engaging Twitter stream:
Keep it real: Be a real person on Twitter. People will investigate what you make and find your shop if you are real and interesting to them. — fernfiddlehead
Post on topic: I post links and info that are related to my subject —art and nature — and I have a great following. I have had many folks contact me about freelance opportunities, speaking engagements, workshops, etc. as a result of tweeting. — maryrichmonddesign
Know your market: Don't just follow those with other Etsy shops (though that's nice, too). Follow those who are in your target market. For me, that means pregnant ladies, new mothers and breastfeeding mamas. Since my passion is birth and babies, it's also genuine and I love interacting with my followers. — WildMotherArts
Ask questions: These could be about your shop or items (Do you think I should make these in blue or red?), but other more personal questions are good too (Anyone have some good tips on toilet training?). The key on Twitter is interaction. — WildMotherArts
Create your niche on Twitter: For instance, I post mothering and breastfeeding affirmations. I love writing them, and I know that people have often followed me to read them. — WildMotherArts
Funny stuff: A good tip is to engage your followers with humor. This may not work for everyone, as comedy is a great risk. — LostRoadVintage
Connect
Social media is all about connecting with others. Think of Twitter as a conversation. Ask questions, respond to people, and most of all, have fun! When you are having fun and sharing things that interest you on Twitter, it shows, and others are more likely to be interested as well!
Be responsive: Engage with your followers! It really turns me off when someone only uses Twitter to post promotions for their shop and then completely ignores any "@" messages directed at them. Respond to people who reply to your tweets. Reply to other people's tweets that interest you. Retweet other people. In other words, have conversations! I've made several purchases from people whose work wasn't even my style, just because I talked to them a lot on Twitter and liked them. — starless
Take an interest: I think the best way to get followers is to be interested in what they are talking about. Find people talking about topics related to what you do or what you are interested in, and respond to their tweets, answer questions, show interest in what they share. The whole mass I-follow-you-you-follow-me is not always so effective. Instead, focus on increasing communication with your target market. — FlourishCafe
The @ test: Look at your Twitter feed and see if most of your tweets start with an "@" — that will give you an indication of how much you are actually communicating with people or whether you are mostly just tossing tweets out into the Twitter-sphere. Also, take a scan to see how many of your tweets contain links to your shop — it shouldn't be too many or you're probably being spammy. Most of my views from Twitter come from people clicking the link in my profile, not from tweeting links. But people don't come and check out your profile until they are interested in what you do, and they're more likely to be interested in what you do if you show interest in what they do. — FlourishCafe
Talk back: Also, talk to people and reply to other people's tweets. People like to know they are being listened to. Twitter is in large part about networking, so don't just wait for others to start the conversation!
Get 'em talking. Three types of my tweets get retweeted:
Ones that are funny/ironic
Ones that contain an interesting link
Ones containing a compliment (the person being complimented often retweets it) — fibrous
Follow Me
Okay, well now that you're tweeting, how do you get people to follow you? The tips above for creating an interesting feed and developing relationships will help more than anything! Here are some additional tips for spreading the word:
Share the link: We've included a link to our Twitter page on our business cards, which we distribute and include in every order. We also sign off all our emails with it, and post it in our shop announcements, profile page, and listings on Etsy. — SPUNKbyCM
Let it ride: As far as gaining followers, I've found it's best to just let it happen in an organic sort of way as opposed to following droves of random people in hopes that they will follow back. The quality of followers is more important than the quantity. It's better to have 10 followers who are really interested in you and your work than 100 followers who couldn't care less.  — starless
Promotions
The old-school way of marketing where you are talking at customers is a thing of the past. Here's how sellers are using Twitter to promote themselves:
Promos that work: We find that advertising our shop-wide sales, coupon codes, and new and upcoming products have drawn Twitter folks into our shop. — SPUNKbyCM
Create a buzz: Before I even opened my Etsy shop, I started tweeting about the process of creating a shop, what I was going to sell, getting a banner, a few sneak peeks of items I was making, what my packaging was going to look like, etc. This worked really well, and before I had listed even one item, I had nearly 50 hearts/admirers in my shop. You can do the same thing for a promotion you intend to have, or a new collection you want to unveil. Be creative! — WildMotherArts
Don't just post your listings all day: If you do, people will unfollow you or just ignore you and you definitely don't want that. — WildMotherArts
Post pictures instead of listings sometimes: This is now really easy on Twitter, and looks less spammy. You can often get potential customers really interested in items this way. — WildMotherArts
No spam zone: Finally, avoid being spammy! Of course you want to promote your business on Twitter, but alternate your promotional tweets with more personal ones, links to interesting things, links to other sellers' items, retweets, etc. Your Twitter feed will be much more interesting and much less annoying.  — starless
What are your Twitter tips? Share in the comments below!