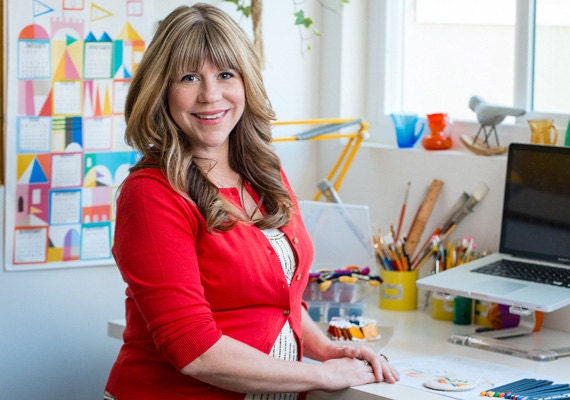 Before she took the cross-stitch industry by storm, Jody Rice created special effects for big-budget superhero movies in Hollywood for nearly seven years. Her degree in animation from the University of California, Los Angeles, set her on her career trajectory, but she found the work to be less than fulfilling, not to mention intermittent. Growing frustrated with the unpredictability and long hours, Jody decided that she needed to build her own career.
She had always loved needlework and between movie jobs she would cross stitch as a hobby. Her friends encouraged her to start an Etsy shop, but she had reservations. "I didn't like making the same thing over and over and over again," she says. But when she discovered that there was a market for selling patterns, her business plan started to take shape. She did extensive research before launching her shop, and saw an opportunity to create fun, modern cross-stitch patterns to appeal to a new generation of stitchers. "A lot of my patterns are inspired by 1950s and 1960s design that was very bright and wild," she says. "But something happened in the '80s and all this stuff got really boring."
She launched her Etsy shop, Satsuma Street, in January 2013 with just $100 to cover her start-up costs (including cross-stitch software and supplies) and five original cross-stitch patterns, each accompanied by beautifully photographed stitched samples. One design in particular, which depicted a cityscape, garnered a lot of press and sales. Taking a cue from the demand for this pattern, she designed several more cross-stitched cityscape patterns in what has become her signature style: bold graphic shapes accented by bright pops of color with a playful, retro flair. "I didn't intend to become the cross-stitch city person, but I really listened to the market and that's what people wanted from me," Jody recalls. The urban direction has proven to be an abundant source of inspiration for Jody — and a perpetual favorite of her customers. "My customers tell me how thrilled they are to have found modern, fresh designs," she says. "That was part of what I set out to do — to take back this craft from the depths of kitsch."
In just over two years, she has sold more than 9,640 of her cheerful, downloadable cross-stitch patterns and built a community of stitchers around her designs. She made record sales in January and February and anticipates making her 10,000th sale in April. Recently, Jody talked to Seller Handbook writer-editor Julie Schneider to share how photography and planning ahead have guided her business to success.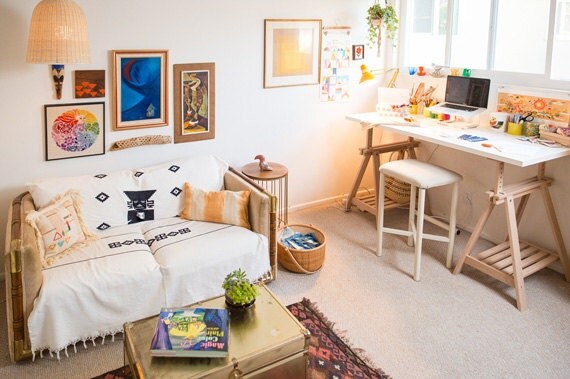 You've gotten a lot of high-profile press features, including one on NPR's Marketplace Weekend. What's your secret?
From the start, I felt like having good product photography in my shop would be an important selling point. I personally wouldn't buy a pattern if I couldn't see photographs of how it looked when it was finished, so I wouldn't want to sell a pattern without stitching it first. That's kind of held me back a little bit insofar as I don't have too many patterns available in my shop, even after two years. But, as a result, I have really beautiful photographs and I think that has benefited me because I've been able to get my work into a lot of magazines and get a lot of recognition for my shop because of that.
So, my main advice for getting your work featured in the press? Have really strong product photography already on hand. If Mollie Makes calls, I can say, "Yes, I have print-ready, high-resolution product photography of everything in my shop. What do you need?" There are magazines, blogs, Pinterest boards, Facebook groups and voracious crafters out there who are always looking for exciting, innovative new products to feature. But if all you have is a pixelated jpeg, then they're not going to want to feature that.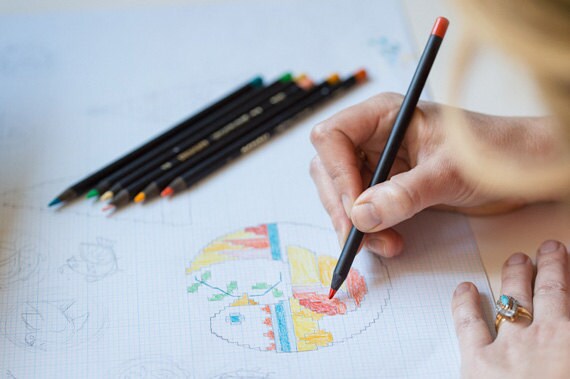 How do you promote your business?
Instagram has become a crucial tool for promoting my work. I started adding hashtags with the word for "cross stitch" in all different languages and now I have a huge global audience of cross stitchers for my account, called Craftnik. I encourage my customers to share their projects made with my patterns using the hashtag, #satsumastreet. Their friends see that and say, "Oh my god, I love that pattern. Where did you find it?" and then I find new customers that way. Pinterest has also been huge for me too. Having strong images in my shop that people can share has been really helpful.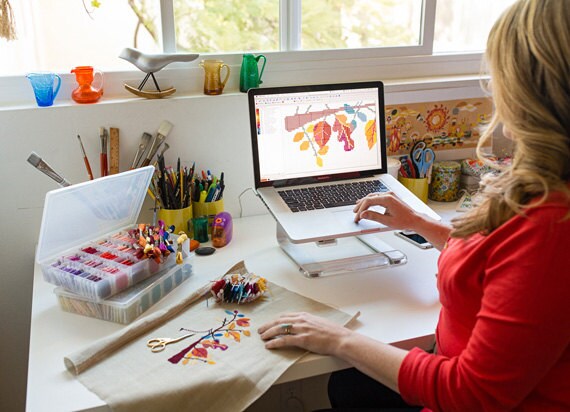 How have you built your brand?
I make sure that every single thing I put out in the world, whether it's an Instagram image or a Facebook post, is consistent with my brand. From my choice of fonts to photo backdrops — even down to the choice of shirt I wear in a photograph for a magazine — I aim to keep a consistent look. My customers will say, "As soon as I saw that that picture, I knew it was a Satsuma Street pattern." Consistency can go a long way in keeping loyal customers. I really pride myself on repeat business, so that's something I'm always working on.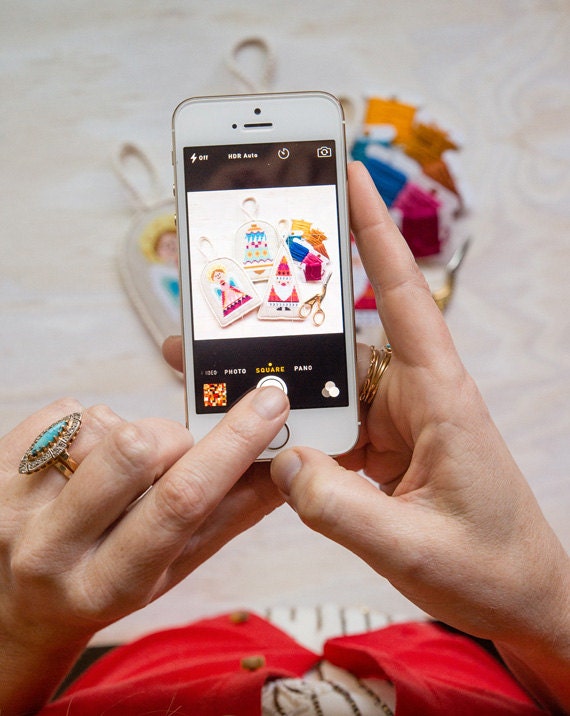 How do you support your customers as they use your patterns?
It's really interesting being a pattern seller because my relationship with the customer doesn't necessarily end with the sale. It's a collaborative process. I love that about it. I love working with people beyond just selling them the pattern. I like when they ask questions and they want to know how to do things. Sometimes people make changes to the colors in my designs and they show me. The process isn't complete until they've actually made the pattern and they're happy with it. Sometimes it can be challenging to guide brand new cross stitchers through the process long distance, but it's worth it to teach people a new skill. It's really a fun part of the process. I'm currently exploring the possibilities of expanding into video and web tutorials too.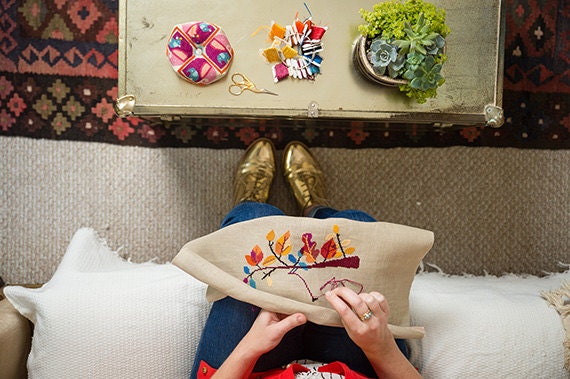 What's your top advice for starting a business?
Figure out what's going to work for you, and then do that. Seeing what other people are doing and saying, "Oh that works for them. I'll do that" is completely not the way to do it. It took me awhile to figure that out — not just on Etsy, but in life. Doing what works for other people doesn't necessarily mean it's going to work for you.
Also, make sure that what you're selling is fulfilling a need in the market. My whole life I had heard that to start a business you should find a need and then fulfill it. I thought that was such lame advice, but then it turned out to be totally, exactly the right thing to do.
Photography by Erik Valind How have you found your niche in the marketplace? Share your story in the comments.