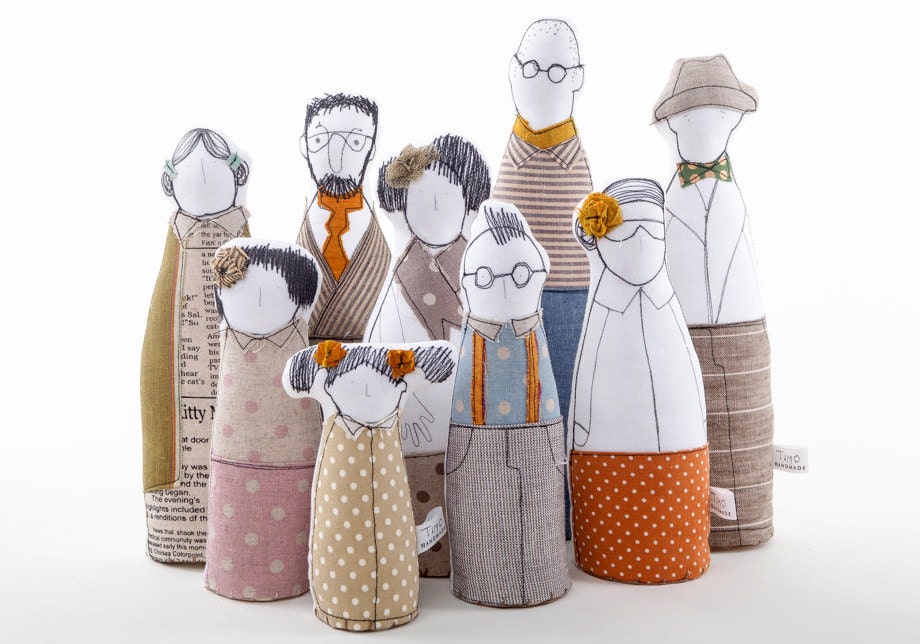 The holidays are coming up, and with the promise of increased shopper traffic on Etsy, you might be not-so-secretly hoping for more orders than you can handle. If your wish comes true, you may suddenly need to respond to demand in ways you didn't anticipate.
Years ago, when I was sewing accessories full-time, I wouldn't have been able to experiment with new patterns and products, take part in craft shows and wear all the hats required to run my business if I hadn't asked my friends and family for help. If you're accustomed to running your shop by yourself or if the concept of bringing on assistance makes you feel uncomfortable, consider that help can come in many forms. Amy Stringer-Mowat, who designs and sells cutting boards in her shop, AHeirloom, says having people around is an inspiring, mutually-beneficial experience. "You never know what new skill you might learn by just having your friends and family pitch in," she says.
By allowing others to help you, you're giving yourself freedom to focus on elements of your business that you most enjoy. Here's some advice for leaning on your support network.
1. Identify Your Strengths and Prioritize Tasks
Test your readiness to delegate by creating a list of every task involved in acquiring your supplies or vintage items, creating, listing items, bookkeeping and fulfilling orders (plus everything in between). First, take a step back to acknowledge how much you're doing — you are phenomenal. Next, start making notes on specific tasks that are most important to your business. Which tasks directly move you closer to your goals and make you happiest?
Which tasks don't move you closer to your goal? What duties could you let go of?
2. Learn to Ask for and Accept Assistance
Celia Boaz has been creating and selling jewelry on Etsy for seven years. A few years ago, after experimenting with new methods and opening a second shop, TheSlyFox, Celia realized she was spending more time on shipping than developing new items. "I wasn't able to ship and work on new designs, so I asked my mom, Molly, for help," she says.
Celia admits that it took time to become acclimated to working with her mom. "I'd find myself standing over her making sure she did it my way," she says. Over time, Celia realized she was wasting precious energy micromanaging and learned to let go. She suggests remembering to treat family members as nicely as you would a coworker.
3. Call on Your Community
If you've ever been to a "painting party," you know that the idea of painting someone else's living room seems a little funny, but it's also a great way to connect with and support the people you care about. Similarly, many Etsy sellers make packaging their holiday items a bit more pleasant by inviting family, friends or Etsy teammates to help. They'll love catching up and learning more about your business. Read How to Find Teams to Help Grow Your Etsy Shop for pointers on finding a team.
You may want to consider developing mutually beneficial partnerships with other sellers. For example, in 2013, maker and fellow Texan-turned-Brooklynite Leah Duncan approached me with an exciting opportunity. She was launching her brand-new fabric line and needed sewn samples for her debut at a quilt market on a quick turnaround. Leah clearly conveyed what she needed help with, we agreed on the value of the assistance and decided to trade the value of my sewing work in kind. Leah fleshed out her quilt market booth, and I became the proud new owner of yards and yards of her brand-new fabric line, which inspired me and helped me create new inventory for my own shop.
4. Get Serious About Staff
As you've seen from some of these examples, asking for help can be just as advantageous for your helper as it is for you. If you're interested in even more help, consider finding an intern or a seasonal assistant.
A few years ago, Amy Stringer-Mowat shared some of her experience with interns in a Seller Handbook article, Grow What You Know: Prepping for a New Product Line. "We love our interns!" says Amy, who found them through Pratt Institute, a neighboring art school in Brooklyn. "Get in touch with a local school to find out if they have a career office, and make your needs known with their staff." (Be sure to research your local laws about interns.) By seeking out candidates who are interested in starting their own shop, Amy creates a win-win situation: her interns bring a genuine enthusiasm to the studio, while learning from Amy's experience.
When Jean Lin isn't leading the Etsy NY Team or updating her Etsy shop, LaMuseKalliope, she's selling her items at prestigious New York gift shows and events. During the 2012 holiday season, she realized she risked selling out of items and immediately hired two local women to handle sales so she could concentrate on production. She found help exactly when she needed it by reaching out and letting her friends and teammates know she needed it.
If you want to learn more about hiring employees or interns, check the laws in your area. In the US, the Small Business Administration provides information about payments, taxes and other requirements.
5. Adapt and Keep an Open Mind
Sometimes the help that arrives when you ask for it might surprise you. By remaining open to growth and adapting to new challenges, you just might find yourself exactly where you should be.
Celia's mother Molly had a full-time job and was running her bead store on the side when she first started helping her daughter with TheSlyFox. After some time, they both realized working together was perfect. "My mother was happier working with me than selling insurance, so we moved in together to combine our finances so she could quit," Celia recalls.
BarnWoodFurniture owner Mike Schmiedicke shares a similar story of asking for help and receiving it in a way that went above his expectations. One particularly busy season before Mike quit his day job, he hired a man named Wyatt Bratt to help haul lumber, on a friend's recommendation. "He showed up the first morning, and before he got the truck to the end of the drive, it died," Mike says. He was just about to send his new helper home when the phone rang. Although he was right in the middle of finishing up a piece of furniture, Mike had to get back to his day job. There weren't any other options, so he quickly showed his helper what he was doing and ran to take the call. "Four hours later, I made it back down to the garage, pleasantly surprised to find it complete. Wyatt never made it out to haul that lumber, but he's now a partner in the shop."
Last but not least, celebrate success together. When you partner with another Etsy seller, it's great to give him or her a shout-out in your listings or relevant places in your shop. Share your business story and give your helpers a special place in your About section.
Have you ever hired anyone or had some helpers? Share your tips in the comments below.