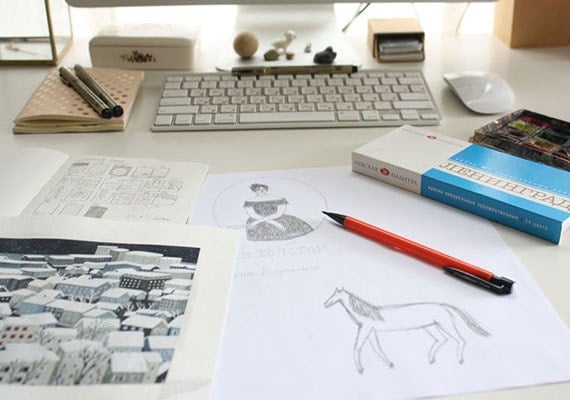 When was the last time you found yourself pulling an all-nighter, scarfing down far-from-organic snacks and following your creative inclinations to a gratifying end result? If a vivid example is all too fresh in your mind, you may be a college student cramming for finals – or an Etsy seller scrambling to fill orders.
As college graduation season gets into full swing, we asked Etsy sellers who started shops in their dorm rooms to share their advice for bootstrapping a business at any age or stage. Read on to discover how these young upstarts learned to balance their schedules, set realistic expectations and find time to enjoy their college years.
Yelena Bryksenkova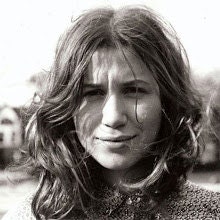 When a growing number of her regular blog readers started inquiring about where they could purchase her intricate illustrations, Yelena Bryksenkova realized it was time to try her hand at selling online. She opened her Etsy shop, Yelena Bryksenkova, in 2009. The business, which is now based in New Haven, Connecticut, didn't take off overnight. That was fine by Yelena, who had set realistic goals from the beginning, knowing success would require a lot of time and work. "I think people are often looking for a magic formula, but there's no short cut," she explains. While studying towards a Bachelor of Fine Arts in illustration at the Maryland Institute College of Art, she grew her network over time by pitching regularly to blogs and other small publications. As she quickly discovered, "The more you put your work into the world, the more traffic you'll get to your shop."
As Yelena approached graduation in 2010, she pitched her work to the popular blog Design*Sponge and was featured in a post. "That promotion gave me the boost I needed right after college," she says. As orders continued to pick up, she made a point of streamlining her operations, focusing on developing economical methods for printing, packaging and shipping her work. A major proponent of social media, Yelena continues to develop her platforms with two intentions, both for promoting her products and connecting with a global community of illustrators and Etsy members. "I'm so amazed to have such a connection with people in tiny towns all over the world," she says. "I get to send them something that then becomes a part of their home. It's magic." Finding her place within a larger community has proven crucial to her success, she says, since being an entrepreneur can often feel lonely. "I really feel like I have colleagues," she explains. "I have to know that there are other people out there working into the night."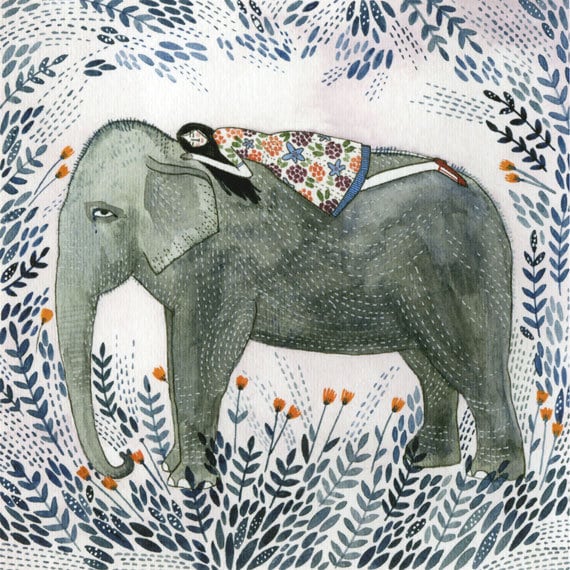 Rag/Rich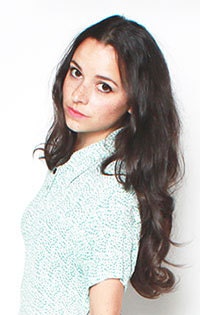 "Do it now or don't do it at all" is Bri Foster's life motto. As you might have guessed, Bri is prone to tackling projects head on. She already has degrees in Fine Arts and Education and is currently in the process of earning a degree in fashion design from Toronto's Ryerson University. The Winnipeg native opened her Etsy shop, Rag/Rich, in 2010, after hosting a vintage sale featuring more than 1,000 items with a group of friends. Though she has an aggressive academic agenda, Bri has always had realistic expectations for the vintage clothing shop, which has roughly 430 sales. "I went in knowing it would be slow at first. I used that time to work out any kinks, discover what people really wanted and improve my techniques," she explains. "With that initial investment of time and energy, it's become an excellent source of income."
As her business has grown, Bri has worked hard to balance running her shop and attending school. Over time, she has learned to allot time for taking breaks outdoors and catching up with friends. Developing balance has also required rethinking some of her existing processes, such as item photography. Until recently, she modeled all of her items herself, hooking up her camera to a computer program that took 20 photos in a row, with five seconds in between each shot. The process gave her a lot of control, but took too much time. So Bri began hiring a model and taking the photos herself, with shorter downtimes between shots. Now, she can shoot listing photos of 122 items in just over seven hours, leaving her with more time for other tasks. After she graduates in the spring of 2015, Bri plans to transition away from vintage and create her own clothing line. She's confident that the business experience she's gained will set her up for success.
Etymology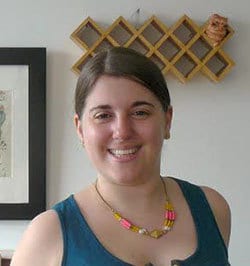 Brooklyn-based jewelry shop Etymology is the triumphant culmination of Natalie Jacob's diverse creative interests. "I love fashion, I love design and I love making jewelry," says the artist. "It all came together when I said, 'Why not combine them, and make my own business?'" Natalie started her Etsy shop in 2009 with the intention of selling her drawings and jewelry on the side while studying art history and printmaking at the Maryland Institute College of Art. After graduating, she decided it was time to rethink her business strategy. She began to incorporate vibrant recycled materials into her new product lines and develop strong relationships with wholesale buyers. Her shop has since found its footing both online and offline, thanks to her proactive approach to working with retailers.
Reflecting back on when she started Etymology in college, Natalie says time management was her biggest challenge, especially since many busy shopping periods often fall around the same time as final exams. By preparing a few months in advance, every year she was better prepared to anticipate demand. With only a few free hours in between classes, making the most of every opportunity was crucial for staying up to date with orders, she says. One of her key tips: Keep your go-to materials on hand.
Sophie Hines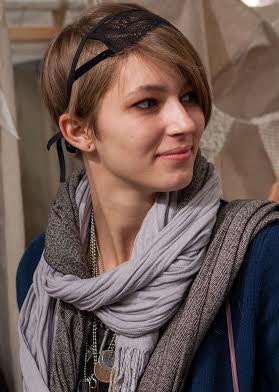 What with a burgeoning lingerie shop on Etsy and plans to graduate in the summer of 2015, Sophie Hines is no stranger to the stress that comes with juggling a busy schedule. She started selling her hand-sewn designs at local farmers markets and boutiques during high school. She decided to use the Web to expand her customer base and opened her Etsy shop, Sophie Hines, in 2011. Studying fashion and textile design at the University of Nebraska-Lincoln, she now splits her time between attending classes and creating delicate lingerie and loungewear. Sophie makes a point of planning ahead and sticking to a schedule. "I like to reserve all day Saturday for finishing orders, and spend Sunday doing homework," she says. "It's hard to take days off without feeling guilty, but it's important for staying sane."
Sophie has rung up 218 sales since starting her shop. As her product offerings evolve, she has looked for ways to entice both new and returning buyers. A few things that haven't changed? Her passion for rare fabrics, delicate details like bows and lace, and her affinity for a well-placed swear word. She's made a point of thinking about her business in the big picture, allowing for the organic growth that's occurred gradually. "Large orders are always very exciting," she says. "They're a cue that people are interested in not just one product, but your brand as a whole." Once she graduates, the next step in fulfilling her artistic vision is to take her business full time.
How do you balance competing priorities? Share your strategies in the comments.