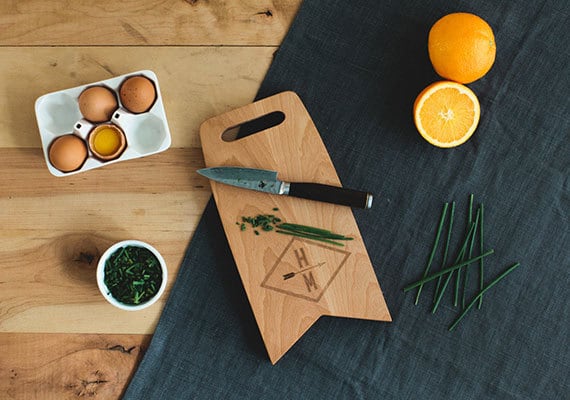 The seed for our company, AHeirloom, was sown in a rather inconspicuous way. It all started in late 2010 when my husband Bill and I purchased several of our wedding items on Etsy, and we were hooked. Simmering down from the big day — and dealing with a shortage of freelance gigs — I was still buzzing from the inspiration I felt from talented and passionate Etsy sellers. We knew the time was ripe to try selling our own designs on Etsy.
I listed one of our very last-minute creations (think morning-of-the-wedding-sanding-party-with-the-best-man kind of project) — state-shaped cutting boards of our home states, with a heart carved into our hometowns. We produced them rather quickly from bamboo, as this was the leftover material in Bill's shop. I recreated the scene from our wedding in our listings — staging cutting boards with our wedding cheese selection, added a touch of Liberty of London cloth for some flair, and watched religiously for favorites.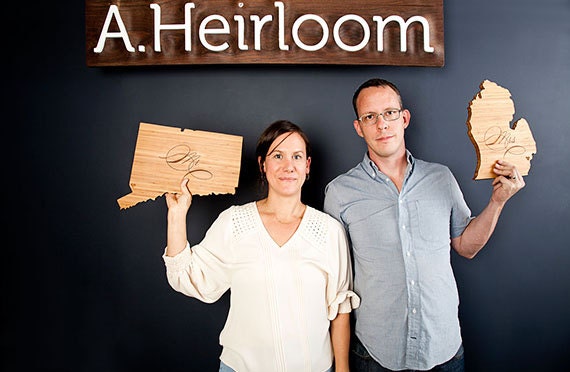 Though our shop was not an overnight sensation, interest began to grow steadily. I added other items to the mix, such as the Corian frames that were our wedding favors and our wedding centerpiece, but, with the aid of Etsy admirers and their blog posts, our state-shaped cutting boards rose up as our cream-of-the-crop sellers.
Fast-forward three years, and we now have a family (Henry in September 2011), 24,000 Etsy sales, established wholesale accounts, features in national publications including Real Simple, Food Network magazine and The New York Times, and a profile on Martha Stewart Living online for their American Made Series.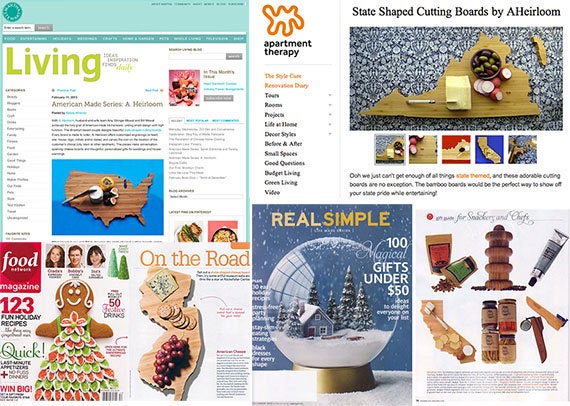 Even with all these life-changing opportunities, we find ourselves wondering: How did we get here? What's next?
AHeirloom remains an organic business — we have no special formula, but there's definitely knowledge that can be drawn from our experience. Bill and I think of our company model as a "mixed cropping" business strategy, a collective field of experiences rich with nutrients for spawning new ideas. As a type of agriculture, mixed cropping is a fitting analogy, as it involves planting two or more plants simultaneously in the same field. The theory involves planting multiple crops and encouraging them to work together. Put another way, if you plant the same crop year after year, your soil is less fruitful.
Our state-shaped cutting boards are the primary crop in our business, and we've carefully begun to offer more ways to customize the product, with brass inlays for our cutout heart designs, house and star locations, and more ways to engrave dates, names, and initials near these important locations. Our product-line expansion has been inspired by our fans' feedback and has grown out of our efforts to solve customers' gift-giving needs for corporate gifts and special events.
Are you thinking about developing a new product line? Before you invest energy into marketing something new, consider the following four steps, which we like to think of as elements of a cyclical symbiosis.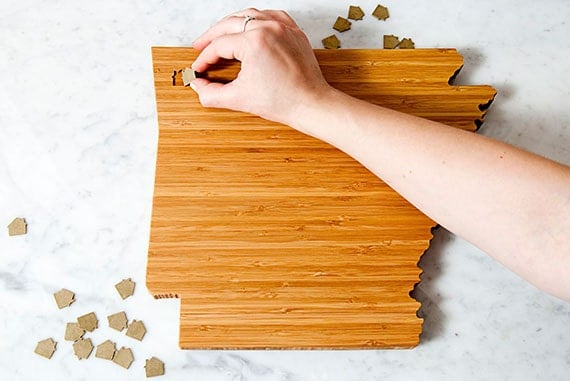 Step 1. Till the Field: Take Stock of Your Status Quo
As Bill and I refined our production process for the state designs and reached a level where we felt comfortable financing new work for our business, we reflected on our missteps and accomplishments. First, we moved our business forward by growing and maintaining interest in our state shapes. We got great feedback from our customers, and we learned that our customers wanted more customization and new materials. Can a similar assessment work for your business? Think through these questions:
Are you able to keep up with current demand?
Have you refined your marketing materials? Do you have a logo, a badge-style logo, and all your branding materials in order?
Is your packaging in order? Do your shipments excite customers and do a good job of showing your brand aesthetic and vision?
Is your brand ready to experiment with new concepts?
How would you like to introduce a new product?
What kinds of marketing materials will you need?
Step 2. Sow the Seeds: Get Your Hands Dirty With Market Research
If you've met your initial sales goals, garnered a solid customer base, produced branded packaging, and your shipping logistics are in place, you should be proud of the product you've developed. If you're feeling good about your brand and you've got ideas rolling around in your head, the time may be just right for you to develop a new product line. To avoid shooting in the dark, take time to do some field research:
Learn what your customers want. Our customers continually asked us: "Do you work with hardwoods?" and "Can you add an engraving to my board?" We quickly learned that personalization had endless possibilities, and we needed to develop a hardwood option. What are your customers' consistent requests?
Expand your toolkit or production capabilities. We had always wanted to have a laser cutter and knew how to operate one from our graduate school days in architecture. We had a few keys products that we knew would really become special with added engraving.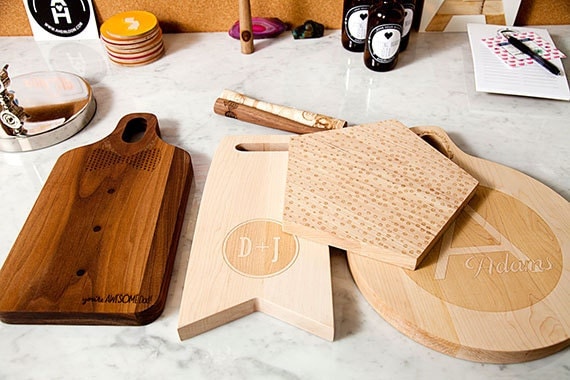 Step 3. Assemble Your Harvesting Team & Equipment
Change is inevitable as your business grows. In order for our company to move forward, we needed design space in a big way, so we moved our home office to the Brooklyn Navy Yard to join the small-business buzz around the yard. With the new space, we were able to spread out, add more desks, and bring on interns. We pay our interns, and because they're aspiring Etsy sellers, we help them organize their own shops and offer up suggestions for working with their product lines. We feel very conscious of the fact that they need to think of ways to be financially independent as their crafts grow and try to encourage a sense of reciprocity as they spend time working in our office.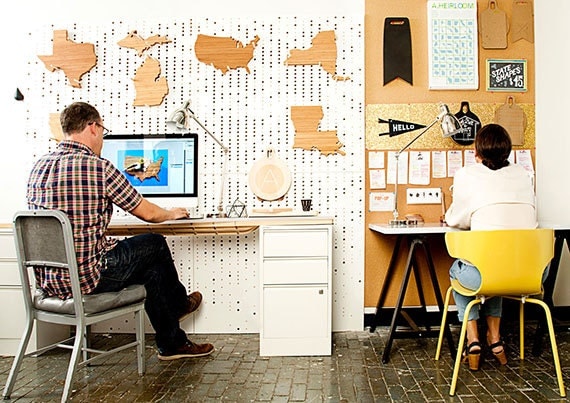 To help prepare for the production of a new line, ask yourself these questions and write down the answers:
What kinds of changes are necessary in order to make space for new work?
Do you need different equipment, such as a new printer, another workstation, better natural light, more shelving?
Are you confident about your finances and vision? Can the income of your best seller help you generate new prototypes?
Do you need help? Do your current work hours allow time to maintain your offerings and continue to expand? Perhaps a temporary employee might ease the transition?
Step 4. Survey Your Crops: Measure Your New Line's Impact on Your Brand
Once you've launched your new product line and provided more opportunities for people to love your brand, it's time to assess the harvest. Ask yourself these questions as you survey the field:
Have your sales increased?
Have your customers started to order your new line and products from your old line?
Are customers buying combinations of products that you could offer as a set with a better price point?
What kind of feedback do you receive from your best customers about the new work?
Is it time to rethink something that isn't working and try again?
A final word of advice: Having a fruitful field of products that complement your best seller and inspire Etsy shoppers is a challenging proposition. Growing what you already know is a great place to start. Stay optimistic and re-start your new crop as many times as you need. The answers to growing a great new line are located within your company's environment and history. As your collective field of experiences grow, design new strategies for your product launches that enrich the diversity within your business.
Are you considering expanding your product line? We'd love to hear your creative ideas. Share them in comments.