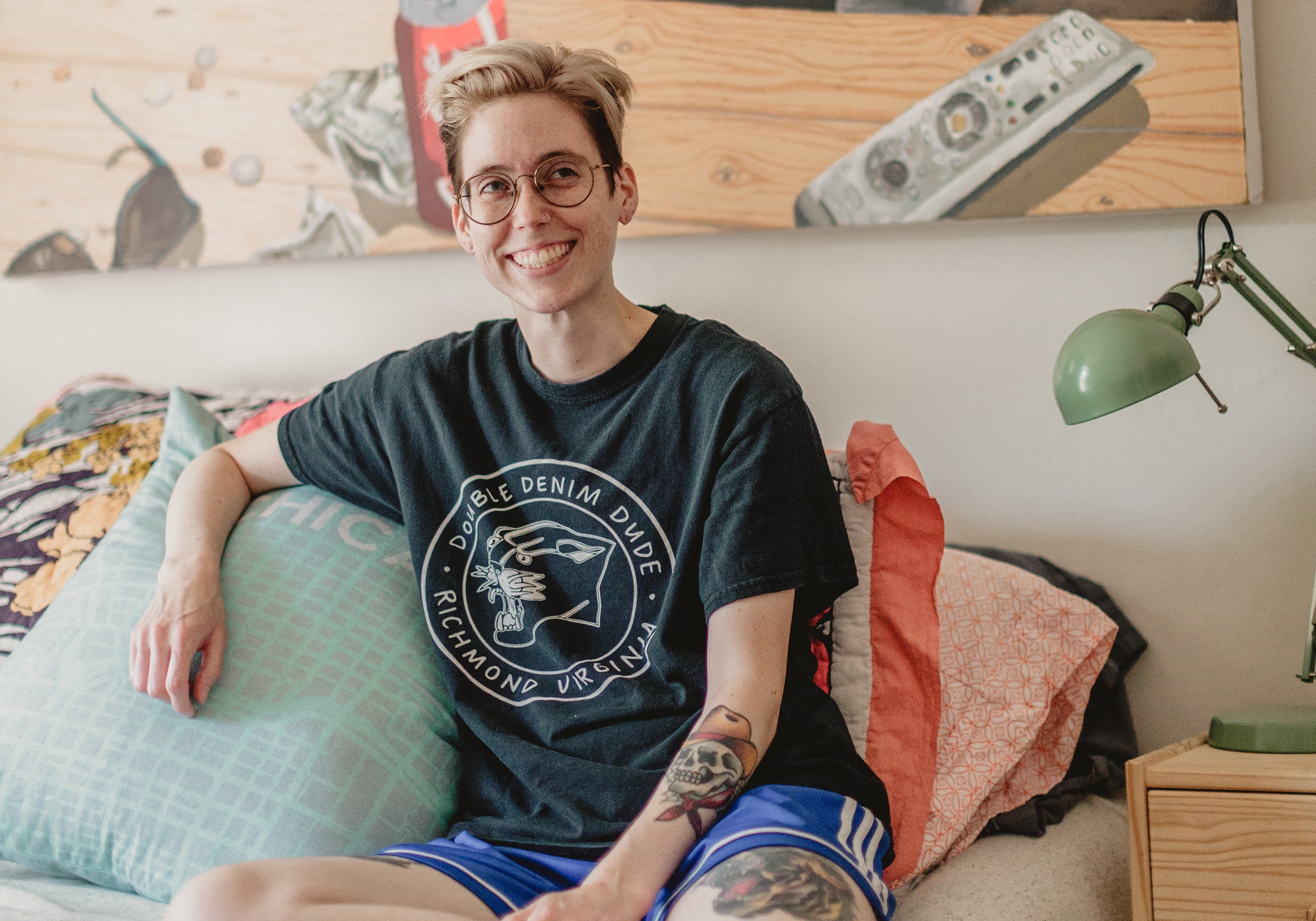 As an artist who identifies as non-binary and uses both they/them and she/her pronouns, Sam Moyer-Kardos's experience as a queer person drives much of the work in their shop, Double Denim Dude. "My items are about owning your identity and not being afraid to be who you are," says the Richmond, Virginia-based designer. "I want my brand to help people come together to support one another." An Etsy seller since 2013, Sam makes pins, patches, and other accessories that allude to the wearer's gender identity, helping amplify the voice of the LGBTQ+ community. (Sam asked to be identified by they/them pronouns for this interview.)
The popular pronoun pins in Sam's shop were first inspired by a request from coworkers. While working as a baker at an organic grocery store, they noticed staff members were often misgendered in conversation. "Our team at work is very accepting of different identities, but it sometimes slips people's minds when they see someone who looks feminine and can't separate that visually," Sam explains. Last year when a coworker asked if Sam made pronoun buttons to help combat the discomfort of correcting people outright, Sam was excited by the opportunity to provide a solution for the community.
At the time, Sam offered items related to gender identity, including "Gay" pinback buttons and enamel pins reading "I came out," but none that specifically announced pronoun usage. They immediately got to work on designs that clearly declared "They|Them," "She|Her," and "He|Him." "I wanted to create a badge for people to wear at work that would subtly remind others of their preferred pronouns," says Sam. Donning a Double Denim Dude pin became a seamless way for individuals to communicate gender identity to others.
Since then, Sam's pronoun designs have thrived in their Etsy shop and the product line has grown to include patches, pennants, and other sports-themed apparel. We recently talked with Sam about how their shop creates a safe space for LGBTQ+ people and the role of the Etsy marketplace in their creative journey.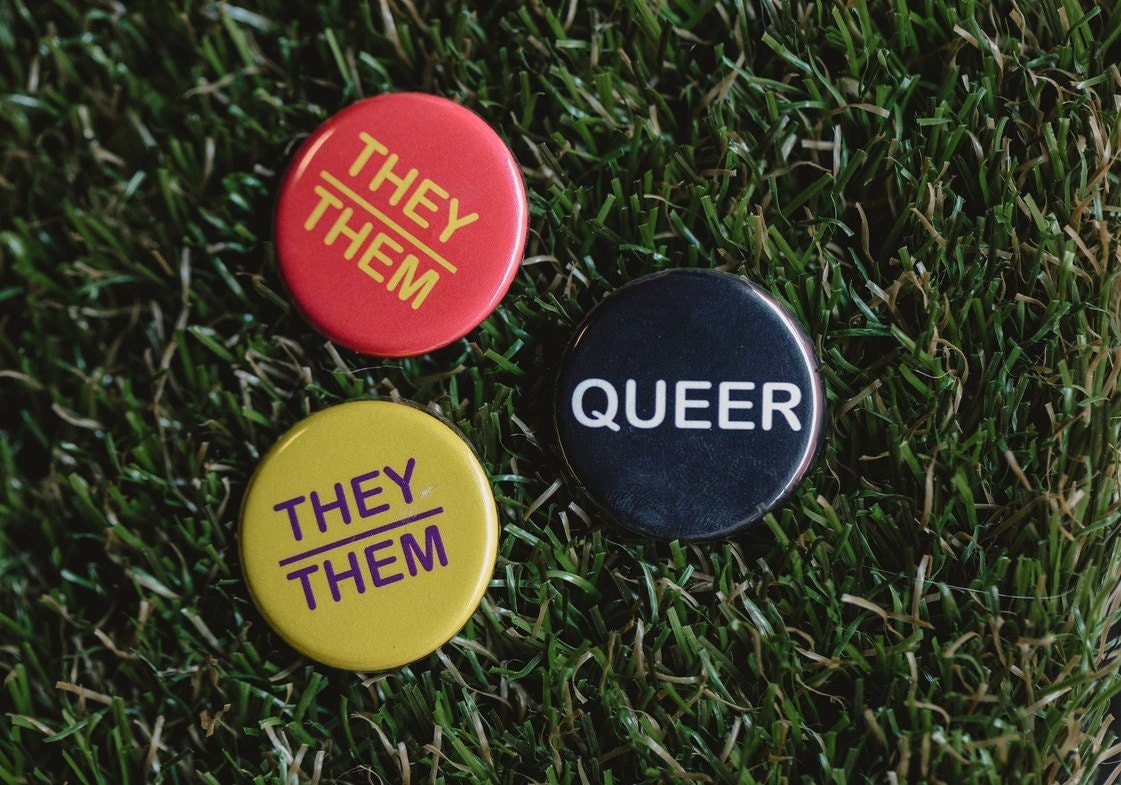 What inspires the aesthetic for Double Denim Dude?
I grew up playing sports, which always felt like a place of belonging for me. The team aesthetic aligns with the concept of solidarity and uniforms, and I wanted to create something similar with my shop—a safe space for queer people. I like the idea that an object like a pin or a patch can be used to visually represent a group, and that we can have our own team where statistics don't matter.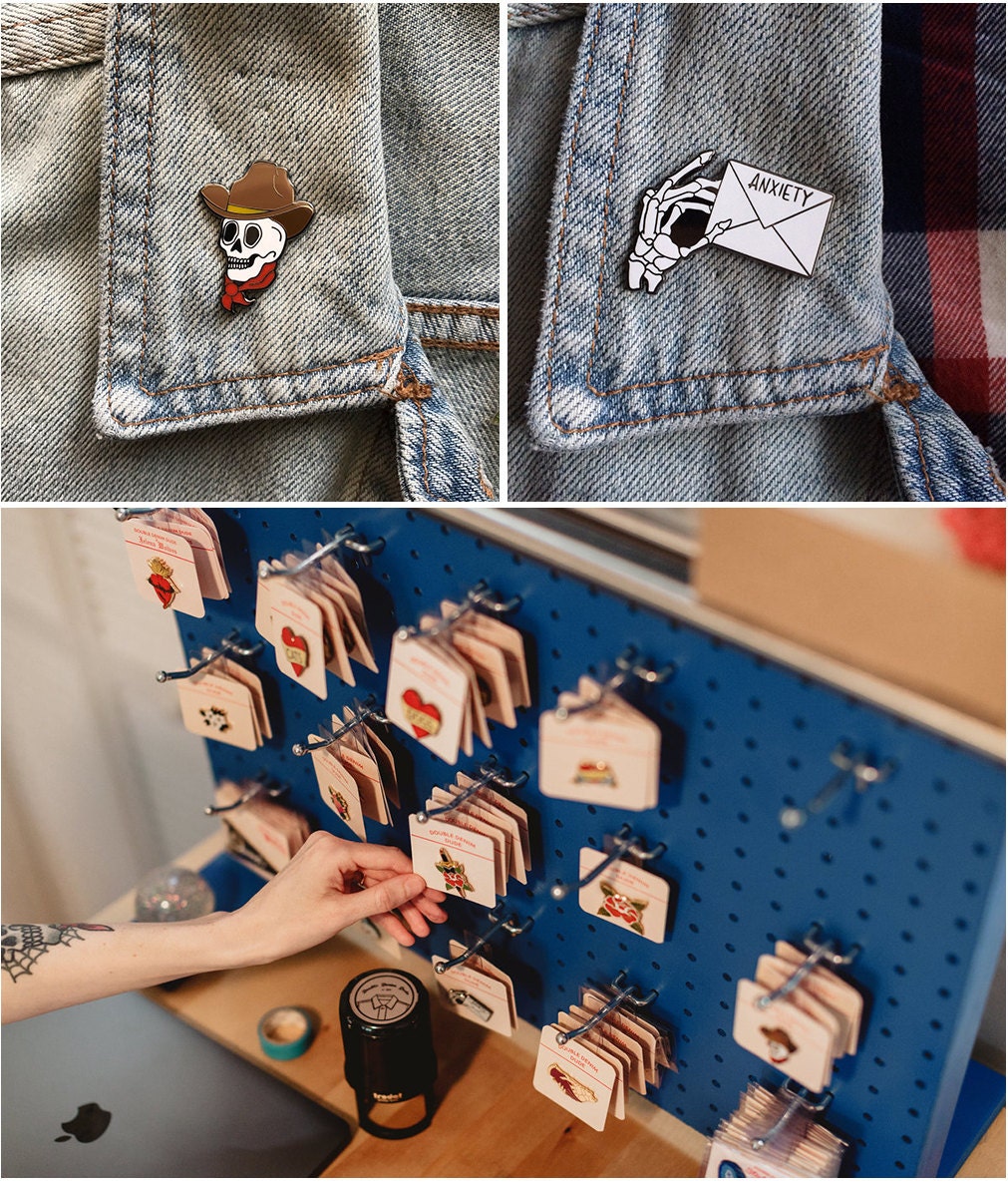 The traditional tattoo symbolism you see in some of my Double Denim Dude products is inspired by the tattoo community in Richmond. It's a dominant part of the culture here, and I love how versatile the imagery is. Skulls and grim reapers are definitely classic designs, but I interpret them in my own way, like with the "R.I.P anxiety" enamel pin. The skeleton reaper hand is holding an envelope, representing a farewell message to my anxiety as a slightly hopeful way of coping and trying to overcome it. That imagery holds a lot of weight for me, and there's a rawness to it. It reminds me that while whichever path I take will have hardship, there's a lot to gain from the journey.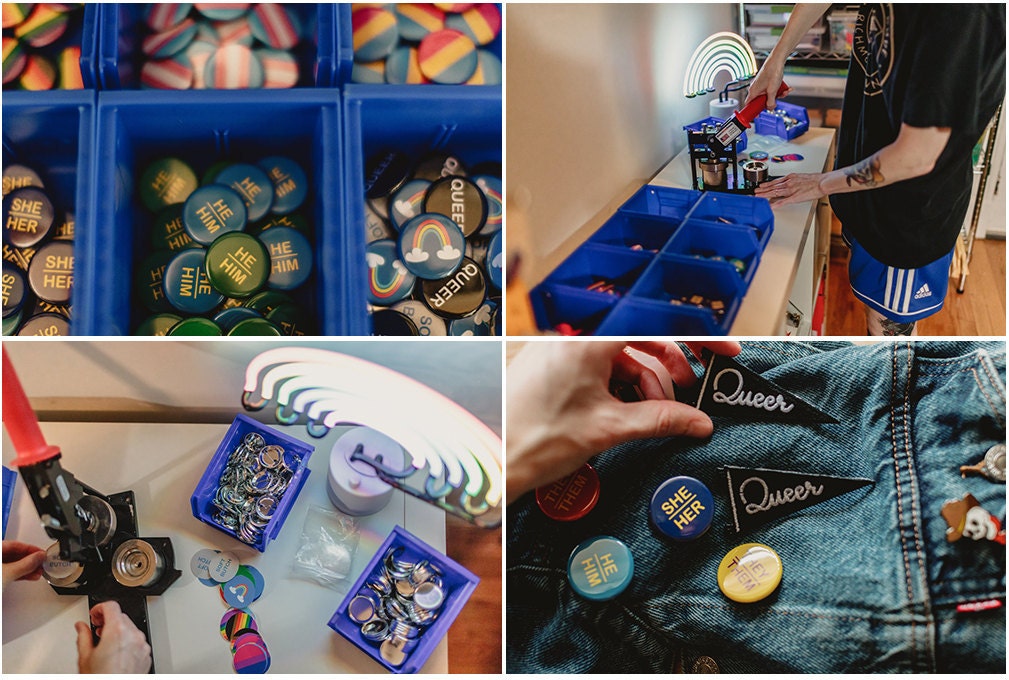 How does your experience as a queer person influence your business?
It's very intentional that I describe Double Denim Dude as a queer-owned shop, because I want to be authentic as a voice for the LGBTQ+ community. Every day I feel like I'm coming out to strangers. I look different than a "normal," feminine person, and in certain areas, like my hometown, I'm still very uncomfortable. There are different spaces where you're more vulnerable as an LGBTQ+ person, and there's a push and pull to how you want to represent yourself.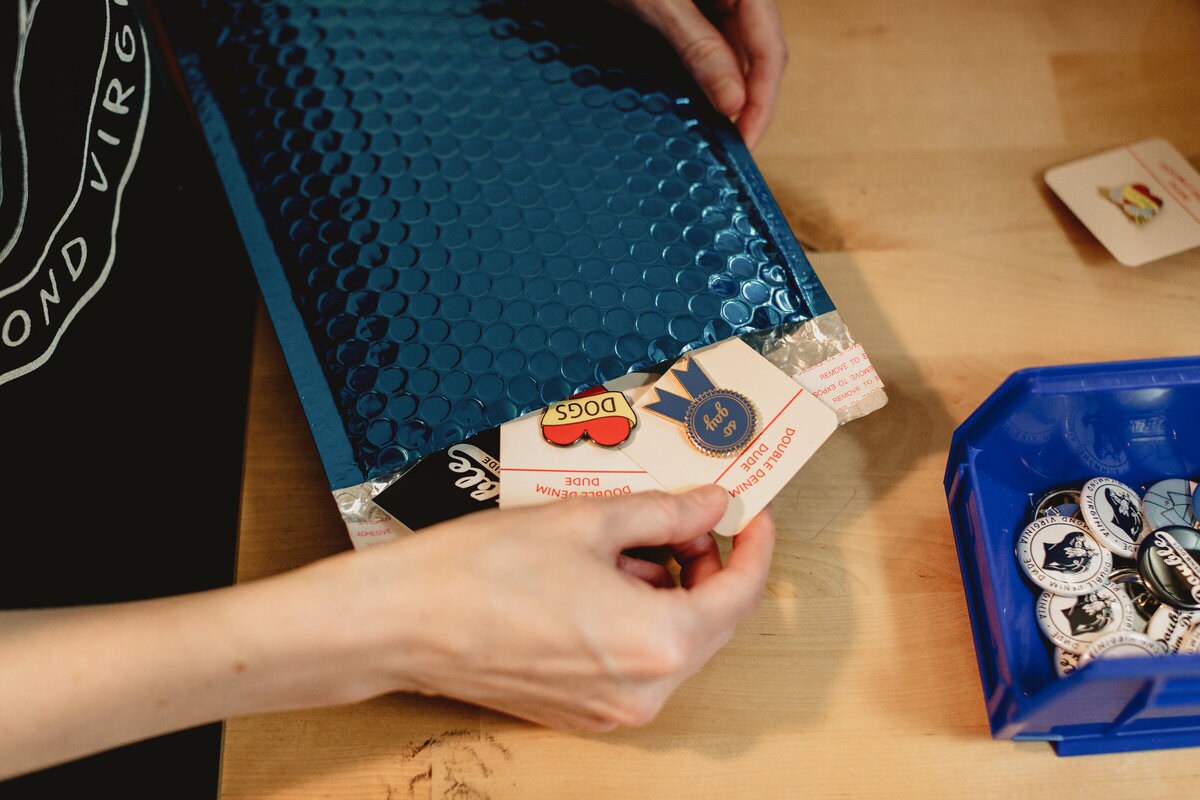 As an artist, I'm more of a visual person, so it can be hard to find the words sometimes. I identify as non-binary and it's hard to have to announce that. The culture of non-binary is still so new that people often don't grasp the concept of using they/them pronouns. People want to gender others, but you can't assume anything. Plus, my name is androgynous, and combined with the "dude" in my shop name I frequently get emails saying things like "Good evening, sir." I'm misgendered all the time. That's why I love creating these products, especially the pronoun items. I struggle with how to label myself in the world, and it's encouraging to know that my customers are really owning it. They're choosing to wear this badge of honor and take a stand, like, "This is who I am."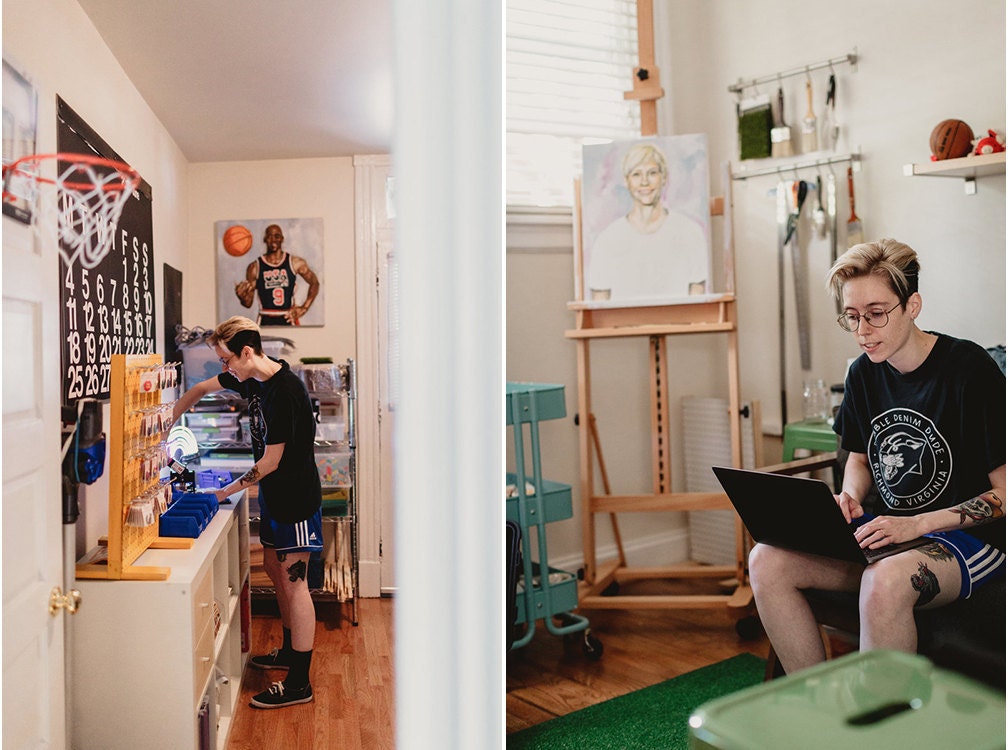 What's your most memorable Etsy purchase?
Back in 2015 I bought a custom engagement ring for my wife on Etsy. The seller was great to work with and let me pick and choose the different elements I wanted. I ordered it during a really bad snow storm, though, so the shipping kept getting delayed. Then it was lost in the mail. When they eventually tracked the package down, the seller overnighted it to me because the proposal was planned for the next day.
I had arranged for the proposal message to be programmed onto the marquee at the Byrd Theatre, an iconic landmark in Richmond, with both of our families waiting upstairs in the theater to celebrate the engagement. The ring arrived just 10 minutes before I was going to propose. We ran down to the marquee, I got down on one knee, and I was in such a panic that I ended up opening the ring box toward me instead of her! At our wedding, I wore a bow tie from Etsy and we had another queer seller make a custom felt banner for us.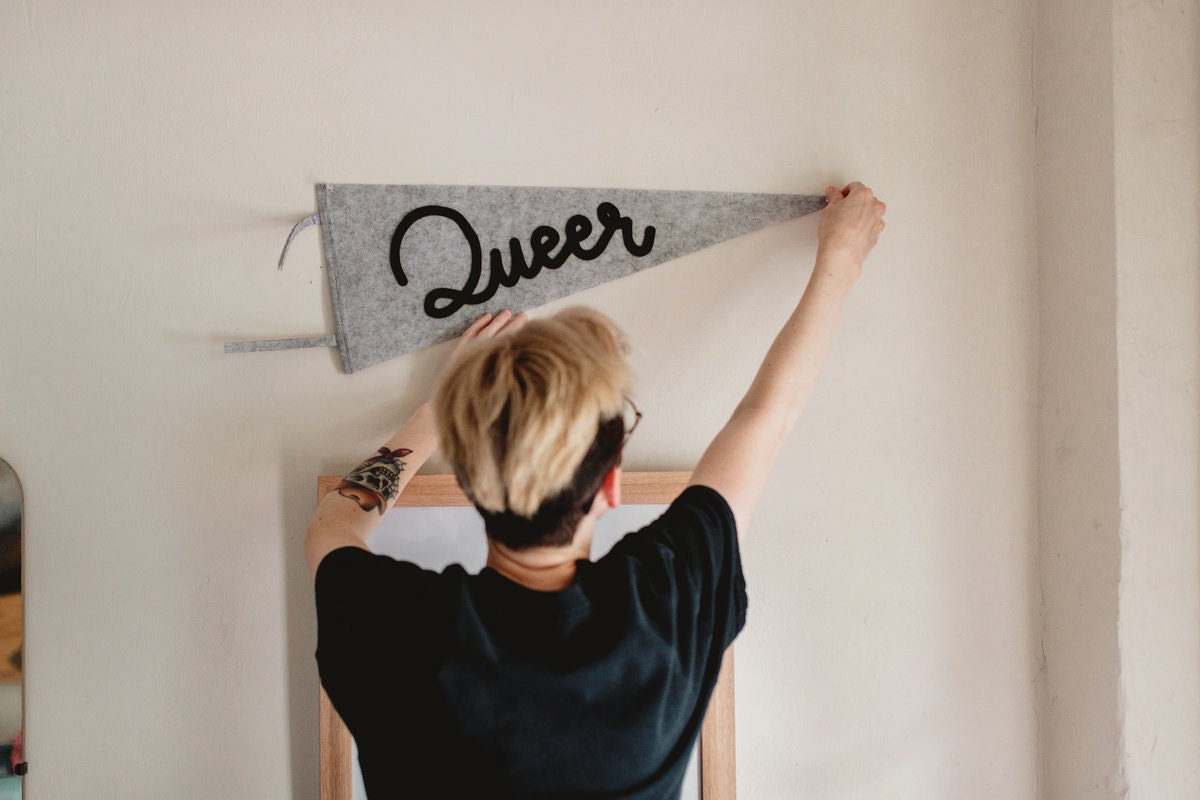 What makes Etsy the right place for your creative business?
I wanted to start a business but was still figuring things out. Etsy made things less intimidating; it has its own audience and draws people in for different reasons. It was easy to dive in as an amateur, and the marketplace grows with you as you develop over the years. I started out selling prints and buttons as an accessible, inexpensive way to create something, and the income from those sales allowed me to make enamel pins and experiment with other types of products. That's how I've been able to expand Double Denim Dude and make the items I want to sell.
How has your work made an impact on your community? Share in the comments below.