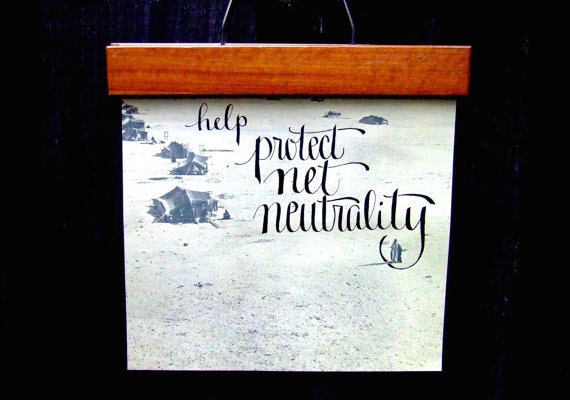 Today, Etsy is joining businesses and activists across the globe taking part in a national day of action for net neutrality. We're calling on lawmakers to do everything in their power to protect the open Internet. Read on to find out how you can help by calling your US senator today.
Since its inception, the Internet has been a level playing field, giving every business the same opportunity to succeed, regardless of size, and allowing new ideas to spread, regardless of source. Now, that openness — known as net neutrality — is under threat.  The US Federal Communications Commission (FCC) has proposed rules that would allow big companies to pay for faster access to consumers, leaving the rest of us in the so-called "Internet slow lane."
As you know, speed matters online. When Web pages load slowly, people are more apt to click away. This doesn't just affect websites with high-bandwidth content like video; it affects anyone who relies on the Internet to deliver products, services or ideas. That's why Etsy is taking action to protect the open Internet — and the Etsy sellers who depend on it.
You can help by clicking on the button below to call your representative in the US Senate right now. Your representative needs to know that as a small business owner, you are concerned about the impact the FCC's proposed rules would have on your business.

Already, more than one million people and groups, including Etsy, have submitted comments to the FCC supporting real net neutrality. But we need more powerful people on our side — which is why we're asking you to call your senator right now to ask him or her to sign a letter calling for real net neutrality. The final comment period ends on September 15, and Congress will only be session for a couple more weeks before they go home to campaign for the mid-term elections. Now is the time they need to hear from you.
Don't live in the US?  You can still help get the word out. The Etsy community has been crafting comments to the FCC over the last several weeks (see below for a selection of the product listings and check out 14 Items Inspired by Net Neutrality on the Etsy blog). Share the images across social media today to spread the word about net neutrality. Let's make sure the world knows that our community will not sit idly by while the FCC undermines the Internet we depend on for our livelihood.
Together, we can protect the open Internet.