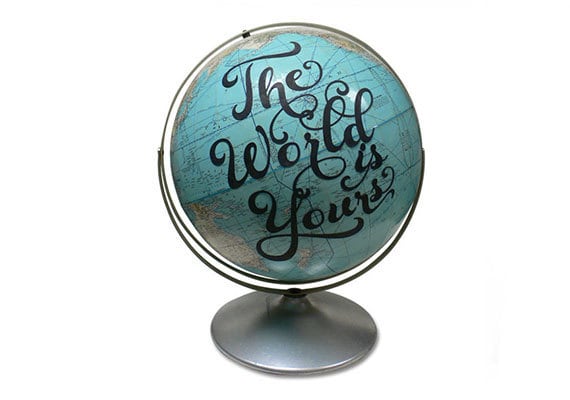 In my mind, one of the best parts about selling on Etsy is that it's a truly global marketplace. With 25 million members in 200 countries worldwide (and expanding), there are endless opportunities to grow your business and connect with buyers. How cool is that?
When I'm at workshops and team meetups, sellers often ask me, "How do I get the attention of buyers from around the world? How do I tap into that great big marketplace?" Great questions. Here's my roundup of tips to get global eyeballs on your goods.
1. Do Some International Research
Believe it or not, your product might have the potential to become a hit in a country you've never even been to. (Anyone who's seen Searching for Sugar Man knows what I'm talking about.) Take time to research trends in other markets and see where your product might be especially in demand. If you notice you're getting a lot of sales from a particular country, it'd be interesting to find out why.
Keep abreast with cool blogs from all over the world (including the Etsy Blog) to get a sense of what's trending and where. Then try pitching to blogs and magazines outside of your country, according to what you think might do well in those nations. For basic media-pitching advice, read Top 5 Tips for Getting Press.
2. Tell Your Story
Did you grandmother teach you a traditional cultural craft that you apply to your creative process? Did your travels to a certain country inspire your art? Do you make items that include materials sourced from a remote island? If so, highlight these interesting facts in your shop announcement, item descriptions, and About page. Share info about cultural roots and worldly travels so that your buyers have something to connect with. A great example of this is Toronto-based Grace Design; shop owner Alison Gledhill sources reclaimed vintage kimonos from Japan to make her clutches — definitely a selling point for her one-of-a-kind items.
Learn more about infusing your story into every corner of your Etsy shop by reading How to Be Your Own Best Marketing Tool.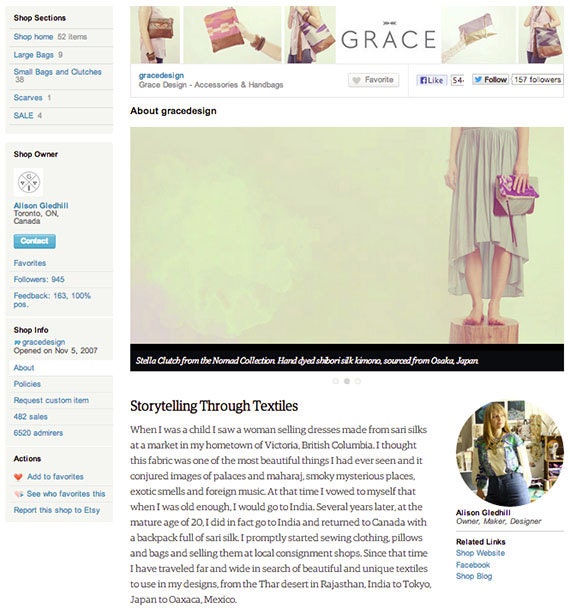 3. Take a Global Approach to Tagging
Some non-US English–speaking countries use drastically different words to reference the same thing or concept. For example, American buyers are likely to use the word "boutonnière" to describe the flower(s) pinned to a man's lapel at a wedding, but a speaker of British English would call it a "buttonhole." Because of these kinds of language variations, you may want to experiment with including tags that international buyers might use to search for your items.
Etsy Search is clever enough to figure out some language and spelling variations (for example, "jewellery" vs. "jewelry") but not when the word is entirely different. (In case you're curious about more examples of American English vs. British English, visit englishclub.com.) For more tagging tips, check out Brainstorming Keywords for Tags and Titles and keep a thesaurus handy.
4. Ship Globally
In order to be included in international search queries, be sure to set your shipping to international. This can be nerve-wracking for those of you who fear that high shipping prices might scare customers away or that your products might get lost in the mail. The best thing you can do is educate yourself and do some research. Consider purchasing a scale, take your items to the post office and ask for global shipping rates, or compare shipping prices to other seasoned shops to make sure you're setting your prices properly.
When possible, provide international tracking to give your customers peace of mind. In the unfortunate case that your product gets lost in the mail, make sure you're prepared with clear policies for returns or for replacing lost items. Always be clear when communicating shipping wait times to set realistic expectations for your buyers. To help you with this process, Etsy offers USPS International Shipping Labels, all of which include tracking numbers.
For in-depth details and tips about shipping, read 4 Steps to Shipping Success and a list of other Shipping & Packaging posts in the Seller Handbook Archive.
5. Include Thorough Communication
Provide as much information as possible for international buyers who visit your shop. It's important to leave no question unanswered in your listing descriptions and shop announcement. You want to inspire confidence in potential customers, so when they decide to buy an item from the other side of the world, they won't have to worry that it's, say, the incorrect size. If you speak another language, let buyers know and include a translated version of your descriptions in that language. Take a few moments with each of your  listings to consider the 20 Questions Your Buyers Are Asking, and address them preemptively.
Pro Tips: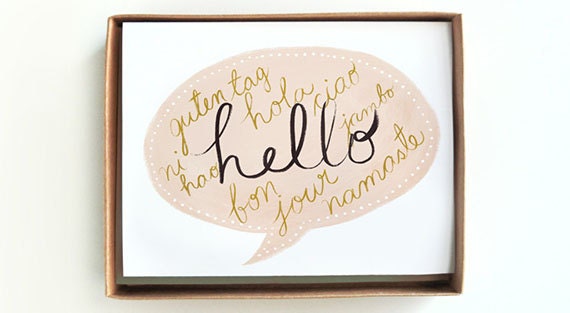 6. Join a Global Team
There are all kinds of Etsy Teams out there — teams that are organized by special interests, geography, and those that host shop critiques and organize collaborative marketing. I could go on and on with examples.
It's great to be part of a local team, but there's also so much to be learned from Etsy's global community of sellers. There are a ton of teams that you can join to network and learn about different cultures. Search Etsy Teams for international groups or interest-based groups to connect with sellers around the world.
Once you start getting orders from around the world, keep track of your items' worldly travels. If you include thank-you notes in your packages, you can invite your buyers to take photos of your product so that you can share it on your blog or social media and map out where your products are going. You can use this to pitch to bloggers and retailers as an example of how much your business has grown.
For more tips, read How to Find Teams to Help Grow Your Etsy Shop.
How do you handle increases in international shipping rates? For example, because rates seem to go up every year, have you modified anything about your business to accommodate higher costs? We'd love to hear your insights in the comments.