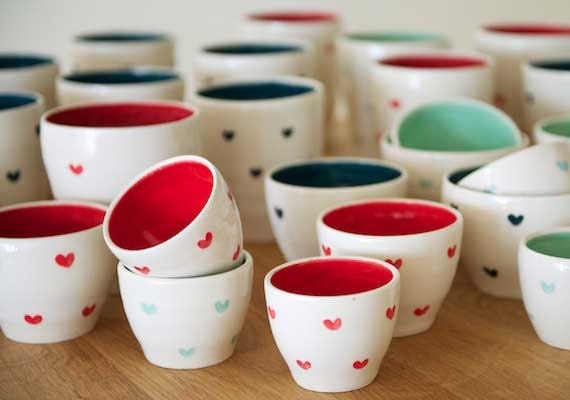 Last year, we introduced Etsy Wholesale to create new opportunities for you to grow your businesses, and to give retailers around the world a more convenient way to source products from small designers like you. Today, Etsy Wholesale launches out of beta testing. For more information about the platform and how you can get involved, check out our announcement on the Etsy News blog.
If you're thinking about developing a wholesale channel for your business, keep in mind that pitching your first boutique can be an exhilarating – and sometimes intimidating – first step in the process. First, you have to find a boutique that's the right fit. Then, you have to figure out how to make the first contact. Once you've landed your first store account, maintaining relationships and keeping an open dialogue with your buyer is a critical component of long term success. Read on for four best practices from sellers who have successfully navigated their first retail relationship.
1. Establish Ground Rules
Exclusivity requirements vary from boutique to boutique. Some prestigious and established retailers might insist on being the only shop in their neighborhood selling your products. Some retailers might simply want an exclusive on one particular product from your line. Others may inquire about special editions or limited run items. Chris MacManus founded Bittle and Burley, a Brooklyn, New York shop that sells beard brushes, shave bags and other accessory bags, in 2010. When he began working on a wholesale deal with A&G Merch in Williamsburg, Brooklyn, the retailer wanted to be the only store in the neighborhood selling his items. "It seems more special if you're not in every shop in the neighborhood," says Chris, who decided that the benefits of the exclusive arrangement outweighed any potential downsides. Depending on your particular situation, you may not want to tie your line down to one retailer in a particular area. When exploring distribution, purposefully build arrangements that work for both you and your retailer.
2. Keep in Touch
Sellers often think that once their products are shipped to a retailer, their work is done. But sellers should check in frequently to ask how sales are going and inquire about reorders. By doing so, buyers will keep your business top of mind when it's time to replenish their stock. Whether you're selling five products to a 300-square-foot store or 1,000 products to a multi-door retailer, make a note to yourself to check back a few weeks after your pieces have landed in-store. The retail industry can be tricky to navigate. Keeping an open dialogue and building up a level of trust between you and your retailer key to building a successful partnership. By addressing any hurdles or issues head-on together, you can arrive at a resolution that works for both parties – while building a fruitful working relationship.
3. Share Noteworthy Details
Share your story with buyers.  A well-timed email newsletter revealing important facets of your creative process, including new product launches, unique production techniques or collaborations with fellow designers, can provide the impetus a buyer needs to pick up the phone or reopen a wholesale line sheet. Dominique Caron, owner of Caru Skincare Company, an Etsy shop based in Astoria, New York, has sold her line of all-natural lotions and soaps at a variety of retail shops, including Anthropologie. She sends emails to wholesale clients when there's exciting company news to report. "It's a good way to keep in touch and say, 'Hey, remember me?,' without taking too much of their time," she says.
4. Leave the Door Open
"If it isn't a fit at that particular moment, take rejection gracefully," says Laura Daly, owner of Mockingbird Domestics, a retail store in Austin, Texas that sell a carefully curated selection of locally-sourced, high-quality housewares. Laura finds that, often, the hardest part of her job is having to decline inquiries from designers. "We understand that these artists are really putting themselves out there; it's an extension of who they are," she says. "But sometimes we need to say no, because we're running a business, too." For Laura, the decision to take on a new wholesale vendor comes down to two questions: "Will it sell?" and "Does is match our customer base?" She reminds sellers that just because a wholesale inquiry might not work out the first time, doesn't mean it never will.
Dig Deeper: Not sure if you're ready for wholesale? Take our quiz to find out. Stay tuned for our upcoming Wholesale Guide for Etsy Sellers, which will feature advice on pricing, policies and branding, along with a handy Wholesale Glossary.

Have you established a bond with a boutique? Share your advice for building a successful wholesale partnership in the comments.