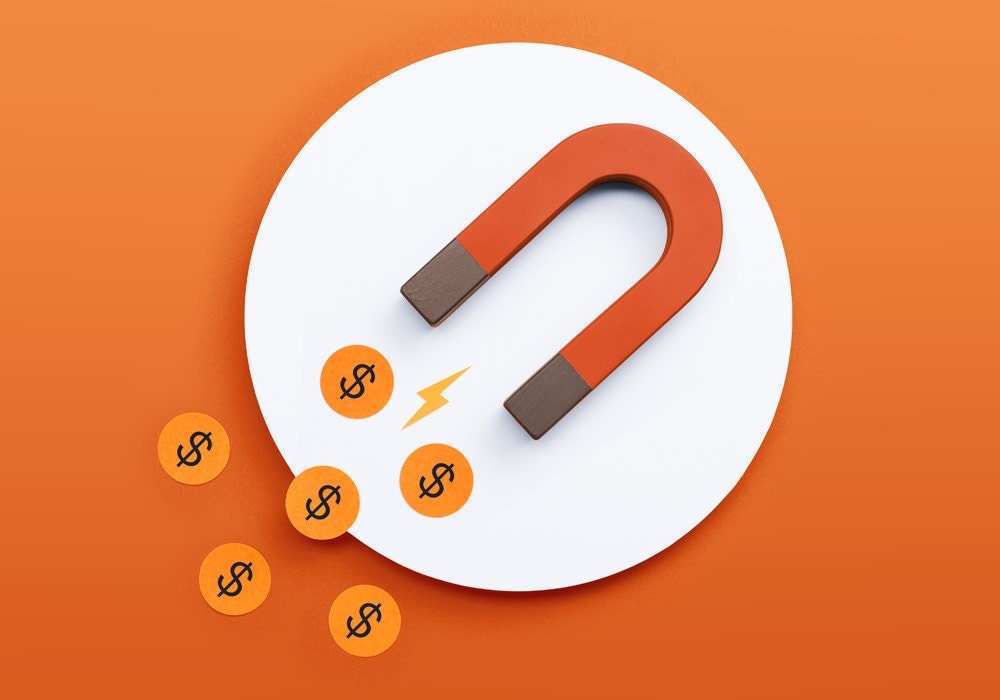 Growing your audience on social media helps amplify the reach of your carefully crafted content. The bigger your online following, the more opportunities there are for your brand to be exposed to new shoppers.
Building your following
Follow these steps to build a robust social media network that helps you connect with potential customers.
Spread the word on and offline
Customers can't follow you on social media unless they know where to look. Be sure to include links to your business's social media profiles on your website and blog. If you have an Etsy shop, connect your accounts to your shop so visitors can easily click through to view your content, see tagged product photos from past shoppers, and become a follower. To foster the connection offline, include your social media information on business cards or thank-you notes in your packaging along with a suggestion that they share a photo of their purchase online. This way satisfied customers will know which handles or hashtags to use when posting about their purchases.
Put your post into a broader context
Using a hashtag adds your post to a public feed for that phrase, drawing a wider audience to your content. Brainstorm what hashtags your target customer might be searching, and use hashtags relevant to your product that are meaningful to you. Etsy's social media tool will suggest relevant hashtags you could add.
On Instagram, use the Explore tab to research popular hashtags for your audience. Type a term into search, then click the "Tags" header. Once you click into your selected hashtag's feed, Instagram will also suggest other thematically-relevant hashtags along the top. Using a general hashtag with millions of posts in its feed may not provide much exposure, so researching more nuanced tags specific to your audience and industry can help you reach a more targeted group.
Create your own hashtag campaign
It's natural for customers to hashtag a brand's name when posting a product on social media, so take advantage of this by taking ownership of your shop name as a hashtag. Use that hashtag in your posts often and encourage customers to use it too—it's a simple way to garner free promotion. When customers use your hashtag, thank them and ask for their permission to repost. It shows there's a real person behind the business and motivates them to keep coming back. Read How to Market Your Shop With Instagram for more tips on launching a hashtag campaign.
Connect through comments
Comments are currency in the social media realm, indicating a deeper level of interest and presenting an opportunity for one-to-one connection between consumers and brands. Whether you're answering someone's question about your product, thanking a follower for posting their purchase, or complimenting content shared by people in your target market, engaging through comments indicates that you're active and attentive on social media—and helps spread the word about your business.
Working with influencers
Collaborating with influencers can provide their endorsement of your brand—and help you capture the attention of a new audience. While many influencers are recognized by their large social media following or high monthly web traffic, consistent engagement from their audience through comments and likes is another good indicator of the impact their endorsement as an industry expert might have for your brand. Read on to learn more about various forms of collaboration to consider, where to identify relevant influencers for your brand, and how to set a successful partnership into motion.
Types of collaborations
Social takeovers: Invite an influencer to take over your Instagram for a day, boosting exposure for both brands. #TakeoverTuesday is a good place to look for inspiration.
Discount or product exchange: Provide an influencer with a discount or a sample product in exchange for social promotion.
Custom product collaboration: Work with an influencer or another Etsy seller to create an exclusive product that aligns with both brands.
Gifting: Send an influencer your product with no commitment to promote—the more personal the gift, the better. Be sure to include a note with your social media handles and shop name. Keep an eye on their social media—particularly on visual-driven platforms like Instagram and Snapchat—to see if they feature your shop.
Identify relevant influencers
The most important characteristic when identifying an influencer is ensuring they are brand-aligned. Think critically about your own brand values, tone, target market, and aesthetic as you're considering possible partners to ensure the collaboration would be complementary to your shop. Look at influencers as brand advocates. You want to find people who will truly get excited about your business and the value it provides.
Social media is often the best place to identify new influencers to collaborate with. Search the hashtags you're already using to find users who would be interested in products or services similar to what you offer. Identifying and interacting with thought leaders who are active in your industry—but not yet talking about your brand—will help grow your network.
As you consider potential collaborators, it's important to consider how engaged their followers are with their content. Engagement shows if an influencer is truly influential. A good rule of thumb is to ensure the influencers you work with have an average engagement rate of 3%, which is calculated by dividing post engagement by their total followers on that social channel. (Post engagement is determined by adding up likes, comments, and shares on a handful of social posts and finding the average.)
Make the connection
Once you've found an influencer you're interested in working with, it's time to get in touch. Bloggers and other digital leaders often list a preferred contact email address available on their website or social media accounts. To streamline the outreach process, craft a standard message introducing you and your brand, and inquiring about whether the recipient would be interested in collaborating. Be sure to personalize the message for each influencer, including details about why you feel they would be a good partner.
Establish clear terms
To ensure a positive experience throughout the collaboration, clear communication about what's expected is essential. Creating a signed written agreement will help set the campaign up for success. While the specifics vary depending on the type of collaboration you're undertaking, be sure to address the following:
Start and end date for collaboration
Scope of project, including detailed descriptions of deliverables (photos, blog posts, etc.)
Ownership rights for deliverables, including exclusivity, if or when content can be reposted, and whether derivative work is permitted
Distribution parameters, including mentions of all channels to be used and frequency of posts
Compensation and payment terms
Sponsorship disclosure*
*Check your local laws. In the Unites States, for example, the Federal Trade Commission (FTC) requires that all sponsored digital content includes a public disclosure, such as the use of the #ad or #sponsored on social media posts. As an advertiser, it's smart to spell out your expectations regarding your partner's disclosure in your written agreement. Learn more about the FTC guidelines and how they apply.
Measure your success
Always define campaign goals before engaging in an influencer campaign. By determining a clear goal, like increasing brand awareness through new followers, hashtag usage, or social media mentions, you'll narrow your search for the right influencer and distribution channel. Using campaign-specific coupon codes is another great way to measure impact and set concrete, realistic campaign benchmarks upfront. To determine your campaign's success, track your engagement results and compare them to your benchmarks.
You can create posts for Pinterest, Twitter, Instagram, and Facebook using Etsy's social media tool: We'll even offer inspiration on what to share and which hashtags to use. Check it out.