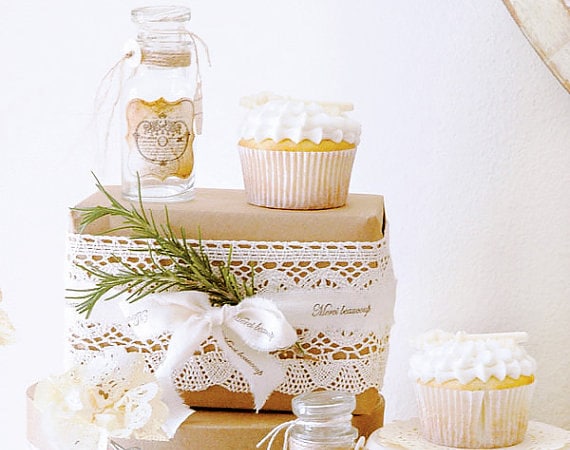 Creating a cohesive shop is the most important tool for branding yourself, and one of your biggest allies in your search for repeat customers. Customers who love your style will share your shop with others and come back again and again.
Further, cohesive shops are successful in search or wherever they are found. When you bring a shopper in from search, it's so important that they be interested in not just that item, but in browsing through the rest of your shop — this is how a great deal of sales are made. Now, instead of each item working for itself, they become a team that helps captivate a customer and encourage her to make a purchase!
A cohesive shop will help promote itself- when you have a clearly defined style, bloggers and others who would like to feature your shop will be drawn to it! Sellers who are chosen as featured seller and who are contacted for media features all have cohesive shops.
So, how do you create a cohesive shop? Here are our tips below:
What's your style?
Define Your Style: Can you describe the style of your shop in just a few words? This is a great indicator that you have a cohesive style. If you're not there yet, try to describe in a few words what you would like your style to be. I'd describe imyourpresent's style as kitten-bling, and her charming vision has made her shop a favorite destination, and drawn tons of attention: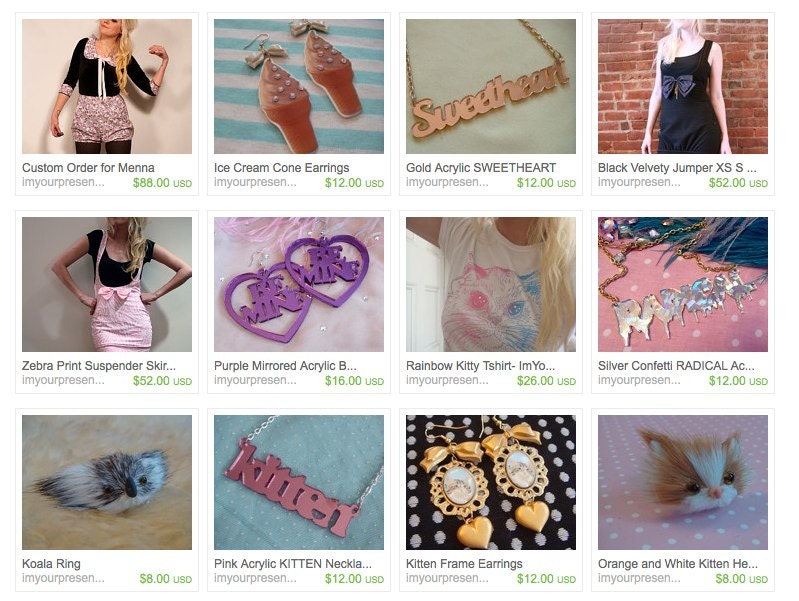 Product Assortment
Create Your Boutique: Do your products make sense being sold together? Could you imagine your Etsy shop translating to a brick-and-mortar store? There are always exceptions, so if you have a great idea, do it! The point is that your shop assortment should be an intentional choice.
Know Thy Customer: If you have multiple product lines in your shop, consider whether they all speak to the same customer. If a shopper comes in on one item, how likely is she to want to browse the rest of your shop?
Girlscantell sells a variety of gifty items — coasters, journals, bottle openers, lunch boxes, dish towels. But it all makes sense because the shop is a great gift destination, and they're all adorned with her signature style line artwork.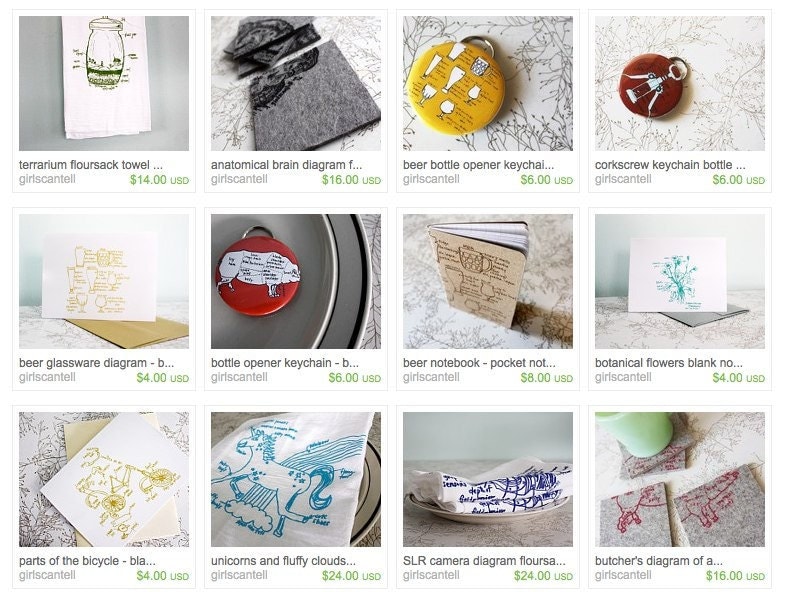 Photos and Shop Appearance
The Big Picture: Photo backgrounds that complement each other can make your shop look cohesive. All the backgrounds don't have to be exactly the same — in fact, a little variety can be nice, but they should play well together.
Set the Mood: Backgrounds and photography styles can help drive your look home. If your shop is rustic, what about rustic wood backgrounds? For a clean, modern look, how about simple, white backgrounds? Morning light can look soft and cheerful; early evening light can be more mysterious and romantic. There's no need to go overboard here — clean backgrounds will look good with almost everything, and will highlight the items and let them shine. Just consider that if your backgrounds are saying something, you want them to be speaking to the style of your shop.
Banner Time: Do the colors of your banner go well with the colors of your photos? Does the font style echo your aesthetic? A good banner that will probably sit well with your shop is a detail slice of one of your item photos. No banner would be better than the wrong banner though, so feel free to go bannerless for now, or purchase a banner from a great graphic designer on Etsy.
ClothandPatina's shop title describes her style and product assortment as "Rustic French Country Home Decor and Gifts," and her photos and banner reinforce her look with weathered textures, woods and whites, and natural light.

Now Go Forth and Cohesify!
But won't I get bored?: I think a lot of sellers have a variety of interests and styles they like and fear that having a cohesive shop will limit them. In fact, it can be wonderfully creatively freeing! Instead of crafting each item on its own, you will have fun creating and sharing your unique vision through your shop, which itself becomes a work of art.