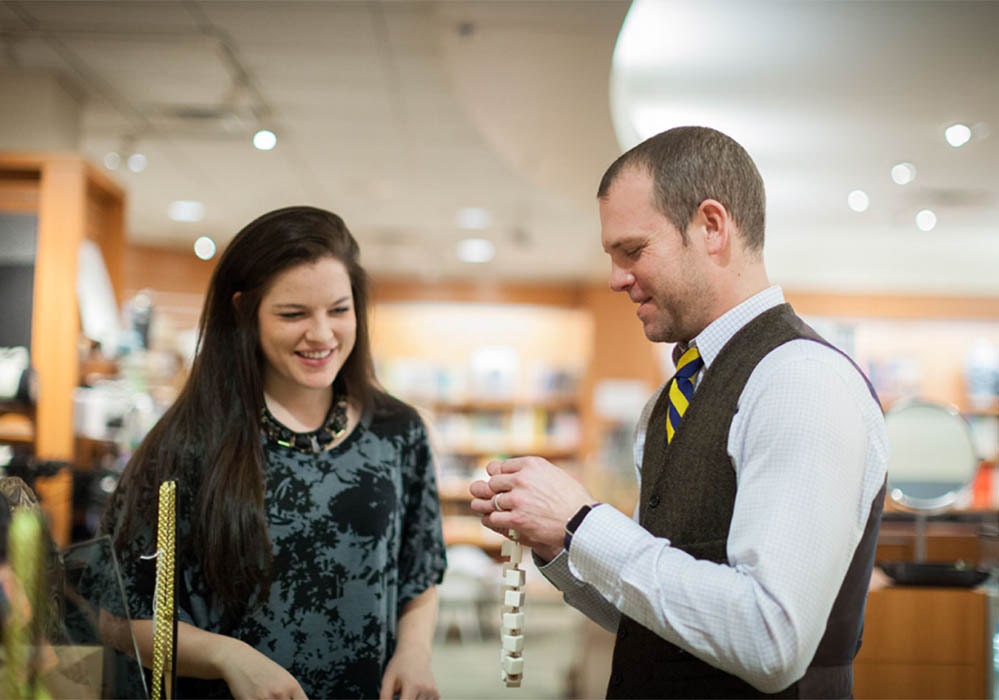 Ever dreamed of seeing your work in a museum? At amazing gift shops like The Store at the Minneapolis Institute of Art (Mia), Etsy sellers get to do just that. Ryan Ross, the Head of Retail for The Store at Mia, uses Etsy Wholesale to find unique gifts that connect visitors to Mia's impressive collections and wide ranging exhibits. We interviewed Ryan as part of our monthly Mind of a Retail Buyer series, to understand how retail buying for museums works, and how Etsy shop owners can stand out to buyers like Ryan.
"Many people don't actually differentiate the time spent in the galleries from time in the store," Ryan explains. "It's all seen as time at the museum." So it's his job to provide not just a great shopping experience, but an exciting entry and exit point for each visit. For a recent exhibit about creativity in culinary arts, Ryan created a pop-up shop called "Chef's Table," selecting items ranging from kitchen tools and attire to DIY food kits from 20 different designers on Etsy.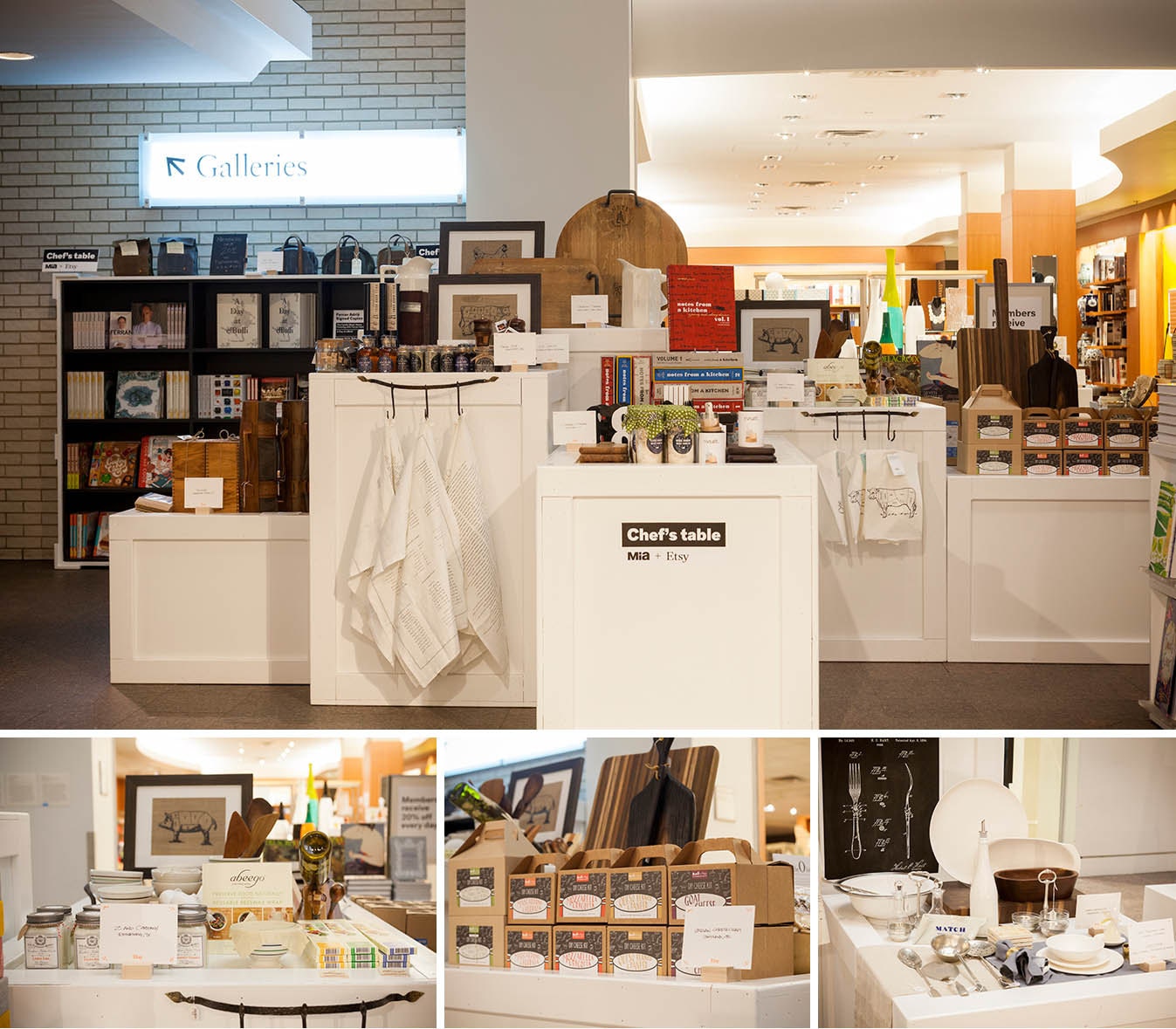 Ryan joined Mia in 2014 after a long career in merchandising for more traditional retailers. He was drawn to the opportunity to work directly with independent designers from all over the world, hear their stories and help support their visions. The best part of his job? "Connecting with artists and sharing their stories with our visitors," Ryan says.
We sat down with Ryan to talk about how he approaches merchandising to enhance visitors' experience of Mia's exhibits, and the importance of knowing and sharing the stories behind the artists and items he stocks.
What role does the Minneapolis Institute of Art (Mia) play in Minneapolis and the midwest?
The mission of Mia is to enrich our community and create an exceptional setting for inspiration and access to works of art from diverse cultures. Mia is home to more than 89,000 works of art — ranging from Rembrandt to van Gogh, Monet to Matisse, Asian to African — and we frequently host events like Art in Bloom, a festival of floral arrangements designed to interpret works of art, to spur creativity and nourish the imagination of visitors. Mia is beloved by locals and general admission is always free; our unofficial tag line is "the people's museum."
How did you end up in your role, and what's your favorite part of the job?
I have been the Head of Retail at The Store at Mia since 2014. I'd spent my entire career working in retail and merchandising and always had a real passion for creating stories within store environments. I love the opportunity to apply these passions here at The Store at Mia, and to forge lasting relationships with artists that ultimately support them in an incredibly meaningful way.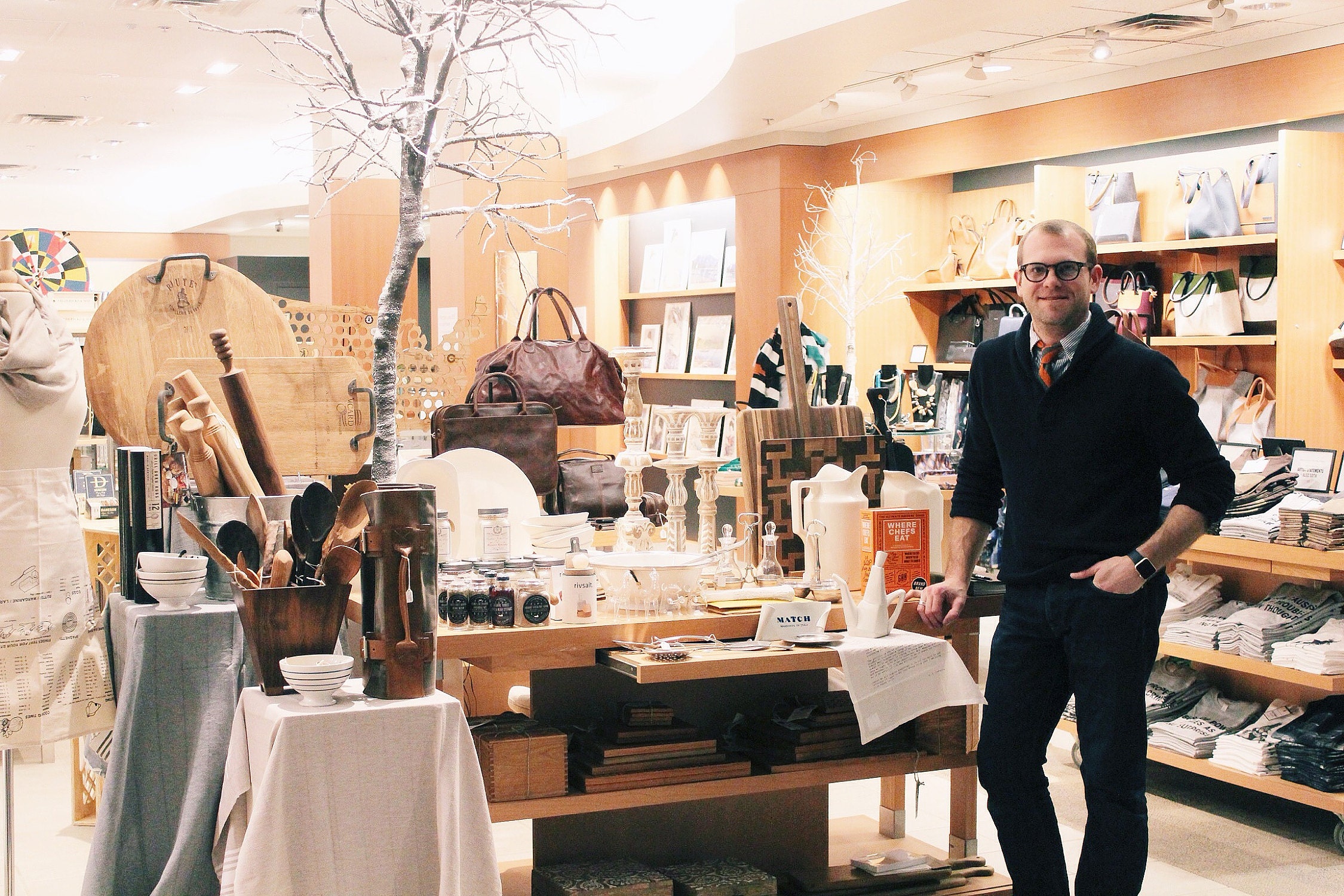 Can you explain your process of curating products for exhibits at Mia?
Planning around exhibitions can be challenging but also really rewarding. There are many things to consider when choosing product that draws connections to exhibitions: will it sell, does it makes sense, what belongs and has meaning? Depending on the projected attendance and the content of each exhibit, the planning process can take anywhere from a couple of months to a year.
What's different about the way a museum-goer shops than someone shopping in other settings?
Someone shopping in a museum has high expectations about the information shared, much more so than in a normal retail setting. They want to know the history of the artists, where they're from, what inspires them, and the source materials. This story needs to answer for our visitors "Why this artist, why Mia and why now?" Items often tie directly into exhibitions, current programming and our permanent collection but we are also here to represent emerging artists, from throughout the world, who have a modern and unique story to tell.
Another interesting difference is approachability. We're often the first and last place people visit during their time at the museum. A visitor may have spent three hours in a setting where they're discouraged from touching anything. We want to counterbalance that through visual displays that are engaging and encourage touch-points throughout The Store. For example, we showcase jewelry collections on tabletop displays to encourage our visitors to try on and experiment without having to look under glass. This gives my team a great opportunity to make a more casual connection and to tell a story about why this piece is featured here.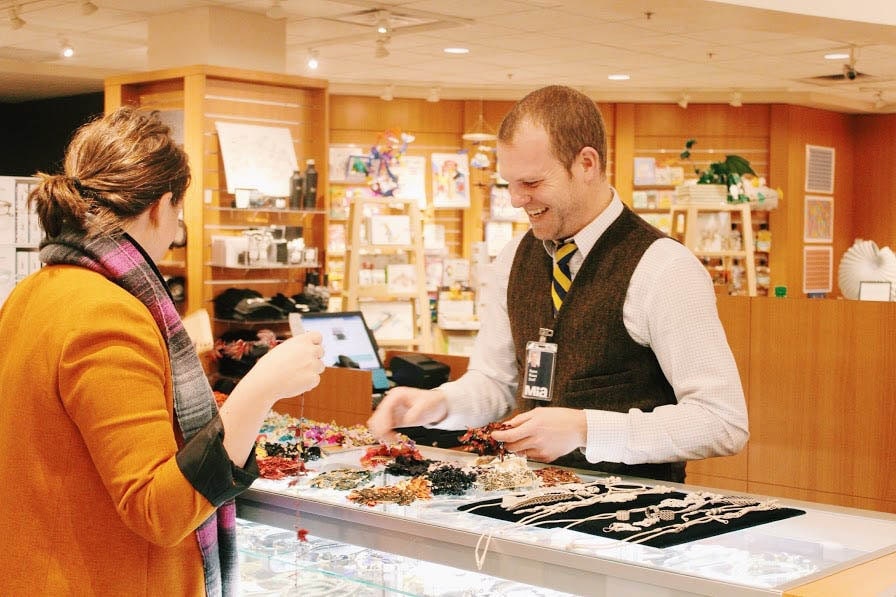 How do you communicate the stories of the makers behind the items you sell to museum-goers?
Storytelling is a big part of our DNA at The Store. Since we represent the independent artists that we feature, it's critical to what we communicate their story authentically. Our visitors love to know artist names, vision, materials, location; they want a complete picture of the artist they are supporting. I invest time in educating our team on the products we feature so they can share that with visitors.
As a result, it's the sellers who do a great job sharing the stories of their work and their products who really stand out. While searching for product for the "Chef's Table" pop-up shop, for example, Z&Co's visual merchandising caught my eye; their beautiful packaging and photography was certainly the hook. However they also do a great job communicating their role and process as independent artists and why they are so passionate about their work. Reading their story about having to start over from scratch after being impacted by a hurricane created an emotional connection for me and a willingness to support them as artists by featuring their work here at Mia during our pop-up and beyond.
How are you capturing your brand's story? Read Craft a Killer About Page for tips.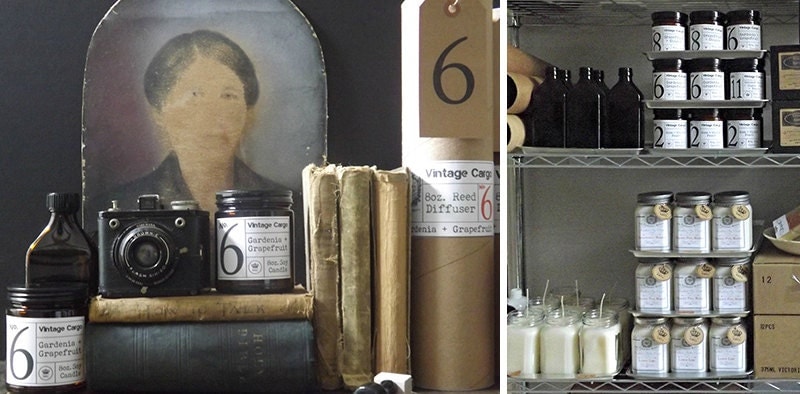 What are your top tips for an Etsy seller eager to have their line sold in museum stores?
First and foremost, story is critical. I need to be able to learn as much as possible about the artist and the items when I look at their linesheet and About page. The more I know about the methods of production, the materials involved and the inspiration that went into the items, the more I'm likely to get excited about a line and my team will be able to pass that on to our visitors.
I'm always on the lookout for products that are unique. I gravitate to artists and designers who have an interesting take on a trend or style, and who are creating products that are fresh, relevant and show they're thinking outside the box. A recent favorite is LittleSeedFarm, whose goat milk soaps and hand-care products tell an amazing story of sustainability and creating beautiful products with a truly minimalistic approach.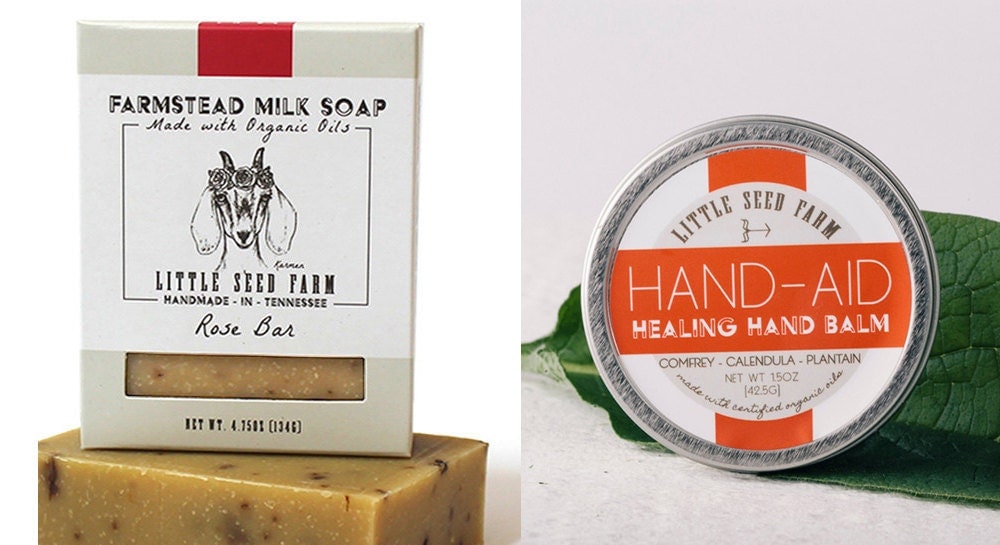 Lastly, we love when designers are able to create customized product or guarantee exclusive items for the museum. For example, for Mia's 100th birthday celebration, we teamed up with Handsome Cycles to create three amazing bicycles customized to look like famous paintings from Mia. It's always great to know that a store down the road won't have the same items. Sellers can showcase their ability to offer custom product by including photos of past work that is representative of the proposed product or samples — those are always a big plus.
We love to offer something that's exclusive from an artist that shoppers won't find anywhere else. The finished product needs to be beautiful, meaningful and have the ability to stand alone from the art that inspired it — nothing too literal. With such a vast collection at Mia, the possibilities for creative collaboration are almost endless!
All photos by Mia's Visual Resource Team, except where noted.
Have you had your products sold by museums or cultural institutions? Share your tips for appealing to museum buyers in the comments below.
Ready to apply to Etsy Wholesale? Already a wholesale seller? Check out the new Mini Open Call program, where sellers have the chance to pitch their lines to some of the coolest retailers on Etsy Wholesale. This month, Ryan is our featured retailer, and he's on the lookout for products that celebrate nature and have a rich story of sustainability. These could be jewelry collections, apothecary items, scarves or handbags that connect Mia visitors to landscapes and nature. If you have products you think would be a great fit for The Store at Mia, head over to pitch your line. Follow the action on Etsy Wholesale's Instagram where winners will be announced at the end of the month.