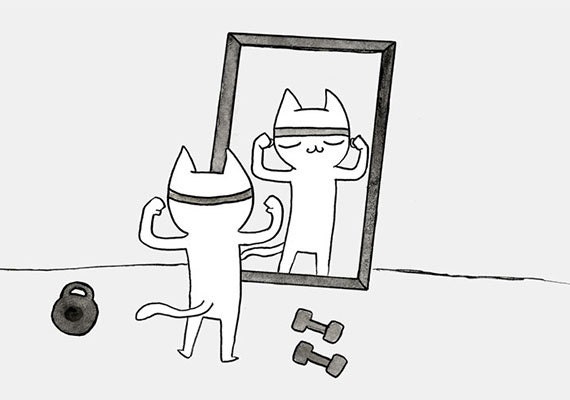 Shop Critiques are a great way for new and seasoned Etsy members to get a fresh perspective on how to improve their shops. They can be done individually or in groups and cover all areas of an Etsy shop. This downloadable shop critique worksheet is comprised of five key areas:
Photography
Getting found in Search
Cohesive Branding
Shipping
Pricing Items
Many Etsy Teams and local communities get together to host Shop Critique workshops, and now you can host your own! Use the lesson below as a guide to organizing a Shop Critique session with your friends, team, or community.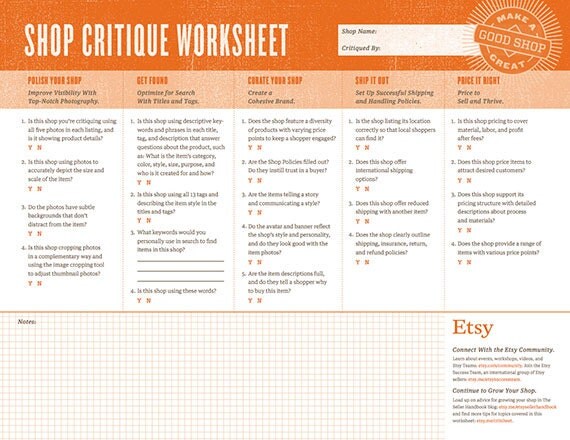 Prepare Your Workshop
Rebecca George of PurpleAndLime organizes Shop Critique workshops in her local Chicago area and has these great tips to get you started:
1. Be Prepared: Ask attendees to send their shop links to you before the event so you can take a look and make notes if needed. 2. Use Examples: Find a few Etsy shops to use as examples in your workshop; reference shops that demonstrate great photos, effective tags, amazing banners, etc. 3. Calculate Timing: Divide the time equally between each seller so that attendees get enough information and answers to their questions. 4. Practice: Make sure to rehearse your workshop before delivering it, and be familiar with the content.
Each workshop will have its own flavor and approach depending on what you feel comfortable with. You can opt to deliver this "lecture style" with one main speaker giving tips, taking you through the exercises and doing the critiquing. Or, you can have your students pair up and critique one another. In which ever method you choose to deliver your workshop, be sure to study up so that you're ready to answer questions; I highly recommend reviewing Seller Handbook blog articles about shop best practices. You may even want to email related article links to attendees to read before your workshop.
Equipment and Format As you work on your presentation and develop your approach to delivering the information, think about what you need access to make it successful. Here are some questions to consider:
Do you need wifi, overhead projection, or access to a printer?
Do you want to encourage students to bring their laptop, smartphone, or tablet to work on?
Will this be a video chat with people following along at home?
Do you want to have people work on each other's shops, or do you want to use one shop as example throughout?
Do you want to pair up participants beforehand and give them time to research and work on their critique of their partner shop?
Any of these formats can be worked into an effective workshop — it's up to you to choose the approach you feel most comfortable with.
Selecting a Location
Organizing your workshop can be as simple as inviting people to a Google Hangout or working with your local library to see if they'll host your workshop. Use online tools like Google Hangout to connect with many people at one time or Eventbrite to organize attendee signups and ask questions of your class beforehand.
Pro Tip: Use the on-air function of Google Hangout to broadcast your video chat on the Internet.
Personalize Your Presentation
I've assembled the following sample workshop outline, but I encourage you to add your insights and embellishments to bring your workshop to life. We've organized this class into five sections that dig into each area of an Etsy shop with the ultimate goal of making a good shop great.

Recommended Seller Handbook Articles:
Instruct your class to look at each other's listing photos and use the Shop Critique Worksheet to steer advice for making images a powerful communication and sales tool.
Additional Discussion Questions:
Do their photos stand out and help their brand? How can they use props and backgrounds to tell their story?Are they using natural light?
Are they highlighting the best photos either in Featured Items or Rearrange Your Shop?
Will a shopper be able to tell what the product is?
Are the photographs crisp, detailed, and well-lit?
Is the product cropped in the photo or well-centered for Etsy's square format?
Do the photos have watermarks or other effects added to them that may detract from them being shared on social media?
Is the scale/size of the item obvious to the buyer?
Recommended Etsy Tool:

Using titles, tags, and descriptions to be found by Etsy customers is always a popular topic for sellers who want to improve and connect with more shoppers.
Recommended Seller Handbook Articles:
Instruct your class to take five to 10 minutes to brainstorm all the words that they think a shopper would use to search for one of their items on Etsy. What words would they enter into the search bar if they were looking for exactly the amazing things that they make. This is a great way to start a list of keywords that you can build into an item title, tags, and description. Rinse and repeat for each listing. Be sure to use compound phrases in addition to single words in your keyword list. Advise attendees to connect with a neighbor and review the words they chose and see if they can come up with some new ones together.
Next, ask for a volunteer to share an example of an item from her shop and invite the crowd to suggest synonyms for the volunteer's keyword list. Plug this list of keywords into the Etsy search bar to generate a pull-down list of the most popular search terms. Make modifications to your keyword list based on the search bar recommendations to be sure you're using exactly what shoppers are searching. Lastly, encourage your class to fill out column two for their own shop or their neighbor's.
Recommended Etsy Tools:

Now it's time for your class to really put their buyer hat on to look at the shop as a whole, and review the listings and policies for areas of improvement.
Recommended Seller Handbook Articles:
Instruct your class to review their own shop or their neighbor's shops to ensure they're answering all the questions you can think of within their listings, policies, announcement, and About page. Brainstorm a long list of buyer questions — make sure to envision a variety of shopper hats; for example, are they buying for themselves or a gift? Is the shopper a man or a woman?
Next, ask volunteers to share a listing with the class. Find answers to your buyer question list in this listing together. Once you're done, encourage your class do the same activity for their neighbor's listings and answer the questions in column three.
Recommended Etsy Tools:

Recommended Seller Handbook Articles:
Setting shipping prices can be elusive for many new shops, so start by reviewing some shipping best practices and tools on Etsy to help you manage your shipments. Shipping labels and shipping profiles are two great time savers to help shops consistently deliver on expectations to their shoppers. Run through what it takes to estimate shipping rates:
Weigh the item (use a good scale, you want this to be accurate!).
Figure out how you want to ship the item, ground, next day, Priority, overnight, etc.
Use post office shipping rate calculators to determine your price.
Make sure your class knows that Etsy is an international marketplace and if they want their business to grow internationally, they should be sure to include international shipping rates in their shipping profiles.
Have the students complete column four.
Pro Tip: Customer service can very much be tied to shipping best practices and communication. Take a minute to review ways to communicate to shoppers and let the class share how they communicate to their buyers and what special touches they include to make experience memorable and positive for their sales.
Recommended Etsy Tools:

Recommended Seller Handbook Articles:
Using these blog articles, review pricing best practices with your class. Encourage an audience volunteer to show her listing. How much does the class think the item should sell for? How much do they think are the raw material costs? After you get a general sense from the crowd of the anticipated retail price vs. materials cost, the fun can begin! Invite attendees to list everything they think goes into the materials cost — make sure it's thorough! If you need help listing some of the costs, be sure to download this worksheet if you want to have your class take a deep dive into pricing strategy.
Last but not least, ask your class to complete column five with their neighbors.
Recommended Etsy Tools: Check out How to Price Like a Pro for an edit-friendly  worksheet.
Have you hosted a workshop or participated in an Etsy Shop Critique? Share your insights in comments.