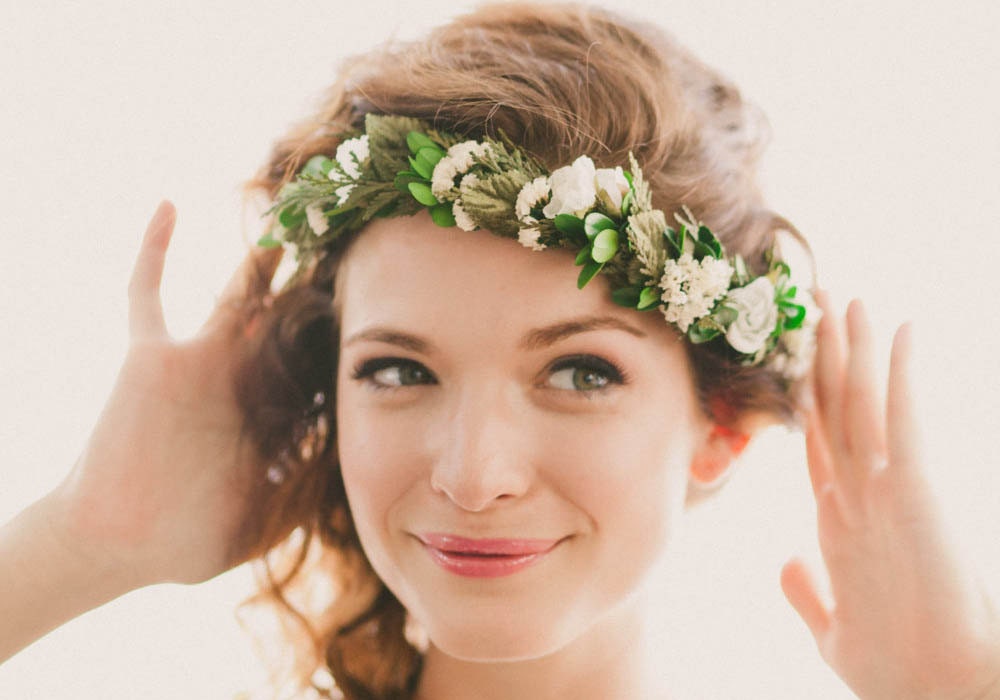 Etsy is full of items designed for the unique wedding. Lovingly letterpressed save-the-dates, vintage engagement rings and alternative bouquets are just a few of the reasons wedding shoppers are smitten with Etsy. But who are these wedding shoppers, and what do they really want? By getting into the heads of these brides and grooms you'll gain a better understanding of your customer, and learn how to best position your shop for success.
Brides and grooms come to Etsy for several reasons: for inspiration, to realize their unique wedding visions, to buy personalized items and to find materials to craft their own wedding decor. Often their own wedding planner, Etsy wedding shoppers are well researched, inspired and Pinterest-savvy. They're likely to create many pinboards dedicated to the big day before turning to Etsy to secure the physical goods that turn a pinboard vision into a reality. These shoppers want their weddings to reflect them as unique individuals and want the process of planning and purchasing items for their weddings to feel as special as the event itself. Even Etsy wedding shoppers on a budget tend to value the personal touch, attention to detail, and craftsmanship that you as an Etsy seller offer. Together, you're the perfect match.
Read on for tips on catering to Etsy brides and grooms and thriving in the wedding market.
Fall Into the Wedding Scene
Like many Etsy wedding shop owners, Emily Suidikas didn't start her shop with the intention of breaking into the wedding market. Emily started her Hampstead, Maryland-based Etsy shop Whichgoose in 2008 to sell hair crowns she thought people might wear with costumes or to renaissance festivals. "I was sort of shocked to see that a lot of customers were brides!" Emily says. "Once I found my market, I really concentrated on making accessories that had more of a 'bridal' look," she says. Today, Whichgoose has a strong wedding focus, speaking to its bridal customer with romantic, ethereal shop visuals. Embracing the bridal market has paid off — Whichgoose now has over 13,000 sales. Could your shop have unrealized appeal among wedding shoppers? Read 7 Ways to Tap the Weddings Market to find out.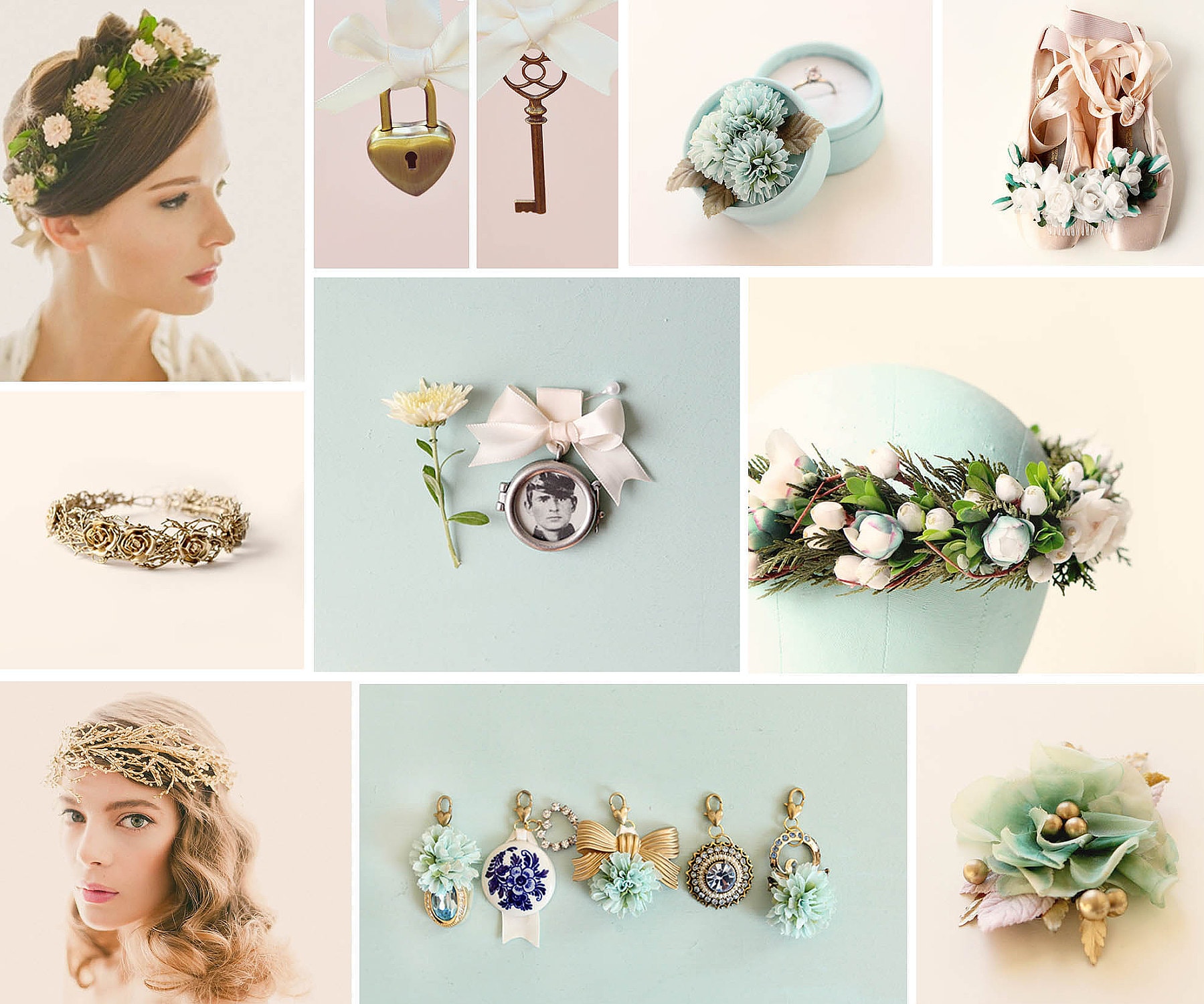 Offer Unique, Personalizable Products
Successful wedding shop owners like Emily understand that bridal shoppers on Etsy are after something unique. "They are not going to find what they are looking for in a standard 'big box' bridal shop," she says. "They don't want to look like a bride in a magazine. They want to look like a true representation of themselves — unique, quirky, and elegant."
Etsy merchandising specialist Hannah Weber says she is also seeing a trend towards hyper-personalization. "Couples want their personalities to shine through in the details of their wedding, through the incorporation of local customs, activities they enjoy, or personal interests," says Hannah. The quirkier and more personalized your take on a wedding tradition is, the better.
Offering custom orders can be a great way to help brides and grooms express their unique visions. If you don't want to take fully custom orders, using Listing Variations to offer easy customizable options, such as color choice, gives shoppers the experience of personalizing an order while choosing from available offerings.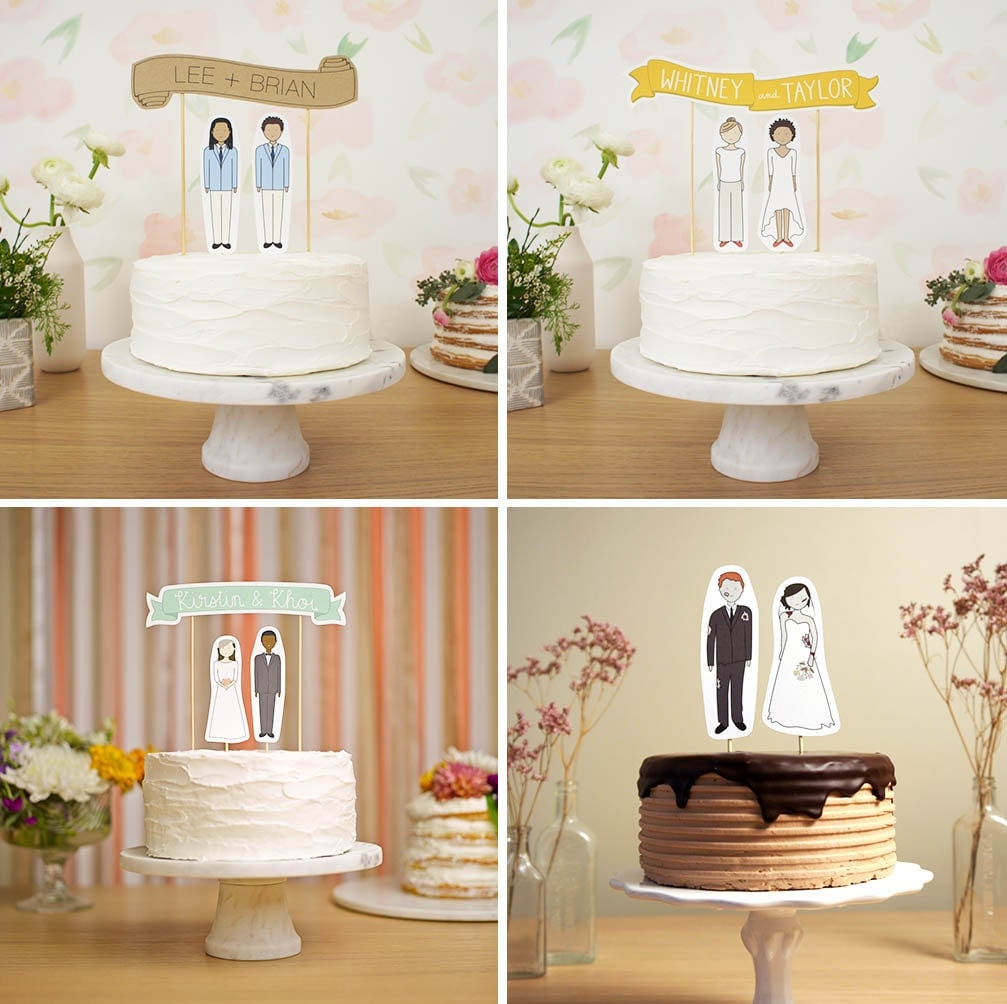 Delight in the Details
Even if they are among her least expensive wedding expenses, the small items purchased on Etsy play a crucial role in shaping an event and making a bride's vision come together. Kara Lamerato of San Diego, California-based wedding decor shop Kara's Vineyard Wedding has built her business on these small details, selling small niche items like place card holders made from wine corks. Kara opened her shop in 2011 after she made decor for her own wedding and deeply enjoyed the process. "A bride who I'm working with is very different than one who's just checking things off the list," says Kara. Wedding shoppers on Etsy are thoughtful and deliberate, she says, invested in the small items that make a wedding special. "I think those smallest, tiniest details can really knock a wedding out of the park" says Kara, "so I'm excited to work with people who share that same vision." Showing she's concerned with getting each tiny detail just right helps Kara earns bridal shoppers' trust.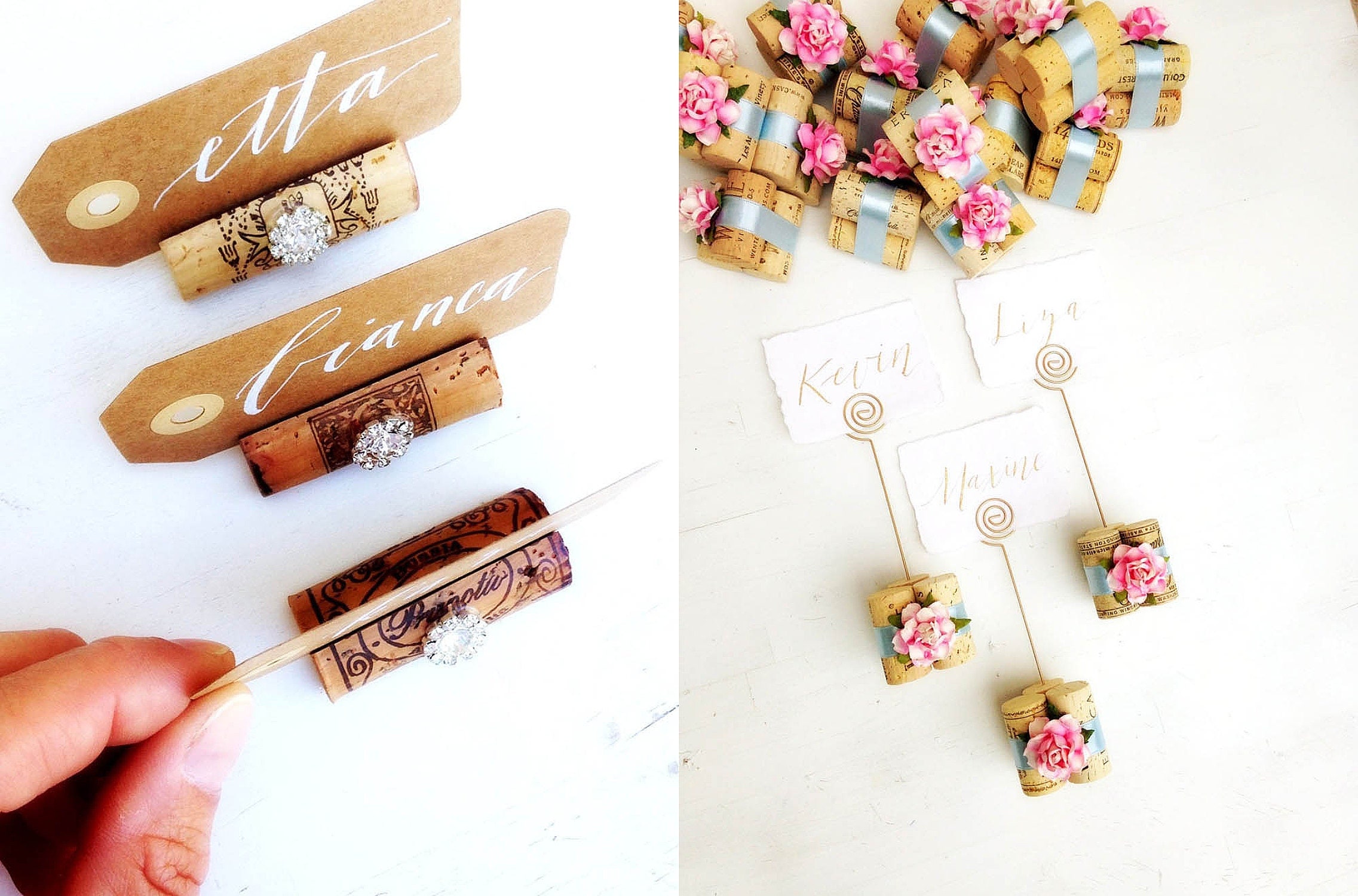 Appeal to the Happy Couple's Creative Side
Etsy wedding shoppers are often drawn to Etsy because they identify as creative people themselves, an asset you should consider when developing and marketing your products. By offering DIY versions of some of your popular items, you can draw in DIY shoppers, who may end up purchasing a finished handmade item from your shop instead. Offering both options can also be a great way of hitting multiple price points.
"Someone who has a crafty nature could look at a picture of my designs and do it themselves," says Kara. "I acknowledge and accommodate that by offering them the supplies I use to make the exact same product, in a limited scope." Kara sees an even split between price-conscious DIY couples and those who would rather pay for someone else to do the work.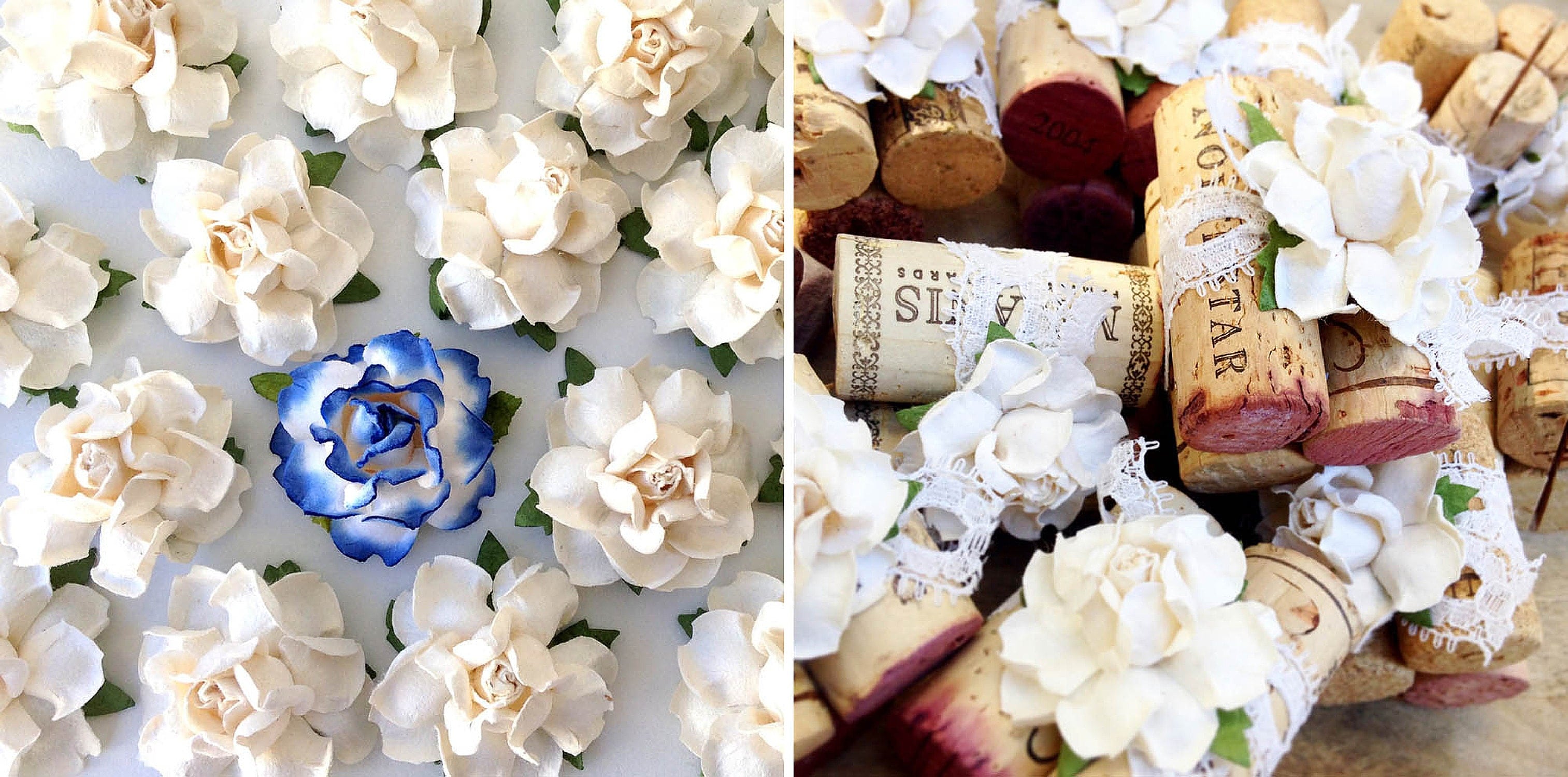 Offer Multiple, Flexible Options and Prices
Even for Etsy shop owners who sell luxury wedding items with more expensive price points, it's possible to offer a range of products built to suit a variety of wedding budgets. Since opening her fine stationery shop Hello Tenfold in 2009, Ellie Snow has expanded the ways in which shoppers can purchase designs from her Durham, North Carolina-based business. She now offers a Printables section in her shop for couples who want to find their own print shop or print at home. Ellie started offering the PDFs last year as a way to accommodate couples on tighter budgets. "With PDFs I can still give them the same quality of customer service and the design is the same, but they get the file and they can print at home, which can really help with the cost."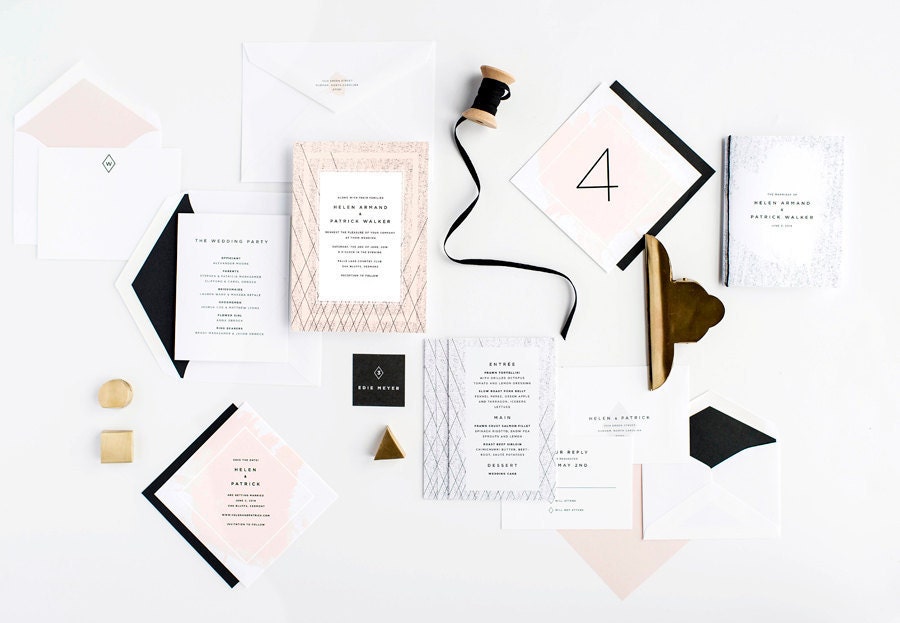 Tell a Visually Inviting Wedding Story
Etsy merchandising specialist Hannah says that when it comes to selling wedding items, photography is key. "This means high-resolution images, but more than that, photography that tells a story," she says. She suggests aiming for "evocative, aspirational images that feel like snapshots of real weddings."
Welcome brides into your shop by telling a wedding story with enticing visuals. "It's helpful to put yourself in the mindset of a bride shopping on Etsy, who is looking for inspiration for the big day while she shops," Hannah says. When putting together a wedding-related page, Hannah aims to make it as visually rich and inspirational as it is shoppable. Make your items appealing to wedding shoppers by placing your products in context. Examples could include capturing place cards shown at a fully set table, a centerpiece propped in a complete tablescape, a bar menu shown at a full bar, Hannah says. Photographing your items in this way can help wedding shoppers imagine them being part of their special day.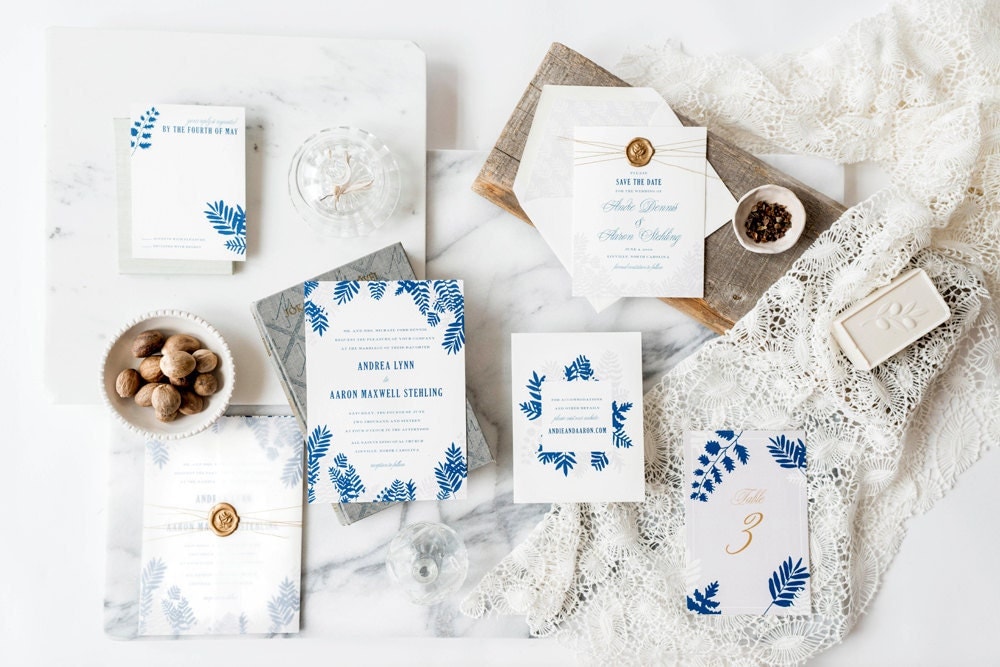 Offer Stellar Customer Service
Customer service is always important, but when dealing with brides and grooms, the stakes can feel especially high. "There is definitely a fair amount of pressure that comes with making something for a wedding," says Emily. "No matter how many items I have sold, I always feel a little nervous sending out a headpiece." You can mitigate this pressure by developing a system for offering above-and-beyond customer service that will exceed a couple's needs and work for your wedding business. Here are a few helpful tips:
Build interaction into your processes
Encouraging communication early in the process can help create smooth transactions. To ensure customers are ultimately happy with her products, Ellie requires customers to get in touch before placing an order and keeps this line of communication open throughout the design process.
Be clear
By prioritizing clarity in all your processes, you can help make sure you and your customer are on the same page. Before starting her business, Ellie worked at a graphic design firm and learned how to execute graphic design projects. Using that knowledge as a rough guideline, she has refined her processes over time, designing a solid proof approval process that ensures customers know what to expect. "I am constantly tweaking my contracts," she says.
Understand your customer's vision
Ellie finds that most people arrive at her shop with a pretty clear vision of what they want. In most cases they only want to tweak a few things on an existing design. However, for projects that are custom, the process goes more smoothly if they are able to share their vision with her, often in the form of a Pinterest board. "Otherwise it's like shooting in the dark and can get really tricky," says Ellie.
Over-communicate
If in doubt, over-communicate. Before fulfilling an order, Kara makes sure she understands exactly what the customer's expectations are, and reaches out to clarify if she has any doubts about what they want to receive. "I don't want to assume anything," she says. "I don't want them to ever open a box from me and say 'Woah, this is not what I expected,' or 'this doesn't look like the picture'."
Know when to say no
Save your customers and yourself a headache by only committing to projects that feel right for your brand. If a customer requests invitations in a style that Ellie doesn't specialize in (such as calligraphy), she takes it as an opportunity to either collaborate with another artist, or suggest another shop owner who would be perfect for the job. Read more about Ellie's process here.
Be available
You can set yourself apart from other shop owners by simply being the most available. "I truly believe that I've gained a ton of sales just from being very responsive," says Kara. Using the Sell on Etsy app helps her respond quickly whenever a customer reaches out with a question. "I don't want someone waiting a day for a response from me," says Kara. "When I receive a question I can answer in 30 seconds, I will stop working and answer the question."

Share Your Expertise
The longer you sell in the weddings market, the more knowledge you accumulate about the larger wedding business. Kara always knew she needed some type of platform to expand her reach but didn't feel blogging was a natural fit. So she started her own podcast to share free wedding planning tips and raise awareness of her brand. Consider ways you can share your expertise and passion with bridal customers.
For more weddings market tips, read 10 Tips for Selling to Brides and Grooms. Do you sell wedding items? Please share your tips for working with brides below.
Wondering how to make the most of the wedding season? Join us on Wednesday, May 18, at 4 p.m. ET for a Q&A session with Etsy merchandising specialist Hannah Weber, who will share her advice and expertise on merchandising your shop to attract wedding buyers, photo styling, industry and Etsy wedding trends. Post your questions for Hannah here.