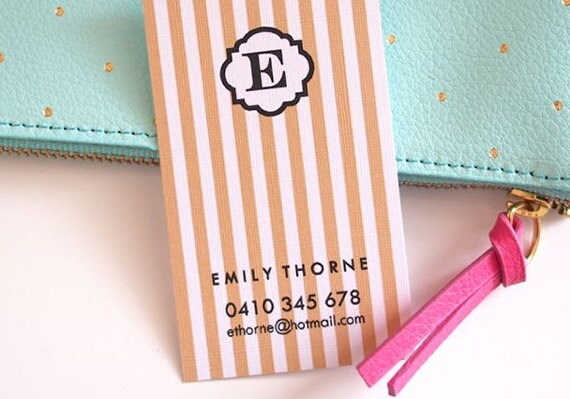 As online sellers, most of us are experts at online networking Pinterest, Facebook and Twitter are just a few of the online networking resources we spend our marketing time on.
These are all great ways to get the word out about your online shop, but networking shouldn't be your only venue for marketing your Etsy shop. Introducing a new and constant stream of people to your business is a challenge, and you need to start looking beyond the online world in order to achieve the success you desire. A great way to do this is to start exploring traditional networking venues.
I know, I know. A Chamber of Commerce or LeTip meeting sounds scary and a little too mainstream for your artsy self, but, by following these five steps the process a will be a little easier.  I've even included some creative tips so that you don't feel like you are losing your creative edge as you explore this marketing arena.
Step One: Explore Different Venues
Most networking organizations will allow you to attend a few meetings before you become a member. When I started my business, I spent the first year going to about four networking events a month. It was time consuming, but I was able to figure out which organizations would pay off the most.  I now only attend two meetings a month and belong to one organization, yet I am getting more business than ever because the events I go to are filled with my target market. I strongly believe that effective networking is as much about quality as quantity. Make sure the room is filled with potential clients and watch your networking time pay-off! Many of these events are scheduled in the early morning or at lunch time, so even if you have a day job, you can probably work an event or two into your schedule.
Here are some tips for finding networking events that are a good match for your creative business:
What local city is known for harboring artists? Make sure you attend the Chamber events there.
Google "art clubs" or "craft clubs" and then the name of your city or county and see what comes up and when they meet.
TipClubs can even be helpful: they are filled with independent business people who come into contact with tons of individuals.
Attend events put on by your local galleries.
Network at local craft fairs and shows.
Step Two: Be An Active Member
Once you decide on an organization or two, make sure you become an active member. Volunteer for committees or help at events.  The PR you will get from spending some volunteer hours will be well worth the time.  Members will think of you first when someone is looking for your products.
Creative Tip: Volunteer your creative abilities to help out the organization. Maybe you can design an invite for an event, or make the centerpieces for a lunch.  This will give members an idea of what your artwork looks like and how talented you are!
Step Three: Meeting People
Go into every networking meeting with a goal of how many new people you are going to meet. I've found that making a game of it has helped to take the pressure off.  Instead of going in thinking, "I have to find customers or my business is going to fail,"  I go in thinking, "I'm going to meet three people today."  That's it: no pressure.
Sometimes the three people I meet end up being potential clients, sometimes they become friends, and sometimes they are just someone to practice my introduction on. Just relax and have fun. Remember that everyone else in the room is as nervous as you are.  If you are really scared, look for someone in the corner who looks even more nervous than you.  The look of relief on their face when you approach them is rewarding and will help you overcome your anxiety.
Remember that you are there to make contact. You should not immediately launch into a pitch of your business. You will attract a lot more business by listening rather than talking. Ask questions! Why is the person there? What is their business? What are their hobbies and interests?  Get the focus off of yourself and onto them. When choosing a seat, don't sit on the end.  Make sure you have people on each side of you and in front of you.  This gives you plenty of opportunities to meet more people.
Creative Tip: Make sure your business cards are creative. They can be the best ice breaker!  But remember: sometimes it is better to receive than give. The number of business cards you collect can be more important than the number of cards you hand out. This gives you the ability to develop the relationship and keeps you from sitting by the phone, wishing that someone would you.
Step Four: Follow-up
Do not bound out of the meeting with a fistful of business cards and then let them sit in your studio and rot. Within 24 hours of the meeting, send an email out to every person you met and thank them for spending time with you.
If they requested information from you, make sure you send out what you promised. (I always write these requests on the back of their business card so that I remember what was promised to whom.) Even if you don't think you will ever do business with the contact, make sure you send a note to them thanking them for their time.  It may remind them that their sister's best friend's cousin needs a handmade gift. If I see an article that might interest my new contact, I'll send that off to them.  Remember how you asked them about their interest and hobbies? Use it now!
IMPORTANT: Do not use your fistful of business cards to spam people! One follow-up email is enough unless they continue a correspondence with you.
Creative Tip: Make postcards out of a picture of your best original artwork and mail them out to your new contacts.
Step Five:  Keep in Touch
Once you have received responses back from your new friends and contacts, make sure you stay in touch. Once I have developed a relationship, I try to touch base with everyone at least once a month. A quick email asking what they are up to works great. With their permission, I add my new friends to my newsletter list. If you don't do newsletters, send out postcards or some other correspondence, on a regular basis, to keep your business fresh in their mind.
Networking with people face to face is much scarier than networking online, but if you use these tips, I'm sure you will be surprised by how much you can grow your sales locally. Who knows, you may even meet a gallery or boutique owner!  Follow these steps and you will look like a pro every time.