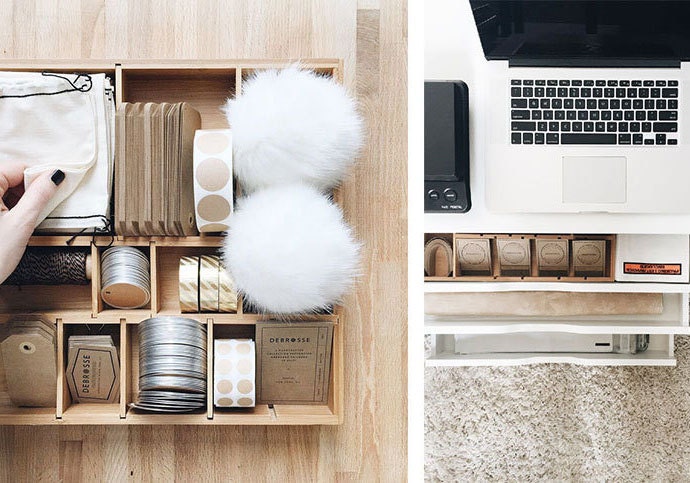 "Shipping can be such a bottleneck to the creative process if not organized intuitively," says Teresa Carter, owner of knitwear shop DeBrosse. Operating out of her 350-square-foot New York City apartment, Teresa embraces the challenge of making and managing her inventory of over 500 items within a limited space. "The hidden benefit in having a small workspace is that it actually forces you to be more strategic, intentional and creative," she explains.
In nearby Brooklyn, New York, designer Delia Langan of Delia Langan Jewelry echoes the importance of organizing your shipping process. "When you're a solo entrepreneur, it's important to minimize the amount of time you spend doing mindless tasks," Delia says. "Streamlining your shipping process is a crucial step for anyone looking to expand their business."
Streamlining your packing and shipping process can help reduce stress during busy times — and even save you time and money. Whether your business is just starting out or you're looking to get organized before the busy holiday season, learn how to create a well-ordered, well-stocked shipping station with recommendations from five experienced sellers.
1. Evaluate the Space You're Working With
All Etsy sellers operate their shops from spaces that are unique to them, whether that's a studio, a desk in the corner of a dorm room or the kitchen table. Before you start stocking up on supplies, think realistically about how much space you can dedicate to your packing materials — and how you'll keep things organized. "I have a small chest of drawers that I basically call my office," says Teresa. "My rule is that every supply has a space, and I use drawer organizers to keep things sorted by size, priority and usage."
Based out of a former feed-and-seed warehouse in Nashville, Tennessee, Beth Lawrence worries less about space and more about clear communication to keep her jewelry shop Freshie & Zero running smoothly. "Labeling is key," she explains. Beth uses colorful labeled bins and boxes to sort the packing supplies she and her employees use on a regular basis. "When you're a power-multitasker like myself, it's helpful to have everything you need all together," says Beth. "When everything is within arms reach, there's no running around the room thinking 'Where is my tape? Where are the envelopes?' and then inevitably getting distracted."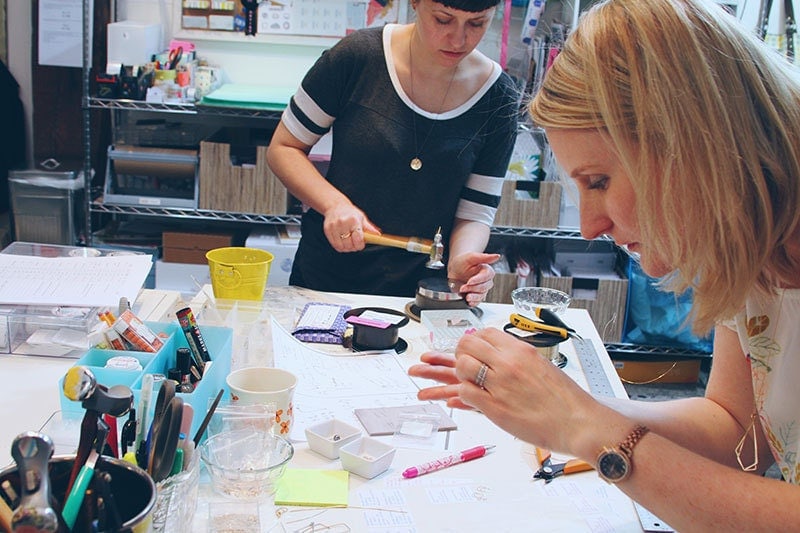 Illustrator Stephanie Corfee from Malvern, Pennsylvania, recently expanded her creative space into a custom-built studio next door to her family's home, and she strives to keep things neat and tidy to avoid distractions. "Think vertical," suggests Stephanie, who's found that storing supplies on overhead shelves helps maximize her space while keeping frequently used items close at hand. Regardless of the space you're working with, think carefully about how you'll keep the supplies you need accessible and organized using tools like labels, containers and shelving.
2. Plan Out Your Branded Materials
As you think about the supplies you'll want to have on hand for your shop, it's smart to incorporate elements of branded packaging. "Using pretty logo stickers on my packaging makes everything feel unified," says Stephanie. The way you decide to brand your packages can vary depending on your overall vision, but might include business cards, thank-you notes, a custom stamp with your shop name and logo, or even colored tissue paper. Read How to Leave Your Mark With Branded Materials for more ideas.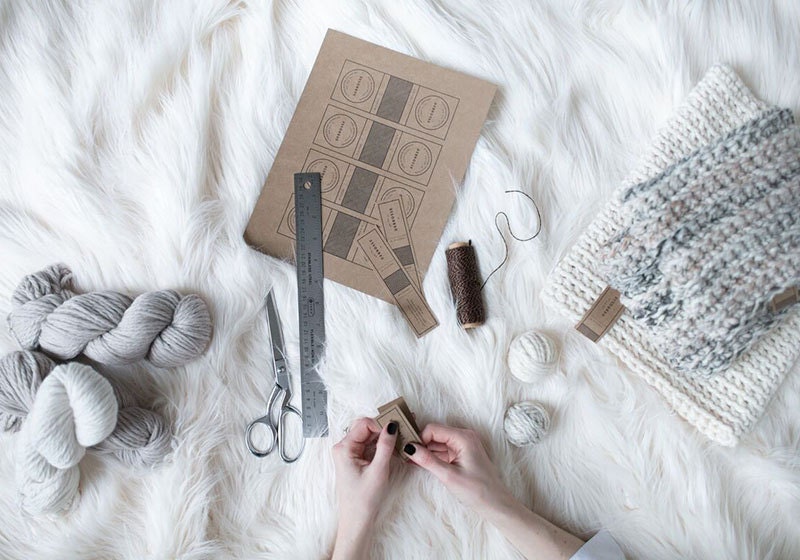 3. Gather the Basics
Below are the packing and shipping supplies recommended by sellers to have on hand for your station. While you likely have some of these items on hand for household use already, Stephanie suggests acquiring dedicated shipping supplies for your business for the sake of efficiency. "Keep everything you need right where you need it," says Stephanie. "Save yourself the headache." Depending on the products you sell in your shop, your supply list will vary slightly.
Shipping Station Supply List
Bubble wrap
Packaging filler
Product labels or hang tags
Shipping boxes
Rigid and/or padded envelopes, backing boards and cello sleeves (for shipping printed art, stationery)
Packing tape
Packing tape dispenser (comes in both desktop and handheld options)
Scissors
X-acto/razor blade
Laser printer for orders and labels
Blank printer-friendly labels and/or blank paper for printing labels and packaging slips
Pens
Shipping scale
"Fragile" stickers
Branded Packaging Supply List
Tissue paper (plain or colored)
Note cards/printed collateral
Stickers with your logo
Business cards
Washi tape and/or embellishments
Gift wrapping supplies (if offered)
4. Automate Everything You Can
"Switching to printing my own labels instead of handwriting them was a huge and crucial step for my business, especially around the holidays," says Delia. "It's significantly faster, easier and looks more professional." Delia uses Etsy Shipping Labels (available in the United States and Canada) and online shipping software through Shipping Easy to manage her shipments online, automatically sending tracking information to customers and scheduling postal pickups to avoid wasting time at the post office. Depending on your order volume, you might opt for an all-purpose inkjet or laser printer, or invest in a more specialized label printer.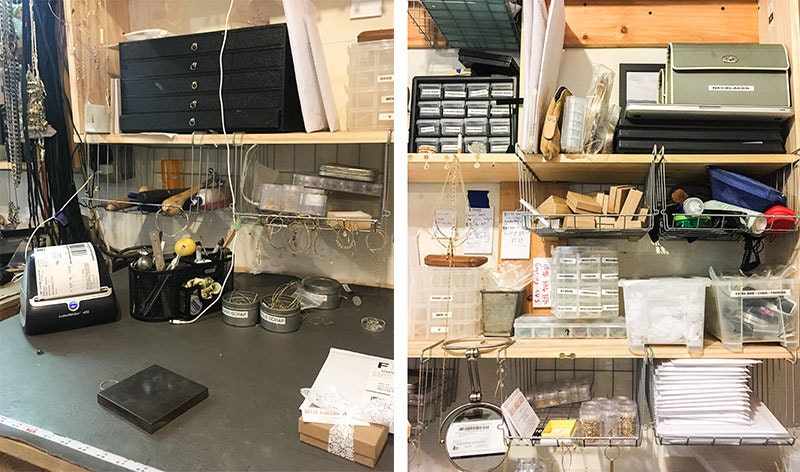 In addition to Shipping Labels, Teresa uses Shipping Profiles and Calculated Shipping to further streamline her shipping process. While Shipping Profiles can be customized any number of ways, Teresa's simplified her profiles to reflect two options: In-stock items (3-5 business days) and out-of-stock items (1-2 weeks). "These options allow for a quick and seamless backend update if I fall behind on orders, I'm waiting for new materials to come in, or I'm running out of town but don't want to put my shop on Vacation Mode," explains Teresa.
4. Buy in Bulk When Possible
Having a comprehensive list of the inventory you need for your shipping station isn't just beneficial as you're first getting organized — it's also a great way to start saving time and money by strategically ordering in larger quantities. "Buying boxes, tape and bubble wrap in bulk will definitely cut costs," says Kristy Tull, whose studio and warehouse space in Melbourne, Australia, serves as center of operations for her homegoods and accessories shop Fox & Ramona. "And have at least two pairs of scissors," says Kristy. "You'll always lose one pair!"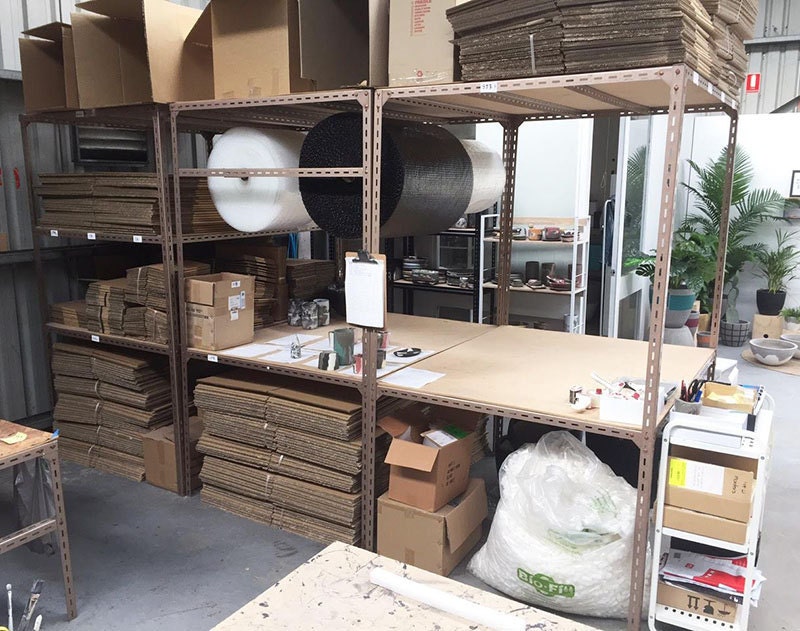 If storage space is limited (and honestly, when is it not?), stocking up might require getting creative with under-the-bed storage boxes or waterproof bins in the basement. Since Delia's jewelry workspace doubles as her shipping station, she keeps baskets overhead to store different sizes of boxes and bubble mailers. "When I buy in bulk, I store the larger boxes of supplies in a nearby closet, refilling my overhead baskets every few days," she says. "Easily accessible space should not be wasted with extra shipping materials."
6. Create a Standard Operating Procedure
Once you've accumulated all of the essential shipping supplies and decided how to keep things organized, it's time to create an easy-to-replicate process for how you'll pack and ship each order. "Create a S.O.P. (standard operating procedure) and stick to it," says Stephanie. "Use the same packaging, same add-ins like stickers or business cards, same labeling — every time." Developing a standardized approach will help you increase efficiency and give your packages a consistent, professional look.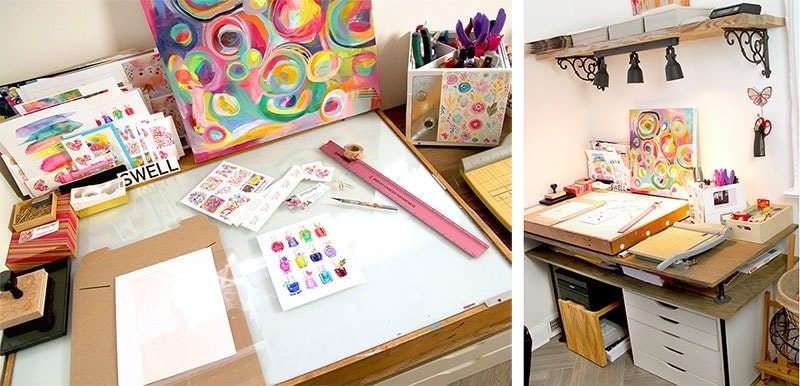 "We have so many steps when packing an order that they're now typed and posted on a bulletin board right in front of the shipping area," says Beth, who's also established her shipping station as a no-talking zone to avoid distractions and errors. "I'm also a fan of writing notes and highlighting things on orders, such as quantities larger than one or how many earring cards a wholesale order needs."
As with so much of running a small business, experience and experimentation are often the best teachers. "If there is a huge pain point in your process, chances are there is a tool to streamline it," says Teresa. "The sooner you design a perfectly tailored shipping process, the sooner you can get back to doing what you love."
What's your favorite shipping trick? Let us know in the comments.