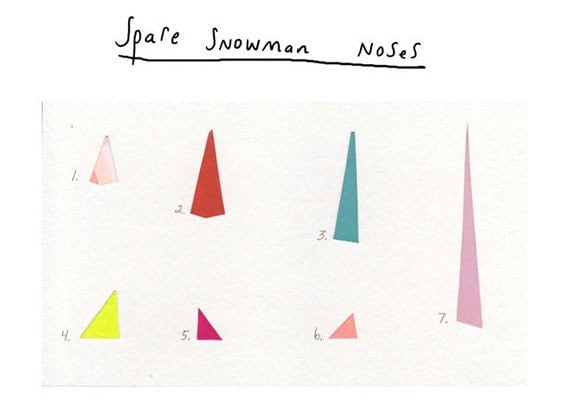 Unexpected houseguests and turkey-based oven fires aren't the only things to look out for during a busy holiday season. When you run an online shop, a different set of challenges can come to the surface. Think of this article as an all-in-one first aid kit, fire extinguisher and spare guest bedroom for your holiday woes.
The questions below account for the top traffic to Etsy's support team between October and December of last year. These questions are frequent for a reason — many involve details that can be easy to miss if you're not aware of them. Consider bookmarking this page to keep these common questions (and their respective solutions) in mind to help navigate tricky transactions and stay sane throughout the hustle and bustle of the holidays.
1. Keeping Track of Orders
Some of the most common questions we hear from buyers are "Where is my order?" and "When will it arrive?". Many first-time shoppers come to Etsy during the holiday season, and they can get confused about who to contact with questions about a specific item. By reaching out to your customer every step of the way, you're ensuring a good experience for them —  in turn bolstering your shop's reputation both on- and offline.
Communicate Accordingly:
When your item sells. Be clear and honest about your processing times to set fair expectations for buyers.
When your item ships. Include a tracking number whenever possible and let your customer know the estimated shipping time for their purchase.
Within the package. Make sure to include some form of branded packaging when you ship your item so those that receive your product as a gift can find your shop again. Think about including a coupon code to encourage repeat customers and elicit feedback.
Get Help: If you fear you're falling behind on responding to messages or shipping out orders, there's no need to suffer in silence. Consider reaching out to your network or hiring holiday help to fulfill your orders — teaming up can help you keep up with the accelerated seasonal pace. Learn more about Getting Help From Your Community When You Need It.
Go Mobile: Downloading the Sell On Etsy app allows you to answer Convos and monitor sales while you're on the go, which can help you stay up to date while you're running around town for last-minute necessities.
2. Cancellations and Refunds
An integral piece of the online retail puzzle is handling cancellations and refunds. Since every business has unique needs and stipulations, it's important to polish up your policies to address potentially problematic questions during the holiday rush.
Prime Your Policies: Be clear about your shop policies on refunds, exchanges and returns. It's up to you how strict or accommodating you want to be, but transparency is key. Don't be afraid to refine your policies as you go along — shop management has a natural learning curve. Check out Your Customer Service Guide for tried and true tips from a variety of sellers.
Cancel That: It's important to know that only the seller of an item can cancel its sale on Etsy. Cancellations can take place for a variety of reasons, and should be clearly communicated between the buyer and seller via Convo. Learn about the logistics here.
3. Money Matters
Get Paid: Be clear about the payment options you'll accept based on your unique needs in order to avoid confusion.
Etsy Payments Details: If you're a new seller, Etsy Payments funds become available after you've marked an order as shipped and three days have passed since the sale. If your first sale was more than 90 days ago, your Etsy Payments funds become available the next business day—regardless of shipping status. Check out Getting Paid With Etsy Payments to learn more.
Keep Tabs: If you're confused about what payments you've received, head over to your Sold Orders page to review payments made through all methods including credit cards or PayPal.
4. Open Case Conundrums
The holiday rush might seem like the perfect storm for transaction troubles, but don't panic. It's important to remember that you're supported by Etsy's Seller Protection Program. Below are a few basics to be aware if things don't go quite as planned.
In Plain English: Buyers can open a case on Etsy if they haven't received their order or if they feel the item they received is significantly different than described. Read more details about types of cases here. To learn more, read What to Do If a Buyer Opens a Case Against Your Shop.
Preemptive Measures: Do your best to ensure your shop's success and make resolving issues a cinch by adhering to Etsy's best practices for sellers — based on our Seller Protection Guidelines. A few of the basics: Fill out the Policies section of your shop, accurately describe your items, communicate thoroughly and strive to ship when you say you will.
5. Cutting It Close
The holidays are often full of miraculous moments, and quick turn-around times can be a great opportunity to save the day for last-minute shoppers. Try out these strategies for catering to gift givers without leaving yourself in a lurch.
Offer Shipping Upgrades: Sometimes media mail just doesn't cut it when a tight deadline is involved. Offer a variety of shipping options for shoppers at a variety of prices with shipping upgrades. Be realistic about your cut-off dates for domestic and international orders, and look forward to grateful Convos from relieved buyers.
Track It: Cut back on anxiety levels by adding a tracking number to packages whenever possible. Read more in-depth details and shipping tips in 4 Steps to Shipping Success.
How do you help ensure a smooth transaction for holiday shoppers?