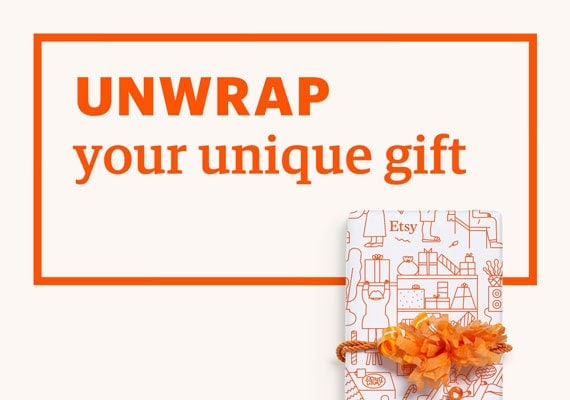 All around the world, people are getting ready to unwrap gifts from their loved ones. Make the most of the season by letting current and potential customers know that the items in your shop would make great gifts. As we lead up to the holidays, sharing your shop story and unique items on social media can help you form connections with shoppers on the hunt for the perfect present — and entice them to visit your shop. Amplify your efforts and partner with Etsy and the global seller community by participating in the #etsygifts holiday marketing campaign.
To help you reach out to customers this season, we've designed promotional images that you can share on Facebook, Instagram and Twitter. The images, which encourage shoppers to "Unwrap your unique gift," are designed to be used in conjunction with other visual cues that speak to the magic within your shop, including product photos and behind-the-scenes images of your process or studio. We've also created a PDF template that you can use to make gift tags to include with customers' orders. Read on for more tips on making the most of the promotional goodies.
Getting the Images
While logged in to your seller account, click here to find the images. You can also find this page by  choosing Shop Settings in the Your Shop drop down, and selecting Off-site under the Promote heading on the left-hand side of the page.
Save the images on an Apple computer by hovering over the image and clicking Preview Full Size. Then, hover over the full-size image and press Control + Click (or just right click your mouse), then select Save Image As. On a PC, hover over the image and right-click, then select the Save Picture As option. You can also embed each image onto your blog or website by clicking on view/generate code. For help embedding an image, please refer to this help article.
Fabulous Facebook Promotions
Use the image designed for Facebook as the cover for a photo album, which can be a visual tour of your special shop story. On your brand page or personal profile, select the Photo/Video tab in your status update field, then select Create Photo Album. Upload the Etsy image first, then pick a few more images that showcase your shop, including pictures of your studio or supplies, or a sampling of your top selling items. Get creative! For each picture, write a caption that tells the story behind the image and includes a link back to your shop. Check out the following example from the Facebook page of Noff House, an Etsy shop in Nashville, Tennessee founded by David and Lisa Noffsinger.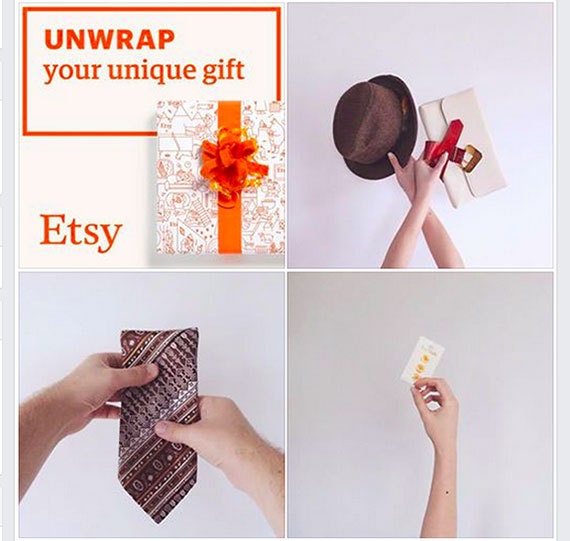 Inspiring Instagram Collages
For Instagram, we encourage you to download a free app, such as Fotor, to create a collage with the square image we provide. A four-square grid would allow you to create a photo like this. As with Facebook and Twitter, include other photos to highlight the unique aspects of your shop. In the caption, include a few compelling sentences about your business, along with the hashtag #etsygifts. Below is the collage that Kelsey DeLange of Honey and the Hive in Grand Rapids, Michigan, created for her shop's Instagram account.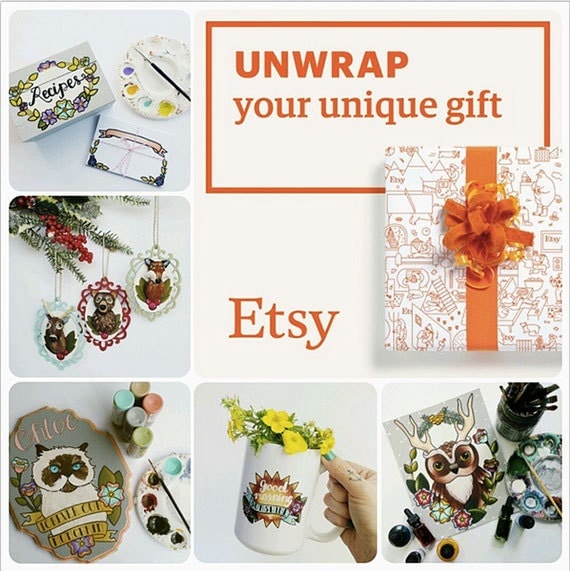 Tempting Tweets
The Etsy Twitter image is made for a special mobile-only component of Twitter. You can now include up to four images in a single tweet (cool, right?!) but this feature is only available when you tweet from your iPhone or Android device. To do this, it will be easiest to send the Twitter-ready image as an attachment to yourself via email, then access your email from your mobile phone. After that, download the image to your phone's photo album.
Then, open up the Twitter app and add the photo to a tweet, plus three more images that tell your shop's story. Not sure how to add photos to a tweet? Check out this helpful article from Twitter. Once you upload your images, you'll have about 120 characters for a short sentence about your shop and a link to your shop's page, along with the hashtag #etsygifts. Below is a sample tweet featuring photos from Katty's Handcrafts, Papermint Studio and Swallowfield.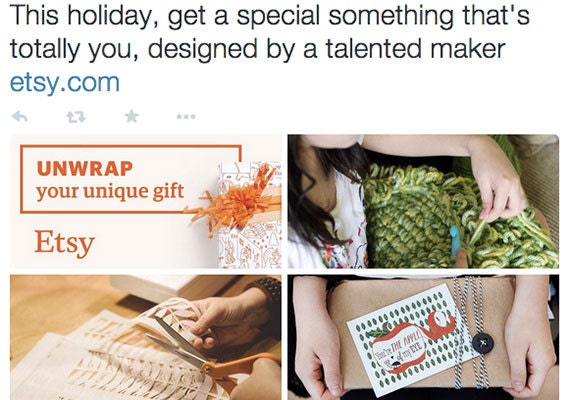 From Hashtag to Gift Tag
To give your order packaging some extra holiday cheer, include free Etsy gift tags made using this PDF template. You can print out the tags double-sided or single-sided, in color or black and white. Then, cut them out and include a few with each order — perhaps with a little twine or ribbon — to give buyers a head start on their gift wrapping.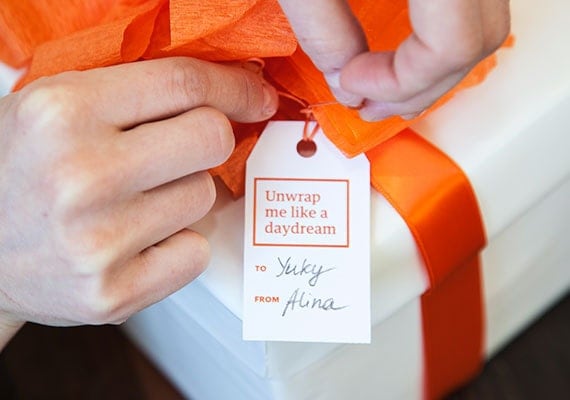 How do you plan to promote your shop during the holidays? Share your ideas in the comments below.