The studio space that illustrators Carolina Búzio (above right) and Theresa Grieben (above left) share in Berlin, Germany, has several appealing features — tall ceilings, plentiful natural light, large windows and a roof deck for lunch breaks or drawing outside. Perhaps the most impressive thing about this particular workspace, however, is the dynamic between the artists who share it. Although each has her own distinct style and runs her own shop (Carolina Búzio and Theresa Grieben, respectively), they support and challenge one another, forming a powerful creative alliance.
Carolina, who grew up in Porto, Portugal, and Theresa, who was raised in a suburb of Berlin, met in 2009 while studying communication design in Budapest, Hungary. The two became friends and stayed in touch while living in different cities after college. Their paths crossed again in Berlin, in 2012.
Carolina had come to Berlin for an internship. She shared a studio with two animators she'd worked with on a feature film. After the film, the animators had asked Carolina to stay on as a freelancer, offering her a desk in their studio for free for a few months until she got established.
Theresa was in Berlin to finish her master's thesis, but she was struggling to get it done. "I was a bit lost," she says.
"Why don't you just come over?" Carolina asked Theresa one day, thinking the studio environment might help Theresa focus on her thesis. Soon, Theresa was over at the studio almost every day. The artists who ran the studio offered Theresa four months free rent if she gave them a print of a panoramic forest drawing she had made. "I just slipped into it somehow," she says of the arrangement. "It turned out to be very natural."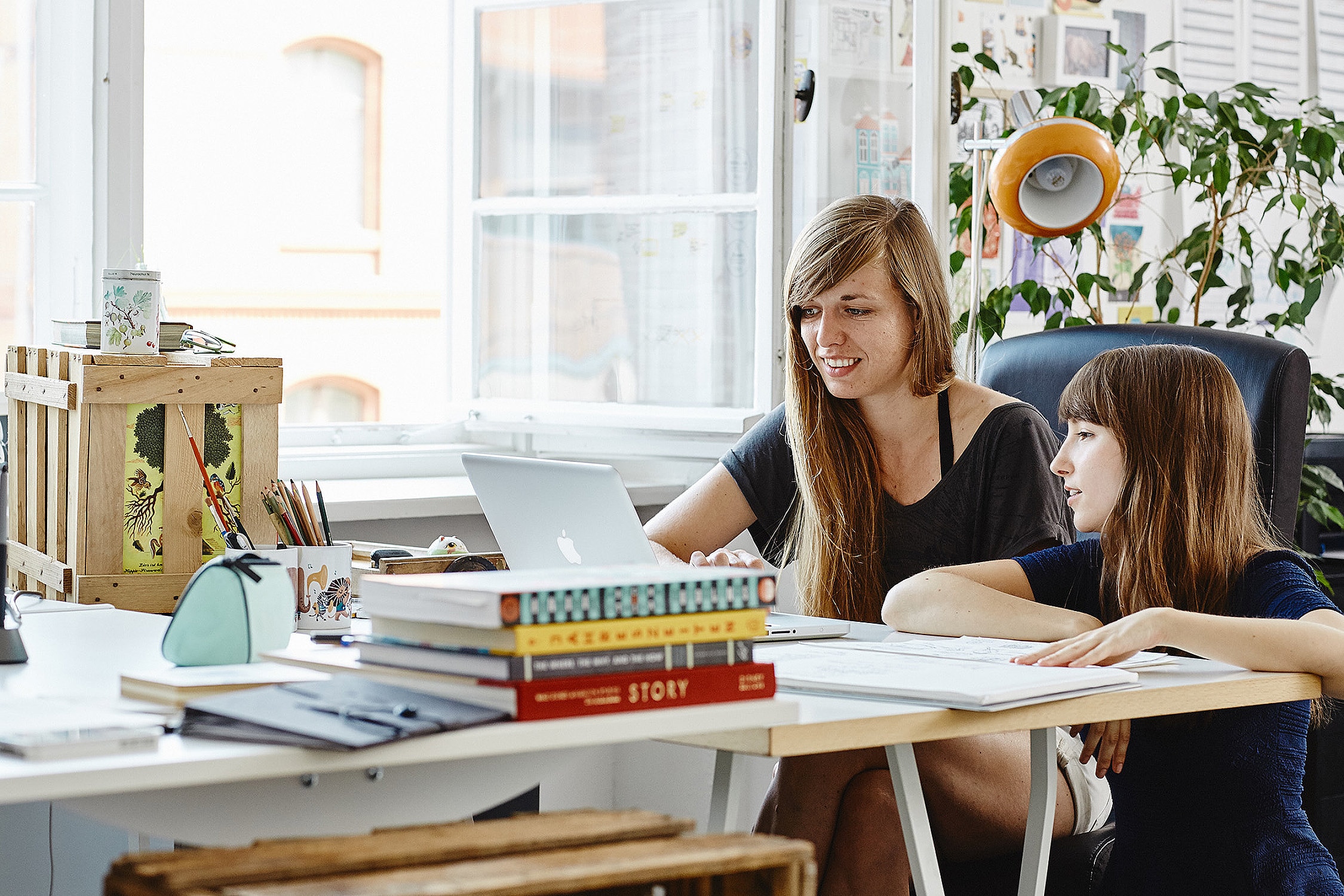 After working as a freelance illustrator for two years, Carolina opened her shop in early 2014 to sell her personal illustrations. She had heard about Etsy when she was living in Portugal. By the time Theresa decided to open her own shop to sell her drawings that November, Carolina had knowledge to share.
Carolina struggled with her photographs early on, but she learned the ropes after studying how other shops approached photography. When Theresa opened her shop, she looked to Carolina for guidance. "I always had a fear of product photography," says Theresa. "Carolina gave me a one day crash course in it." Carolina shared some of the little tricks she'd learned for photographing artwork, like removing the glass in a frame before taking a picture of it and using white curtains over the windows to help diffuse the natural light.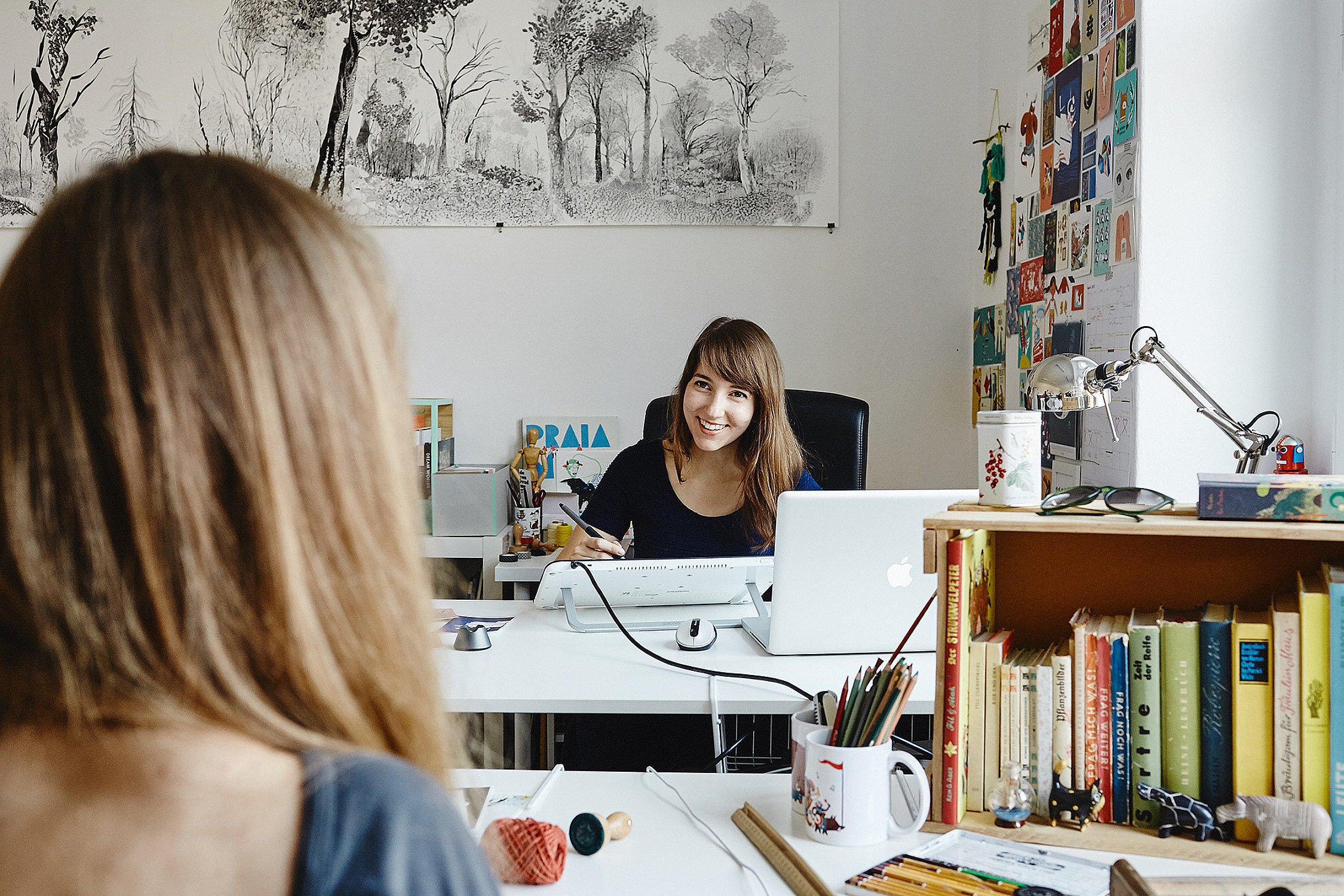 Today, Carolina balances working on illustrations for her Etsy shop with the steady freelance work she does for clients. Having assumed early in life that she would need a "real" job to make money — and that she would be an artist on the side — she's grateful to have discovered communication design, and to be employed as an artist. "I used to say I'll be a veterinarian, and a painter in my free time," says Carolina. "Now, I'm making a living doing illustrations, so I'm happy."
Since Theresa completed her master's degree, she is focusing most of her time on her Etsy shop. These days, she is developing a series of illustrated maps based on her travels. Comparing their work styles, Theresa says, "I'm a bit more the artist who just wants to do my own projects." Adds Carolina: "And I'm a bit more the illustrator who wants to collaborate on lots of different projects."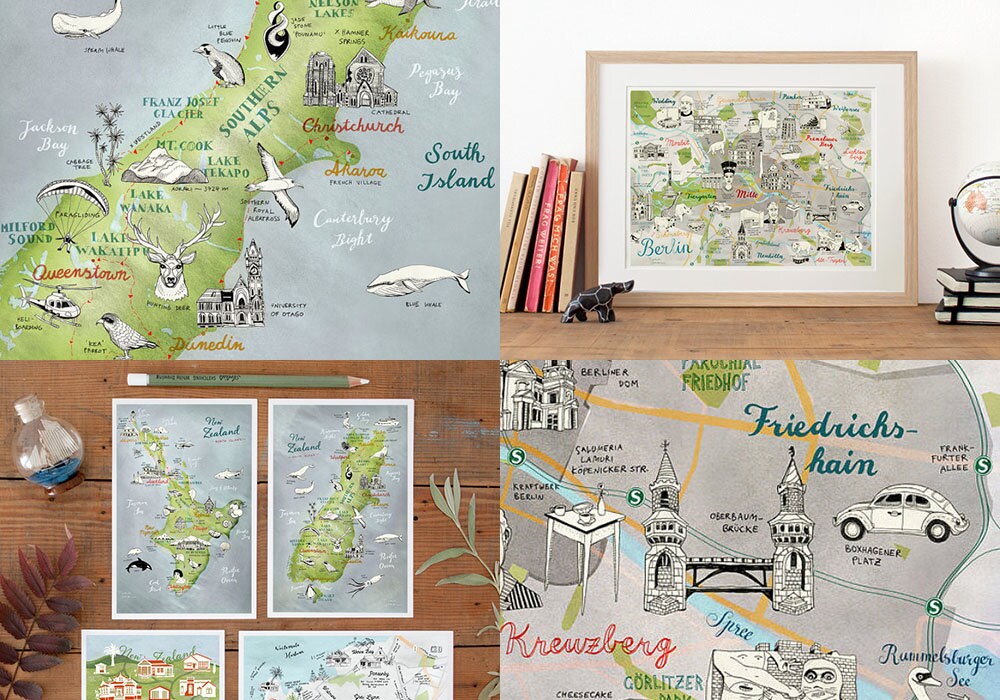 The friends recently moved with their studiomates to a new space housed in a building that was once a church. It's tucked away on the end of a peaceful block, just a five-minute walk from the lively main drag of Berlin's artistic Friedrichshain neighborhood. Carolina and Theresa enjoy the collaborative environment. "It's nice to be in a room with other people," says Carolina.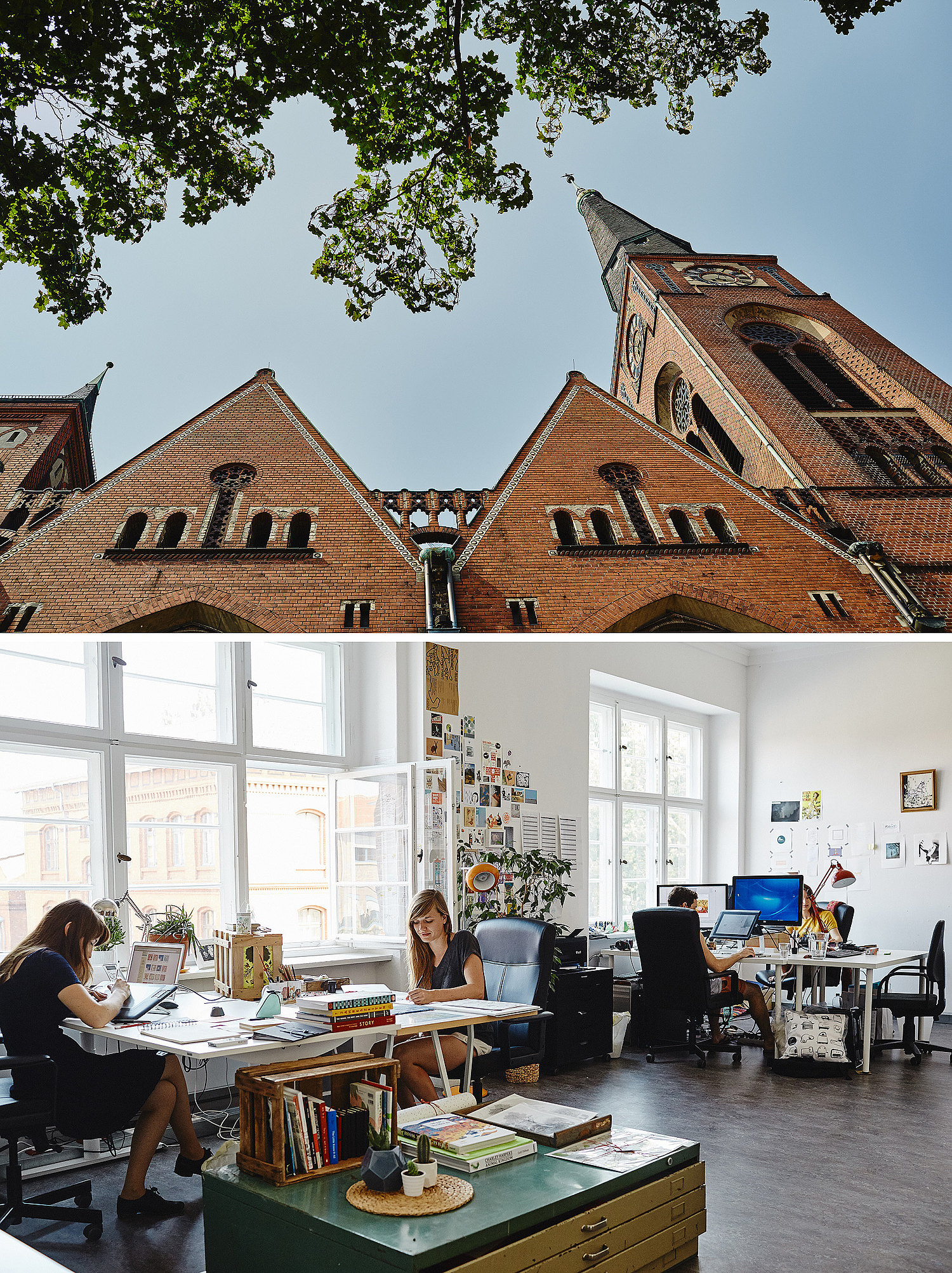 Each illustrator has found the daily routine that works for her. "I have to get out of the house to get into work mode," says Carolina. She thrives on working in close proximity to other artists in the space, where she can see what others are working on and talk. "I need the interaction," she says.
Carolina is typically in the studio from 10 or 11 a.m. to 7 or 8 p.m. First, she tends to emails and checks on her shop. "Then, it really depends on what project I have going on," she says. Often juggling multiple projects at once, she has to carve out time for her shop. "You really have to work for it, a couple of hours every day," she says.
Theresa enjoys the freedom of making her own schedule. "There's no negative feeling of pressure," she says. She lives outside of the city, so it takes her an hour to get in on the S-Bahn, the local commuter rail. "I have been doing that my whole life, so I really like it," she says of the commute. She spends the time reading, drawing, checking emails and thinking about what she'll tackle that day.
Once at the studio, she makes herself a coffee, checks in on her Etsy shop and starts going through her to-do list. "Sometimes it's a little unfocused, and I do everything at the same time," she says. "That's the danger when you're self employed." Theresa tends to arrive at the studio later than the others, but also stays much longer into the evening, until midnight or so. "I just work really well at night," she says.
Although they keep different schedules, Theresa and Carolina connect throughout the day, often going to lunch, or when it's nice out, taking breaks on the roof.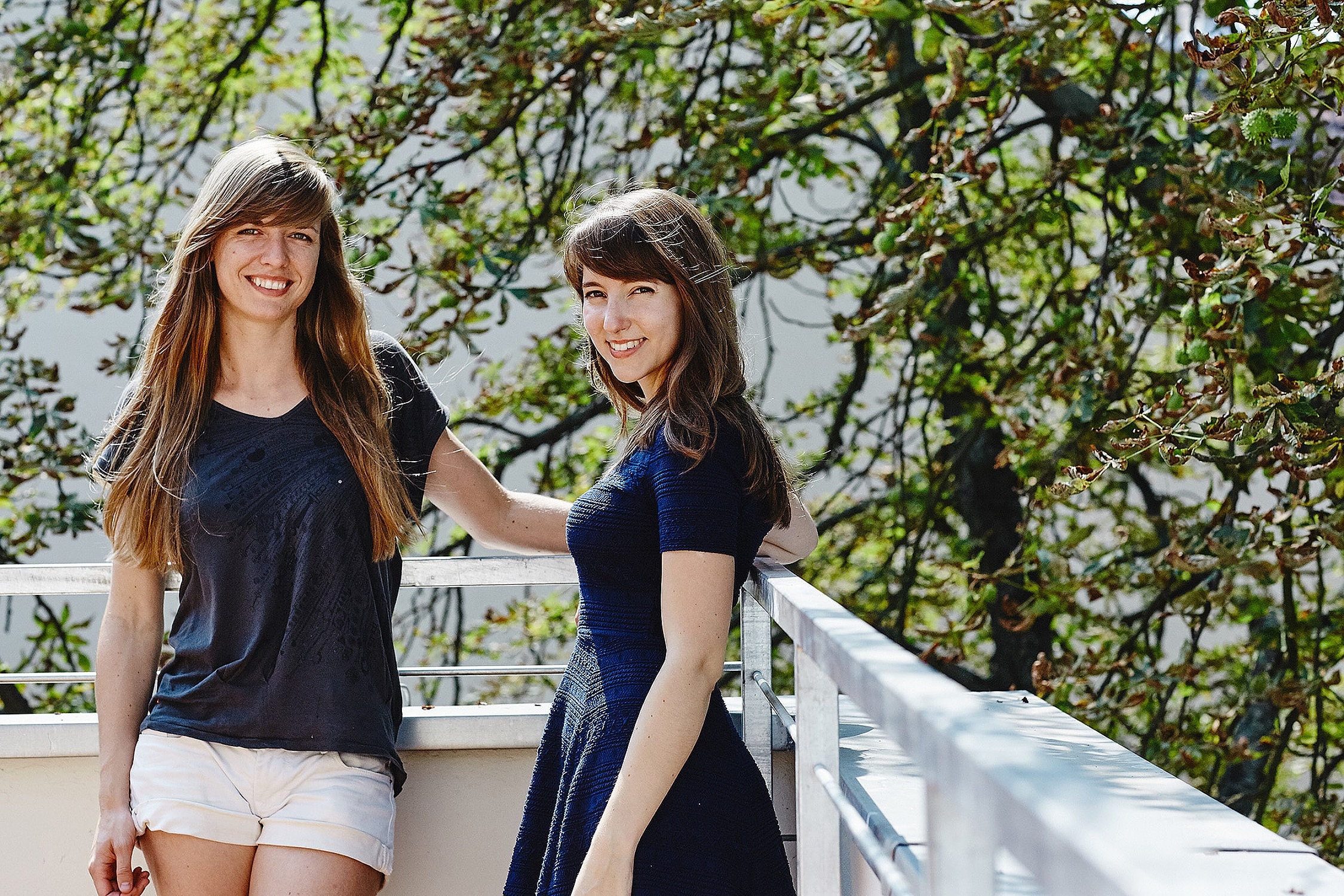 The digital nature of Carolina's work keeps her close to her desk. She describes her style as graphic, very colorful and character-based. "While Theresa is very architecturally driven, and loves drawing settings and details, I love drawing characters — animals with a personality and people," she says. Carolina finds inspiration in everyday life and by people watching, on the train, for example. "Berlin is full of interesting people," she says. Carolina loves working digitally because the process offers speed and flexibility. "Digital follows the thoughts in my brain faster," she says. "I can change one bit without starting the whole piece over."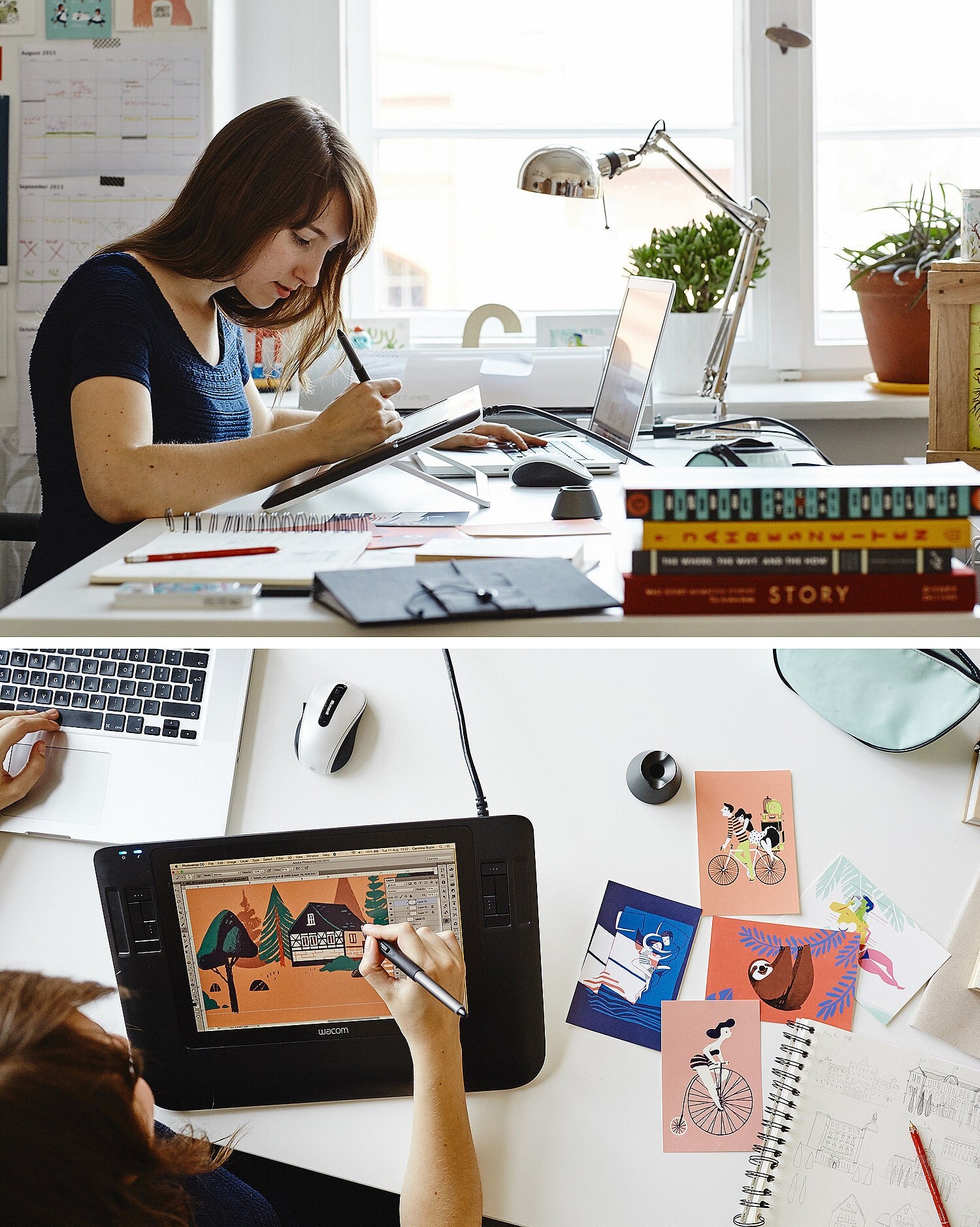 Theresa describes her illustration style as "very linear" in contrast. Though she requires a computer for certain tasks, her favorite tool is a graphite pencil. "I just love the feel of the pencil on the paper," she says. Theresa was passionate about drawing from a young age, and realized early on she had a gift for it. "It was very easy for me, and I could just do it without effort." While in college, she had an assignment to keep a visual diary of one semester. "Before that I didn't know what my style really was," she explains. What emerged from the journal was the style of loose linear drawing that would become her trademark. She filled entire books with drawings in this style and then started exploring panoramic drawings, such as capturing the inside of a church, or a forest, across one very long sheet of paper.
Theresa cherishes the flexibility to draw anywhere, frequently sketching on the roof deck of the studio and in coffee shops. Although she works spontaneously, Theresa also enjoys the limitations of working by hand. "Sometimes one go has to be right," she explains.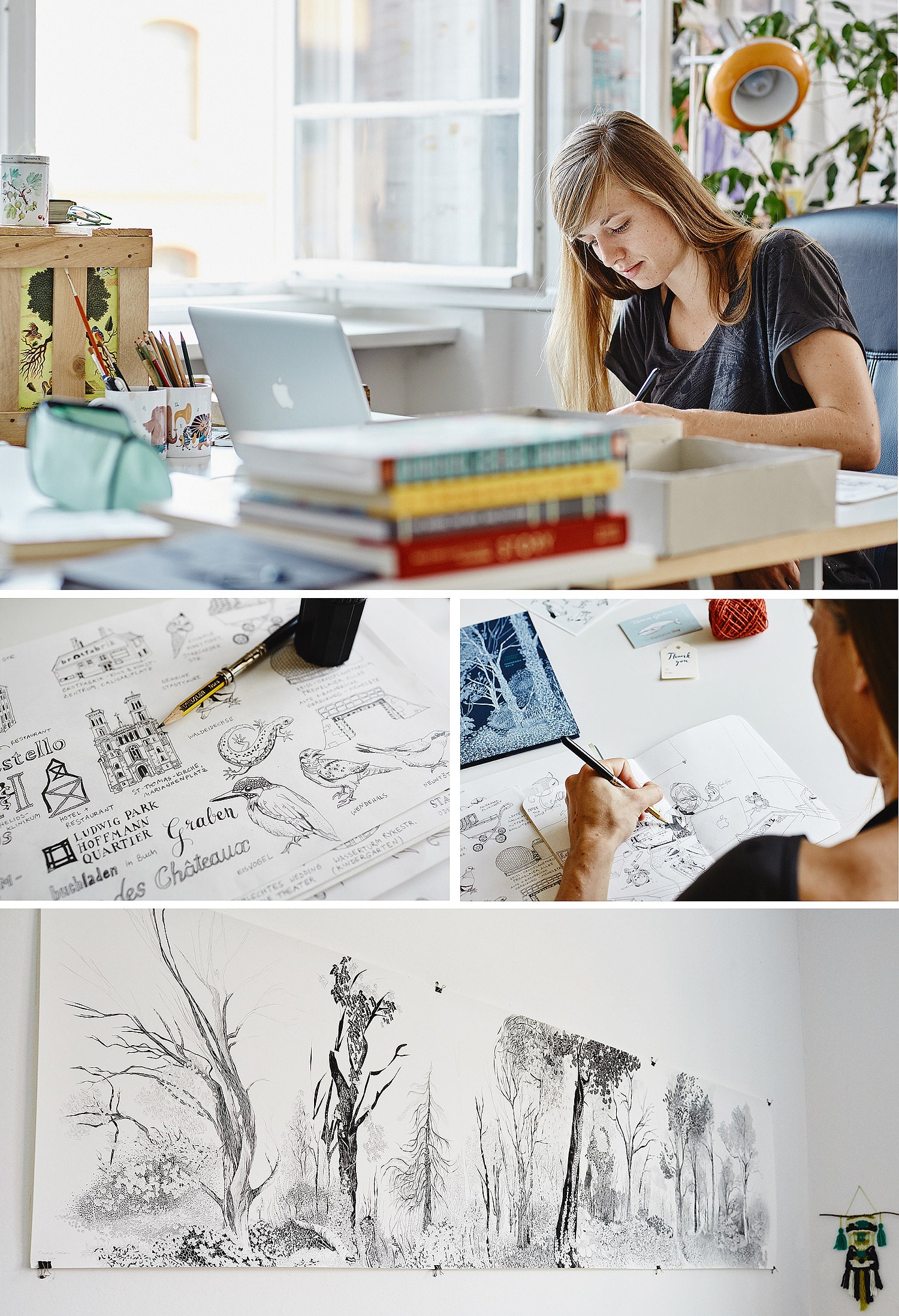 Sharing the same space makes it easy for Carolina and Theresa to pool resources and inspiration. To simplify things and save space, they use the same shipping materials and share a shipping station. Each devotes wall space to displaying their work alongside images they find inspiring, and each keeps a collection of books others are welcome to borrow.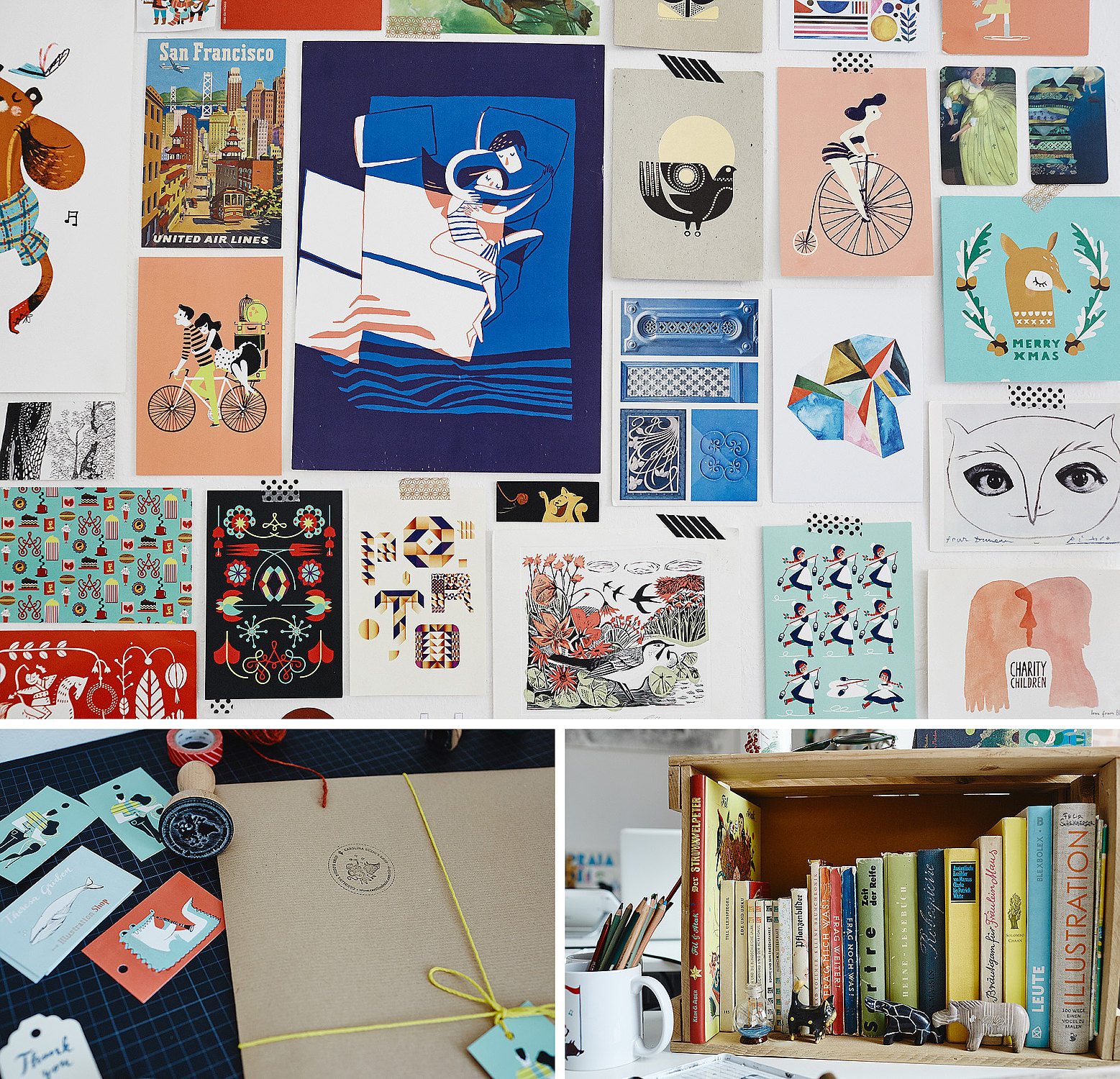 And, even as their businesses grow, they continue to learn from each other. In the beginning, it was Carolina who taught Theresa everything she knew about social media promotion. Now, it's often the other way around. "Theresa is often the one giving me Facebook tips," says Carolina.
"Yeah, I really get into it now," says Theresa. "It's a constant journey, of course."
Though they both coach each other these days, Theresa credits the communal work environment with helping her Etsy shop get off the ground. "If I had been just at home, I would have made every mistake," she says, "because I wouldn't have had the voice of Carolina in my head."
All photos by Zoë Noble except where noted.
Is there someone in your life who challenges you creatively? Share in the comments below.

Words by Audrey Manning
Audrey Manning grew up in Brooklyn, just blocks from Etsy HQ. These days she's living in PA and busy trying to keep up with a soon-to-be toddler.