I love the flexibility that comes with being my own boss. My main Etsy shop, Flapper Doodle, sells jewelry and paper goods featuring my pen and ink drawings of a pair of flappers named Ramona and Eloise. As a full-time Etsy seller, I have the flexibility to make my own hours and plan more vacations than I would if I had a traditional nine-to-five job. But since my Etsy sales pay the bills, I can't afford to put everything on hold when I need to get away.
Last spring, I decided to bring my work with me. As my brother and I planned a road trip together, I built a mobile studio right in the trunk of my car. Since then, I've taken my mobile workspace to a variety of destinations, including St. Augustine, Florida and Burlington, Vermont. This fall, I'm headed out west to explore Glacier National Park and Yellowstone National Park.
My mobile workspace is compact enough to fit in the trunk of my Honda Insight, but serves as a fully functional studio and office. It contains all of the supplies that I need to make, pack and ship my products. I print out labels, art prints and stationery on my mobile printer (a Canon Pixma iP100) at rest stops and hotels, and assemble everything in my trunk. Then, it's just a matter of finding the closest post office to mail out my orders!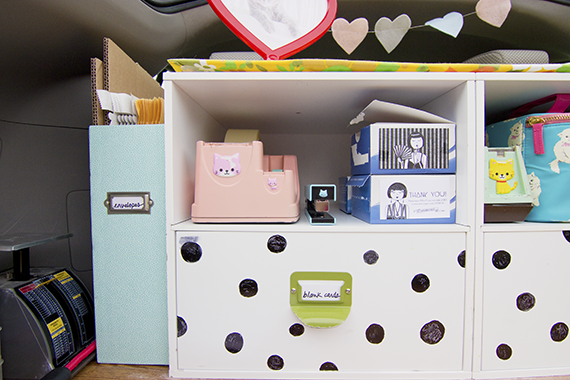 You don't need a big car to create a mobile workspace. My Honda Insight is a compact hybrid with a deceptively large amount of room in the trunk. It holds two white organizational cubes from Michael's, two magazine holders from Staples and a few small plastic storage containers. It also holds a folding table and chair, which I use to work on the go. Everything sits on a piece of white foam board that I covered with laminate flooring to provide a solid, easy-to-clean workspace. To ensure that nothing rolls around while I'm driving, I covered another piece of foam board with some vintage fabric and secured it in front of my shelving with bungee cords.
Of course, this idea would work best for sellers who make items to order and sell small-scale products. Every shop requires different supplies, so customize your studio to suit your needs. I have a total of four Etsy shops through which I sell stationery, art prints, jewelry, calendars and more, and all of my supplies fit into my trunk.
It helps to know what your best selling products are and what you normally sell in the timespan you'll be away, so you can stock up accordingly. For instance, if you sell about 10 pairs of earrings a week, bring enough supplies for 10 orders, plus a little extra, for a weeklong vacation. Take an inventory of everything you need to pack each order and build a place for those supplies in your trunk or backseat. (You don't want to spend your vacation driving around aimlessly looking for an Office Max.)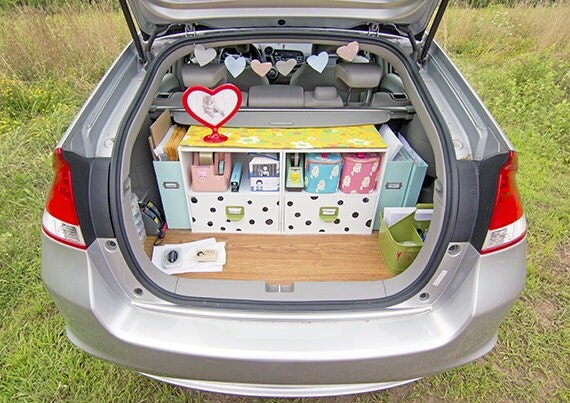 I decided to make my mobile office as creative and fun as my studio at home. As much as I love what I do for a living, I'm still working while I'm on vacation, so I want it to be as fun and inspiring as possible. With that in mind, I added polka-dots to the drawers, purchased pretty blue magazine holders, strung felt heart garland (don't worry, it only stays up while we're parked!) and brought along a framed picture of one of my cats. Plus, if I'm working next to the ocean or in the middle of a forest, the natural scenery provides plenty of inspiration.
Some people don't like mixing work with vacation. But, for me, getting to make art and share it with the world is a dream come true. Setting aside some time each day to focus on my shops is not only a fair exchange, but a fun part of every trip. It's a wonderful reminder of why I'm able to take vacations in the first place.
How do you manage your shop on the go? Let us know in the comments below.

Words by Kate Gabrielle