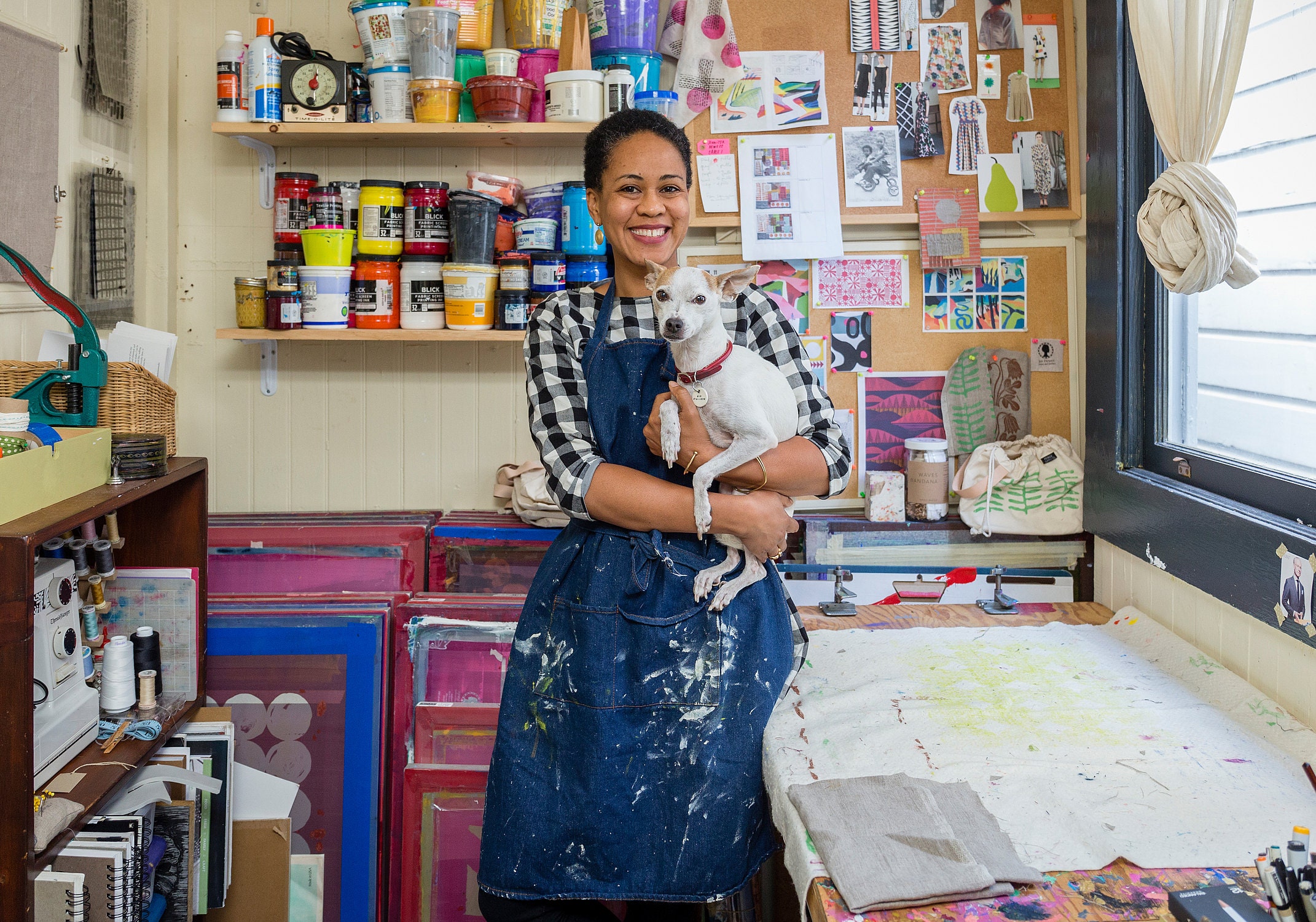 Inside a 54-square-foot workspace adjoining her second-story apartment, Jen Hewett designs, screenprints, block prints and sews fabric into artwork and fold-over clutches for her Etsy shop, Jen Hewett. Though these processes can be space-intensive, Jen has made it work in her compact studio, stationed in a converted back-porch room in the Inner Sunset neighborhood of San Francisco, California.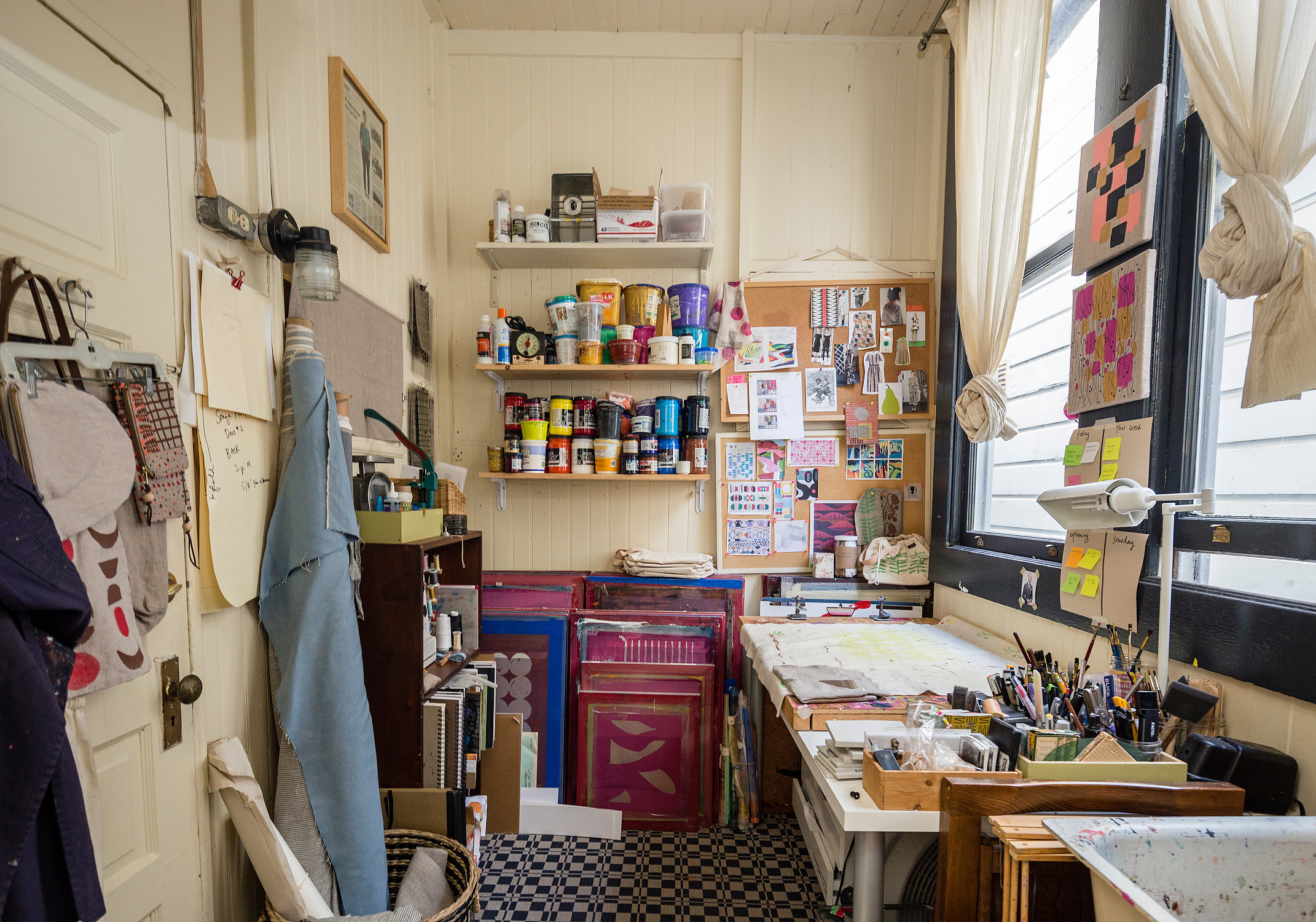 Every thoughtfully-chosen item has a particular place in Jen's petite creative haven, which measures 9 feet by 6 feet. Shelves of ink, squeegees and silkscreens climb up one wall from the floor to ceiling, approximately 11 feet high. Jen stores the items she doesn't use as frequently on the top shelves and retrieves them with a ladder when she needs them. Her tools hang neatly from a pegboard, and she stores a collection of blank linen fabrics on bolts.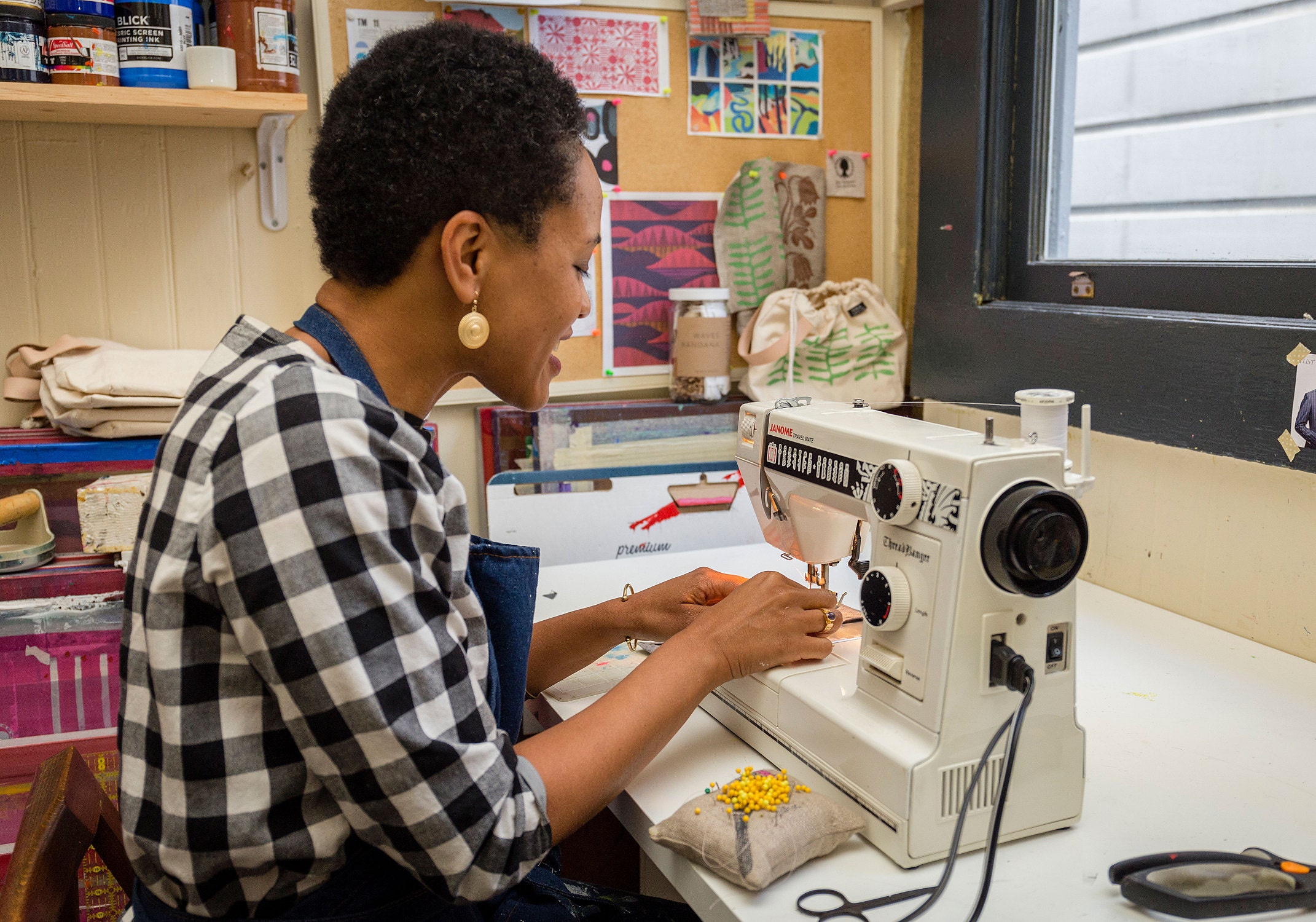 Jen is careful to keep her workspace from becoming a haven for junk and clutter. At the end of last year, Jen did a studio purge. She got rid of all the miscellaneous items she had hoped to use in some vague future project. "Now I only have the things I need to make my art," she says. "It's liberating because I'm not stressed out about having to store and clean things I don't use on a regular basis."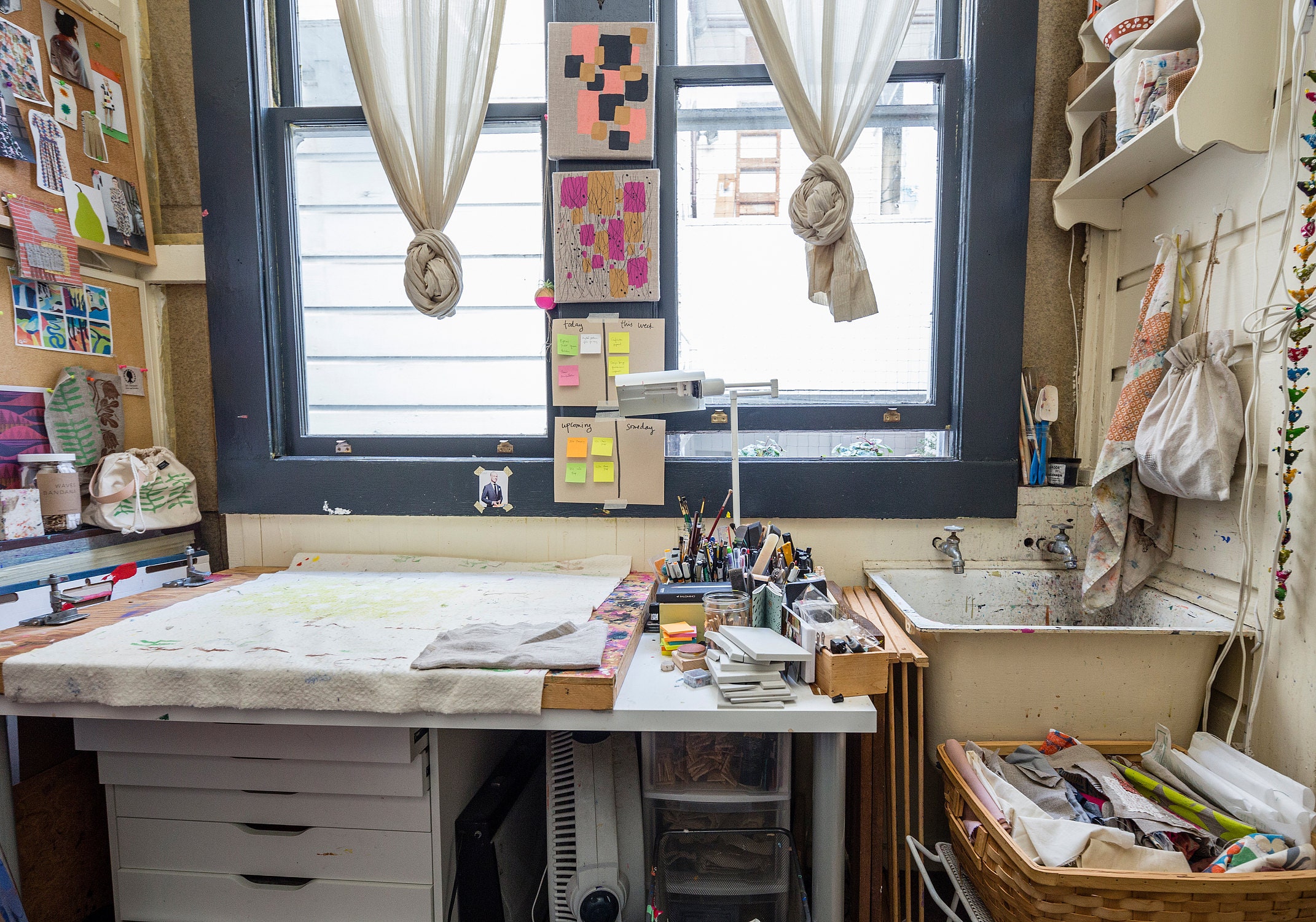 Jen opens the door from her apartment and enters her studio at 8:15 or 8:30 each morning. "I'm a girl who likes a schedule," she says. In silence, she collects her thoughts and prioritizes what she needs to accomplish for the day. Then, she gets out her tools and sets up her worktable. From 9 to 10 a.m. Jen listens to her favorite radio program, NPR's Fresh Air. While she prints, she listens to music on KCRW, a radio station in her hometown of Los Angeles. But when she draws, she often needs silence to stay focused.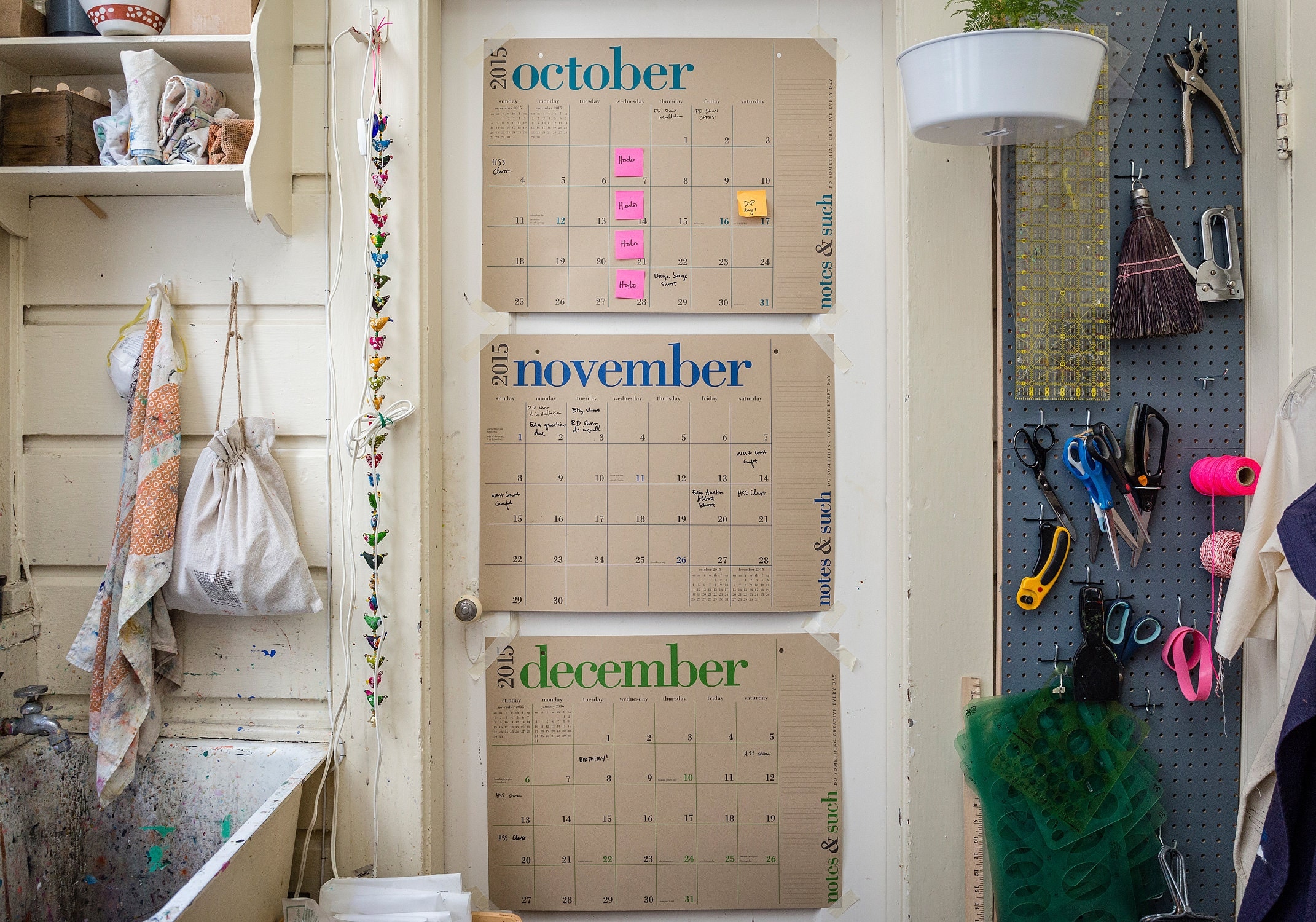 When it's time to print, Jen places a wood platform on top of her studio table. One side of the platform has hinge clamps for holding silkscreens when she uses smaller amounts of fabric. To print yardage, she sticks with block-printing. Unlike the bulky screens and equipment required to screenprint yards of fabric, the smaller hand tools and printing blocks needed for block printing better suit her tiny space. She block-prints up to three yards of fabric at a time — nearly the width of the studio. When the printing station is not in use, Jen leans it against a wall.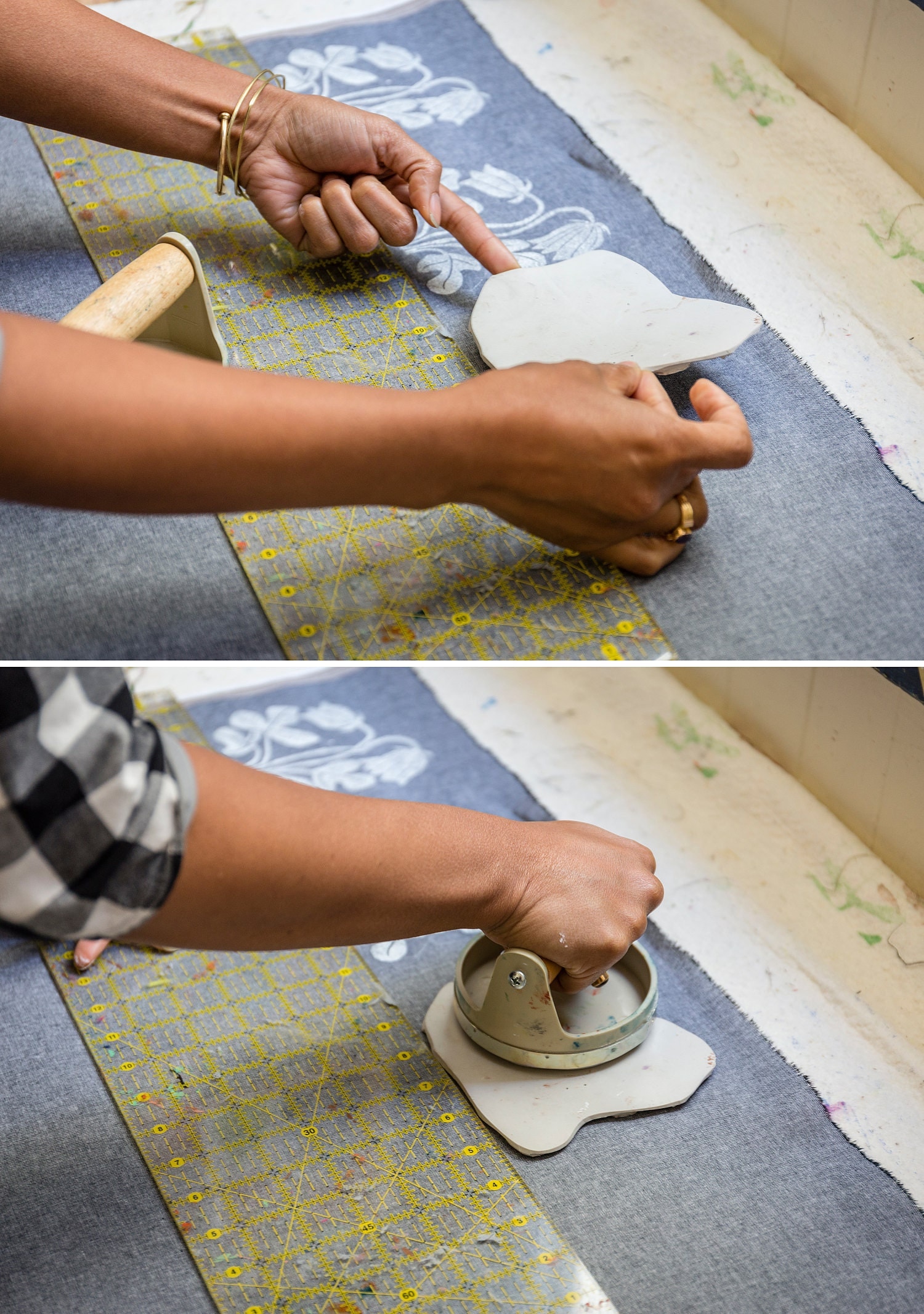 At midday, Jen always takes a lunch break. Even when teaching a printmaking class, she encourages her students to do the same. "A lot of people try to work through their lunches, but I purposefully take one," Jen says. "When you're hungry, you're making mistakes." She also takes breaks in the morning and afternoon to walk her dog Gus, a 6-year-old Italian greyhound mix, on a two-and-a-half-mile route around Golden Gate Park. At the end of the day, Jen folds up her fabric, cleans the screens and ink rollers and puts away her tools, leaving the space perfectly tidy for the next day.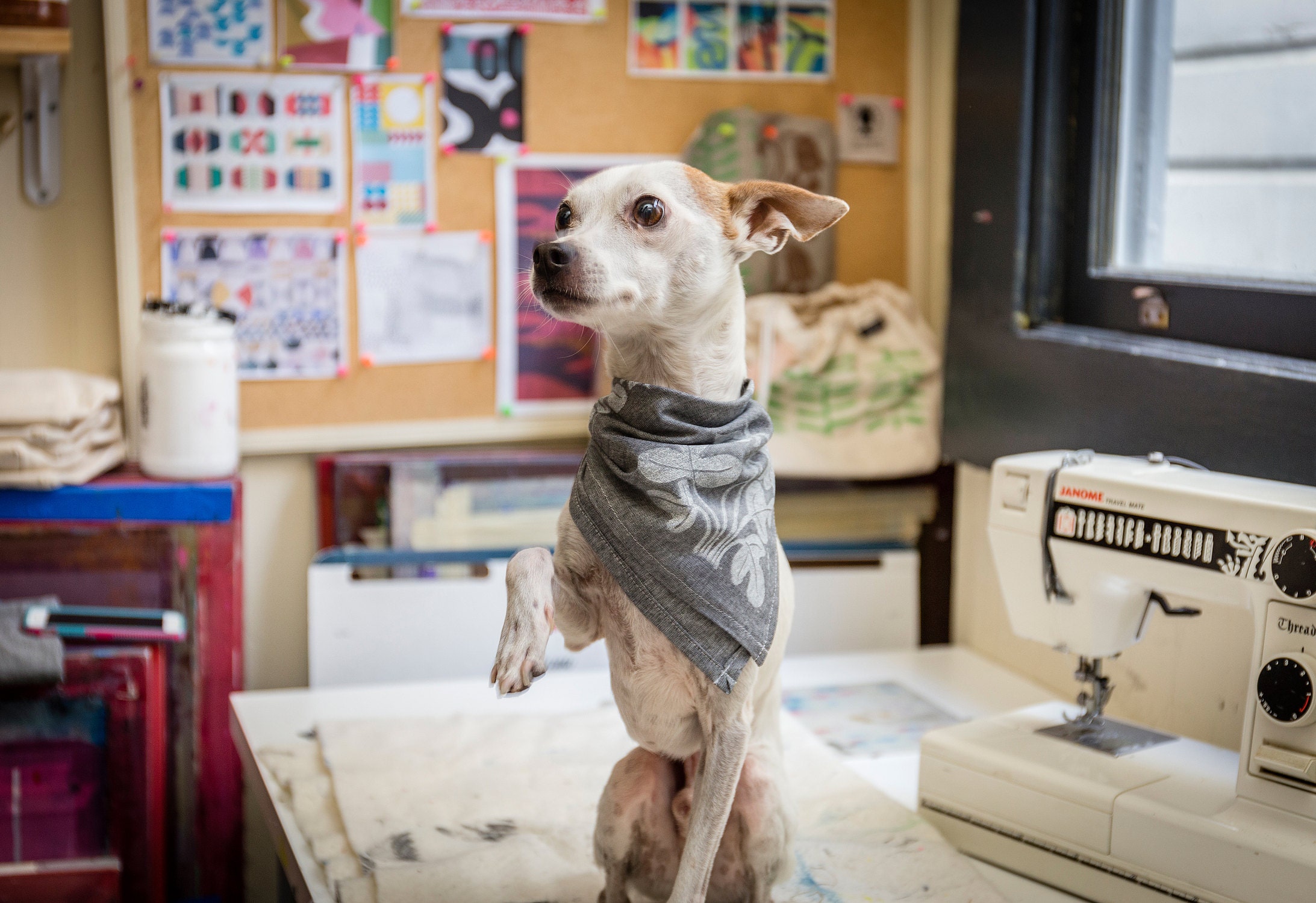 Before she spent her days mixing ink and carving blocks, Jen worked as the human resources and operations director for a tech company. She took her first screenprinting class as a creative respite from the corporate world. Inspired, she opened her Etsy shop in July 2007. During the recession, the company folded and she lost her job. Eventually, she started working as a consultant for a range of small business clients in the food and creative sectors, providing a gamut of human resources services, including recruiting, hiring, compliance advice and firing. At the same time, she started working as a part-time printmaker and running her Etsy shop. Last year, she began teaching printmaking classes at Makeshift Society in San Francisco. When Jen noticed her DIY-loving Instagram followers were repeatedly asking the same questions about printmaking processes, materials and tools, she got an idea that would change the course of her career: teach an online printmaking class.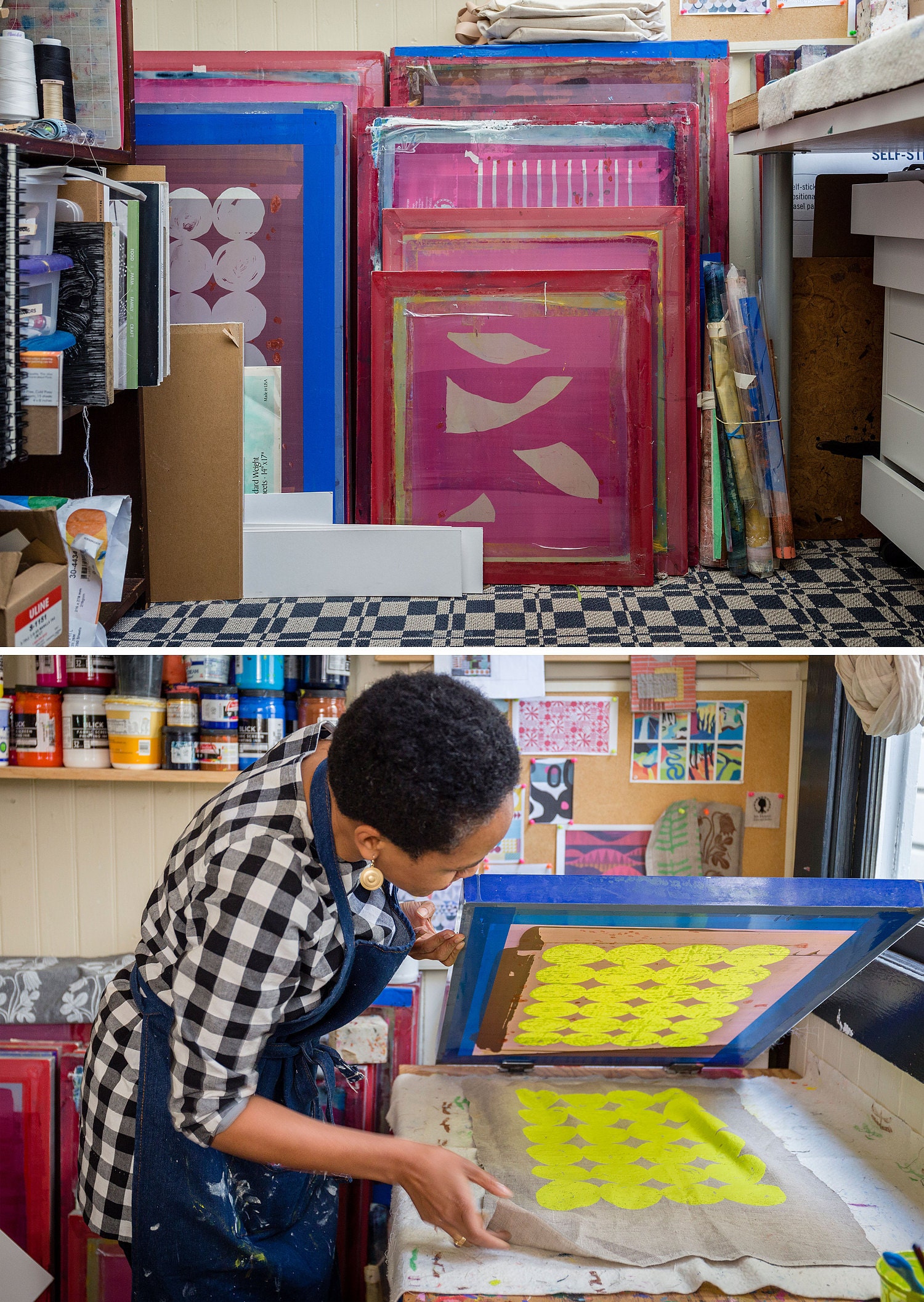 In January, Jen launched her first online printmaking course, called Design Carve Print. She can now answer questions in an in-depth group setting, instead of scattered through Instagram comments — and her students love it. Eighty-eight people signed up for the first session. When her second class garnered 50 percent more sign-ups, Jen realized she could quit her human resources consulting work. This August marked her first month dedicated wholly to printmaking — both her own designs and her popular printmaking courses.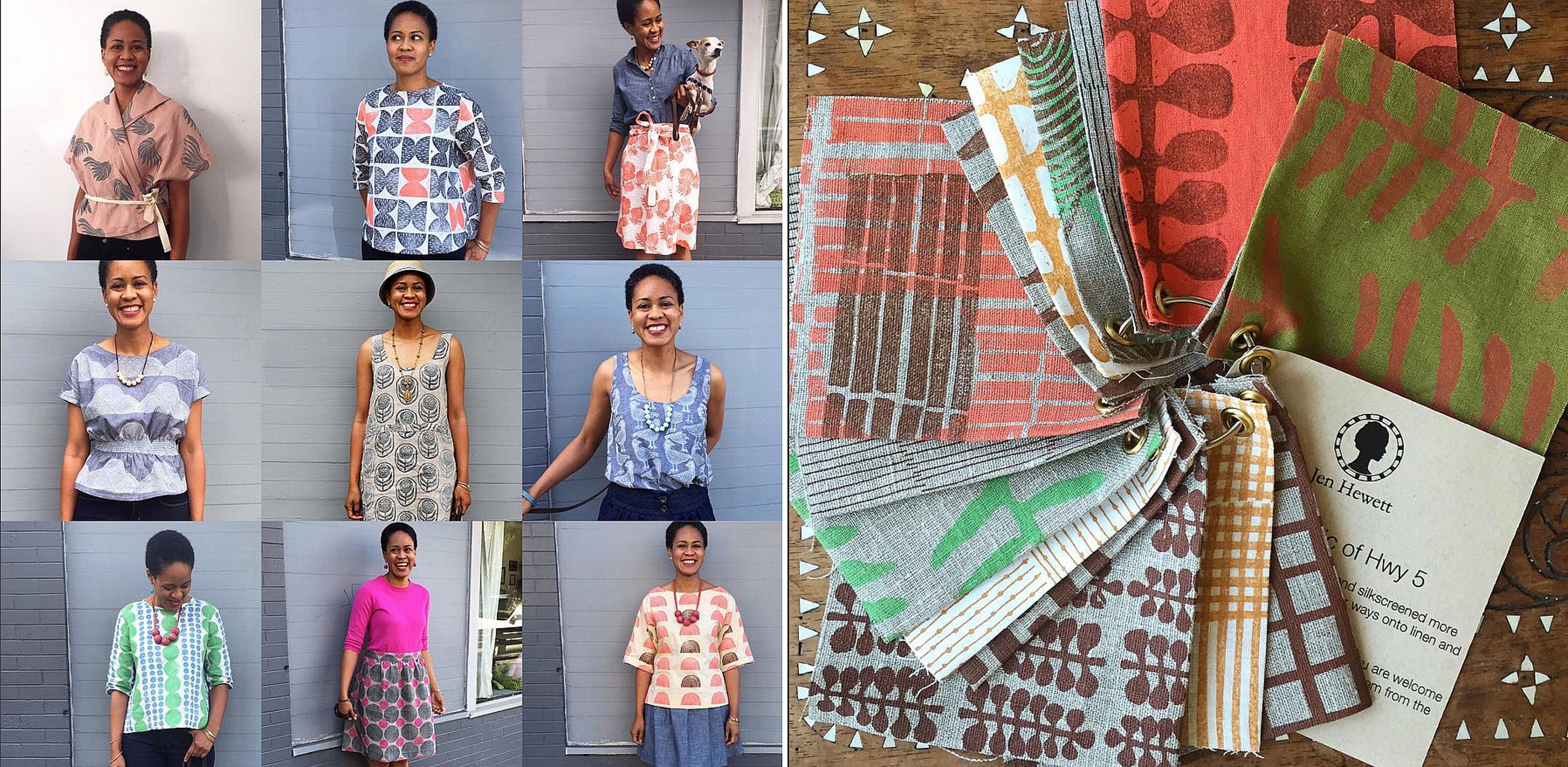 Having juggled multiple jobs over the years, Jen is acutely conscious of how she uses her precious studio time. "If I spend 15 minutes on the computer, I lose 15 minutes for printmaking," she says. In a recent blog post, she writes, "I am just one person, with a set amount of time." When she's in her studio, she avoids the "time suck" of social media by keeping her computer and phone in the bedroom — except when she needs to shoot photos to share on Instagram.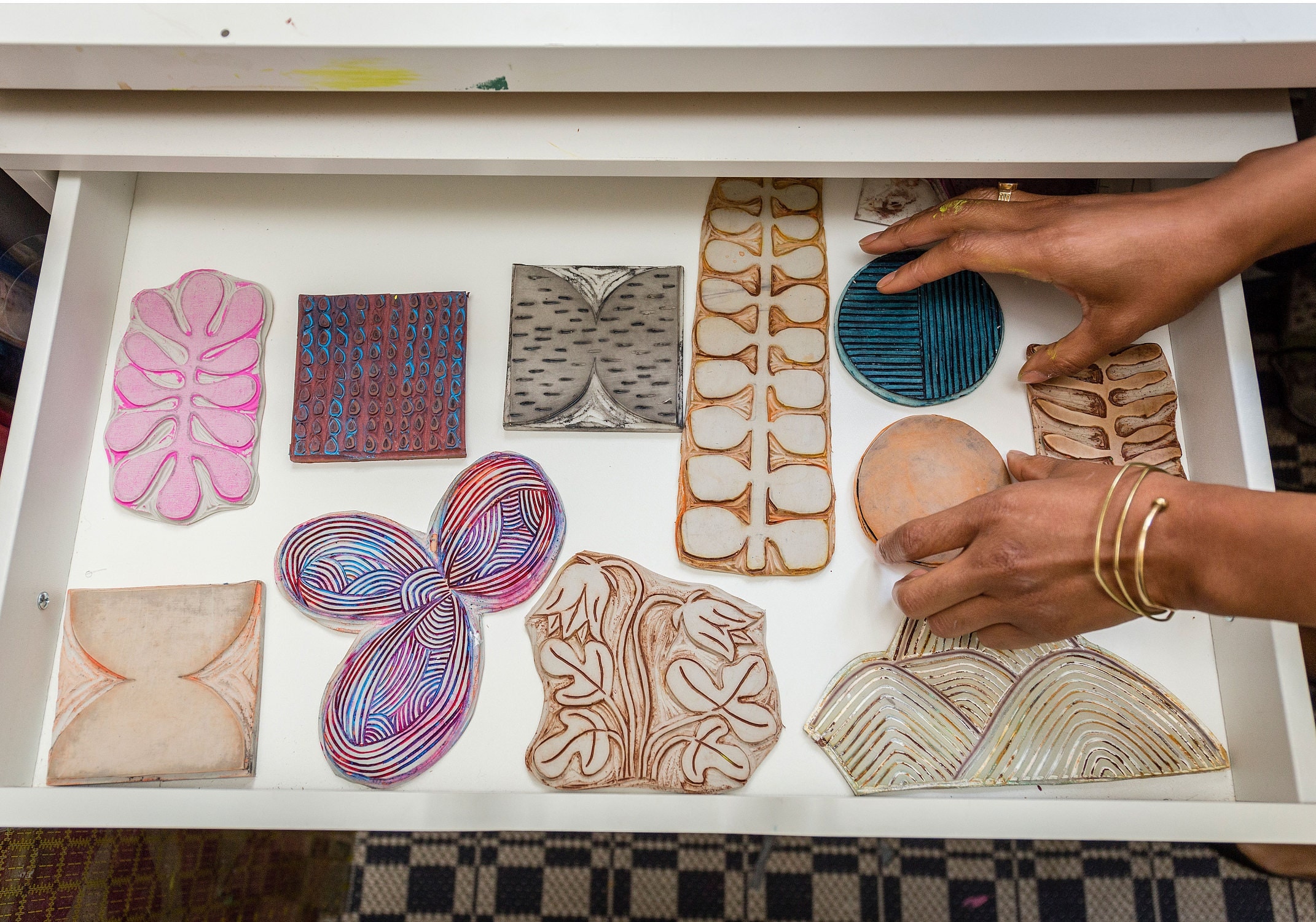 For the past two years, Jen has pushed herself to continually expand her printmaking skills through creative challenges. In 2014, she embarked on a weekly project called 52 Weeks of Printmaking. Every Monday, she posted a new print she made that week. This year, she launched Print Pattern Sew. Each month, she prints fabric, sews it into an article of clothing for herself and shares the results with her followers on her blog and Instagram using the hashtag #printpatternsew. Though the project doesn't yield a direct profit, it helps her grow in another manner. "It's a way," she says, "to really stretch myself in terms of sewing ability and ability to print yardage, which is a very hard thing to do."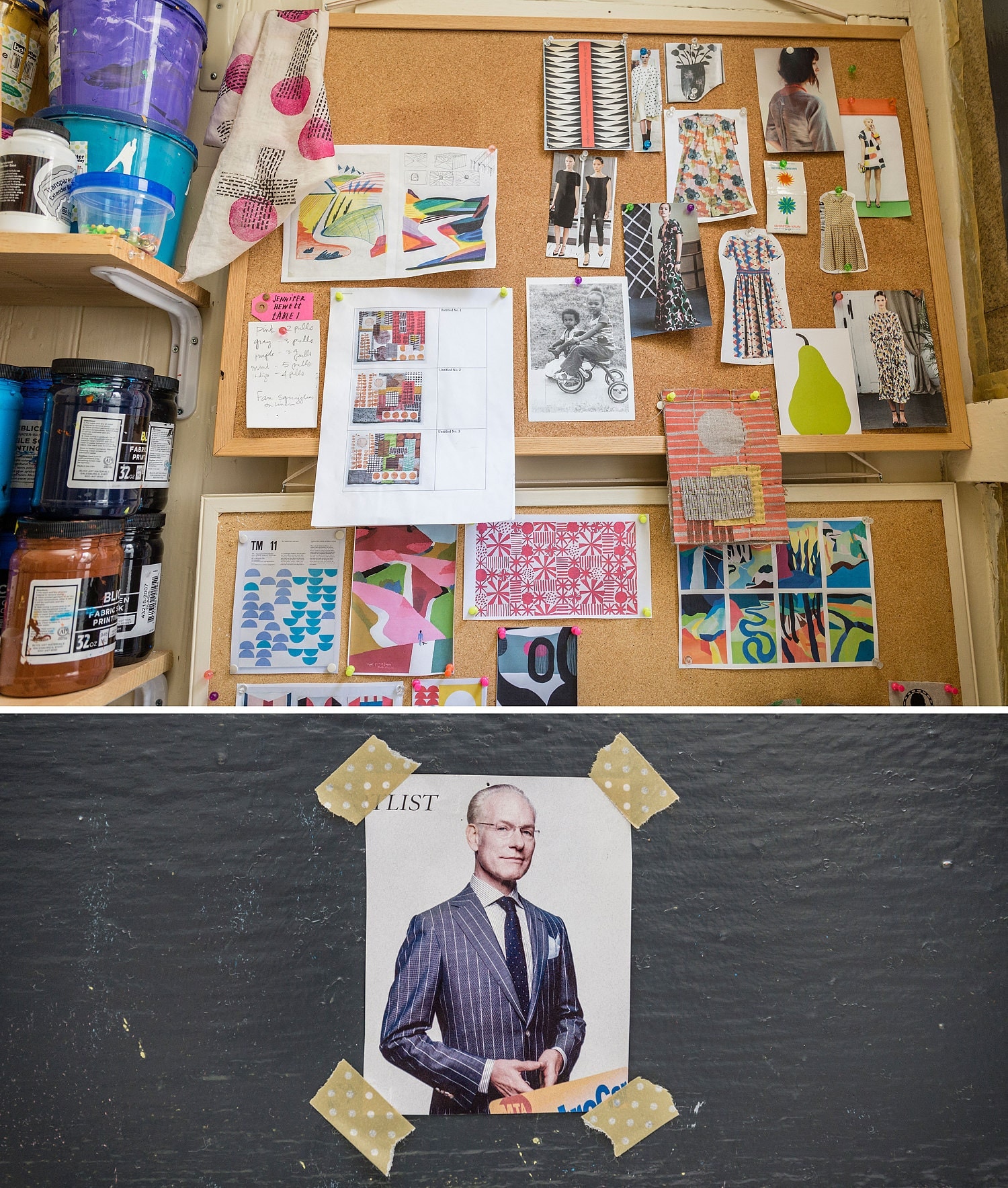 Jen will finish the year with a new wardrobe and new methods for printing large pieces of fabric in her tiny workspace — something she had never tried before. For 2016, she's devising a challenge with a digital angle, as well as some new printmaking projects. With every project she tackles, Jen consults a photo of Project Runway host, Tim Gunn, for spiritual guidance. "I call him the patron saint of making it work," she says. By turning a tiny porch into a thriving print shop — and a hobby into a career — Jen has certainly figured out how to make it work, too.
To keep up with Jen Hewett's artwork, follow her Etsy shop, Jen Hewett. Photography by Christopher Stark unless otherwise noted.
How do you organize your workspace? Share in the comments below.