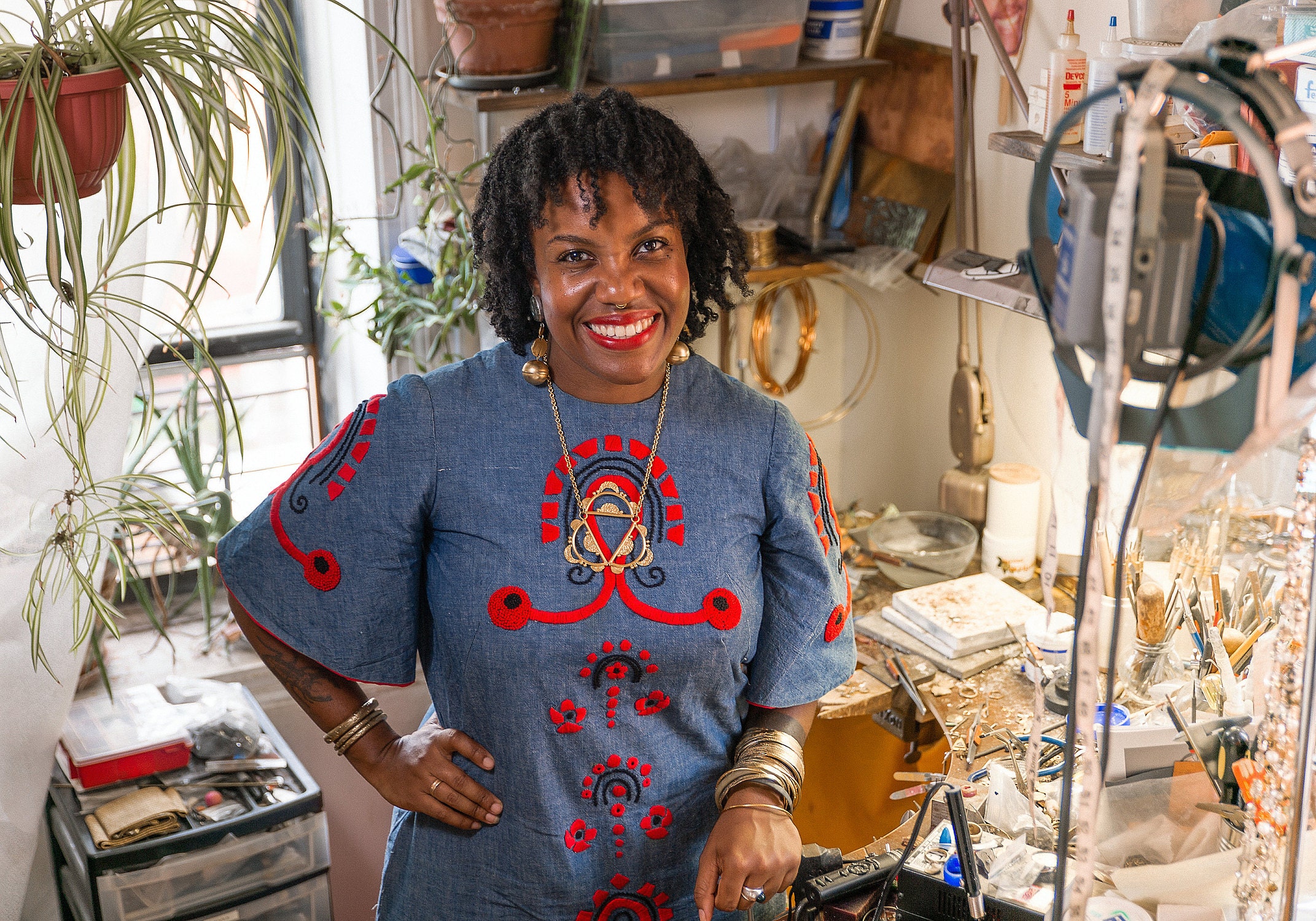 In the moonlit hours of the night and very-early morning, jeweler Alicia Goodwin holes up in her Brooklyn home studio, turns on a podcast and gets to work. During the day, she sleeps with earplugs while a cacophony of construction clangs ring out beyond the window of her apartment building, where she has lived since 2007. But in the quiet evening hours, Alicia finds creative refuge working on freelance consulting jobs and making earrings, bangles, necklaces and rings inspired by nature, travel and cultural anthropology for her Etsy shop Lingua Nigra. "I'm not a morning person," she says. "I'm not even a day person." The creative urge typically strikes Alicia at 7 or 8 p.m., and she often works until 3 or 4 a.m. in her 12-foot-by-15-foot studio, depending on her ever-changing schedule. Not all of Alicia's neighbors in the expansive six-story brick building, built in the 1930s, share her night-owl tendencies. "I wish it was way more soundproof," says Alicia. "My neighbors, they won't hit the ceiling, but they'll do something, like slam a door, to let me know that it's too loud."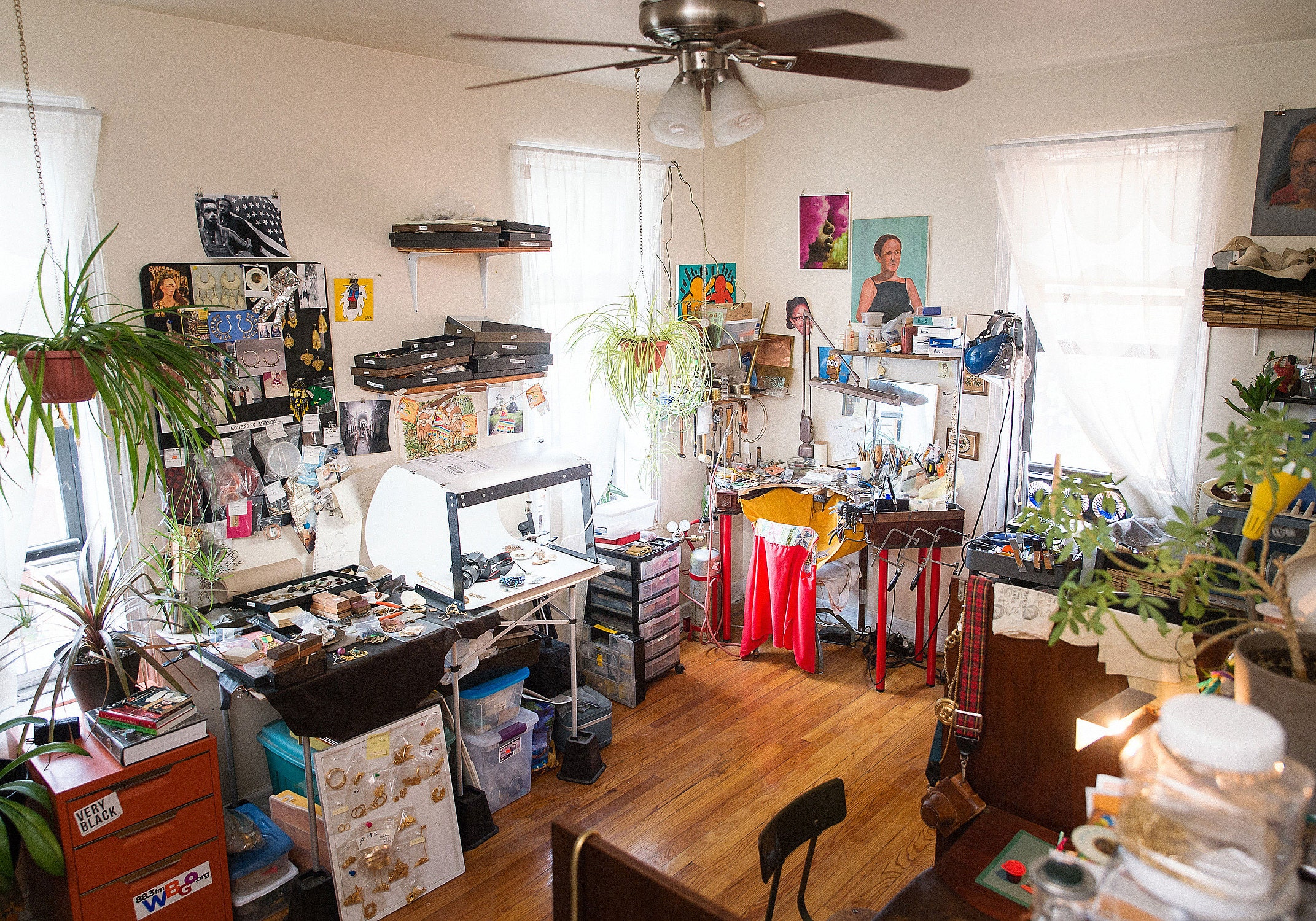 Raised in Chicago, Alicia first learned to make jewelry at a summer day camp as a child. "I really liked it," she says, "but never thought anything of it. I thought I was going to be a fashion designer." In 2003, she graduated with dual degrees in both fashion design and jewelry design from the Fashion Institute of Technology. While working for a jeweler, Alicia was allowed to use the jeweler's bench after hours. She started soldering coins from her childhood travels into jewelry pieces — a technique she still uses today. "I started making more and more," says Alicia. She launched Lingua Nigra the same year on her own website (and on Etsy in 2007), naming her business after a medical condition called "lingua villosa nigra," which means "black hairy tongue" — the hallmark of the condition. Alicia says that not only is the name of her business' name a memorable conversation starter, but it also reflects some of her inspirations: the medically macabre motifs, Victorian history and organic forms from nature.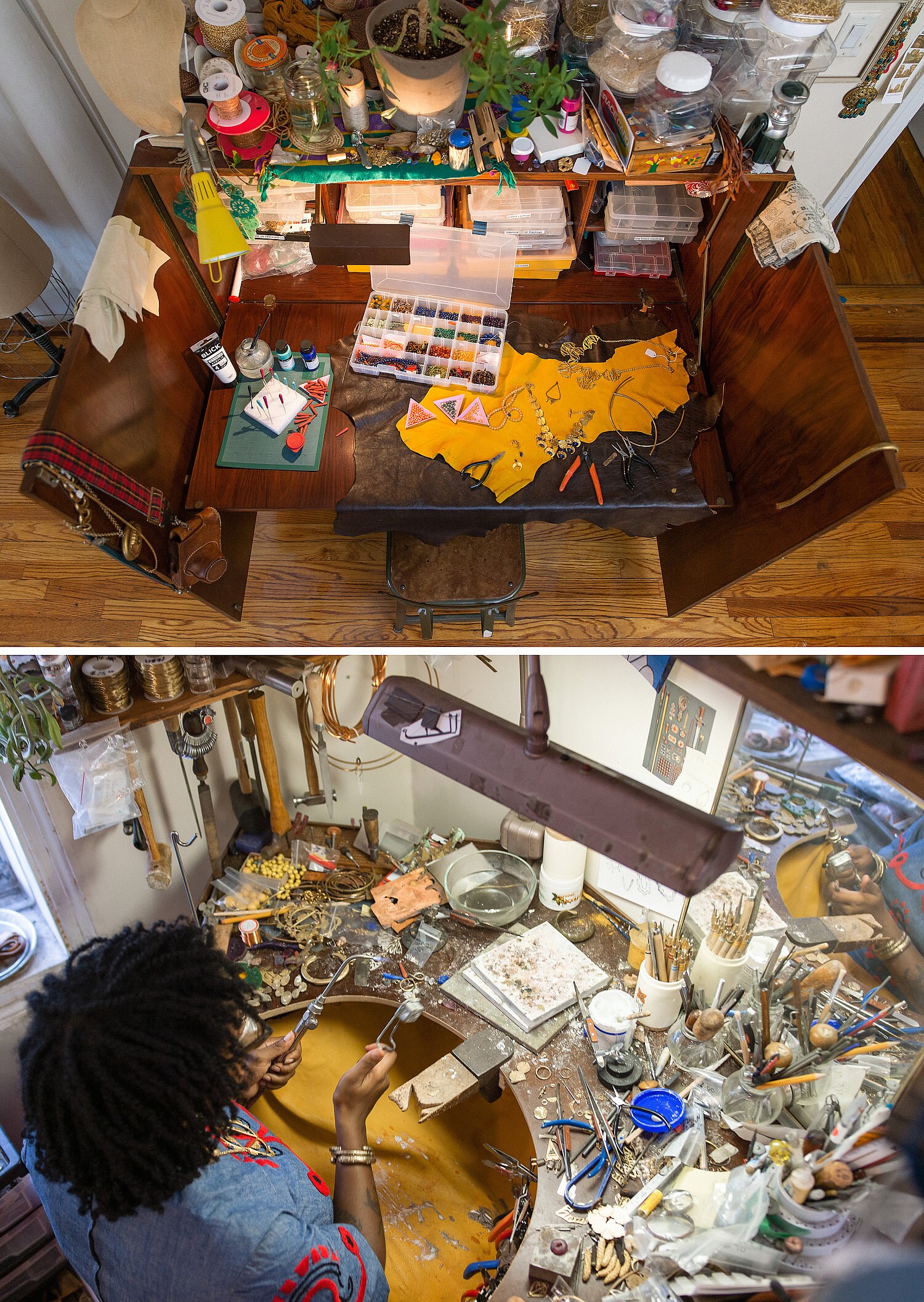 Alicia's studio is teeming with inspiration and evidence of her process: ink sketches, artwork collected from friends and flea markets, tools, machines, plants and jewelry components and supplies. Every nook of her space reveals projects in various stages of completion, which span her jewelry career. "I try to be somewhat organized," says Alicia. She has adorned the walls and shelves with relics from her life and global travel, including, most recently, a month spent learning Spanish in Guatemala. "Like the rest of my home, my studio is a museum," says Alicia. "I like to be overly visually stimulated."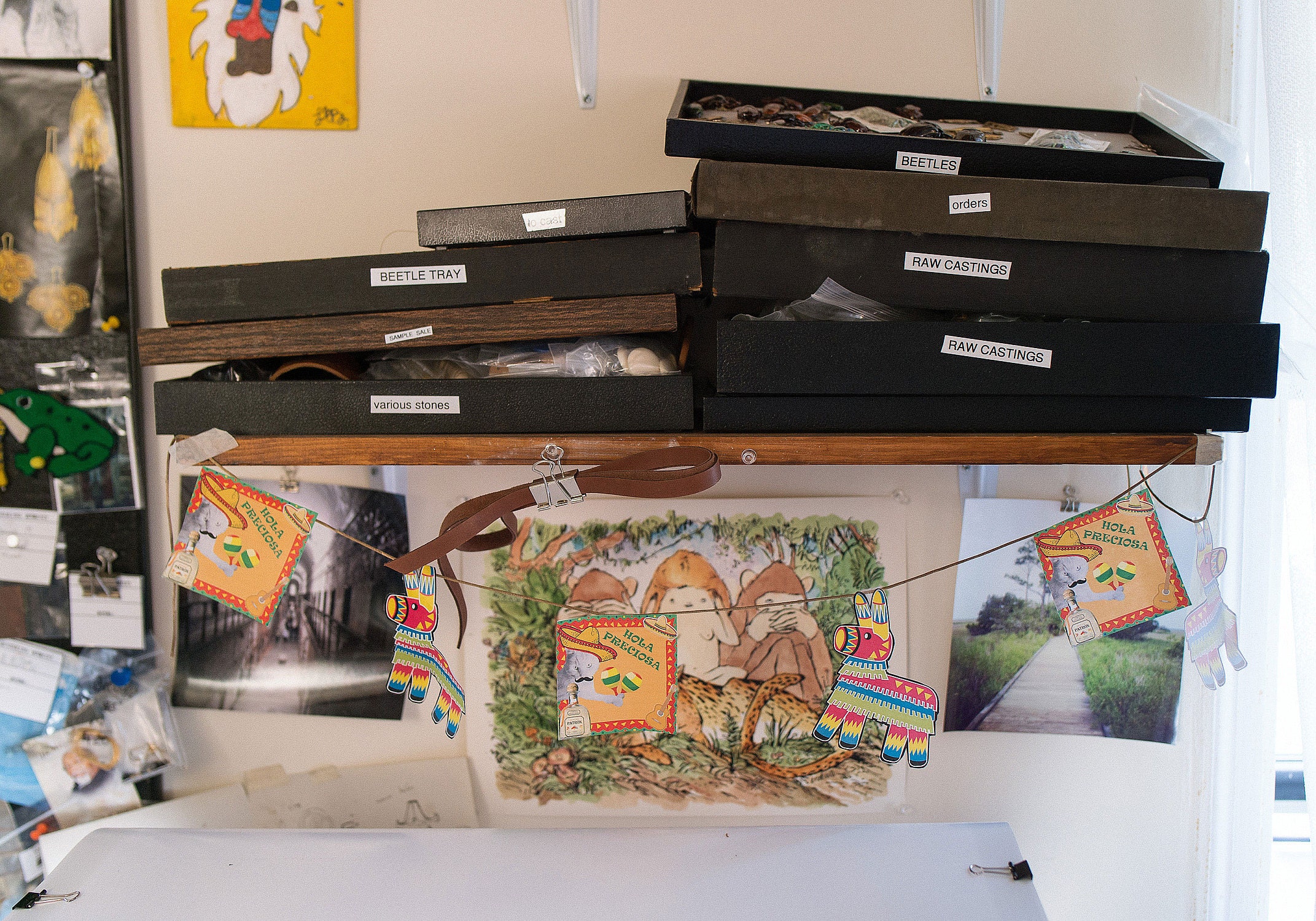 When Alicia moved into her current studio, she didn't have much furniture. Over time, she collected second-hand tables and shelves that she reworked to suit her metalsmithing needs. Her work areas now include a jeweler's bench, an assembly workstation, a photography station and a computer desk. "My favorite area in the studio is my bench," says Alicia. To create the bench, Alicia removed a semicircle of wood from the edge of a second-hand desk using a jigsaw and added red legs and a custom-made wooden bench pin. She stores most of her tools in the bench, including pliers, an acetylene torch, a flex shaft and a wax pen. "I've made it a one-stop shop, where I can do almost anything without moving that much," she says. Her assembly station is housed inside a Danish-modern desk, impeccably designed with small drawers and movable shelves. The desk is filled with clear jars of castings, jump rings, beetle wings and beads with other jewelry components stacked on top. Alicia stores files and documents on her computer desk, using style numbers and a cost sheet to keep track of every component and finished piece.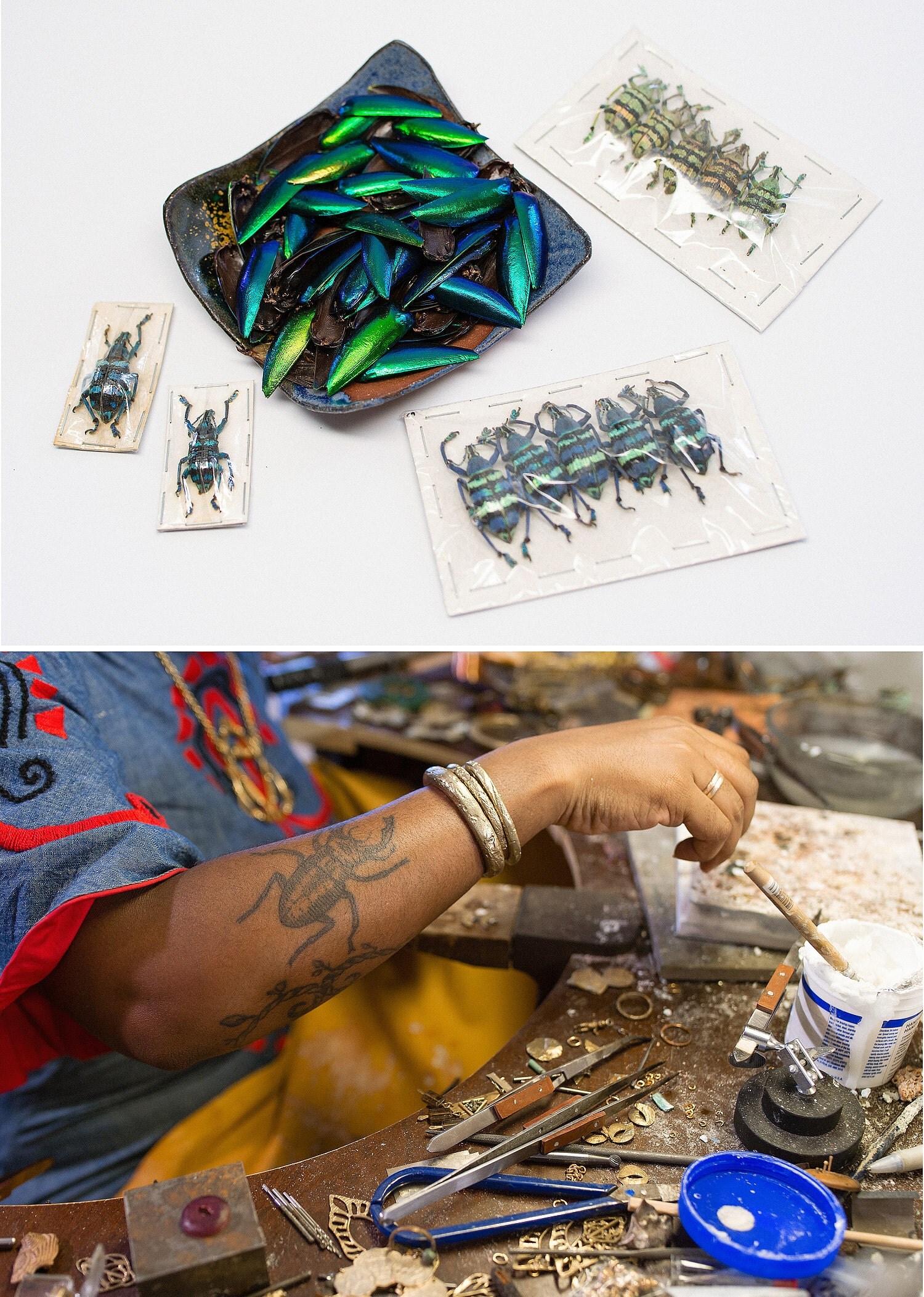 Earlier this year, Alicia launched the Mourning Memory Project, a modern take on historic mourning jewelry, inspired in part by a cultural anthropology class she took recently at Hunter College in New York City. For this project, people give her a personal object that belonged to a late loved one and fill out an online form with information about the deceased. Alicia will make two matching pieces of jewelry from the object: one for the contributor and one to display in an eventual art exhibition. So far she has received a variety of objects: gloves, neckties, ashes, hair, a dental bridge, a thimble and a full set of dentures. Alicia plans to combine parts of the personal object with wood (because "it holds the same property dead or alive") and metal to make the keepsake jewelry. "Victorian and Georgian era mourning jewelry was about the public seeing that the wearer was mourning," says Alicia. "I want this to be more about the mourned."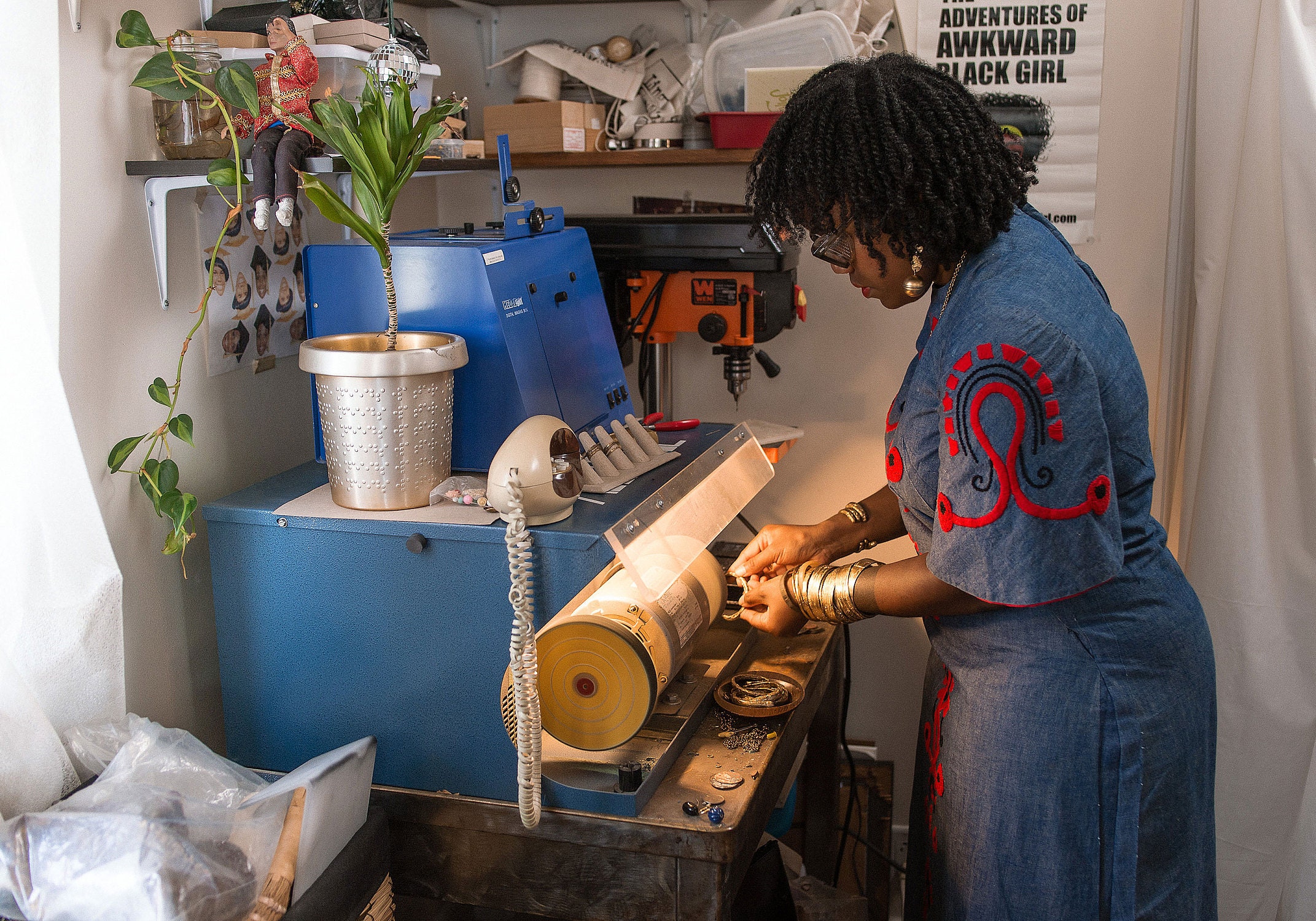 From coming up with the idea to polishing the finished piece, creating a new design can be a one-year process for Alicia. As evidenced by five sketchbooks, a pad of newsprint by her computer and Post-It notes and printer paper pinned around the studio, Alicia constantly draws ideas as they come to her. From these drawings, she'll make new designs. "I keep a lot of stuff on my bench, and I'll just work all over the place," says Alicia. When she feels stuck working on one piece, she'll pick up something else from her bench — a mini wax urn that needs a lid, ear weights, a piece she's had since studying jewelry 14 years ago — and keep working.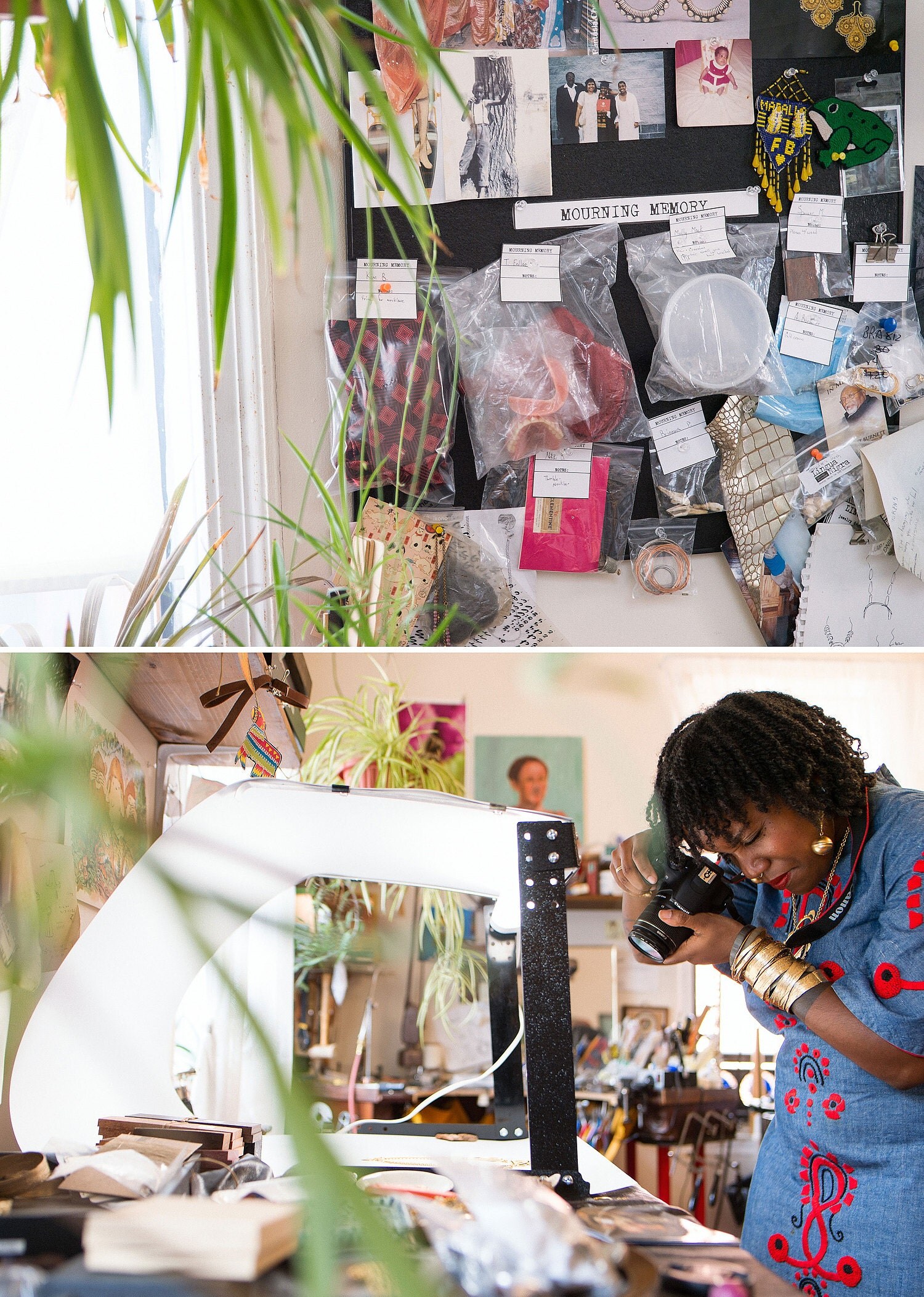 "I like a complex process, but very simple pieces in the end," Alicia says. "Each piece looks so complex that it can stand alone, without a lot of stones and beads." To achieve rich, organic textures for her jewelry, Alicia uses an acid etching process and a technique called reticulation — a process of repeatedly heating metal to force a layer of metal to accumulate on the surface. "Reticulation makes this really pretty wavy mountainous pattern," says Alicia. She also carves and sculpts components from wax that she gets cast by a family-run casting business. (She met the family while working for a large costume jewelry company 11 years ago.) Alicia works most often in brass or white metal that she gets plated in gold.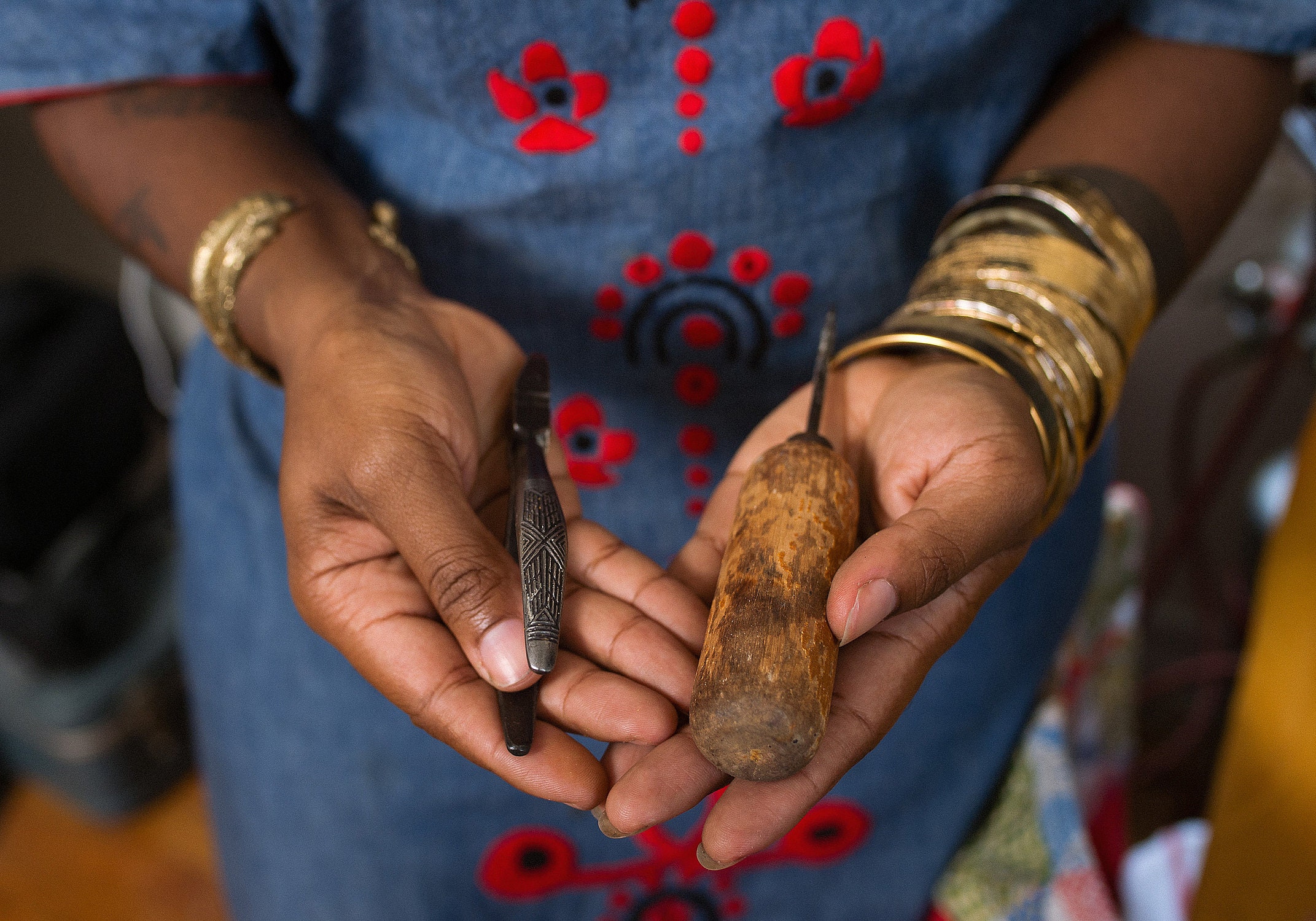 Before her evening jewelry-making rituals begin, Alicia spends her days doing freelance jewelry design work, taking classes and running errands. She often goes to museums twice a week. "It's nice to get out," she says. "It's educational procrastination." When she returns from trips around New York City and around the world (next destinations Nashville and Argentina), Alicia brings fresh inspiration back to her studio, adding new mementos to her studio walls and infusing her work with new perspectives.
Check out Lingua Nigra to see Alicia's latest jewelry. To pitch your space for the Inspiring Workspaces series, fill out the Seller Handbook pitch form.