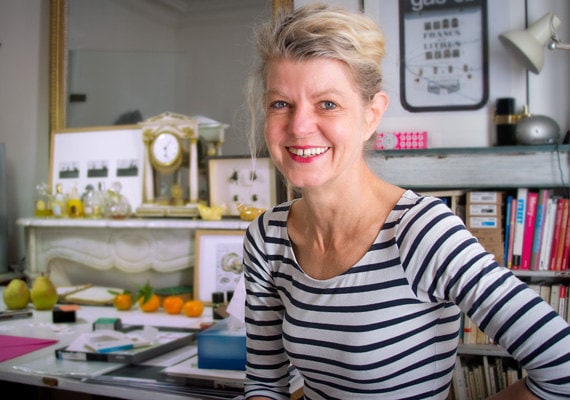 Each Saturday, Lucile Prache buys a bounty of fruits and vegetables at a farmer's market near her flat in the quiet Les Batinolles district of Paris. Before cooking the groceries, she brings them to her home studio, where she captures their colors and forms on paper with watercolors, colored pencils and Chinese brushes. She sells her cornucopia of culinary creations in Lucile's Kitchen, which is stocked with prints featuring instructions for making the perfect cup of tea and collections of gem-like tomatoes, juicy green pears and bundles of fragrant herbs. Her expressive illustrations celebrate fresh ingredients, favorite recipes and global cooking. Customers frequently commission custom paintings depicting their most cherished family recipes.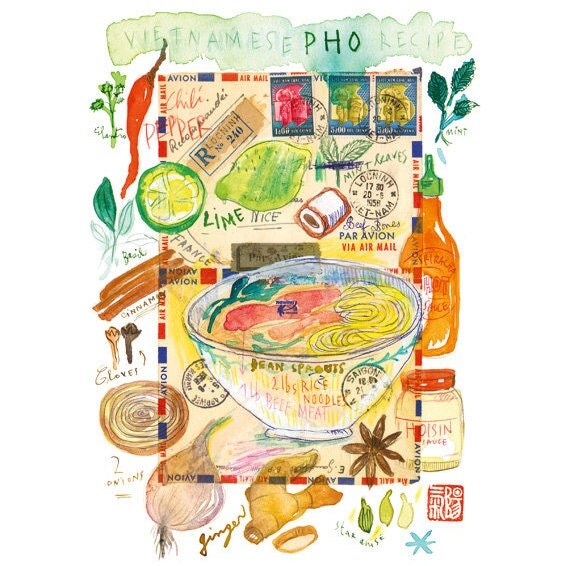 Lucile makes artwork for her Etsy shop and freelance clients in a cozy 13-foot-by-13-foot studio in her flat, which is located on the ground floor of a classic Parisian building built in 1880 that boasts ornate moldings, herringbone parquet floors and marble fireplaces. "French people are always grumbling and Parisians are the champions of grumbling," she says. "So, of course, I will grumble and say that I wish I could live elsewhere, in Montmartre or on the left bank, because I like to hear the sounds of the noisy city."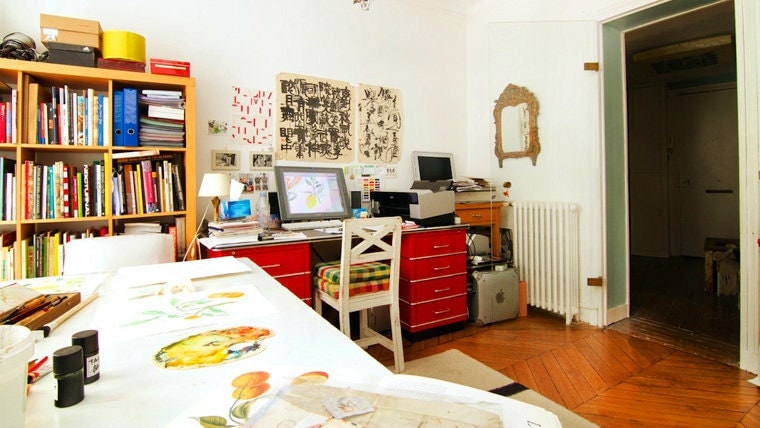 After graduating from art school in 1981, Lucile and two classmates founded Klaxon Graphic Art Studio to provide design services to advertising agencies. After her children (now 17 and 18 years old) were born, Lucile left Klaxon to work from home and spend more time with her family. She spent the next decade building a freelance career focusing on fashion and culinary illustration. In 2010, she started an Etsy shop to list reproductions of the drawings for sale. The shop began as an experiment, but the prints generated more interest than she had expected. Lucile has made almost 2,000 sales since then.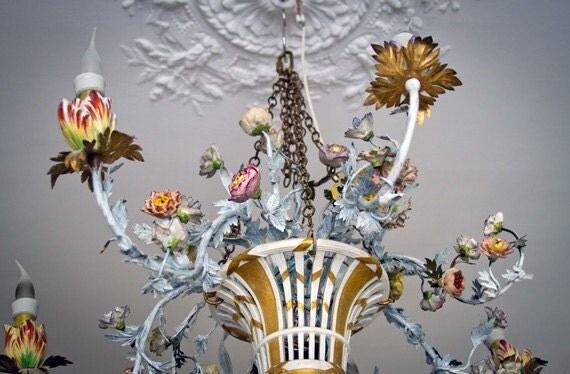 Lucile works with two agents to bolster her client work, which includes illustrations for fashion magazines and cookbooks. "As a freelance illustrator, it's exciting to always have new creative briefs from clients, opportunities and challenges," she says. Next up? Two new cookbooks of regional French recipes for a publisher who serendipitously found her work on Pinterest. Her process for illustrating a cookbook is usually the same: the publisher gives her the recipes and she has freedom to interpret them as she wishes, usually in four or five weeks. Her American agent develops licensing deals in the United States, while her French agent lands domestic projects, including art for the Dior Haute Couture advent calendar coming out in December.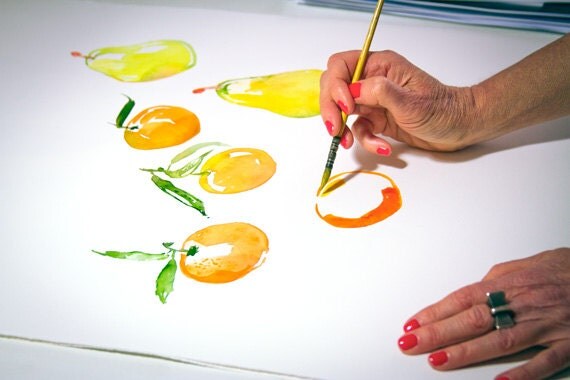 Her daily work routine varies, depending on the fluctuating demands of client work and online orders. First thing in the morning, she packages orders that came in overnight from US customers, who make up 95 percent of her Etsy business. She ships them in the afternoon from the nearby post office. Pinned to her wall are three shipping labels from the United States Postal Service that she got during her last visit to the States. She thinks of them as good luck charms when shipping packages overseas. Crossing her fingers, she says that maybe their magic is working — she hasn't had any lost packages in a very long time.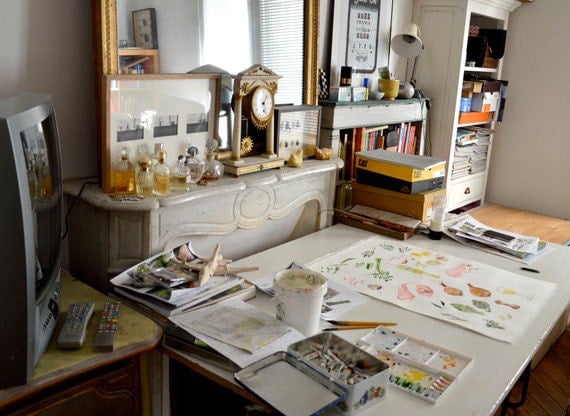 Her studio houses a mix of traditional art supplies and an assortment of new and aging technology. She can't bear to get rid of outdated machines that still work, out of respect to the environment. A hulking television with a VHS player holds court in one corner, and in another, there's a computer from 1999 that she has kept solely for the purpose of scanning her art with an antiquated scanner that's incompatible with her more current computer.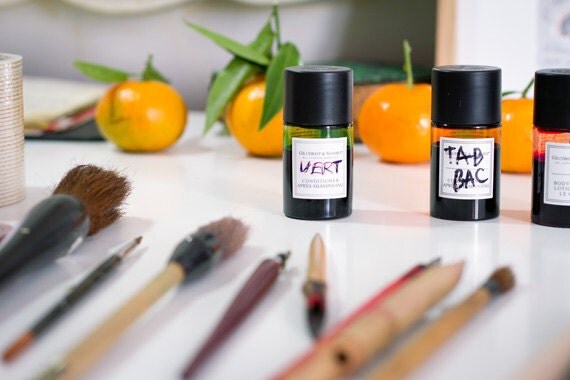 Since she is most productive in the morning, Lucile usually starts her creative work around 9 a.m. She prefers to paint with natural daylight, and this sense of light joyfully shines through her art. People often describe her style as light and loose, which is her intention. "It is ironic," she notes. "But I am only able to produce this loose look while concentrating very hard." She keeps creating until she feels so hungry she can't stand it anymore. Despite her love of food, Lucile prefers to take a quick lunch break and return to work, in contrast to the French tradition of long, lingering lunches spent at a café.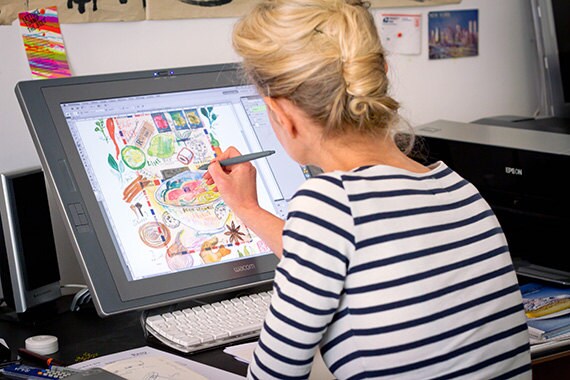 As the light fades, she starts her computer tasks: scanning art, Photoshop design work and online networking. When designing illustrated recipes, she sometimes uses a Wacom Cintiq tablet with an interactive screen and a digital pen to add a digital element to her traditional watercolor techniques. She prints orders with an Epson 3880 printer. She also spends time on the Etsy Forums keeping up with any site changes, learning from fellow sellers and practicing her English skills. She stops working at 7 p.m. to cook dinner and takes the rest of the night off.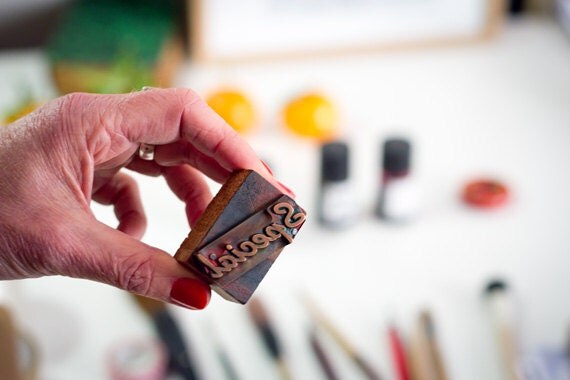 To strengthen her mind and body, Lucile attends ballet classes twice a week. She has practiced ballet since she was a child and loves that it involves both hard physical work and the ability to spend time dancing with friends. She has been taking Chinese calligraphy classes since the early 90s to expand upon her art school education. "In these classes, I figured out how important it is to work with my whole body and to let my breath help my gesture," she says. She often paints standing up to facilitate this. Although her natural inclination is to fill the page with organic lines and imagery in the spirit of her artist-heroes, Hervé Télémaque and Jean Michel Basquiat, she tries to be mindful of a lesson from her calligraphy studies: an empty space on the sheet of paper is as important as a filled one.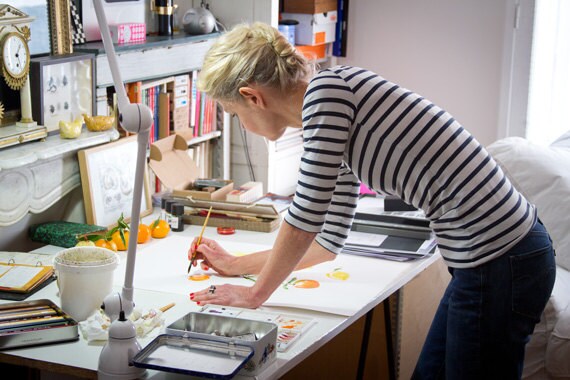 Lucile enjoys the balance of working on assignments from corporate clients and designing creations for her own shop. One of the biggest perks of being an Etsy shop owner, she says, is having an international customer base and making friends with Etsy sellers in Paris and abroad. Her enthusiastic customers, many of whom share family recipes with her, fuel her creativity and expand her knowledge of cooking customs around the world. "I am completely addicted to real time Google Analytics and love to see visits from all over the world," she says. "Running a shop online completely changed my life."
Photography by Stephanie Carranza.
Do you have tips for creating a fabulous workspace? Please share them in the comments.