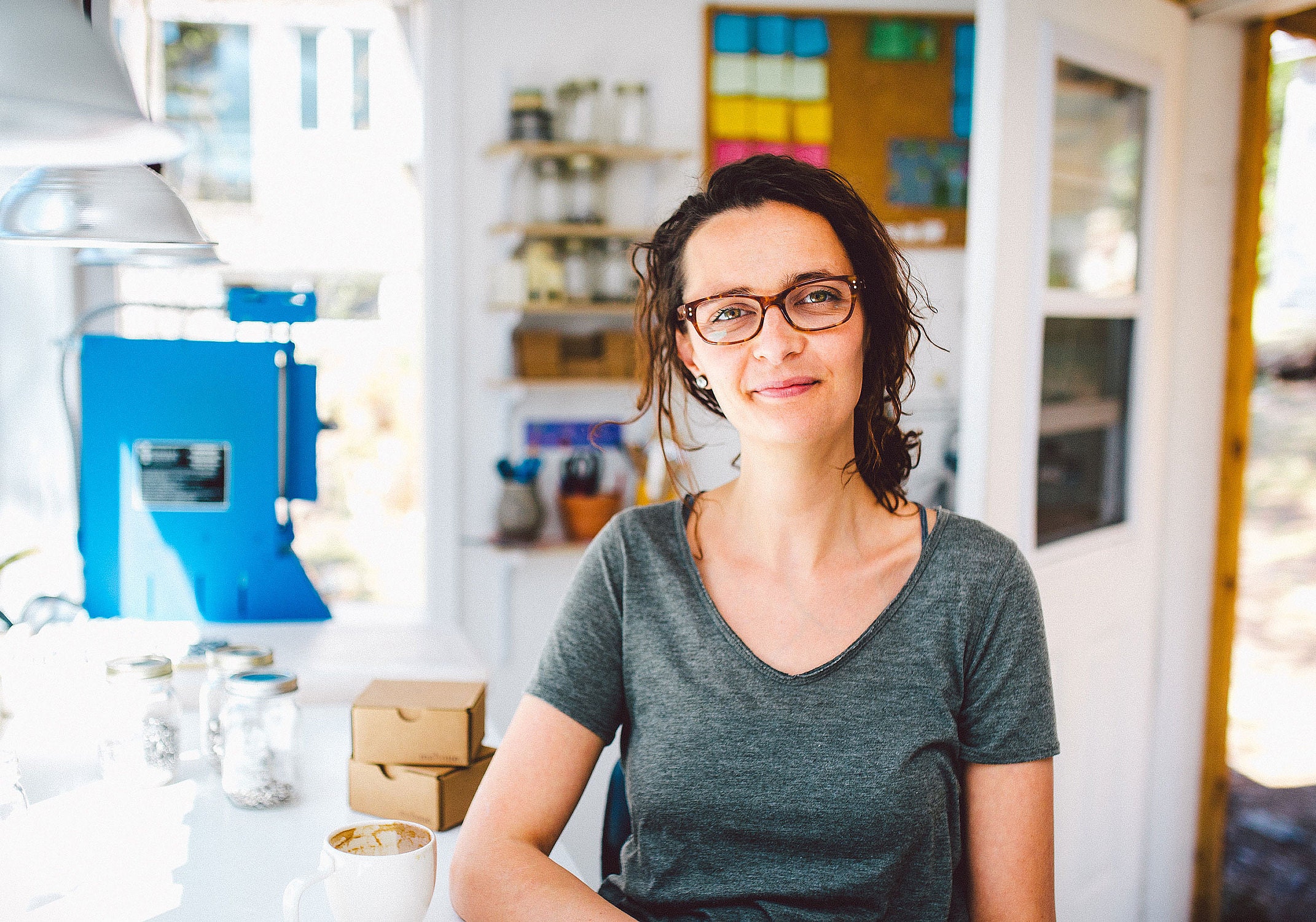 Soleil Fleming was pregnant with her daughter when she moved to the Laurentian Mountains, north of Montreal, in 2010. She had recently completed a studio arts degree at Concordia University in Montreal, where her interest in ceramics blossomed. Shortly after moving, Soleil found a large second-hand Paragon kiln for sale on Craigslist, a mere five minutes from her new home. After her daughter was born, she didn't have time to work on big projects. But she always had her clay out on the kitchen table in the A-frame house she shares with her partner, François-David, so she could experiment and make small projects. She started making a few small pieces of jewelry, and she eventually opened an Etsy shop called Maboue (meaning "my mud" in French) to sell porcelain earrings, rings and necklaces. Soleil hadn't expected the jewelry shop to become her career, but shortly after opening her Etsy shop, a store in Montreal found it and asked to carry her pieces. Since then, the business has grown. Maboue is now sold in over 70 stores in Canada, the United States and England.
Soleil's partner works from home as a video projection technical designer. After they moved into their home, he built a small eight-foot-by-twelve-foot workspace for himself in the backyard, using hemlock wood and a little help from a contractor friend. Meanwhile, Soleil moved her jewelry production to a table in the attic. As her business gained momentum, she hired a part-time assistant to help with production work. "I delegated really quickly," Soleil says. "I was a waitress for 10 years while I studied and I missed that human contact." Plus, getting help early on helped her build a groundwork for growing her business, one where she wouldn't have to frantically work 70 hours a week or more. To accommodate the growing business, they swapped workspaces. François-David moved back inside the house to work, and Soleil took over the little studio space.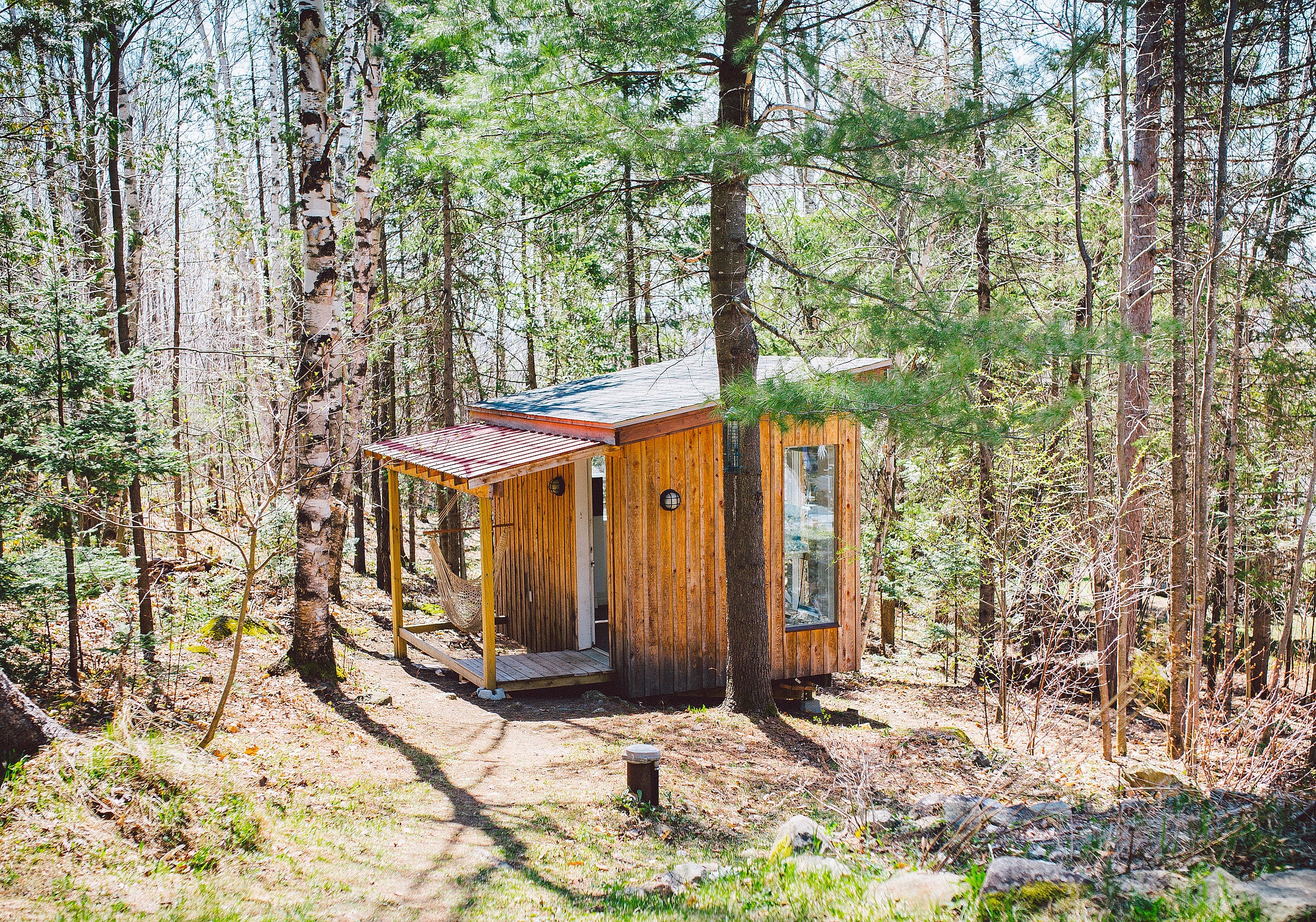 When you step into the studio, you'll see a panoramic view of the forest, abundant with birch trees and chickadees. A full wall of windows lets in natural light. Soleil can spot wildflowers in the spring and a distant glimpse of her neighbor's house after the leaves have fallen in the winter. Sometimes she'll watch a squirrel, which she calls Roger, jumping acrobatically on the branches of trees outside the studio windows. On the right side of the space, shelves are stocked with stud earrings and Mason jars filled with chains, backings and rings.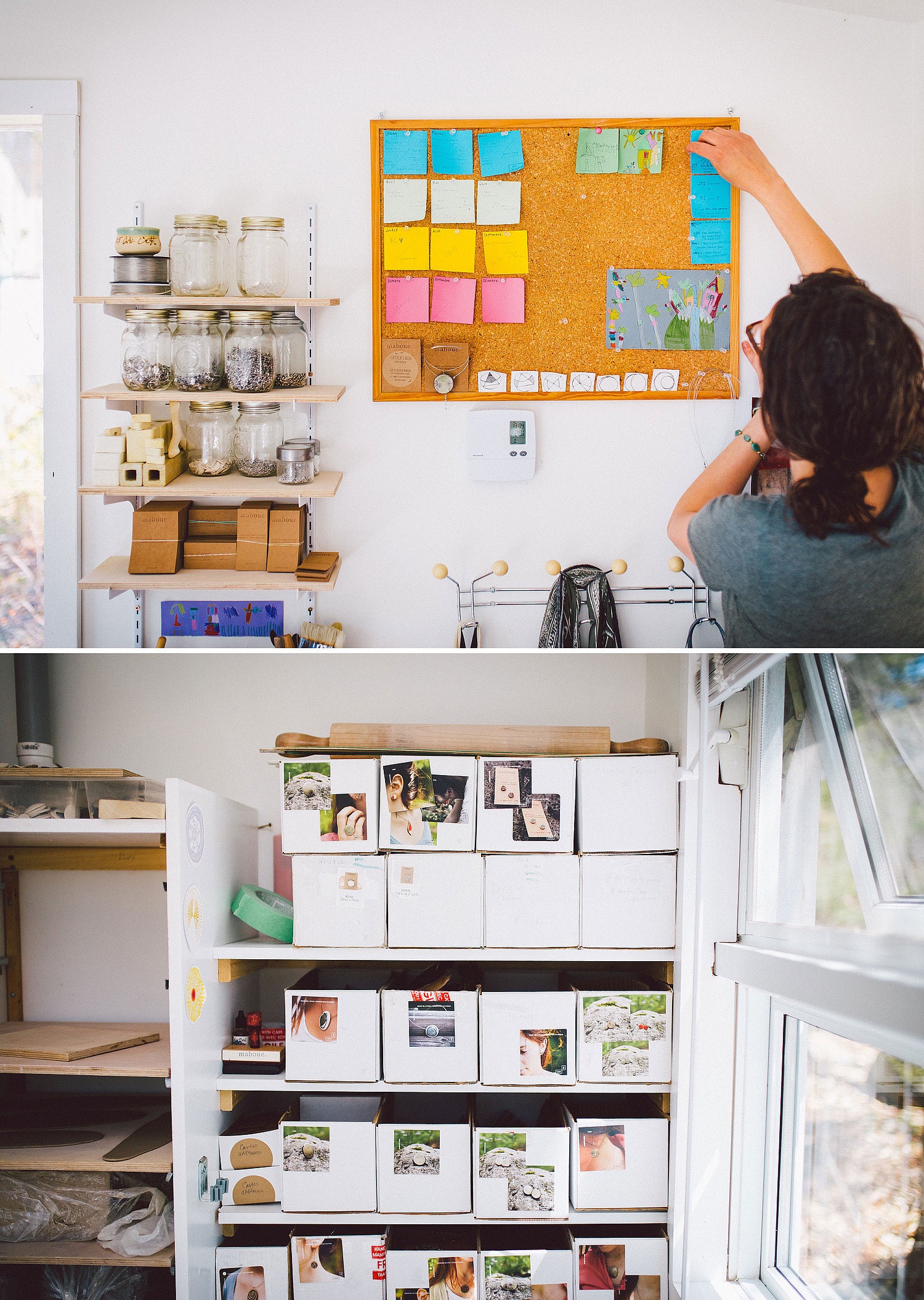 Despite the petite size of the studio, Soleil wouldn't have it any other way. "I'm a reorganizer," she says. "I'm one of those creative types who need a workspace to look nice before they can make anything else." Having a small space helps her keep her tendency to accumulate objects in check, while keeping the space tidy. With a picture-perfect view from the studio windows, she hasn't felt the need to add many decorations to the walls either. A self-described podcast addict, she listens to podcasts dedicated to business, parenting, science and storytelling while she works, including Radiolab, This American Life, StartUp, and Zen Parenting.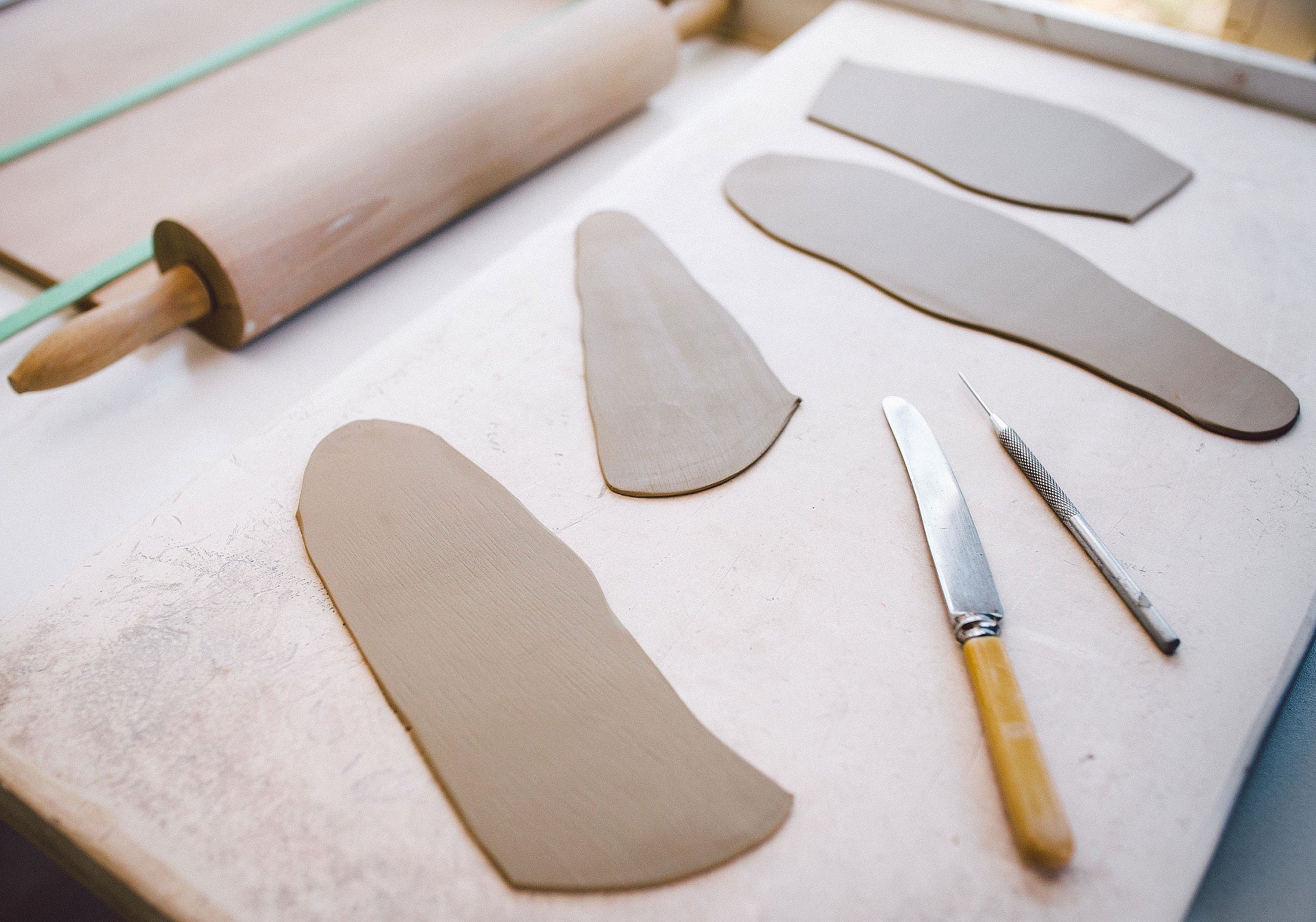 The primary work area is a counter-height table measuring 12-feet long, where Soleil often works standing up. It also allows enough room for her two assistants, Audrey Pinard and Annie Champagne, to comfortably do production work at the same time – often while listening to music and singing with abandon. Soleil usually has three or four days per week with their help, with the time split between the two of them. When creating a new product, Soleil carefully considers the process to ensure that she'll be able to seamlessly delegate the production work. There is one design, however, that Soleil produces by herself: the Draw Me a Poem series, which always have an outline drawn by her own hand. "Because I now have help for production, when I do have my hands in clay it still absolutely feels like play!" Soleil says. Eventually, she would like to hire help with the administrative work, including social media and marketing, so she has more time for the creative work.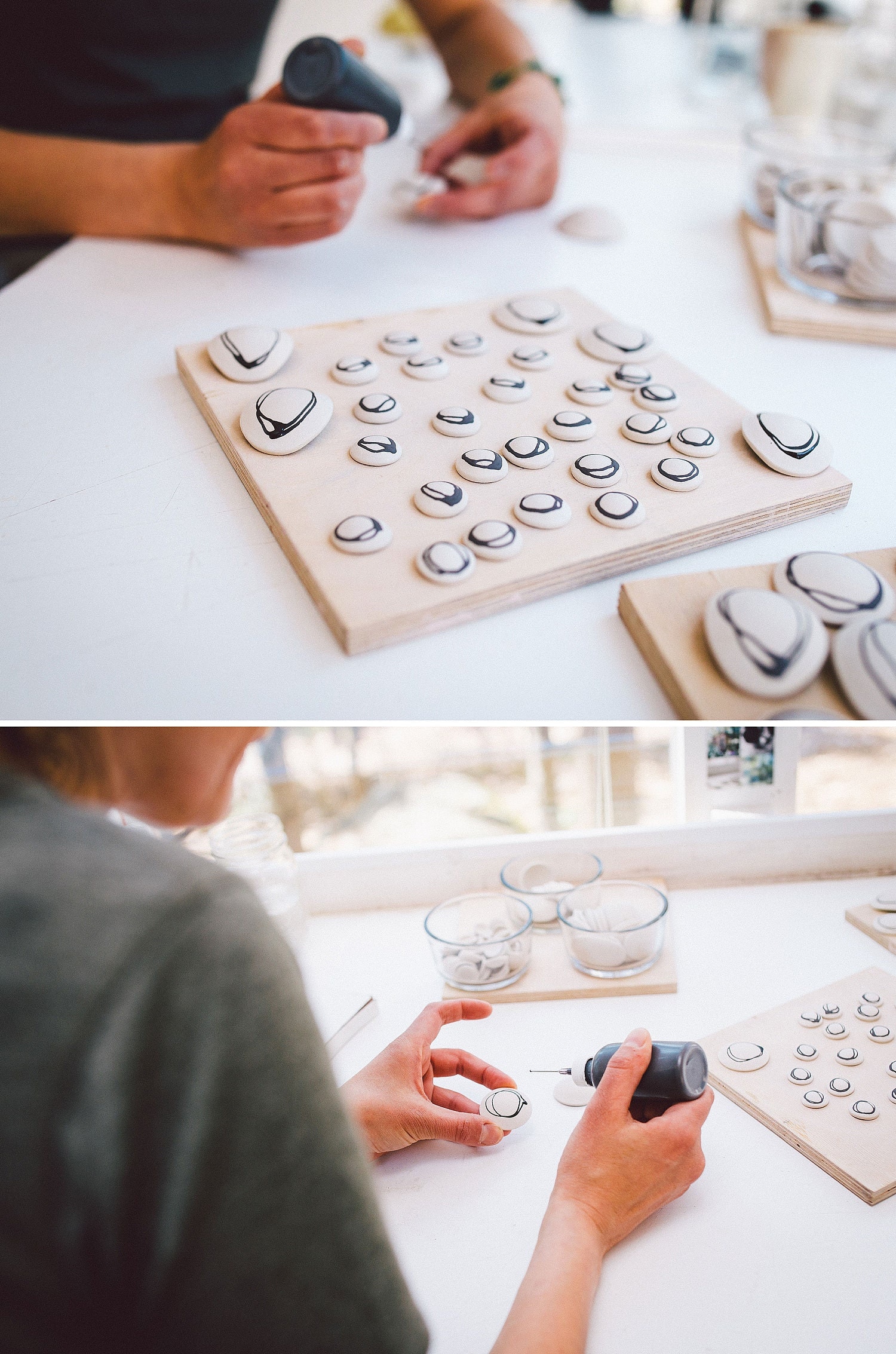 Her daily routine starts before the other members of her household wake. Soleil makes herself a cup of tea (because the coffee grinder is too loud) and slips out of the house to her studio around 6 a.m. so she can spend as much time working in the peaceful early morning hours as possible. She recently acquired her new piece of equipment: a tiny test kiln with interior shelves measuring just under 12 inches square. Though designed for prototyping, it is also suitable for firing her small-scale jewelry. She fills it up on a daily basis and turns it on to fire overnight.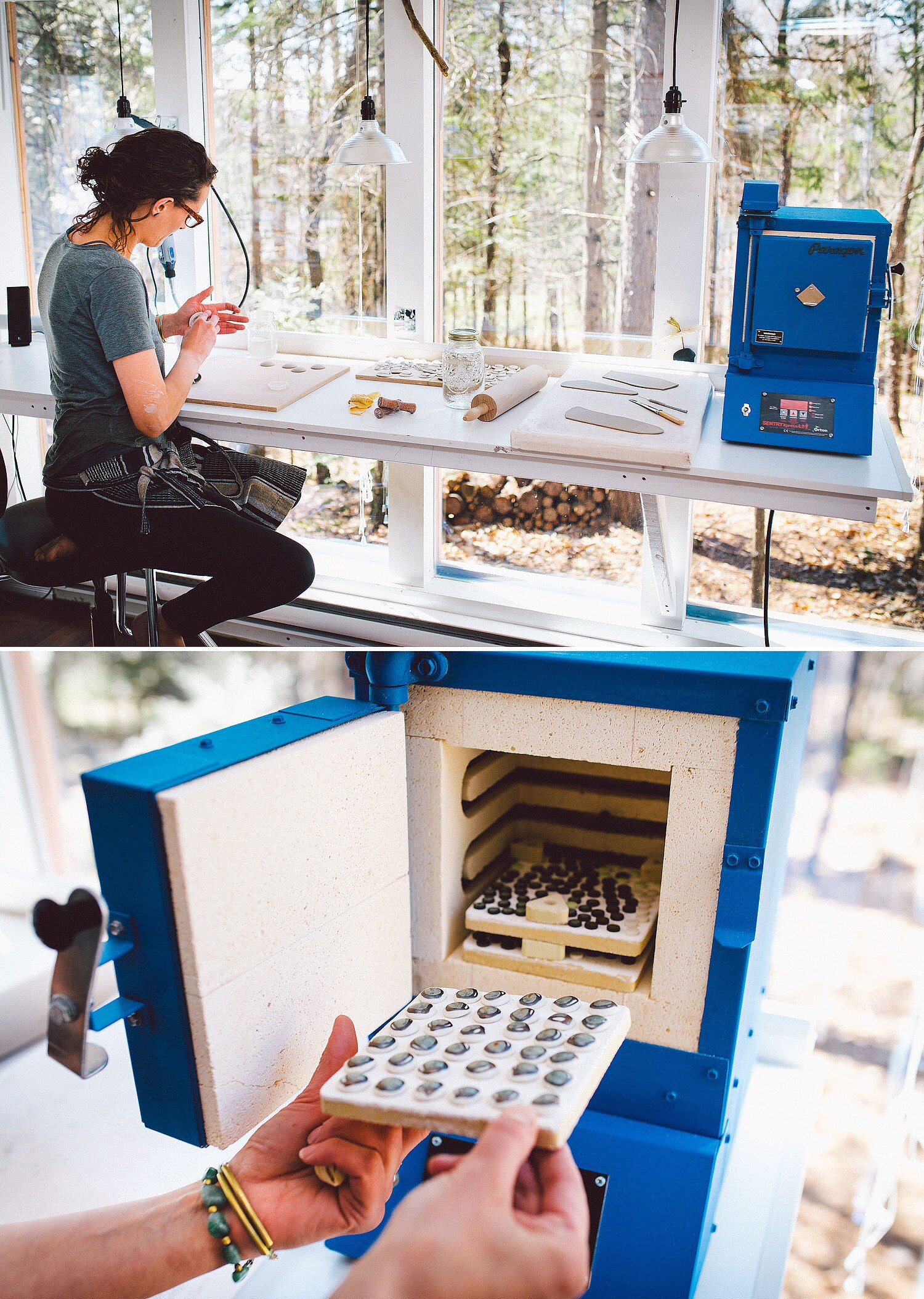 When Soleil's five-year-old daughter wakes up around 8 a.m., her workday becomes more fluid. Every day is different. She follows with the natural flow of each day, prioritizing her daughter above all else, while also tending to her own needs and the needs of the business. Soleil has found that versatility is key. "Things change all the time," she says. "Even if the equilibrium is hard one month, it might be perfect the month after." Her biggest challenge is juggling her many roles of mother, maker, business owner, designer, technician, accountant, production manager and marketing director. "It's hard to know when it's time for one to take over and for another to shut up," she notes.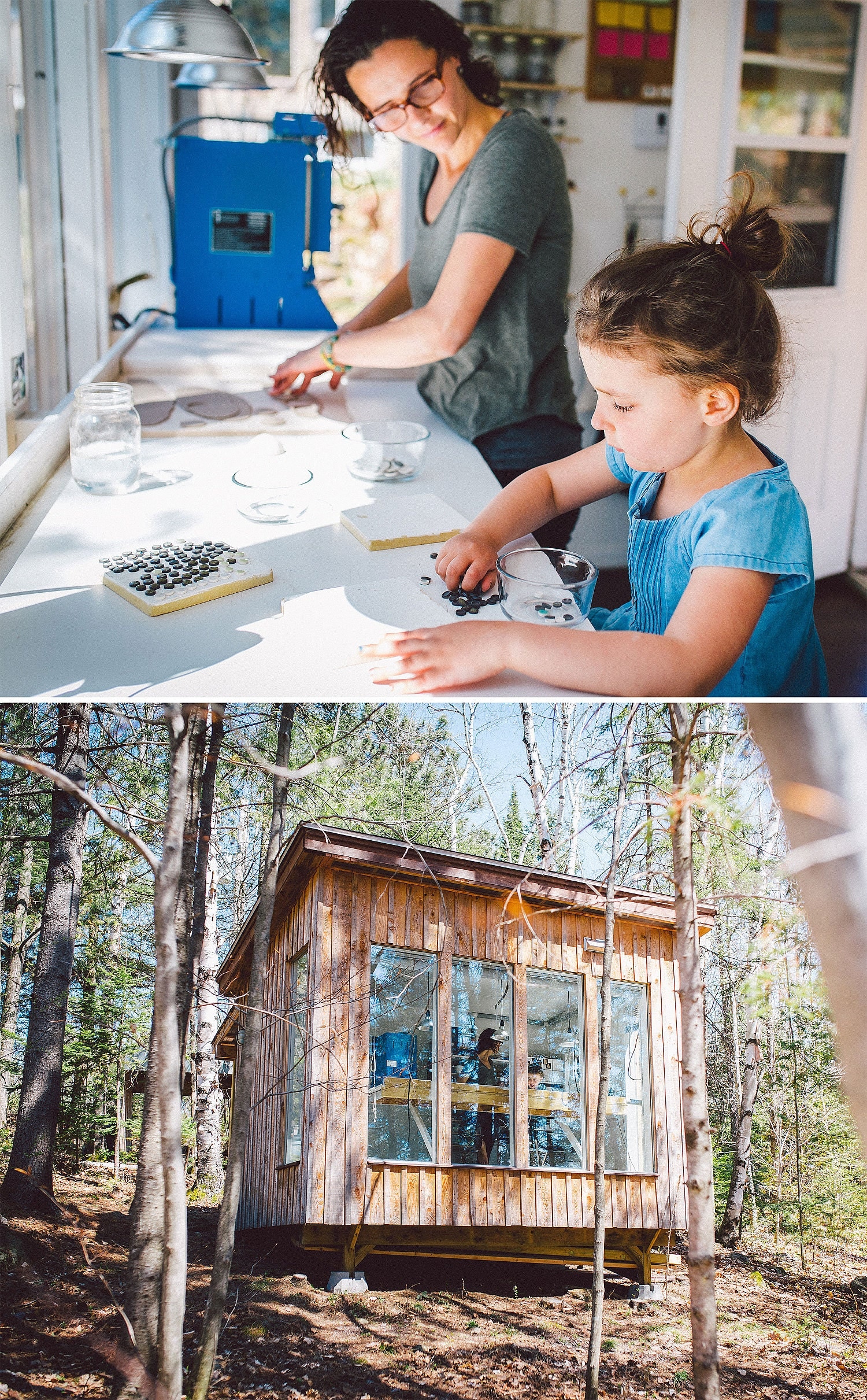 Soleil's daughter spends time with her in the studio and plays with clay while Soleil works. Her daughter talks about designing her own jewelry one day, and will offer her mom ideas for future earring designs. "I'm really glad that she can see both her parents thriving professionally and loving what they do," Soleil says. It's such a great model for her to have – to really do what you love and find ways to make it work." When her daughter starts school next year, Soleil will build a more consistent studio schedule in tandem with her daughter's new school schedule. But she'll keep going with the flow.
To find Soleil Fleming's latest ceramic jewelry designs, follow her Etsy shop, Maboue.
What is your daily creative habit? Share your routine in the comments below.