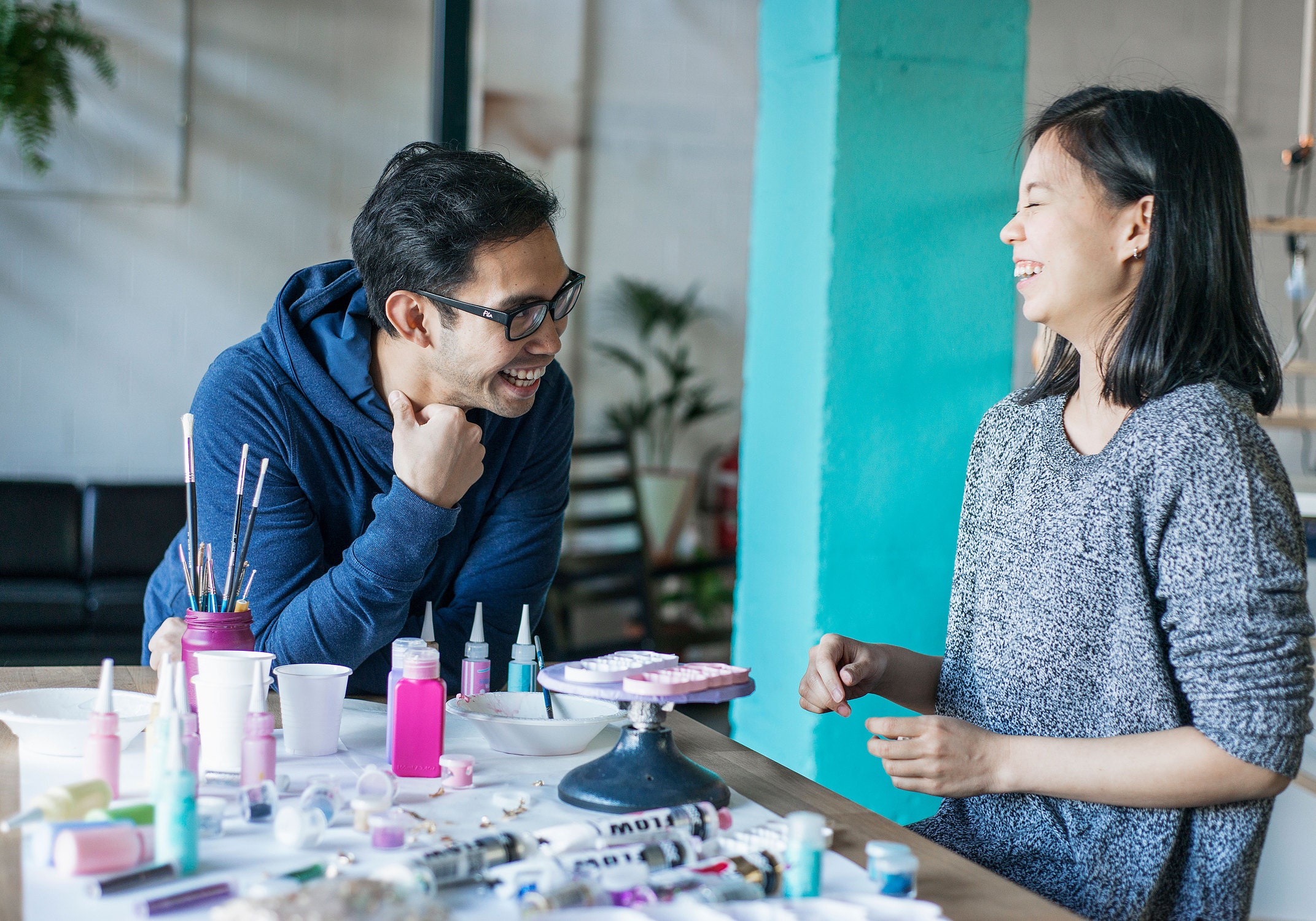 When Vei Tan designs a new product for her Etsy shop MIMAW, she draws on her cute and colorful aesthetic as well as her skill for combining form and function that she developed while studying architecture. She designs, 3D prints and hand finishes all her playful trinket trays, bowls, and other home accessories at Studio Ocho Ocho, a creative co-working space Vei founded with her business partner and fiancé Patrick Macasaet.
Housed in the Docklands Cotton Mills, in the Footscray neighborhood of Melbourne, Studio Ocho Ocho is an airy, 4,090-square-foot space. There, Vei works on MIMAW, and Patrick works on his architecture business, Superscale. The couple rents desk space in the studio to other local creatives, including filmmakers, photographers and graphic designers. The name, Studio Ocho Ocho, was inspired by Vei and Patrick's cultural backgrounds. "I come from a Filipino background, and a lot of our words are Spanish," Patrick says. "Ocho is eight in Spanish." Vei's family is Malaysian-Chinese. In Chinese, the word for "eight" sounds similar to the word that means "prosperous" or "wealth." "So we said, 'Why settle for one eight? Let's go for two,'" Patrick recalls.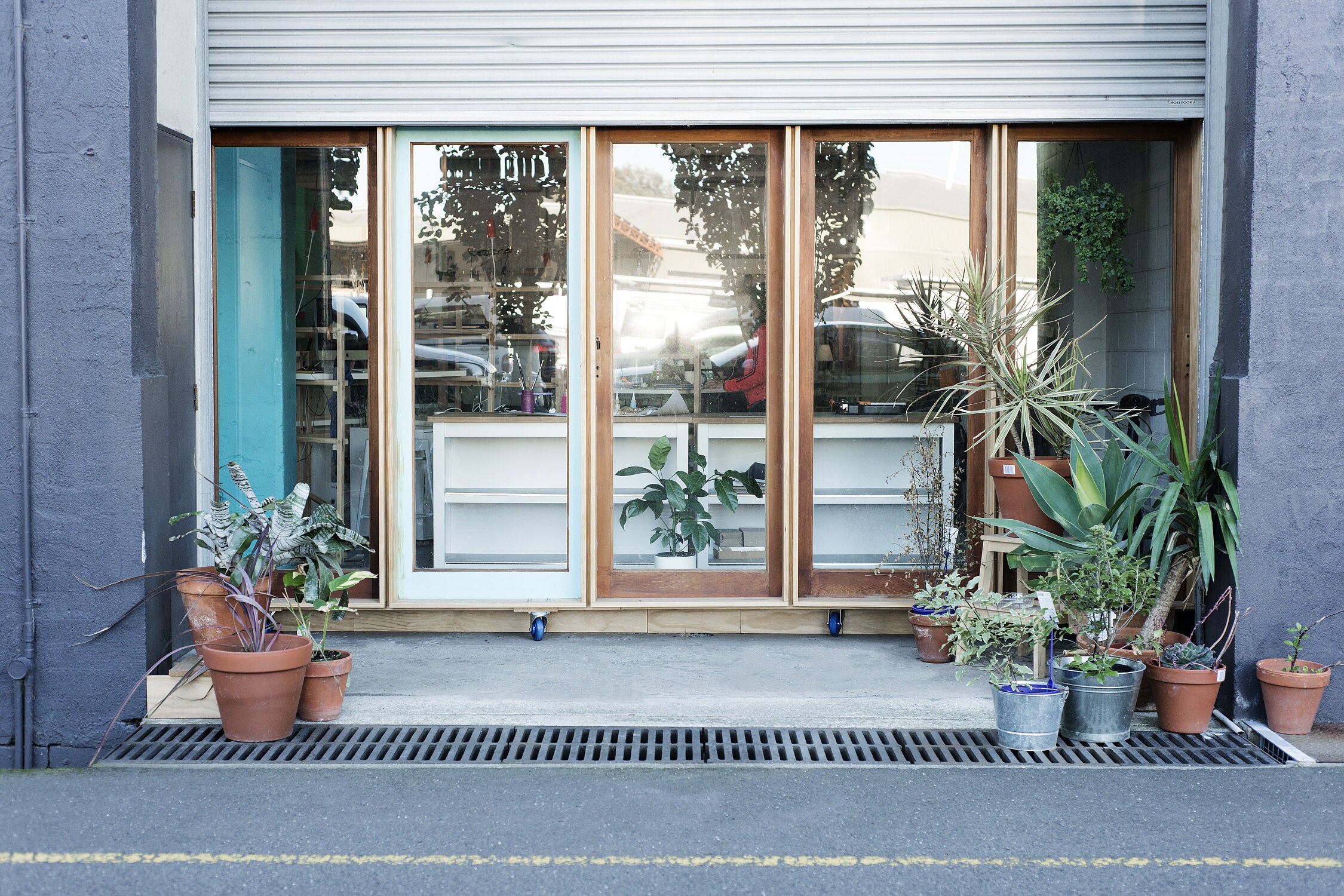 Vei and Patrick met while studying architecture at the Royal Melbourne Institute of Technology. After graduating in 2011, they worked on smaller architecture projects while they experimented with 3D printing in Patrick's parents' garage. Craving more human interaction, they began renting a small enclosed office at the Docklands Cotton Mills. The area, which was home to textile mills and a glass and rubber factory in the 1920s is now filled with galleries, artists' workspaces and photography studios.
After the move, the couple still felt isolated in their rented office, so when a large space became available in the complex, they jumped at the opportunity to turn it into something different. They completely gutted the interior to create an open floor plan and renovated the space. "It's either that we're too crazy or too ambitious to have taken something like this on," Patrick says. They aimed to create a space where everyone could easily collaborate and share ideas. Still, taking on a larger rent was a risk, they acknowledge. And, as the operators of a co-working space, Vei and Patrick had to educate themselves about a whole new array of taxes and regulations. "At times it was quite daunting," Patrick says. "It's still something we're learning now."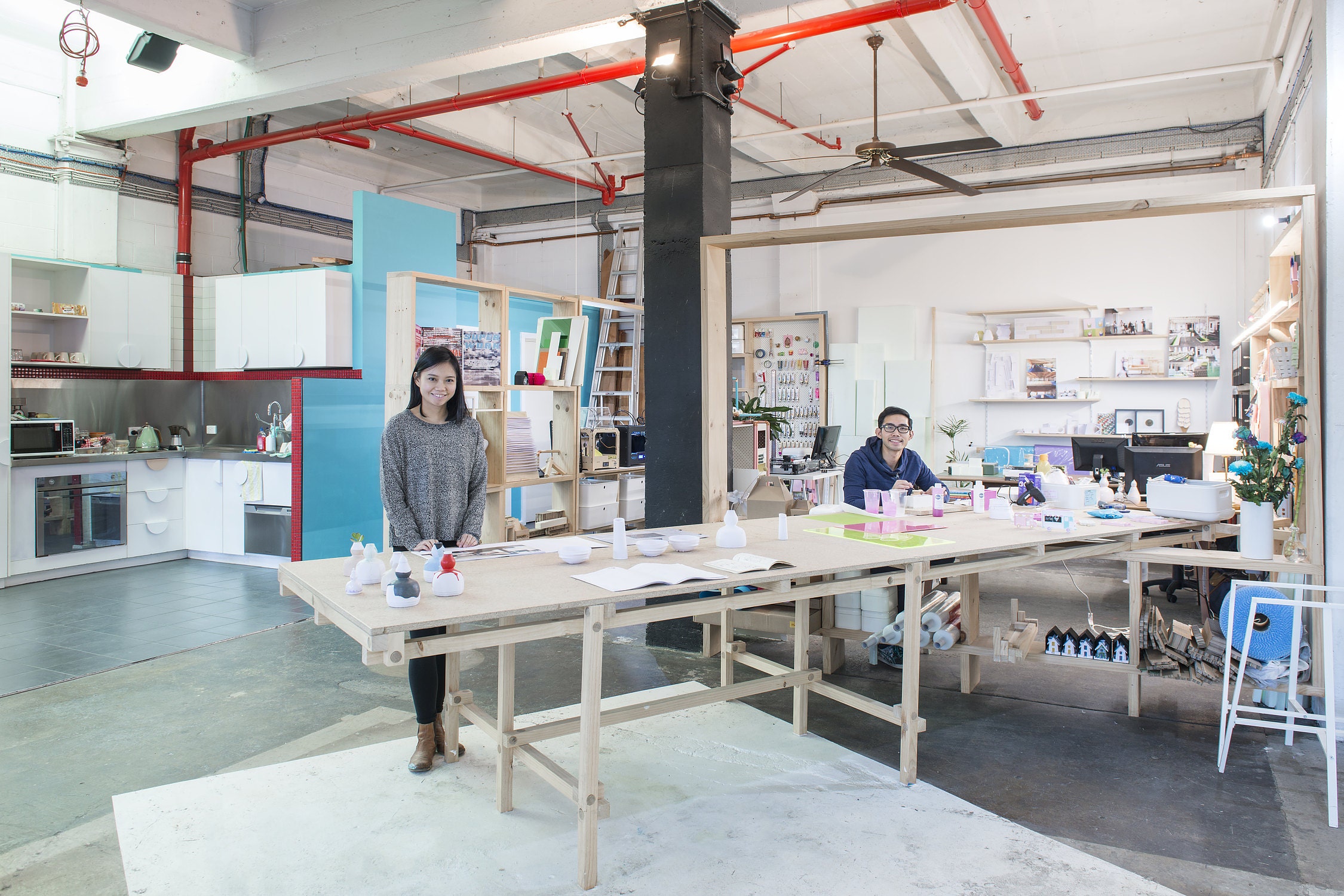 The budget for the project was tight, so Patrick and Vei had to get creative — and make many elements of the space themselves. "The desk stations the tenants rent are made from wall studs removed during the remodel," Patrick says. "They're held in place by timber dowels — there are no screws, so that's always a point of conversation." They transformed old wall paneling into bookcases and subfloors into the tables where Patrick and Vei work. "It was quite tiring, and there were points where we felt like giving up, but each one is a conversation starter because each has a story to it," Patrick says.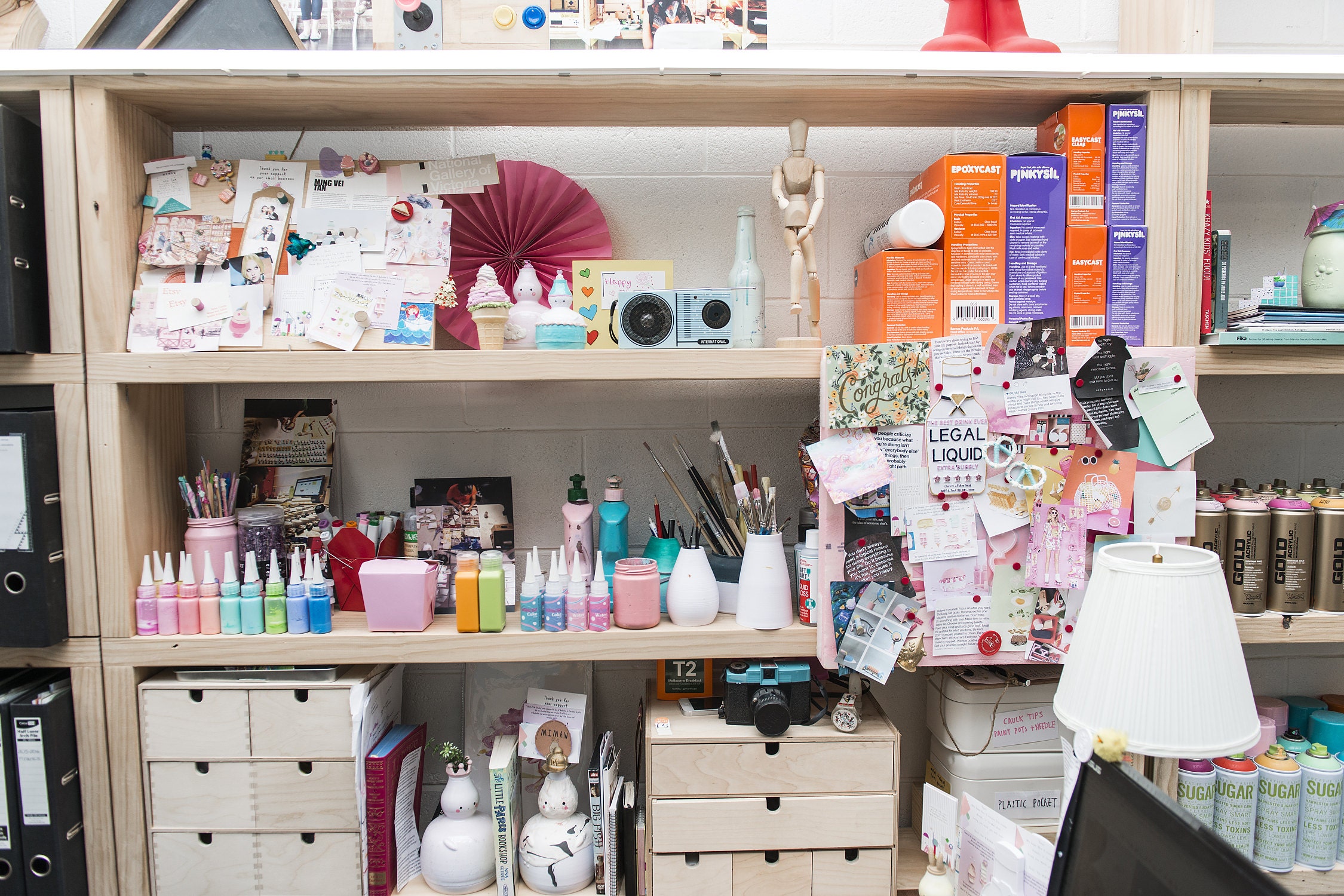 The focal point of Vei's studio space is a large worktable that looks out into the rest of the co-working space, where she can spread out her supplies. After her creations come out of the 3D printers a few feet away, she finishes them by painting on details or coating them in resin. She picks up the acrylic paint on a brush and swirls it into the bowl of resin before painting a printed dish and sprinkling in some gold flakes. "Sometimes it feels like I'm a chef," she says. Vei often sketches her ideas by hand before making 3D models, using computer-aided design (or CAD) software. After numerous rounds of digital modeling and a number of hand-painted prototypes, those designed can then be turned into printed objects that she hand-finishes and sells in the shop. "We're really fond of 3D printing because it allows us to embed function and play into our products," Vei says. "It totally brings us back to architecture."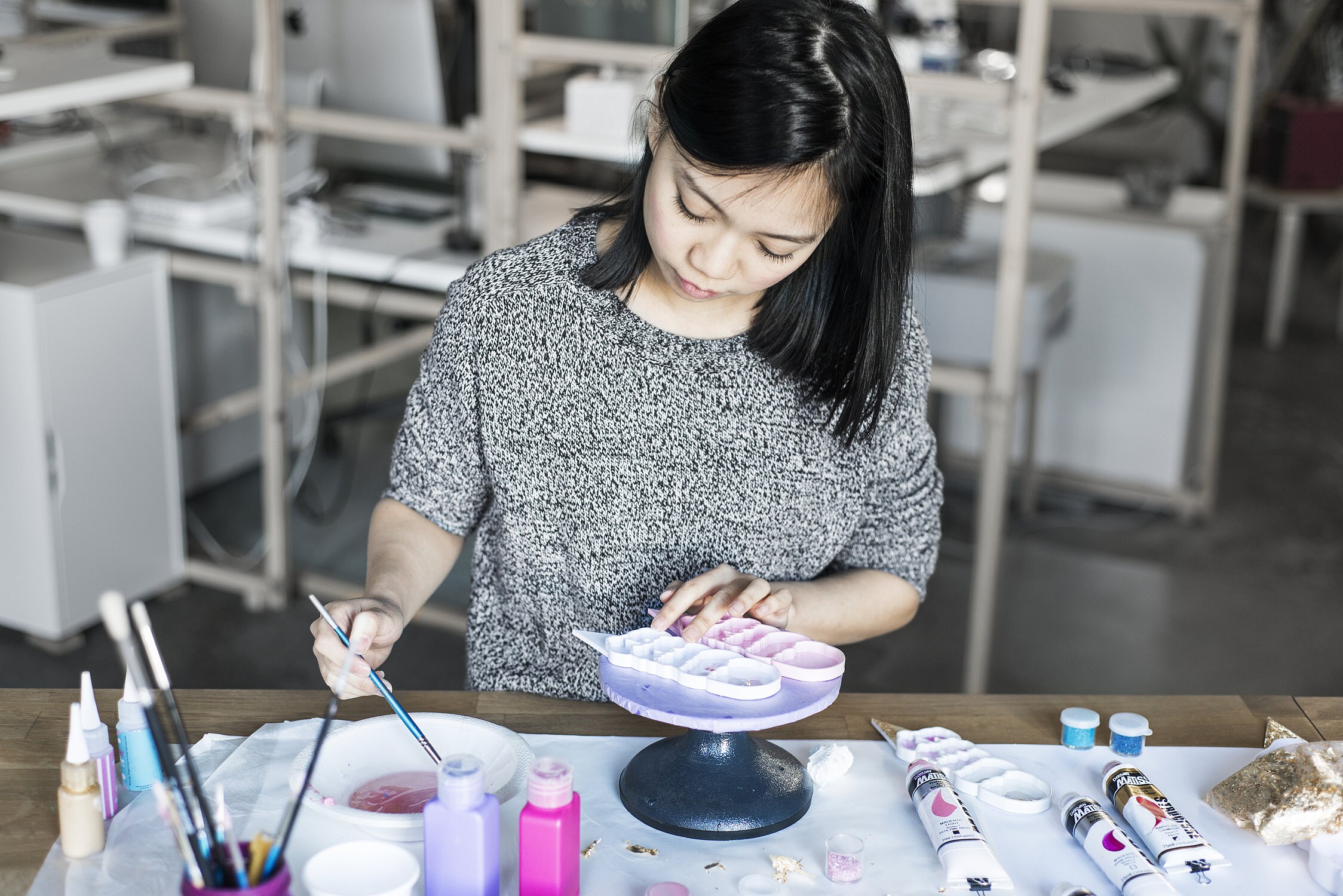 Being surrounded by other creatives has opened Vei and Patrick up to new ways of thinking about their work. Graphic designers and marketers who rent desks in the space have offered advice on marketing and branding for MIMAW, and Vei and Patrick return the favor when others seek feedback. "Videographers sometimes ask us what our opinions are, and I tend to critique things as if it was architecture," Patrick says. "We all think very differently." Working around others also inspires Vei and Patrick to focus on their own projects. "Just seeing people work makes you want to work," Patrick says. "It's like, stop making tea and do some work." But when a pot of tea is made, it often becomes a rallying cry for everyone in the space to gather in the kitchen for a casual chat. "The kitchen is the heart of the whole place," Patrick says. Members of Studio Ocho Ocho often make birthday cakes and other treats to share in the kitchen's oven.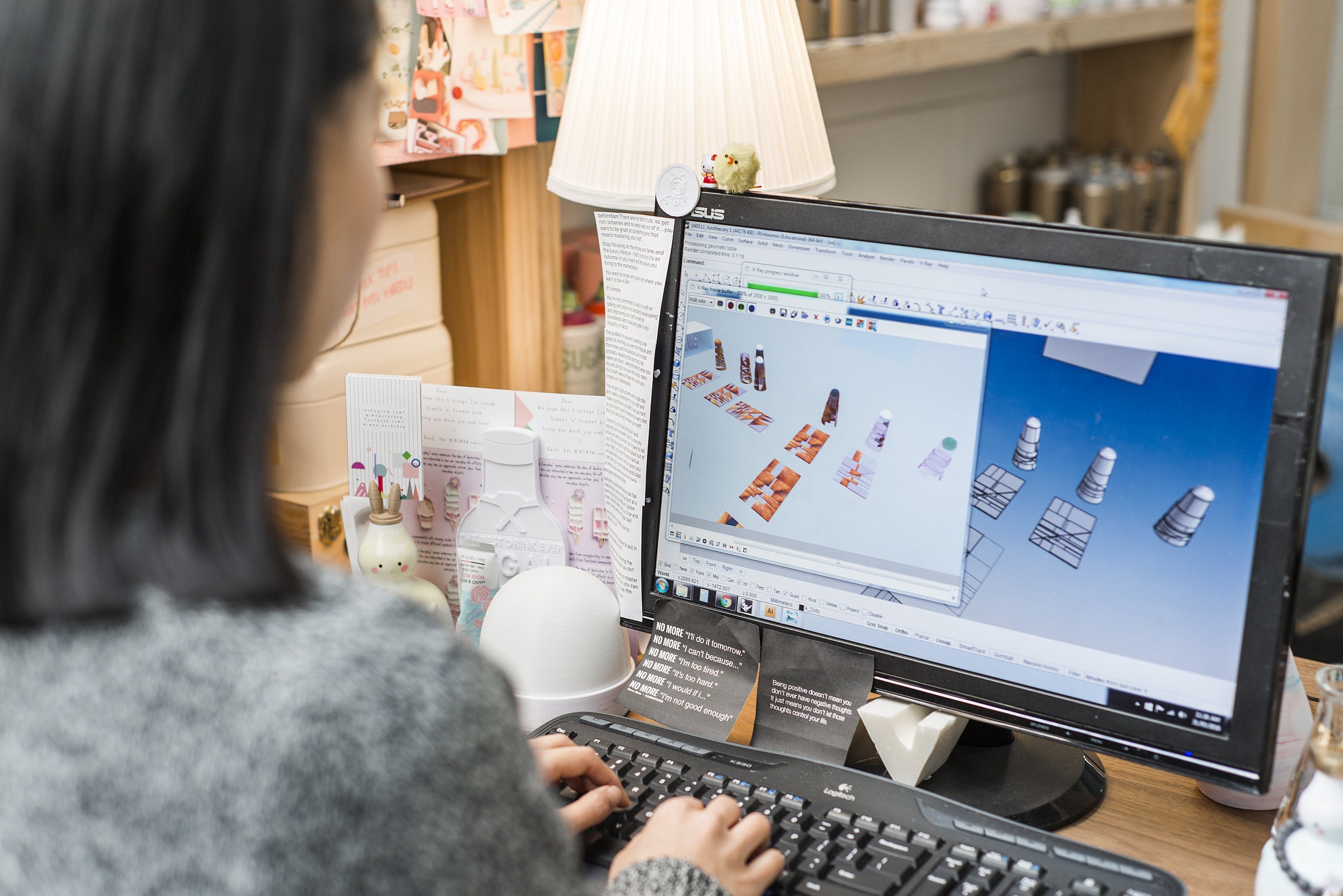 Patrick and Vei come to the studio most days to work, even on weekends. They drive in together and start their day by tidying up around the studio. Once Vei is settled in, she gets on her computer to check her Shop Stats or respond to any Conversations she's received. "I love when people send me Convos," she says. "It's important to engage in that human-to-human way, even if they don't buy anything." Vei continually tests ideas, but Tuesdays and Wednesdays are her dedicated making days where she focuses on sketching new designs or discussing 3D models and prototypes with Patrick. On Fridays, Vei catches up on administrative tasks, like invoices. She says her most creative ideas come to her late at night.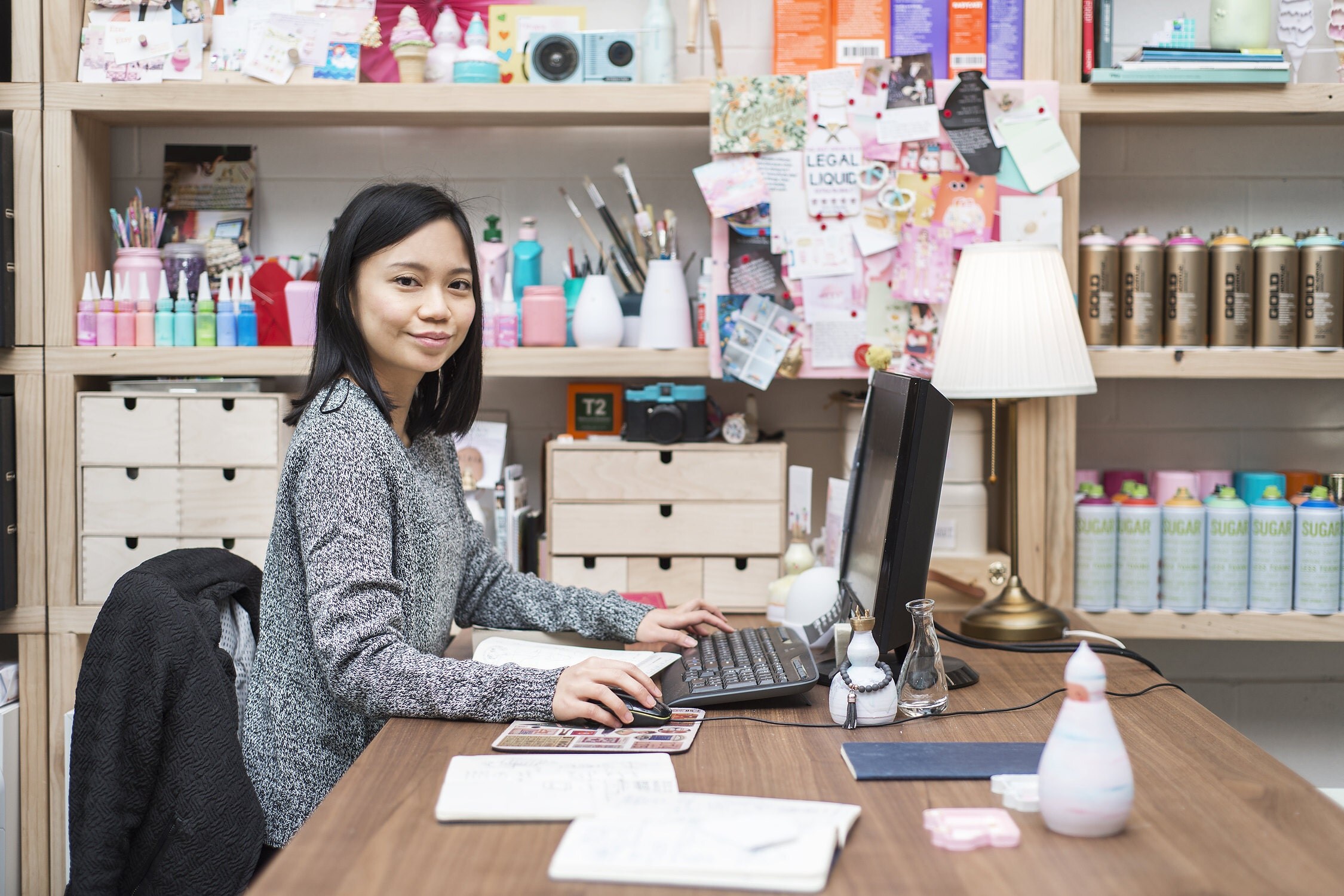 After two years of selling on Etsy, MIMAW is in a state of transition while Vei and Patrick experiment with new designs and materials. They're also editing down their inventory to focus on the products they really love. "There were some products in the shop that don't have much story of ourselves," Vei says. "That's not what we want anymore. We want to feel like there's more to it — our stories, our experiences, the books that we're reading." Patrick is currently researching how they can use 3D-printed objects to make molds that can then be used to cast plaster or other materials, while Vei is working on making storytelling part of everything the shop does.
As the shop evolves, so does Studio Ocho Ocho. Vei has plans to host DIY workshops in part of the space, to help attract new customers. And Patrick and Vei continue to work on building Studio Ocho Ocho into a destination for creatives who work with their hands.
How have you customized your space to your style of working? Share in the comments below.
Check out MIMAW to see Vei's latest designs. To pitch your space for the Inspiring Workspaces series, fill out the Seller Handbook pitch form.