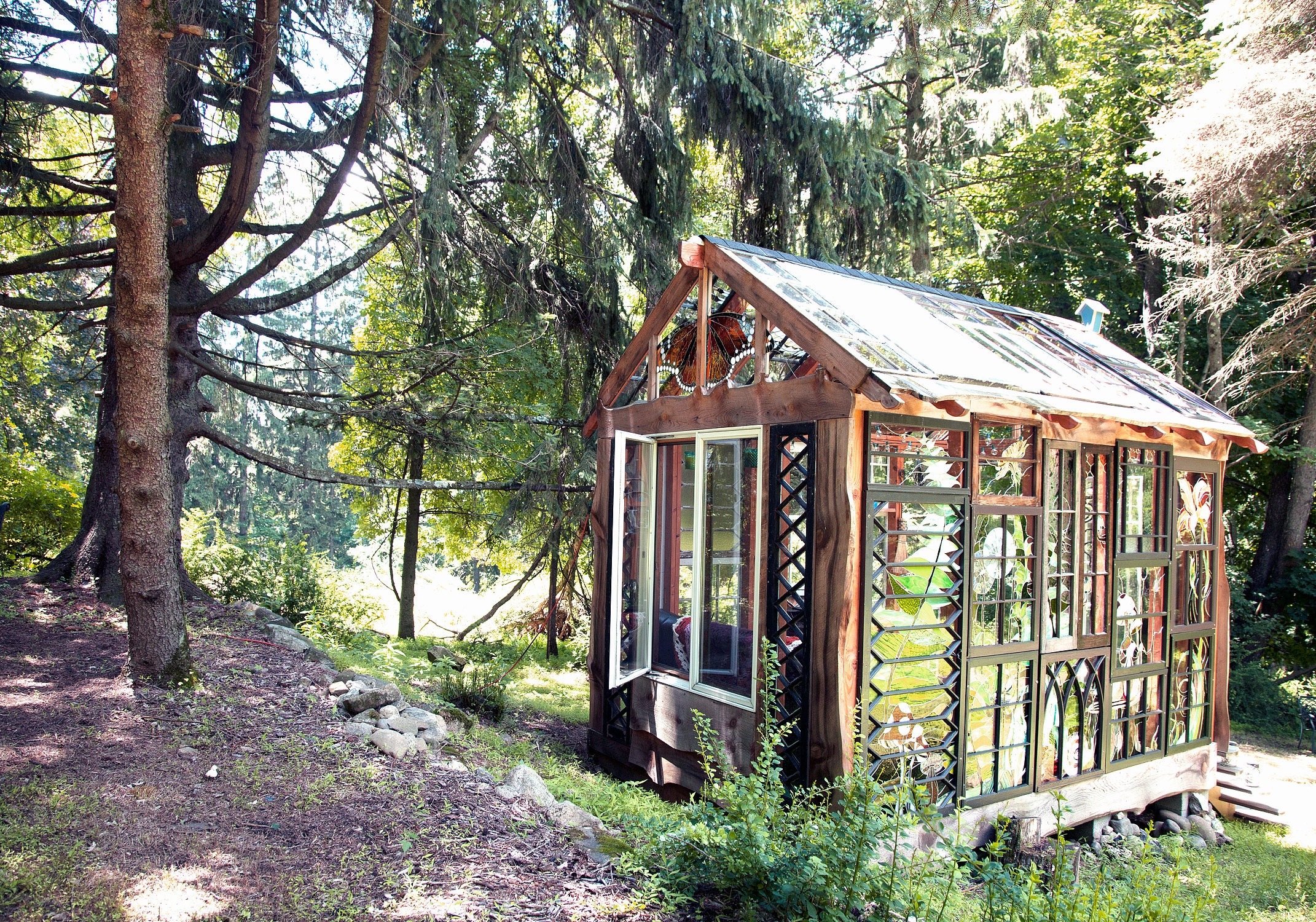 Neile Cooper is crafting her dream space: a woodland cabin with walls and a ceiling composed completely of her meticulous stained-glass designs. The cabin is nestled in the pine and maple trees behind her home on a quiet residential street in Sparta, New Jersey, on a long, narrow one-acre piece of property that stretches into the woods. On a typical day, sunlight filters through tree branches, birds chirp and the occasional deer wanders by, while Neile sketches, edits photos, answers emails and reflects in her serene refuge. She does the messier stained-glass work for her business, Neile, in the basement of her home, located approximately 40 yards away from the glass cabin.
Neile didn't expect to make a career as a stained-glass artist. She first tried the techniques during a stained-glass class she took for fun while earning a degree in graphic design at the Fashion Institute of Technology in New York City in the late '90s. Hesitant to get a job working for someone else, Neile moved back in with her parents after college while she figured out her next move. She started making stained-glass boxes, stained-glass jewelry and custom windows for houses. Soon, a gallery picked up her work, and she started selling her designs at craft shows. In 2006, she opened her Etsy shop where she sells jewelry made from ethically sourced butterflies. When the recession hit two years later, the market for residential stained-glass windows dried up. She shifted her focus to making jewelry and small stained-glass pieces, including sun catchers depicting feathers and crystals. "Part of the inspiration for doing this cabin was that I missed doing large scale work," she says. "I wanted a big project that I could really immerse myself in. If no one was going to hire me to make windows, I would just make them for myself."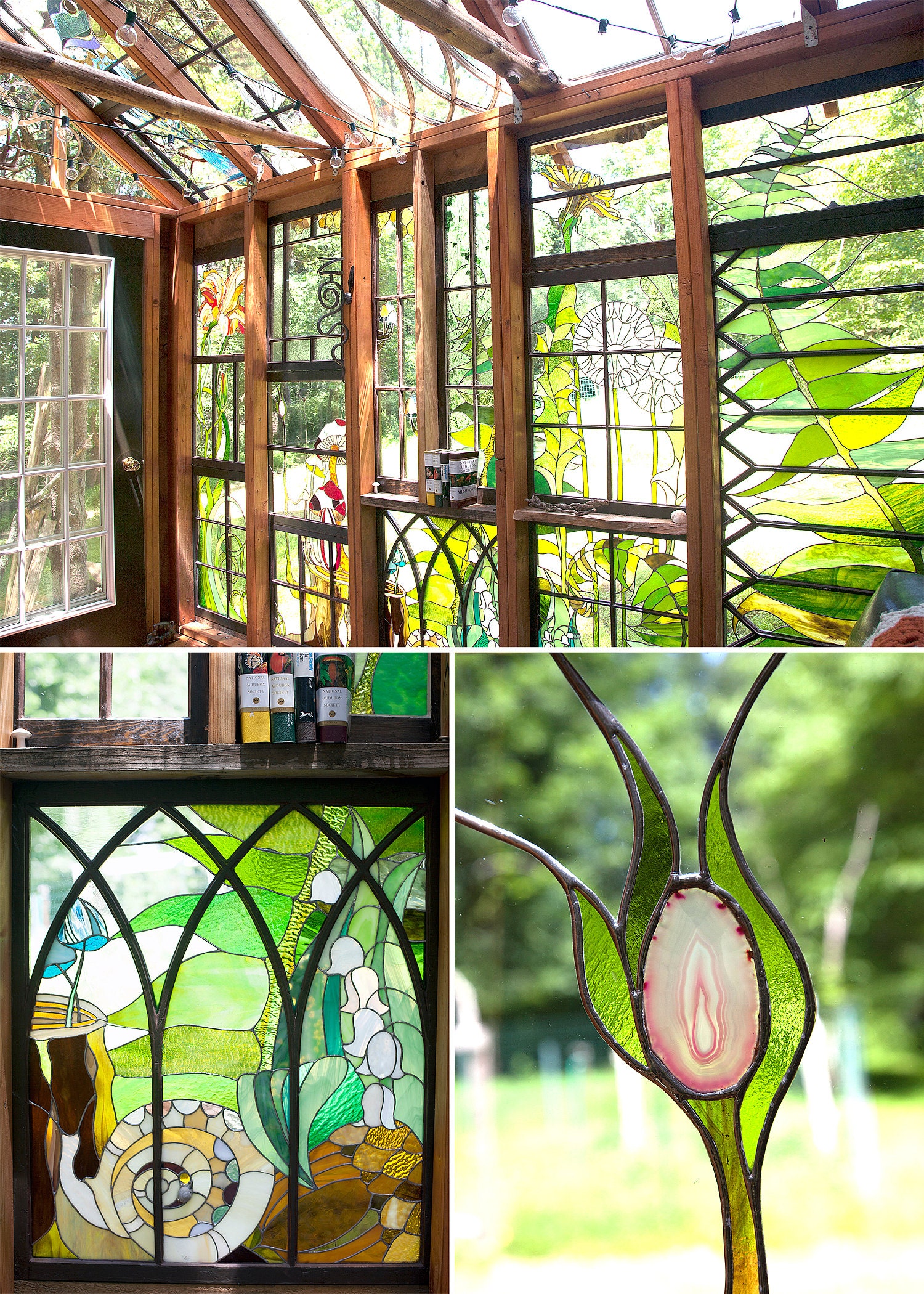 Initially, Neile didn't get a lot of support for the cabin idea from Robert Giaquinta, her boyfriend of 16 years. Since they live in an old house in need of repairs, he thought she should channel her time and money into more practical efforts, like renovating the kitchen. But attending to home repairs wasn't what quickened Neile's pulse; she was seeking an art project and an epic creative challenge. So she went ahead and built her cabin anyway. As soon as she broke ground on the project, however, Robert had a change of heart. He's now as enthusiastic about the cabin as she is.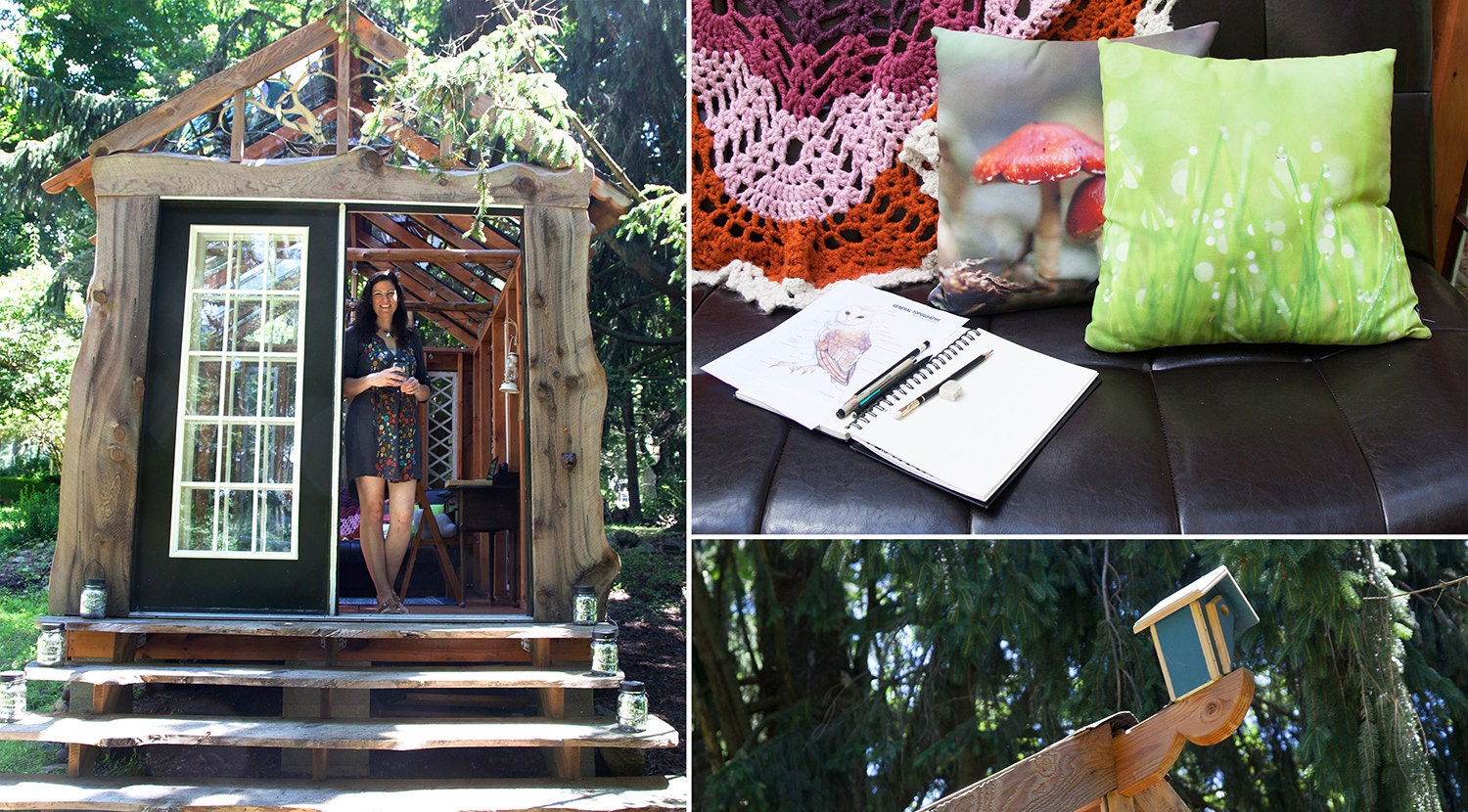 Building the glass cabin was a family effort. The project kicked off in June 2013. Neile devoted that summer to collecting old windows to salvage — 45 in all. Her mother helped source the majority of the windows from Craigslist and garage sales. Since Neile didn't have experience with woodworking tools or carpentry, Robert's father helped her custom-build the frame of the cabin to hold the salvaged windows. Together, they built the entire cabin (which measures 8-feet wide by 12-feet long by 10-feet tall) to be a simple and airy space that lets in the changing light of the day and colors of the seasons. Electricity comes from an extension cord stretching back to the house. It's unheated, so Neile stays warm in the winter with layered clothing and wooly blankets that she crochets herself.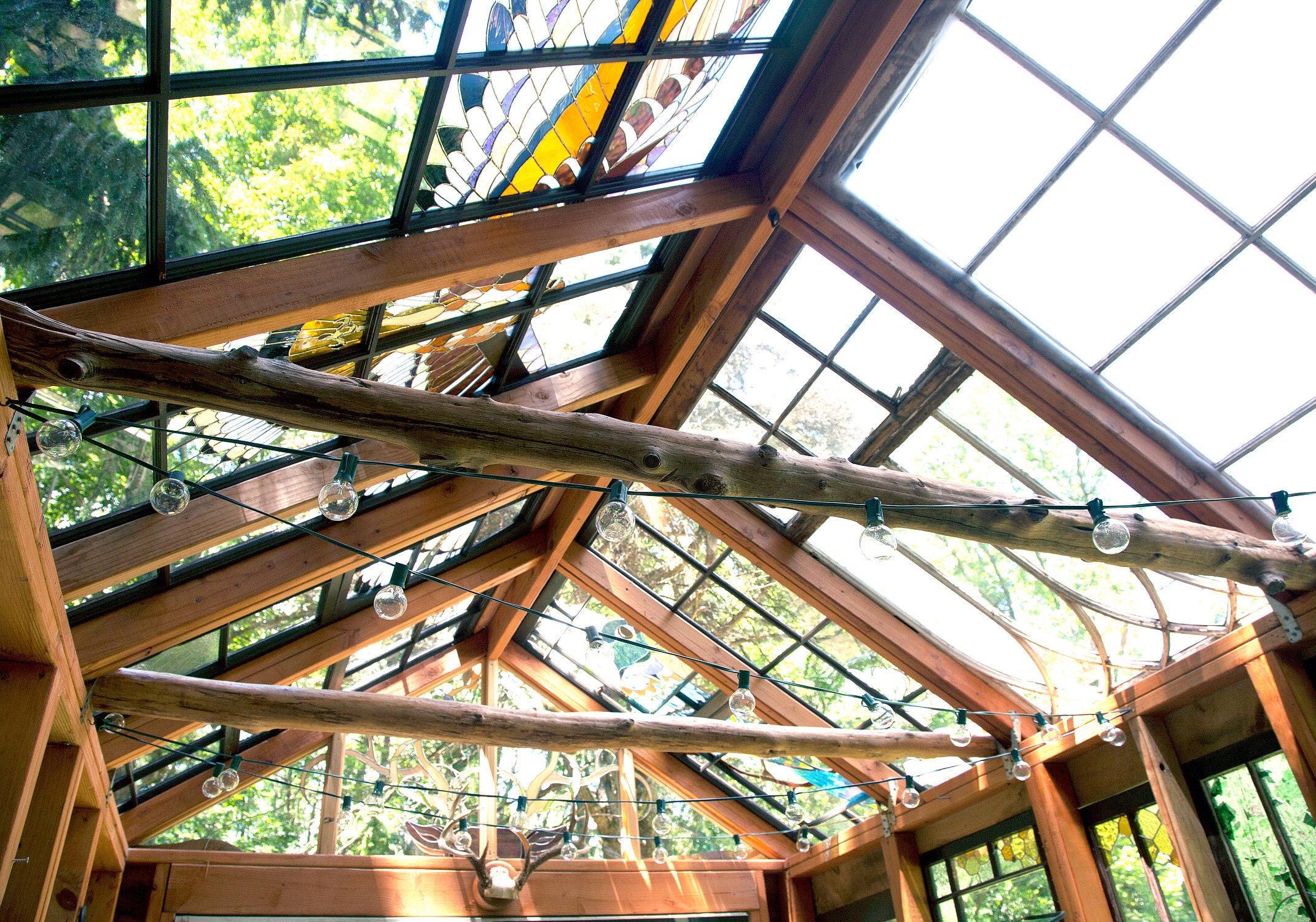 Filling the windows of the cabin with stained glass imagery is an ongoing project. Each salvaged window is installed in such a way that Neile can easily remove it and replace it either with a spare window or a piece of plywood. She brings the old, battered window back to her basement workspace to revamp by stripping off the chipped paint, sanding the wood and repainting it with a shade of brown that blends in with the trees surrounding the cabin. She cuts pieces of colorful glass with a hand tool, grinds the edges and covers them with copper foil. Then, she solders it all together and attaches the glass design to the window frame. Once the stained glass is secured inside the window frame, she installs it in the cabin. (To create her line of jewelry, Neile follows a similar process on a smaller scale.)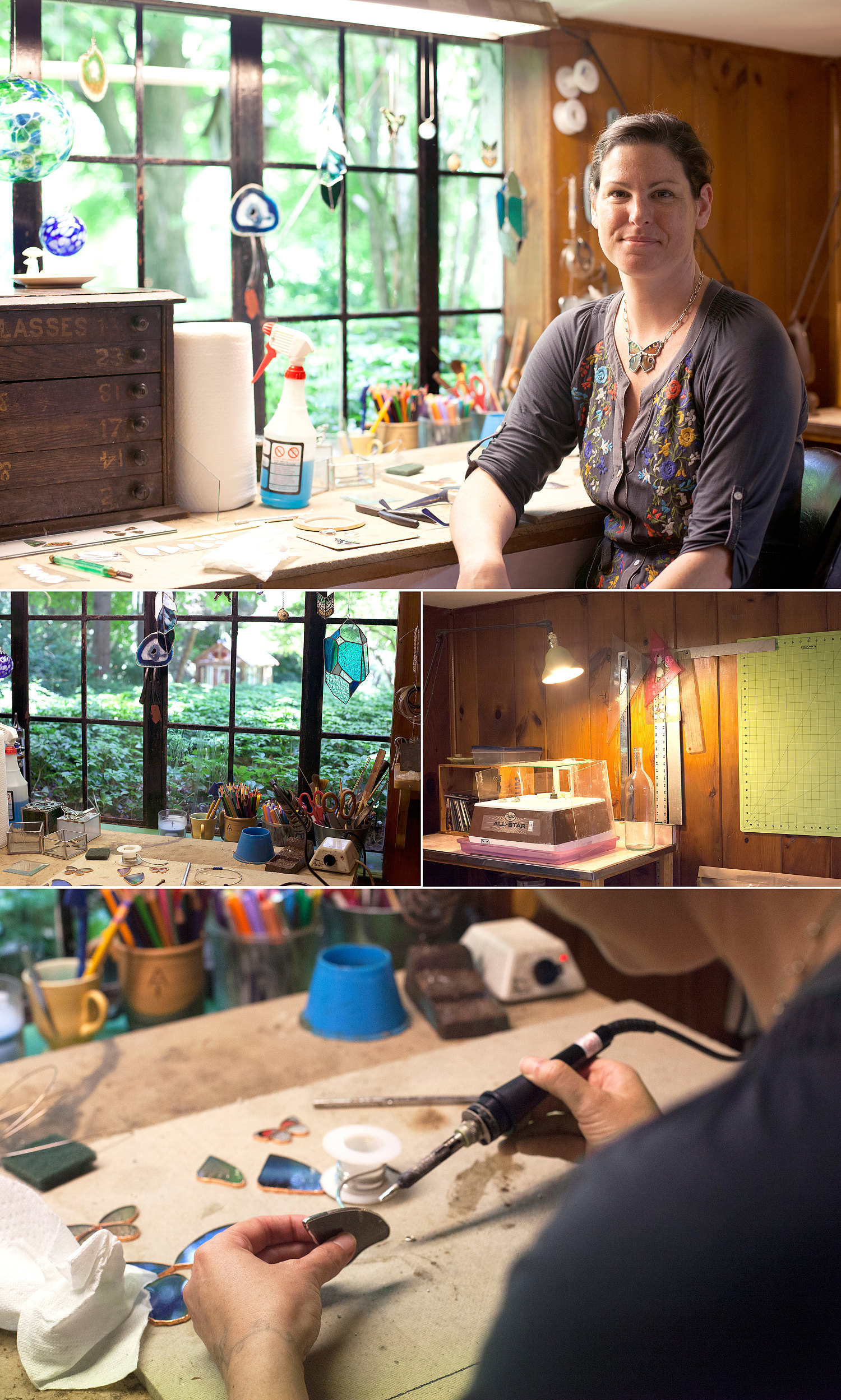 The interwoven imagery in the windows reflects the flora and fauna surrounding the studio with a playful approach to scale. "I wanted everything to be oversized, like a fairytale," says Neile. Stained-glass antlers in the panel above the doorway pay tribute to the local deer and fawns that she often spots walking by. A dogwood blossom mirrors one found in the yard. Sometimes the landscape even seems to emulate Neile's stained-glass creations. After she made a window depicting a mushroom, she started finding morels on the property.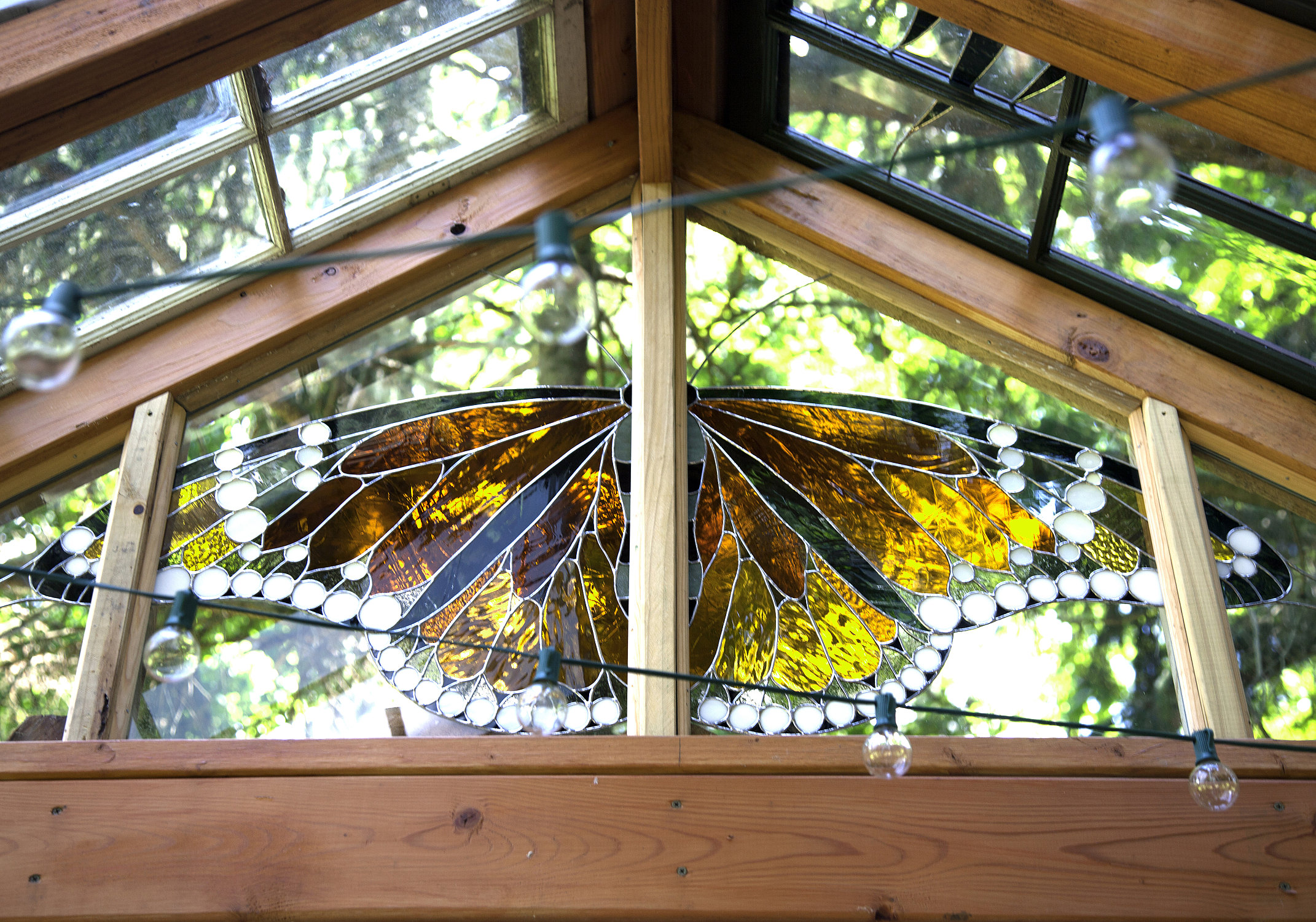 As a background to the jewel-toned wildlife depicted in her stained-glass creations, Neile reuses the original clear glass from the old window panes. "I was going to have the background be colored glass also, but I'm so glad I didn't," she says. "I love the textures of the old glass and seeing what's outside — the great colors in the fall and the snow in the winter." In the summer, her flourishing yard and garden give the glass panels a verdant green hue. "As the light changes throughout the day, different things become illuminated," she says, gesturing to a dogwood blossom glowing in a ray of early afternoon sun.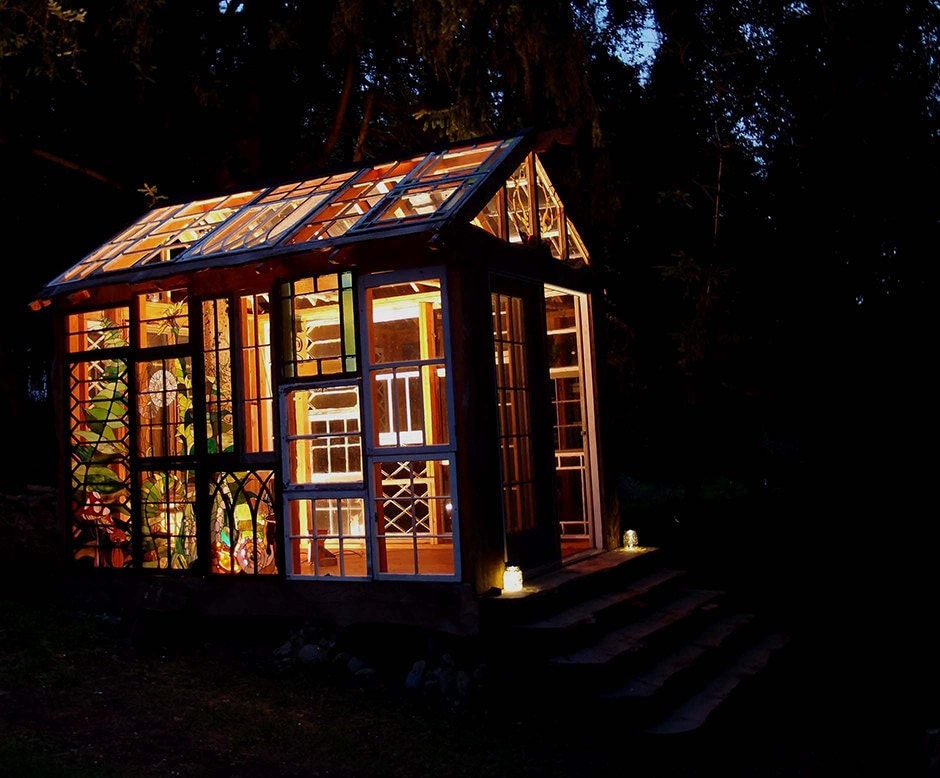 Neile starts most mornings in the glass cabin, spending an hour-and-a-half doing yoga and drawing with a mug of coffee close at hand. Her work days often revolve around the weather and the seasons. She makes a point of limiting her work days to five per week, unless she has a large and time-sensitive wholesale order to finish. Since her boyfriend works from 3 p.m. to 10 p.m., she'll match her schedule with his for maximum time together. "The good part of being self-employed is that you can make it up as you go along," she says. In the winter, the couple skis together, and in the summer they swim in nearby Lake Mohawk. Neile recently completed a 30-day personal challenge of swimming one mile every day, to get back into an exercise routine after recovering from knee surgery.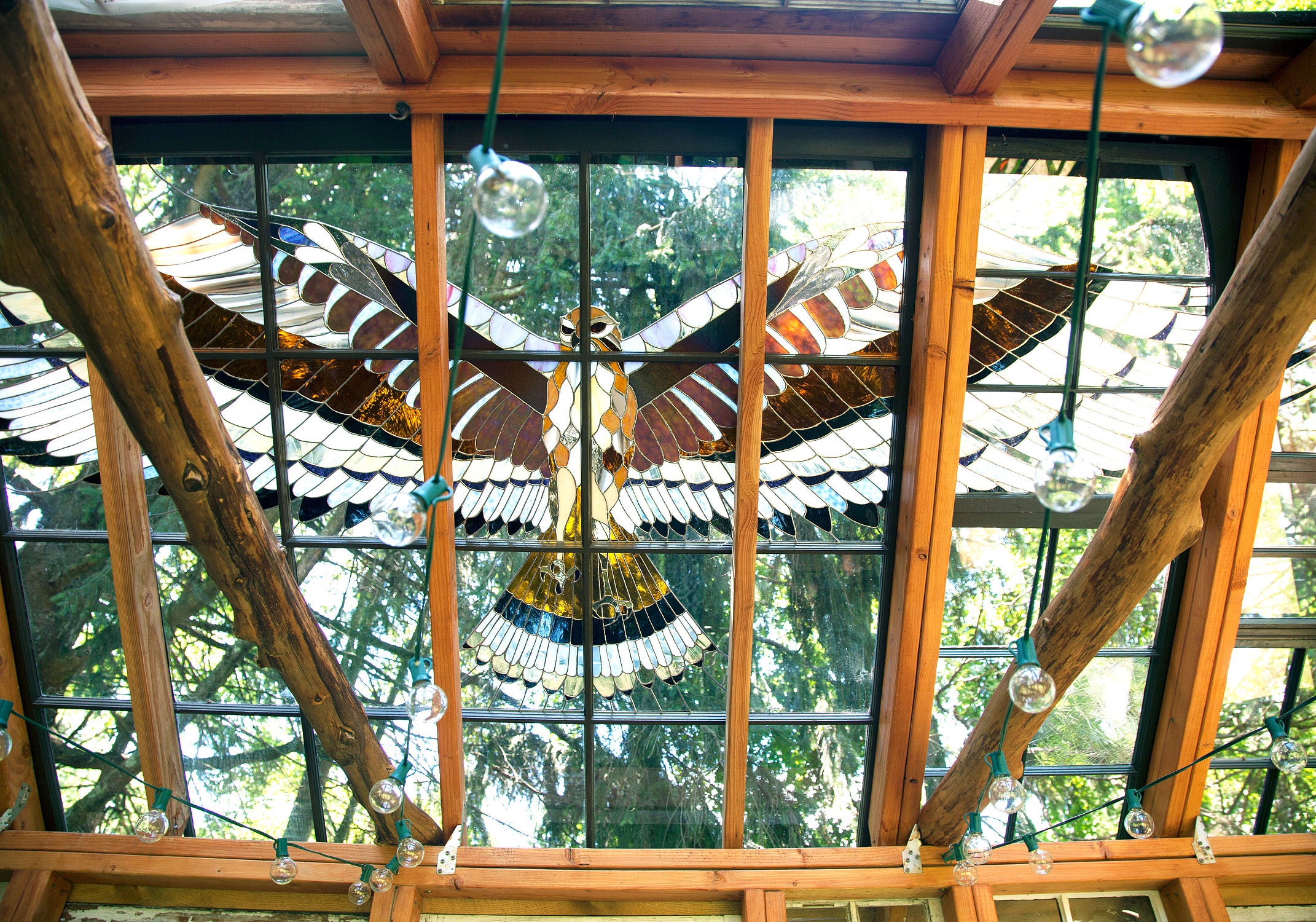 Building the glass cabin has been an ongoing project that stretches Neile's imagination. It has given her a chance to work out far-reaching creative ideas beyond the current scope of handmade jewelry business. "It has been the project of my life," she says. "It's been really exciting and gratifying to make." It has also helped her market her business. She documents her progress and notable nature sightings on her blog, The Glass Cabin, which has, in turn, brought new customers to her Etsy shop. Neile is even considering building a traveling version, which could be disassembled and transported to special events, weddings and art shows. She anticipates completing all the stained glass panels for her backyard cabin in the next year or two. When the cabin is complete, it might serve as a showpiece to rekindle the stained-glass window part of her business. Until then, it will continue to be a peaceful hideaway for Neile to dream up her next big project.
To keep up with Neile Cooper's jewelry line, follow her Etsy shop, Neile. Photography by Marina Winther unless otherwise noted.
What makes your workspace work for you? Share in the comments below.