A giant pair of googly eyes affixed to a lime green door playfully welcome visitors to Stacey Gordon's 750-square-foot puppet-making workshop in Phoenix, Arizona. Stacey designs, creates and brings to life the colorful puppets and monsters sold in Puppet Pie Shop. And all from a studio space that — oddly enough — was once an industrial pie factory.
Inside Stacey's whimsical workspace, decorated with bold red and white stripes, you'll find bins packed with fur, vases full of foam eyeballs and puppets in various shapes and sizes scattered throughout, patiently awaiting the California native's next impromptu performance for visitors. "I wanted a circus-y, fun feeling," Stacey says.
Stacey has been selling on Etsy since 2006, and making is in her blood. "I'm part of a long-time maker family," she explains, "My grandfather carved marionettes, my mom made porcelain dolls and teddy bears, my aunt crocheted and was a seamstress, and both of my grandparents were painters."
Stacey constructed her first teddy bear at age eight with help from her mom, and made her first porcelain doll in seventh grade. Her foray into puppetry began when her high school church group needed a custom set of puppets, and she volunteered her mom for the task. "My mom immediately said, 'You're doing this with me,'" says Stacey. "So when I was 14, we made our first set of puppets." Stacey quickly became hooked on the process.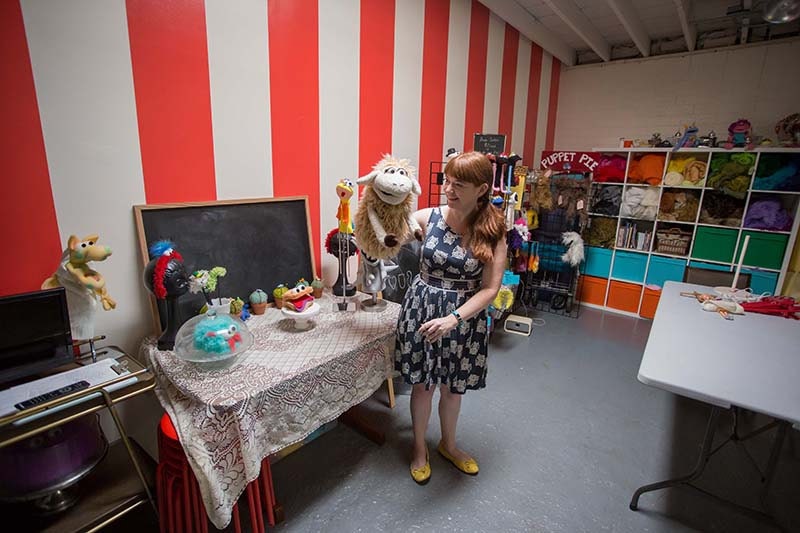 In 2005, a friend attending a gallery show where Stacey's finger puppets were on display suggested she open an Etsy shop. A few months later, her shop was born. (The shop's current name was inspired by Stacey's love of alliteration, food-based puppets, and pie.) Over the years, as her sales increased, Stacey began to outgrow her in-home space. "My supplies slowly took over our sunroom, then creeped into our guest bedroom," she explains.
In 2013, Stacey started looking for spaces outside of the home she shares with her husband, Todd and their now 13-year-old son. When she heard from friends about the artists' spaces available in the recently renovated Bragg's Pie Factory, it seemed like kismet.
After checking out the location, Stacey was disheartened to find that all of the available spaces were too large — and too costly — to be viable options. But two days later, she received an email about a new smaller unit that was becoming available. "Right then I realized, 'Oh my gosh — if I work really hard, I can do this,'" Stacey recalls. After running a successful IndieGoGo campaign and raising $3,000 to cover insurance and moving costs, her dream of acquiring a dedicated studio space became a reality.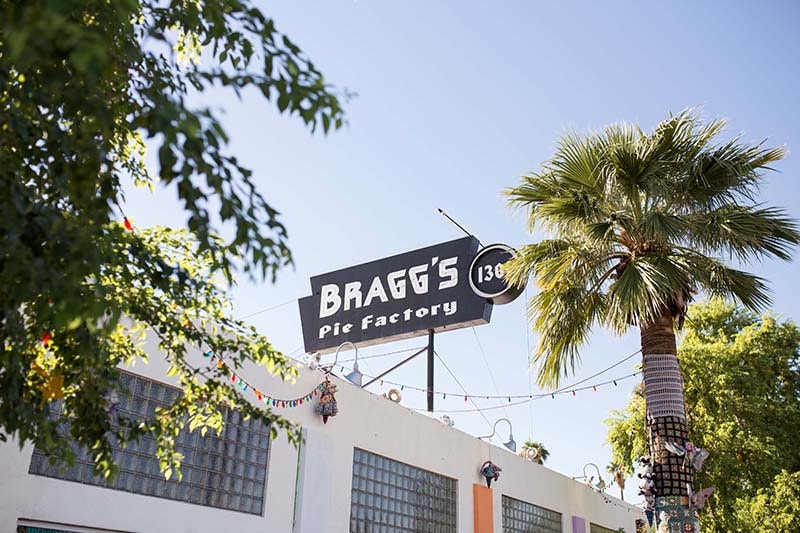 Her studio now has space for both making and puppetry. In a corner of the studio, a camera, monitor and scooter board hint at Stacey's newest endeavor — performing as a puppeteer on the beloved children's television show, Sesame Street. "It's crazy how much work they do on the show," says Stacey, who joined the cast in 2016. "The skill level of everyone there is insanely high." She practices regularly on the scooter board as training for the demanding physicality of the job. (To reach the height of the actors on the show, puppeteers typically sit on scooter boards in order to move around the floor with them throughout the scene.)
"There's so much variety in what I get to do every day here," says Stacey, "I do big hand puppets, sock puppets, glove puppets and finger puppets." In contrast to the ample distractions when working from home, she's found that the transition of driving the seven or eight minutes to her studio in the morning puts her in a more focused work mindset. "And you know what doesn't trail into my bedroom anymore? A pile of feathers and fur," Stacey jokes. "Having my house be more of a sanctuary is incredible."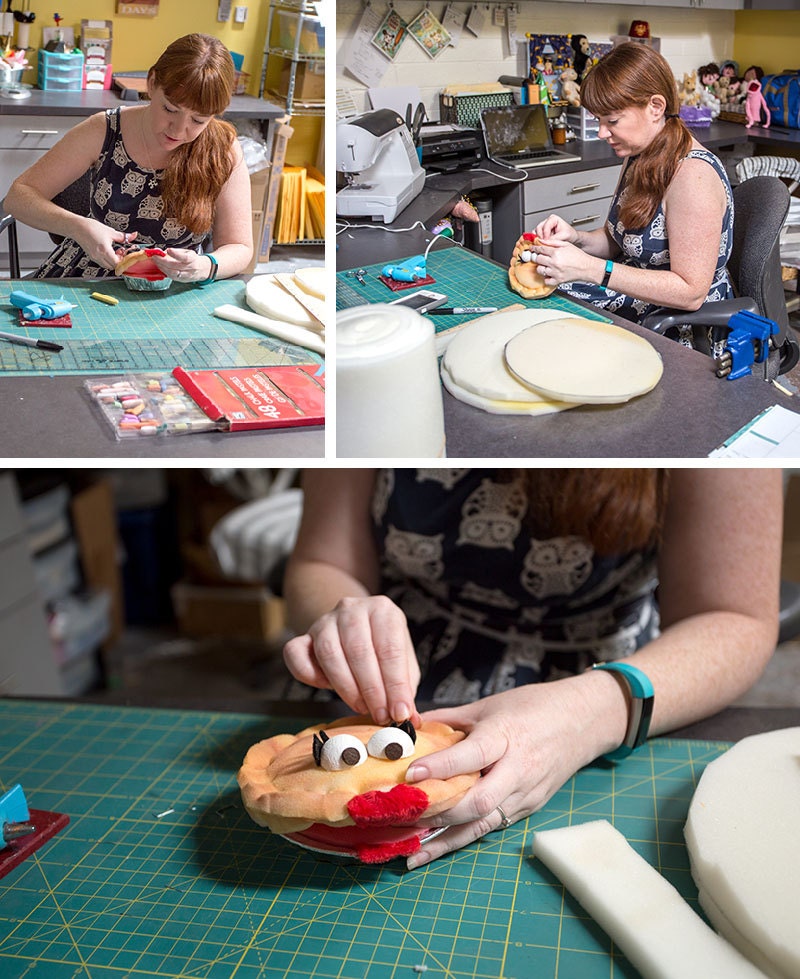 She's also able to adjust her daily routine to accommodate her family's needs, leaving the studio at 3 p.m. during the week to spend time with her son after school. Since her filming schedule for Sesame Street varies month-to-month, maintaining flexibility in her schedule allows her to travel for training and shoots without throwing her business into chaos.
Stacey is a regular vendor at a variety of conventions and street fairs. "Dragon Con, Phoenix Comic Con and Gen Con are my big three," she says. Throughout the summer months, Stacey works tirelessly to build up her stock of sock puppets, a customer favorite at in-person sales during the holidays. She supplements her retail income by teaching monthly puppet-making workshops in her studio space, offering classes of varying difficulty levels for kids and adults.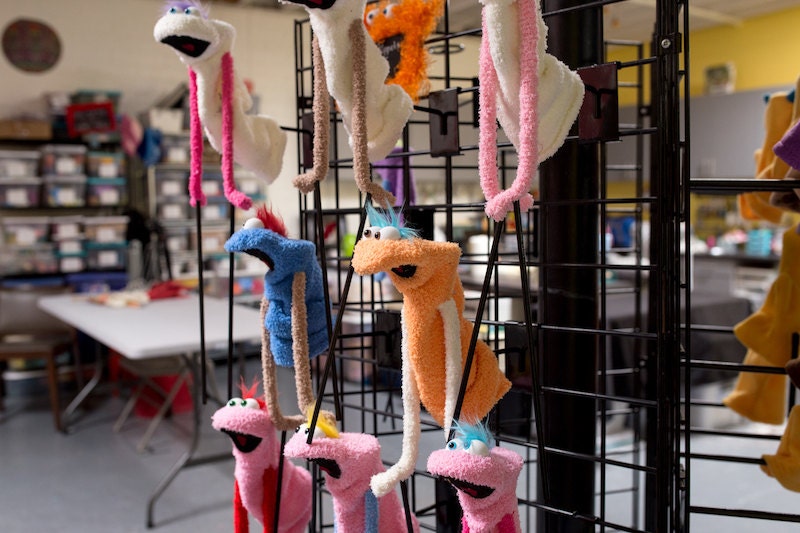 Diversifying her product lines has been another important element of Puppet Pie Shop's continued growth. Stacey strives to develop a new product every year before heading into convention season each fall. "If you don't evolve, you become stagnant, especially as a handmade business," she says. Some of her recent creations include Brain Sucker headbands, whimsical finger puppets and DIY puppet kits. "I think everything in my life, and my business, has happened so organically," says Stacey. "I'm creative all day long in here, and it's on my own terms."
What's your dream workspace? Let us know in the comments below.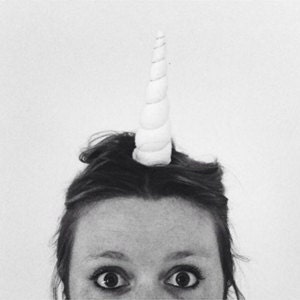 Words by Katy Svehaug
Katy Svehaug is a Senior Content Strategist at Etsy.