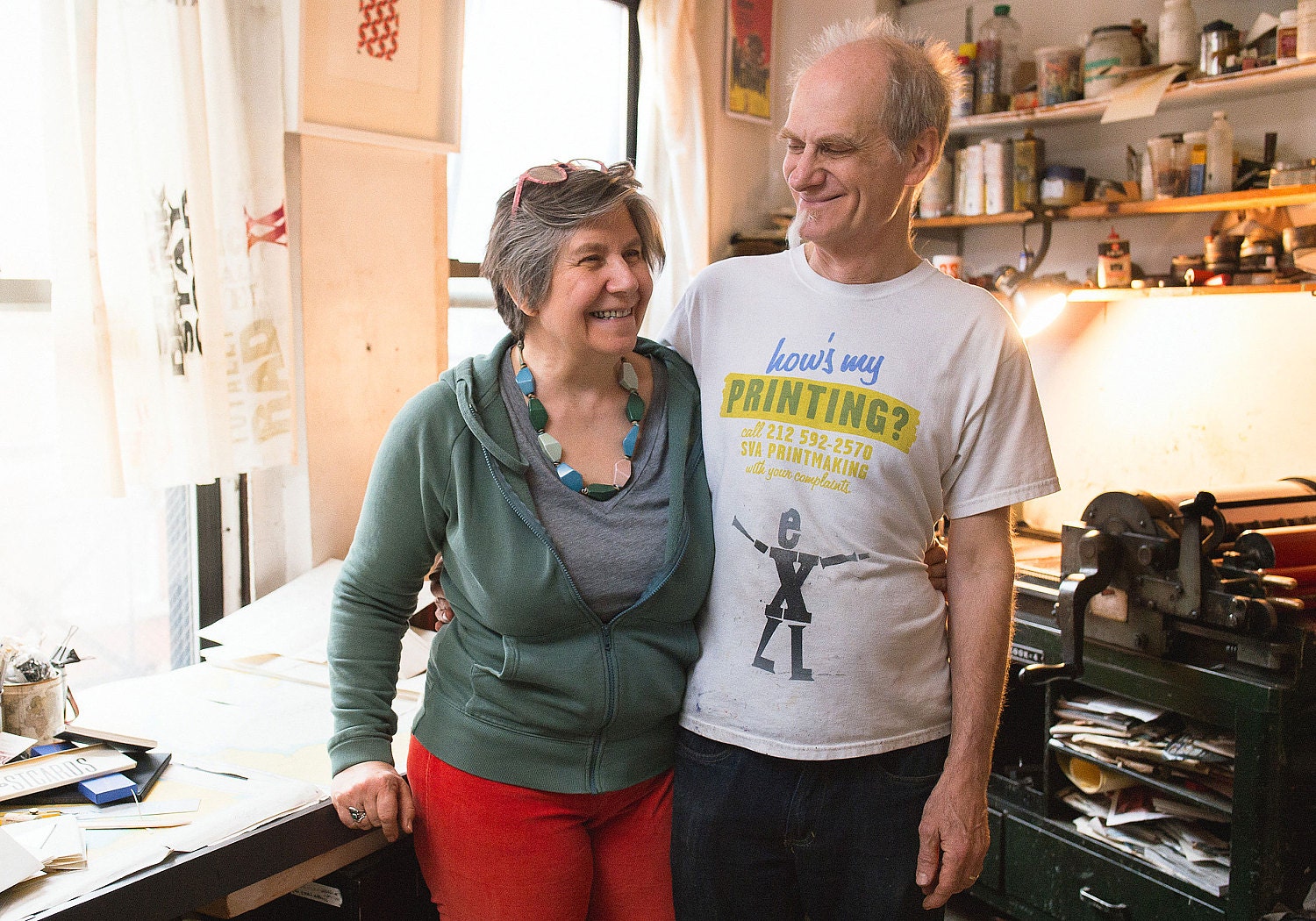 For 25 years, Esther K Smith and Dikko Faust, owners of Purgatory Pie Press, have been making art, prints, artists' books and annual datebooks from their impressive collection of historic wood and metal type in their current print shop. Located in the Tribeca neighborhood of New York City, the studio is just a few blocks from the couple's apartment. Through the years, they've seen the revival of letterpress by artists and designers, and watched the neighborhood change outside their trio of studio windows with mismatched handmade curtains. "We've been in this neighborhood since artists were still here," says Esther. The neighborhood, once teeming with art studios, now abounds with upscale boutiques and luxury apartment buildings.
Esther and Dikko rented a few studios in lower Manhattan in the 1980s before finding their current headquarters. In 1991, Esther was pushing their daughter Polly in a stroller, when she discovered the building. "We got this studio at a rate that we could afford because the economy had failed for a bit, and there were a lot of empty storefronts," Esther recalls. "We could have had a storefront for around the same price as this studio, but they didn't want us to have a long lease. With our heavy equipment, we wanted a long lease."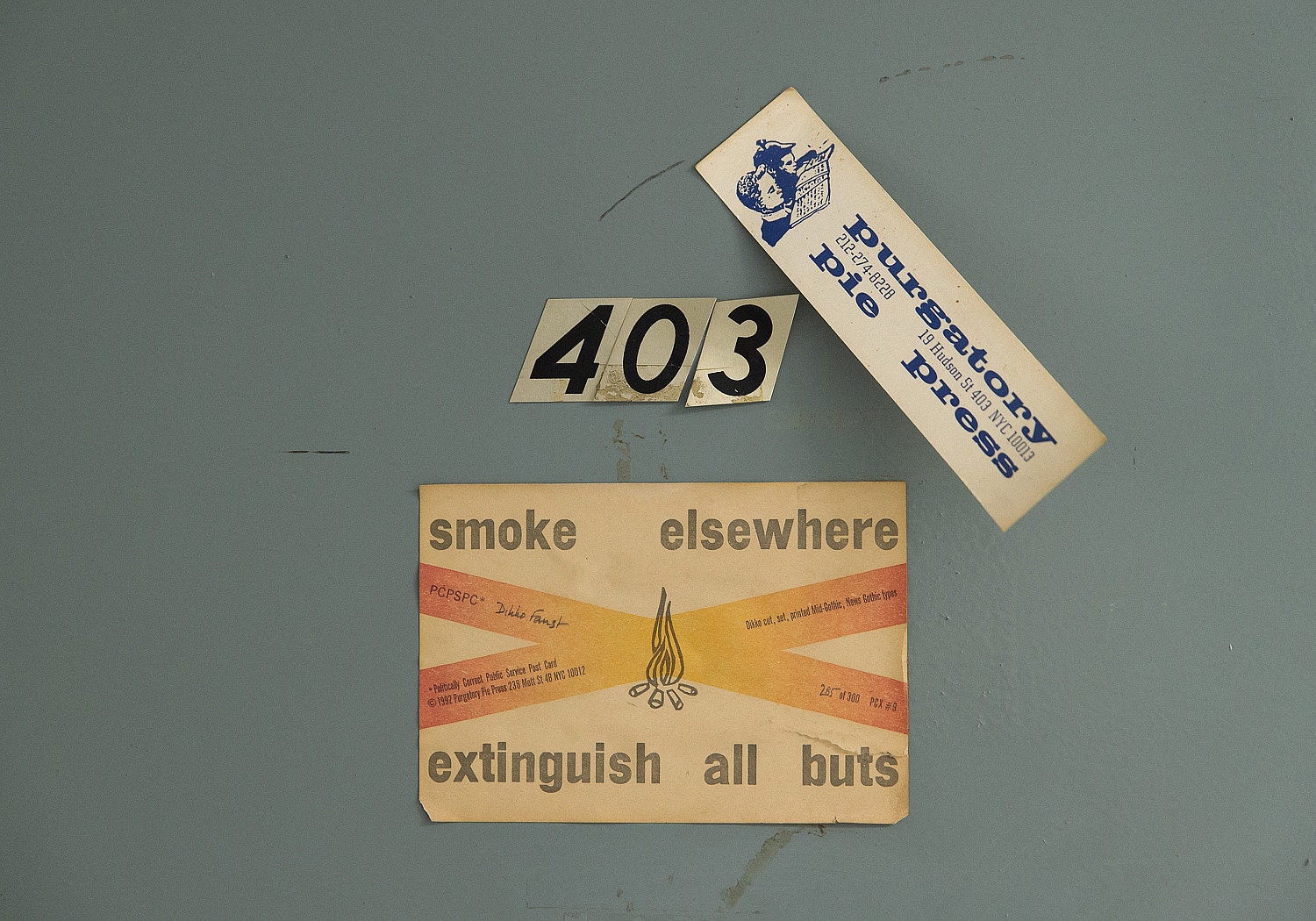 When stepping into the Purgatory Pie Press studio, the warm scent of oil-based printing inks and smoky tea fills the air. A small gallery of Esther and Dikko's work, where they host occasional studio sales, serves as the entryway. Their collection, available on Etsy, is on display: artists' books, how-to books, postcards, accordion books, coasters, posters, alphabet books, flip books, paper toys and miniature book earrings. Wooden type cabinets packed with wood and metal type reach toward the ceiling throughout the studio. The letterpress and printmaking accoutrements fill the other side of the space, next to the windows that look out on the street below. Ephemera and art, collected over the two-and-a-half decades they've occupied the space, are tacked all over the walls.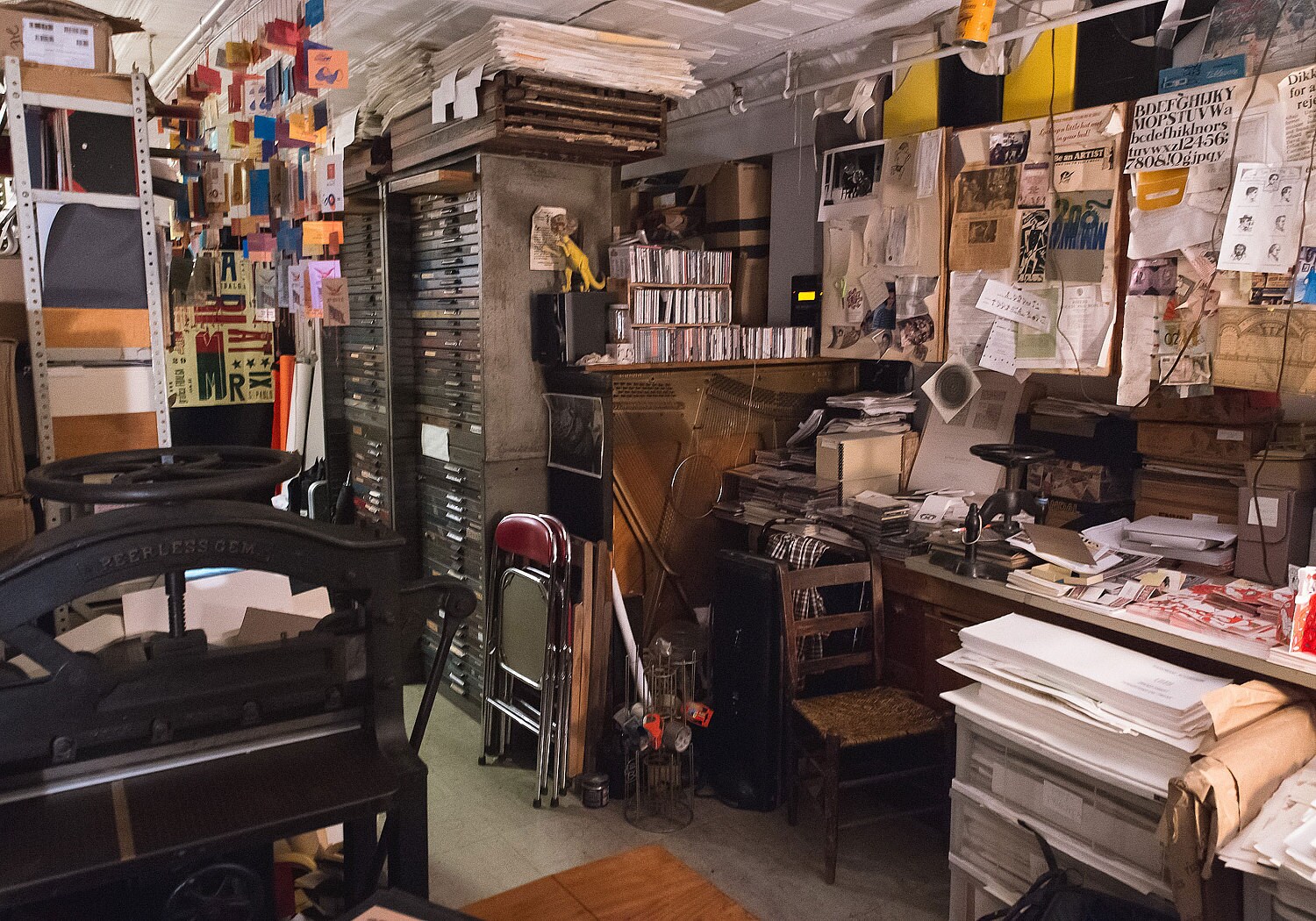 The space is furnished with vintage machinery, printmaking tools, drying racks, drop-leaf typewriter tables and copious stacks of paper. "We got almost everything from places that were going out of business or moving," says Esther. But even free things come at a price. Since letterpress equipment can weigh upwards of half a ton, that cost often includes a mix of manpower and ingenious moving skills. In the early days of their business, Esther and Dikko scored their letterpress, a Vandercook No. 4 made in the 1950s, from a woman who worked at a nearby university and needed the press removed. If they could remove it, they could have it. Friends helped maneuver it along back streets of lower Manhattan, early on a weekend morning, to their workspace. "We put it on dollies, and just pushed it," says Esther. "We had some young strong friends then."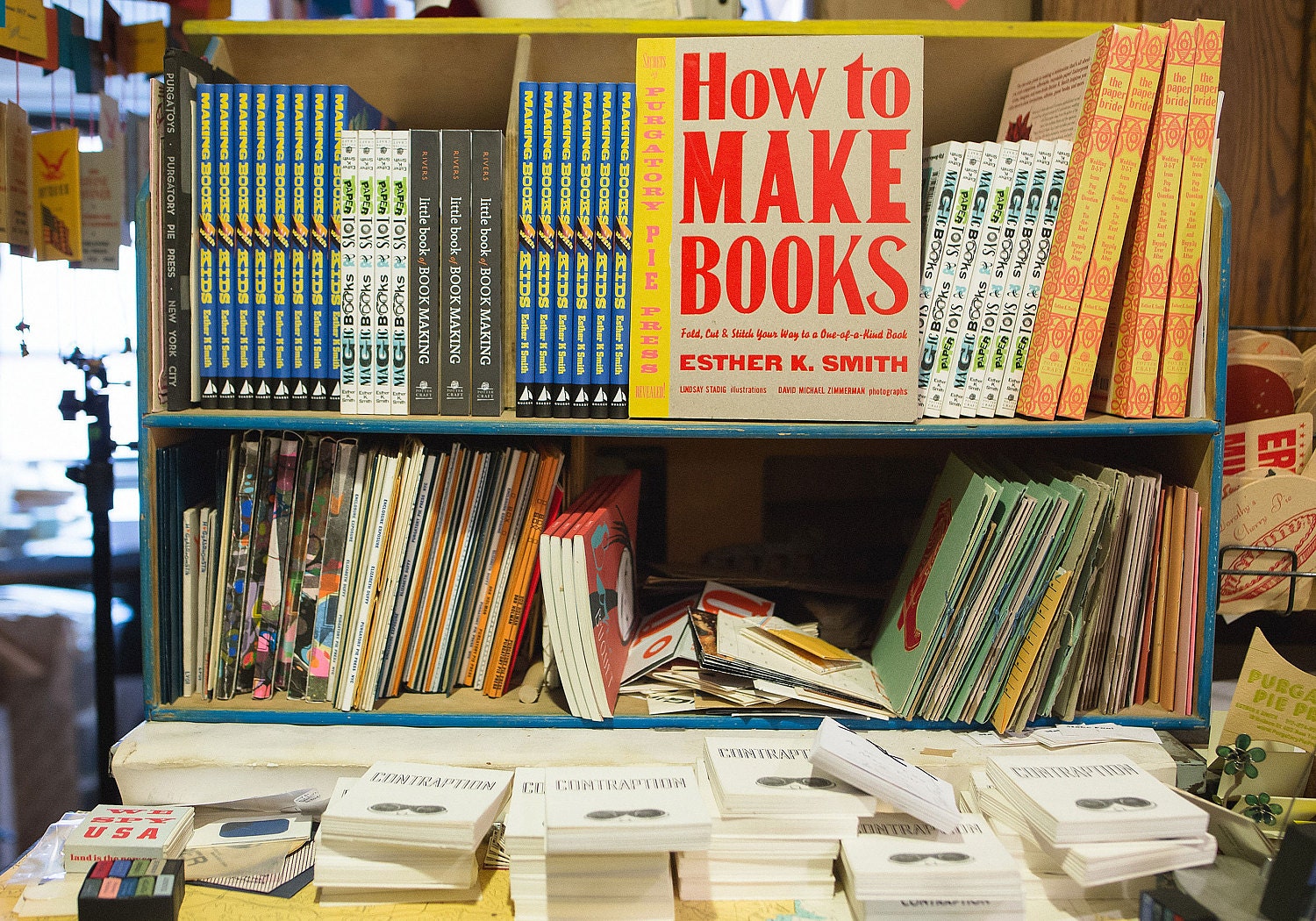 To cut stacks of paper, Esther and Dikko use a guillotine with golden lettering reading "Peerless Gem." Dating back to the late 1800s, this beautiful workhorse of a machine is not motorized, and uses leverage to cut. Since the guillotine, which weighs approximately 1,000 pounds, was going to be sold as scrap, the previous owner sold it to Esther and Dikko for the cost of the metal — if they moved it, of course. (And they did.)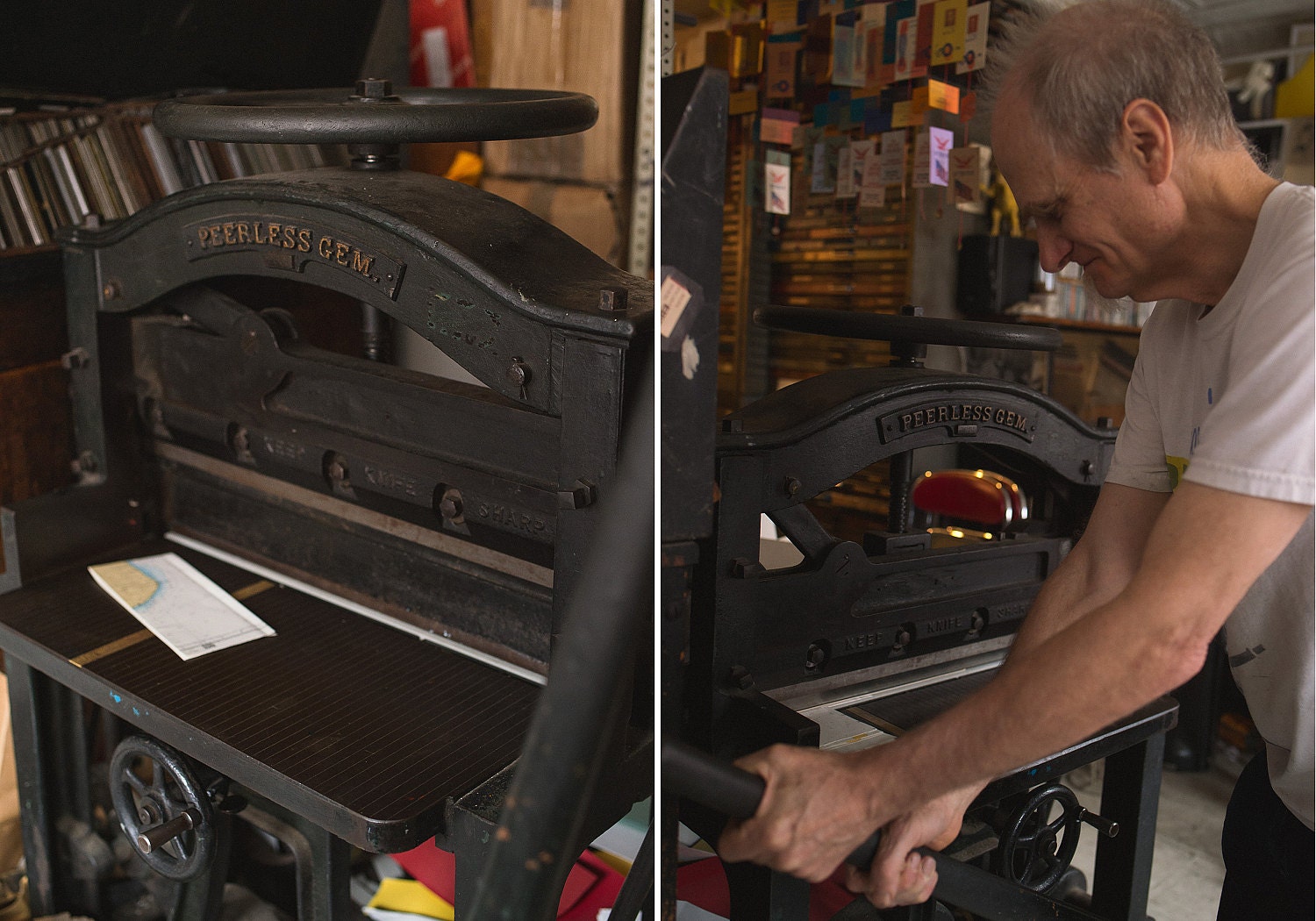 Since the guillotine doesn't require electricity to operate, it has come to the rescue during power outages. After September 11, 2001, Esther and Dikko lost power at the studio for about two weeks, which is located about six blocks from the original World Trade Center site. A few days after the attacks, they got an email from a client, asking if it would still be possible to get her custom wedding invitations on time. The client lived in Brooklyn near where Esther and Dikko were staying with friends. So Dikko used the guillotine to trim the invitations — the final step that the project required, and walked back over the Brooklyn Bridge to deliver them.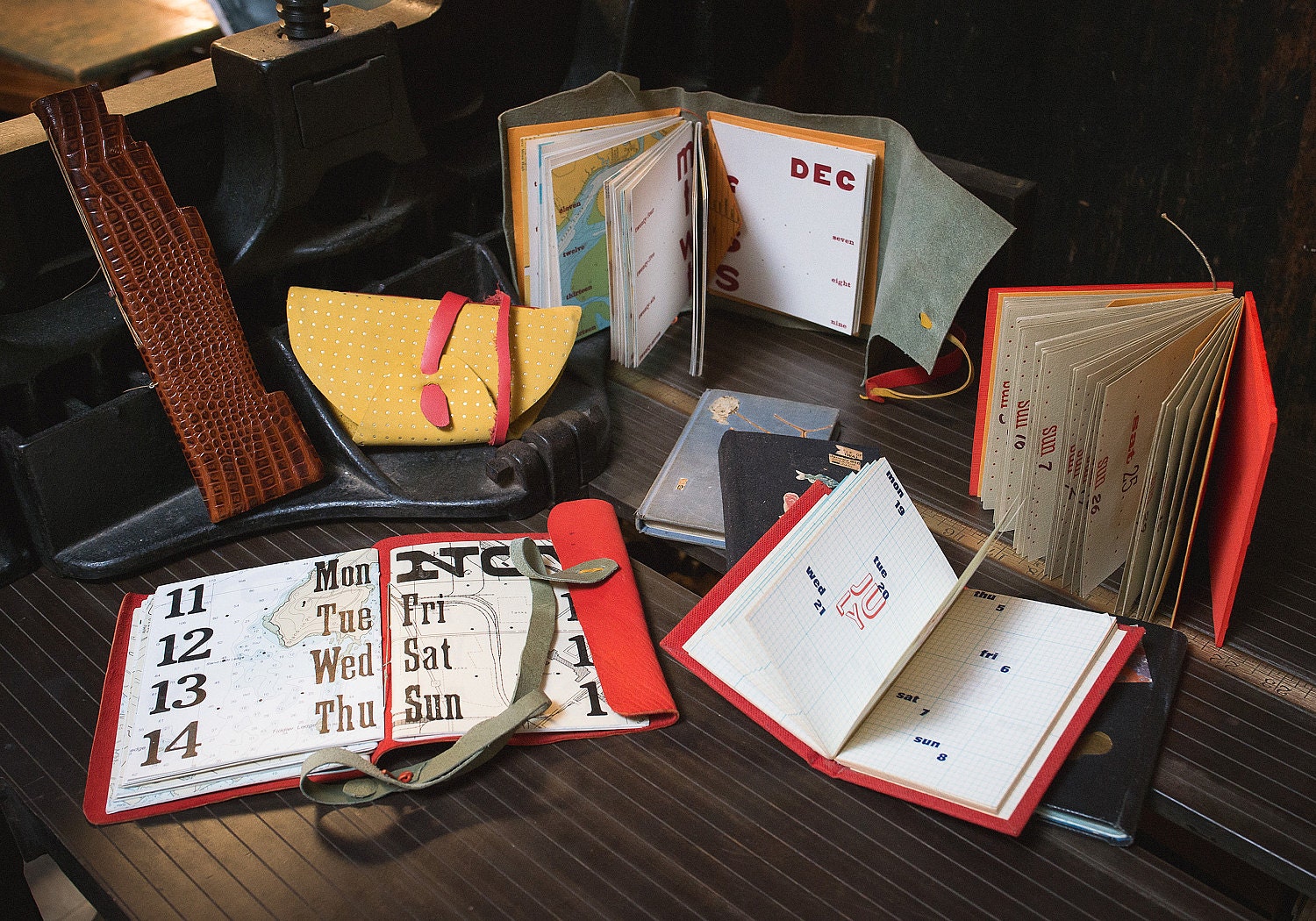 Esther and Dikko's first joint printmaking project was making their own wedding invitations in 1980. After their wedding, they created datebooks as gifts for members of their newly-merged families. "It wasn't such a successful family gift," Esther says. "But then other people really wanted them, so it became a big part of what we do." Thirty-five years later, making datebooks is still an annual tradition. Each year, the couple designs a new book in a run of 35 to 40, using a variety of papers (such as graph paper or maps), typefaces, dimensions and bindings. Dikko hand-sets the type for every page, with metal and wood type from their extensive collection, and prints the pages that Esther binds into books. The 2017 datebook, currently in production, is printed with red and brown-violet ink on vintage sea charts.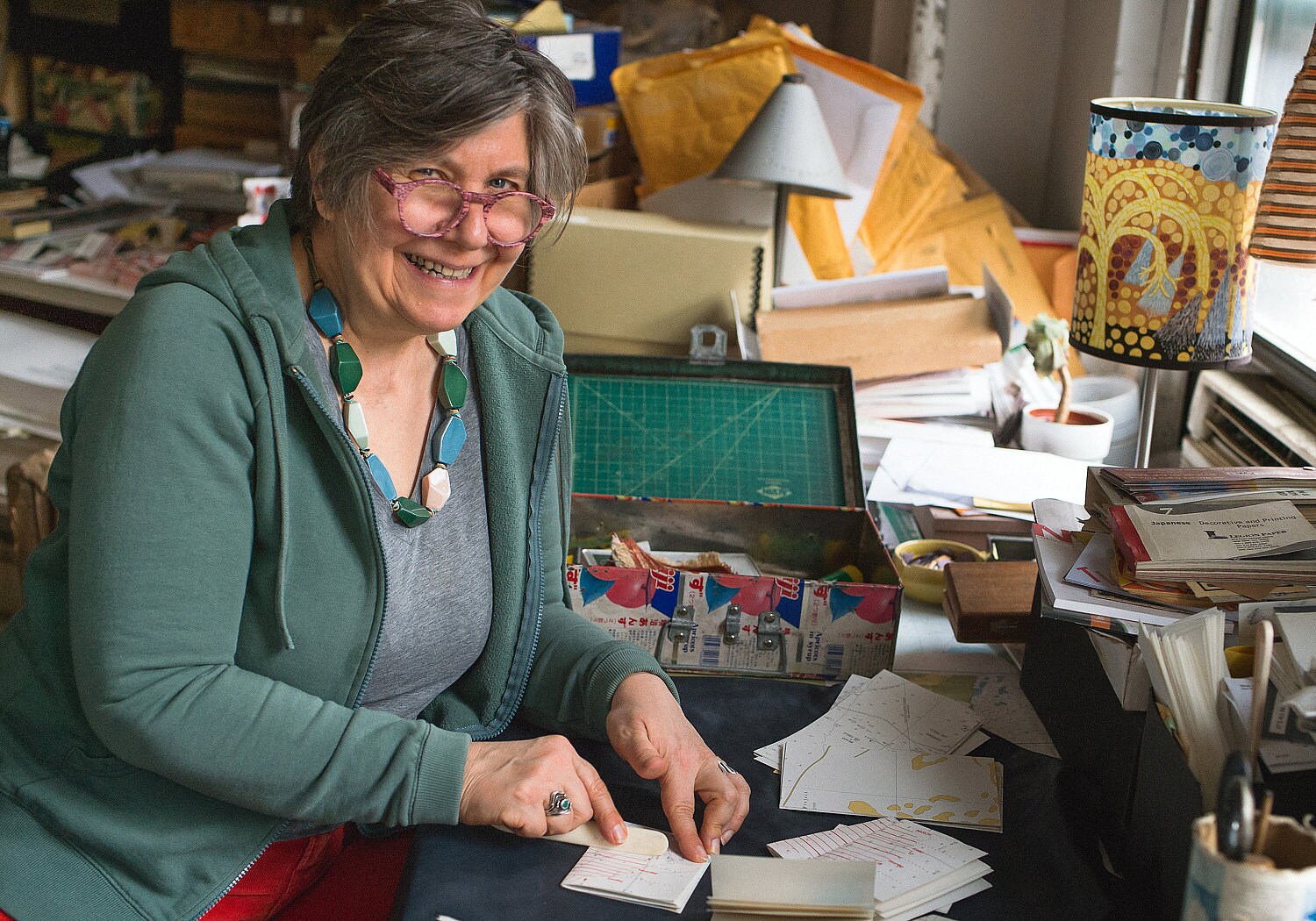 "Want to see some wood type?" asks Dikko, his voice bright. He opens drawer upon drawer packed with type dating back to 1850, as he spouts detailed knowledge about the contents of each drawer: where it came from, who designed and manufactured the type, the type of wood used, the quirks and special features of each typeface. For example, the Ad Lib typeface, which he hand-set for the 2017 datebook, features multiple versions of certain letters, and letter d's can double as p's, and vice versa. Dikko's knowledge of type history is so vast that other printers sometimes enlist him as a "type detective" to help identify their type.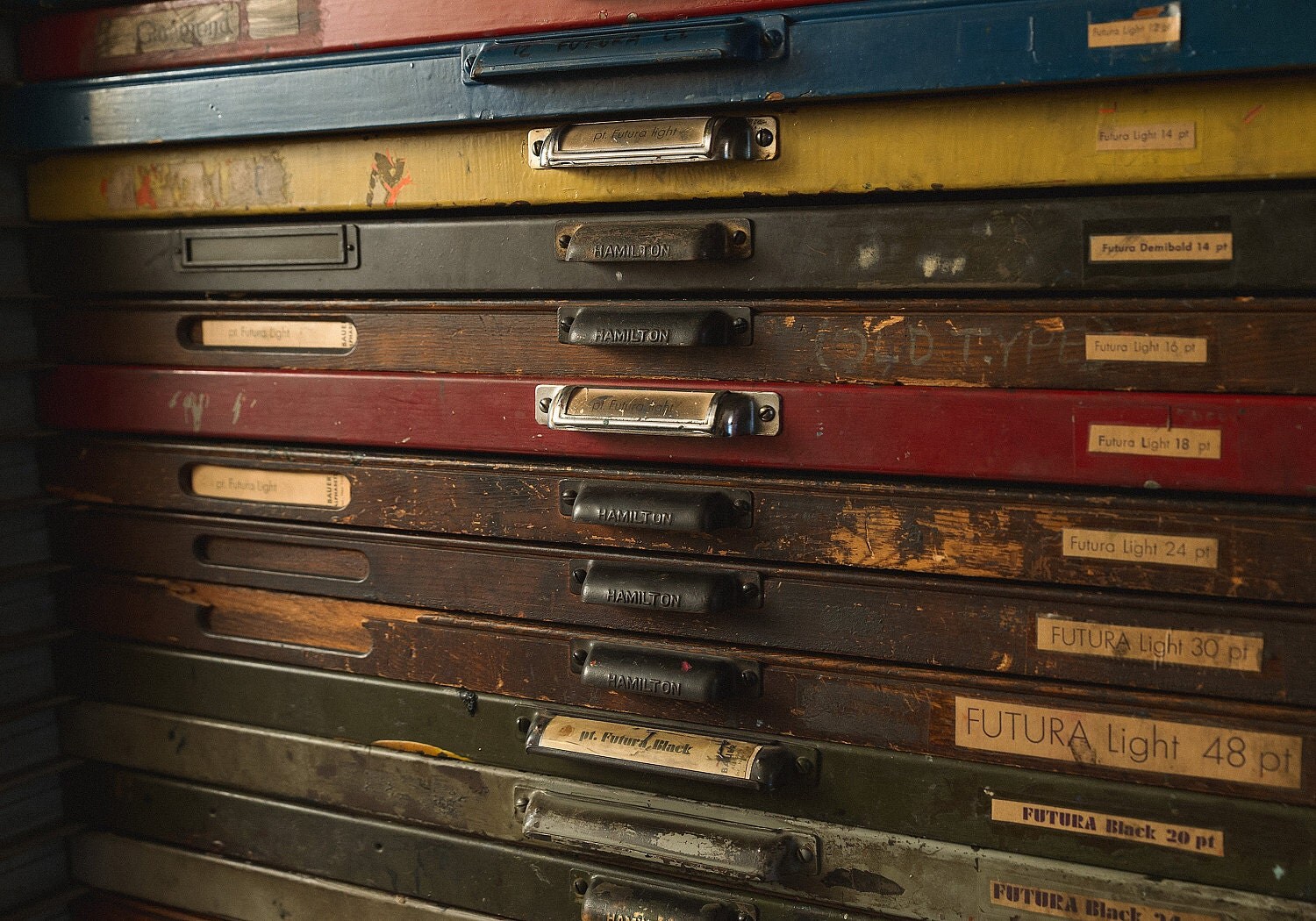 Typography using wood and metal type is at the heart of Esther and Dikko's work, and they gravitate toward quirky typefaces. "The real type has character to it that's different from type off the computer. It's subtle," says Esther, "like the difference between recorded music and live music. It has more texture." They've purchased type from studio sales, closing businesses and from friends, and use it to print everything in their collection. When they started collecting type, letterpress wasn't as popular as it is today among artists and graphic designers, so they had their pick of the oddball types that fine printers passed over. Dikko says a "fine-press person" once told them, "You're using the wrong types." Yet, it was those same quirky typefaces that helped shape Purgatory Pie Press' aesthetic — one that's still going strong after nearly 40 years.
What's the story behind your favorite equipment? Share in the comments below.
Check out Purgatory Pie Press to see Esther and Dikko's latest work. To pitch your space for the Inspiring Workspaces series, fill out the Seller Handbook pitch form.