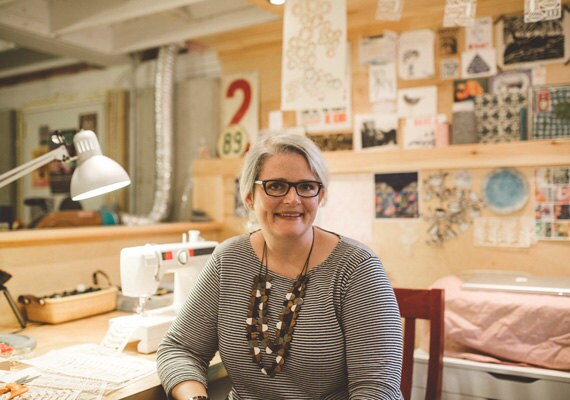 The flora and fauna that surrounds Jennifer Judd-McGee's studio often ends up in the art-in-progress on her wooden work tables. Jennifer operates her Etsy shop, Swallowfield, and a freelance illustration business from the basement of her family's home in Northeast Harbor, Maine. Natural light streams in through the four windows in this cozy creative hideout, where Jennifer spends 10 hours a day creating drawings, collages and papercuts for cards, prints and client commissions. Her studio is fully stocked with the trappings of a 21st century handmade art business: collections of pencils, pens, markers, paint brushes, glue and twine reside comfortably alongside high-tech tools, including multiple computers and a laser cutter.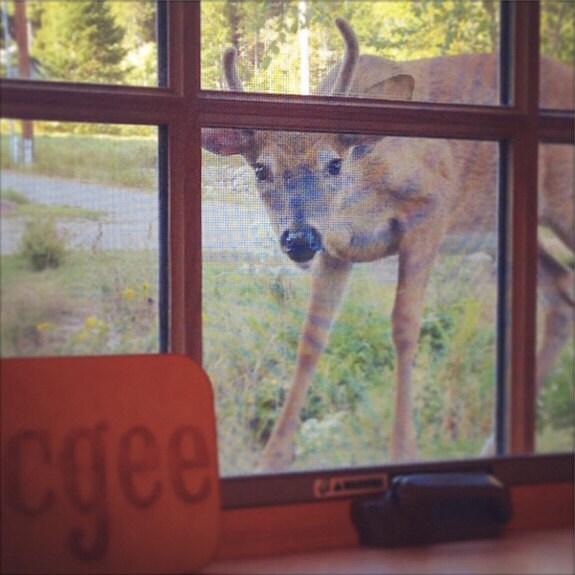 Since opening her Etsy shop in 2007, Jennifer has made more than 3,350 sales and developed a steady freelance illustration business, with the help of her art agent, Lilla Rogers. Her clients include Taproot Magazine, Hallmark and The Land of Nod. Before her life as a full-time artist, Jennifer managed a women's health clinic in Portland, Maine, a job she loved. When the 70-hour work weeks started to take a toll on her stress levels and family time she started drawing and collaging to calm her nerves — even during long conference calls. With encouragement from friends, she opened an Etsy shop. Eventually she left her job in the healthcare field to focus on making art full time.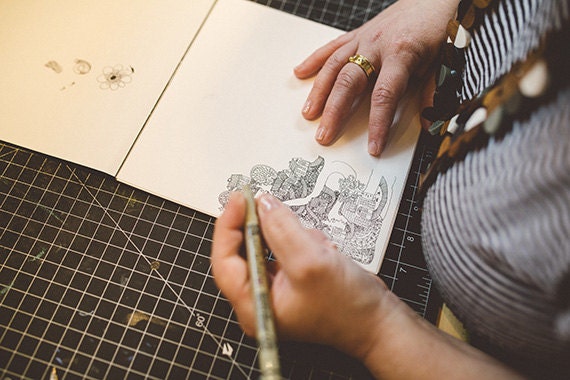 These days Jennifer and her family live on Mount Desert Island, an area of Maine with an active community of artists and writers and bustling summer holiday scene, where she and her husband both have roots. Her husband Sam is a seventh-generation resident of the island, while Jennifer attended high school and college there. The Judd-McGee family lives in a house built from a renovated segment of a historic local inn, which was moved on logs to its current spot generations ago. They live in a pretty neighborhood that's walking distance from an azalea garden, an English border garden and one mile away from a harbor dotted with boats and rugged islands in the distance — motifs that often inspire Jennifer's artwork.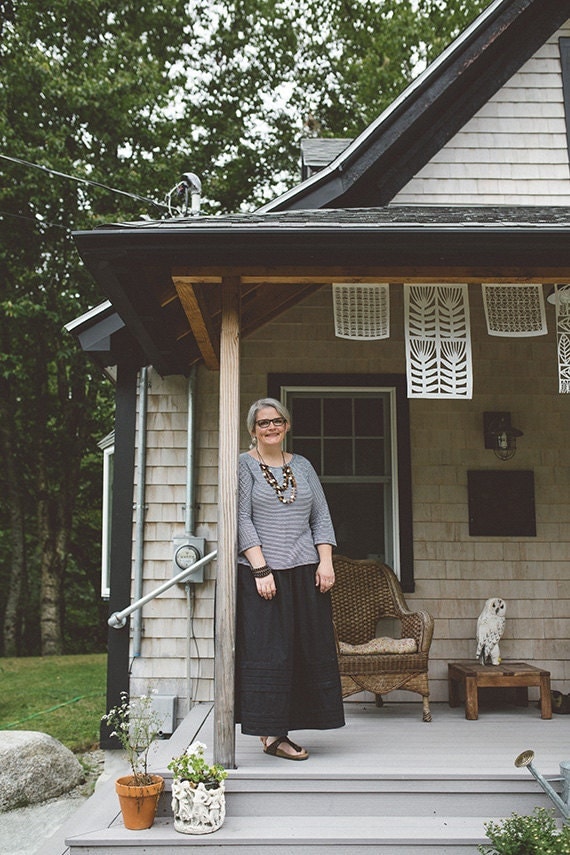 Each morning Jennifer traipses down the stairs to begin work in her 14-foot-by-8-foot section of the basement. The rest of the space is shared with her husband's bookkeeping work and her 13-year-old son's guitars and amps. She starts her day by checking emails, and then her focus shifts depending on her current workload. She prints orders for her Etsy shop as they come in, pulling from her archive of more than 90 print designs and 15 greeting card sets.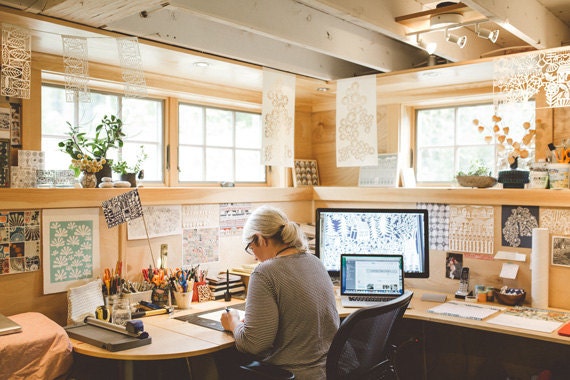 While she works, Jennifer listens to podcasts, television shows and audiobooks. Her favorites include the TV show Orange is the New Black, the audiobook Bossypants by Tina Fey and This American Life. "I can work the whole day without going upstairs, just to pee," she says. She immerses herself in the world that she creates on the page during the day, channeling her creative energy into her work. "My family would tell you that I work all the time," Jennifer says. "But I like it, so it doesn't feel that way to me."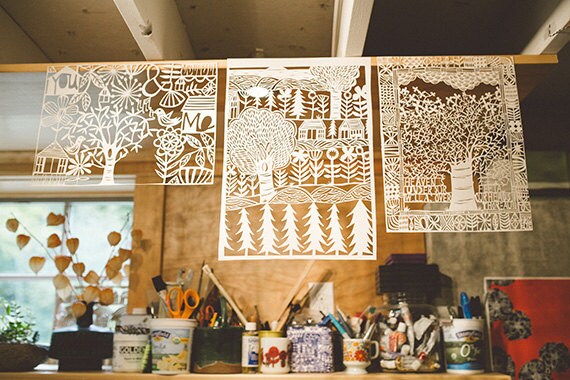 Her recent work has included a subway poster for New York City's Metropolitan transportation Authority, covers for the book Grow Your Handmade Business by Kari Chapin and a solo exhibition at her alma mater, College of the Atlantic, titled Rows & Rows: Community, Pattern, and Landscape. She spent eight months making work for the show, including 24 framed original papercut pieces and 110 banners laser cut from sailcloth to hang from the gallery's ceiling.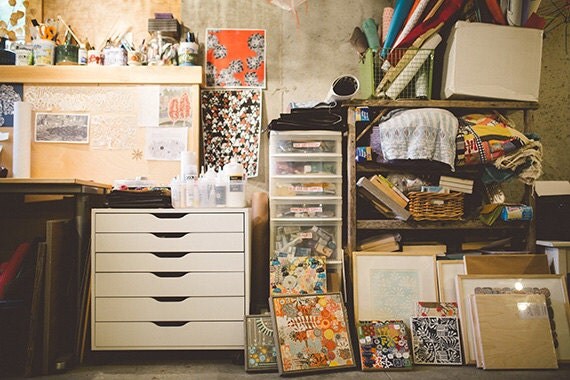 When diagnosed with multiple sclerosis in 2010, Jennifer was having trouble holding her pens to draw — and she started freaking out. She discovered that the pressure of holding a cutting knife in her hand felt good, so she began to explore papercutting as an art form. These days, it's a key part of her repertoire that she practices everyday.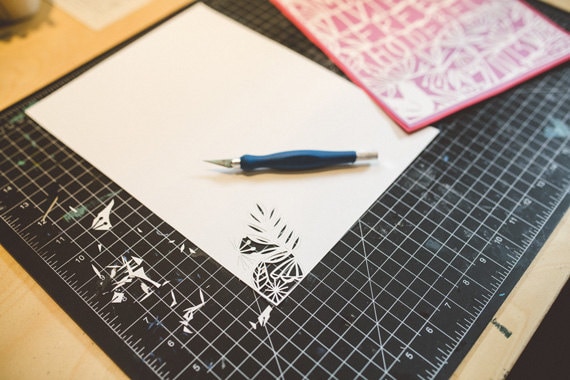 While taking a printmaking workshop last year at Haystack Mountain School of Craft in Deer Isle, Maine, Jennifer stumbled into a lab full of high-tech tools for fabrication. Here, she first laid eyes on a laser cutter in action. The possibilities excited her so much that she bought her own with a loan from the bank, the first debt she has ever taken on as a business owner. After the laser cutter was delivered, it sat in her studio for several months, unused. "I was really scared of it," she recalls. Since learning the ropes, the machine has opened up new opportunities for her business. She now makes laser-cut versions of her hand-cut artwork and has landed work making laser-cut signs for other businesses, something she hadn't even considered when making the purchase.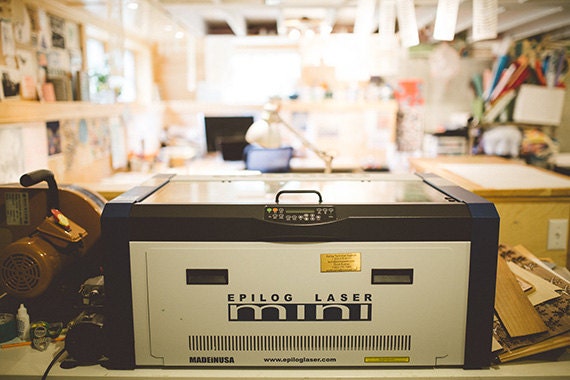 Jennifer cuts her artwork freehand and scans or photographs it before sending it to the laser cutter. The laser has two machines that support it: A dust collector and an air compressor. While running, they fill the studio with a loud humming sound that Jennifer drowns out with headphones and an audiobook. After she's been cutting or engraving with the machine, her kids say the house smells like miso soup.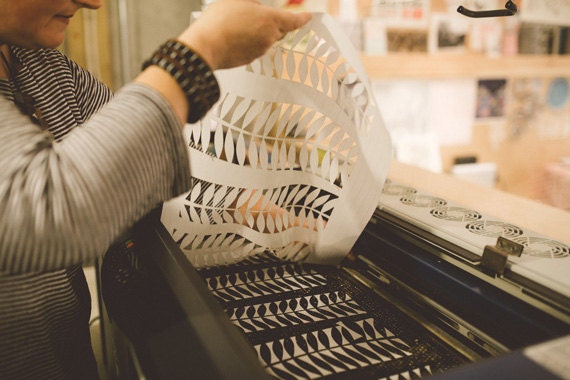 Jennifer's 15-year-old daughter works in the studio 5 to 10 hours each week packing orders and boxing up sets of notecards. When preparing for her recent solo show, Jennifer hired a temporary assistant. This was the first time she had hired additional outside help. "I actually had things to teach her," Jennifer says. "And, she was excited to learn them." Her assistant was an art-school-bound high school student, seeking the real-life experience of working with a professional.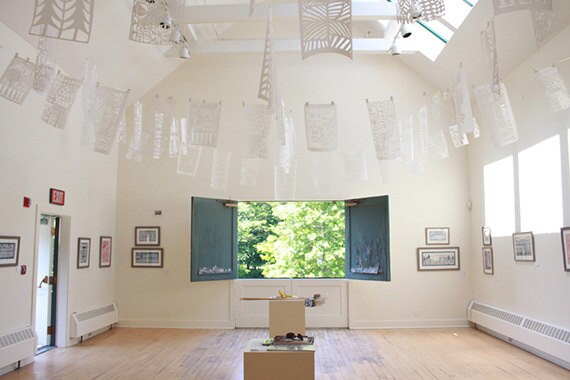 Though Jennifer's solo show ended a few days ago, her laser cutter continues to whir and blades and paper scraps continue to pile up. Ever looking ahead, she has a list of new product ideas to make in her studio, including wood puzzles, engraved glassware and wooden jewelry. "I really love that I get to do what I do everyday," Jennifer says. "All the little revenue streams add up to a living." All photographs by Erin Little unless otherwise stated.
What is your favorite tool or machine in your workspace? Share in the comments below.