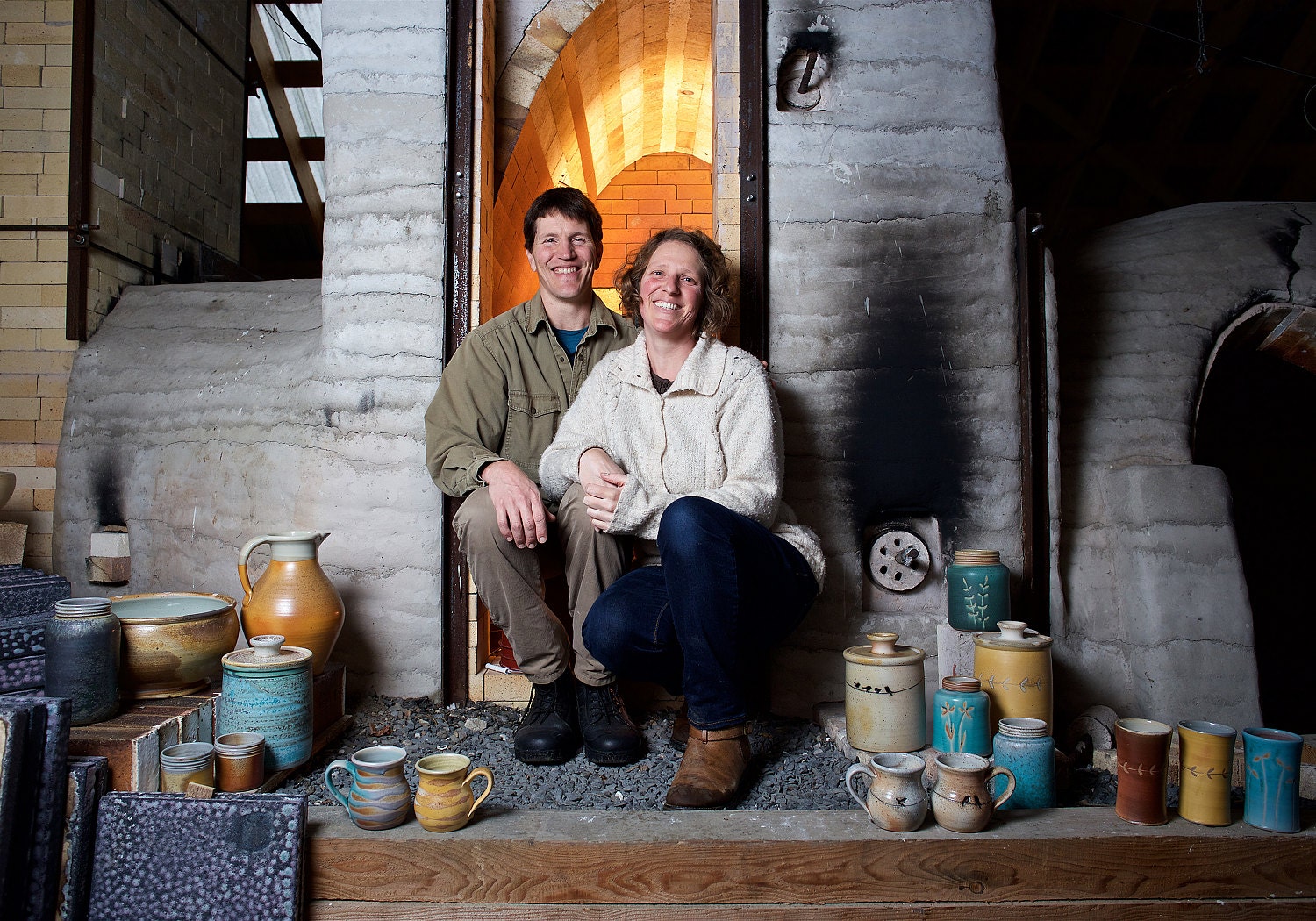 On a 50-acre former dairy farm in Bethel, Vermont, Becca and Nathan Webb have built a life and a ceramics business, Two Potters, selling wood-fired bowls, mugs, jars, plates, fermenting crocks and pitchers. When Nathan purchased the farm in 1999, it was dilapidated and infested with vermin. "It wasn't the sort of place that you'd buy if you wanted a turnkey operation," says Becca. "It wasn't insulated. There was a huge collapsing dairy barn. The sills in the house were rotting. There were snakes in the basement. The roof leaked. There was a giant manure pit in the front yard, and there was barbed wire stapled to everything." Together, the Webbs cleaned up the property, which dates back to the 1850s, renovated the house, constructed their dream studio and built a huge wood-fired kiln. They also started a family. They now have two children: Zoe, age 3, and Graham, 7 months.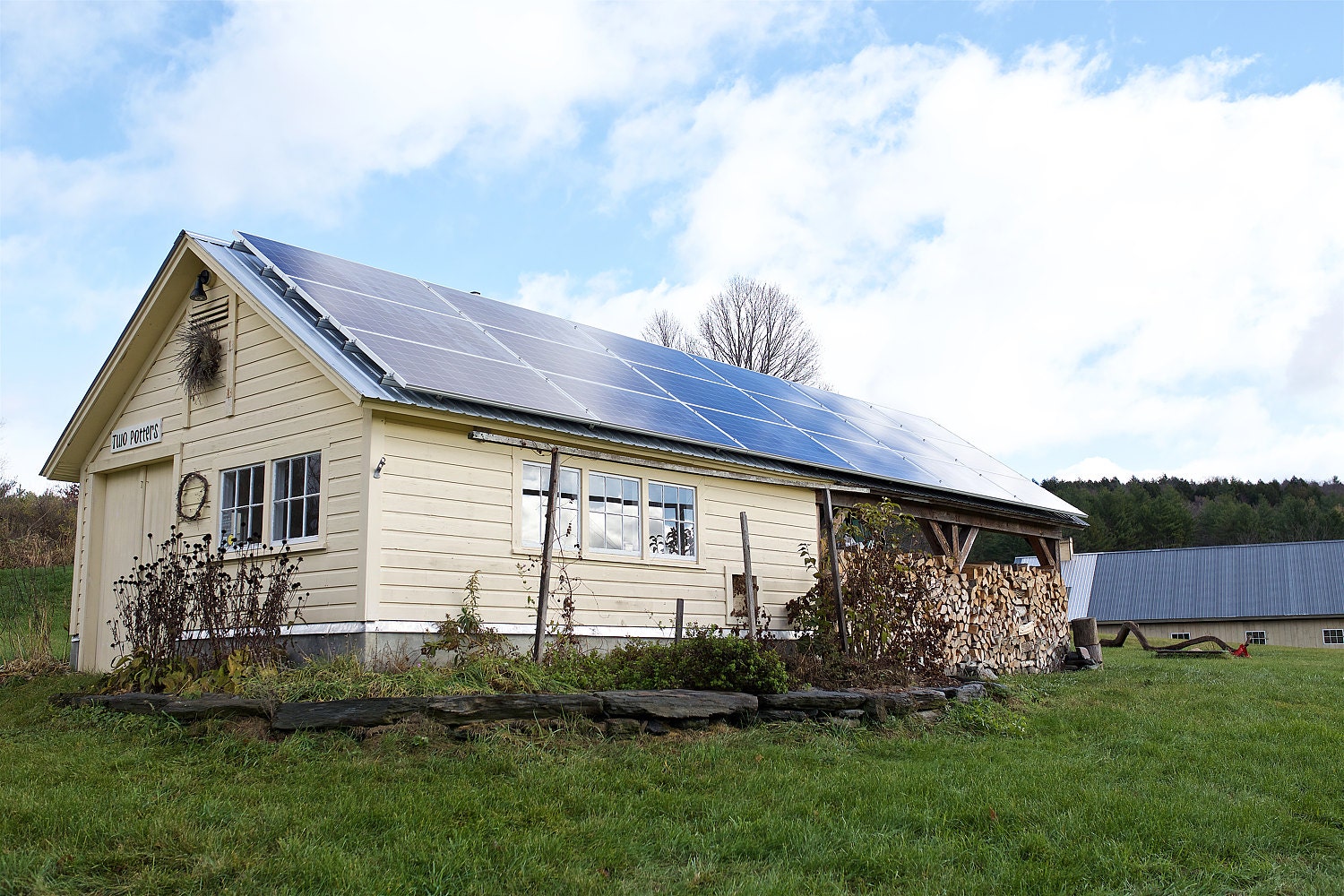 Before they were Two Potters, the business duo and married couple, Becca and Nathan Webb were two single potters living in separate towns. After studying ceramics in college, Becca started her own pottery studio, Becca Van Fleet Pottery New Hampshire. Meanwhile, Nathan, who had also studied ceramics in college, worked at Craft Studies, an art center in Hanover, New Hampshire, where he ran the clay studio and managed the class schedule. In 2008, after seeing Becca's work in the gallery space at Craft Studies, Nathan called and asked her to teach a clay class. Two hours later, they were still on the phone. Three months after that first phone call, they were engaged. "It was a pretty fast change of life," says Becca. "We started looking for bricks to build our kiln pretty much immediately, that year. We broke ground before we got married."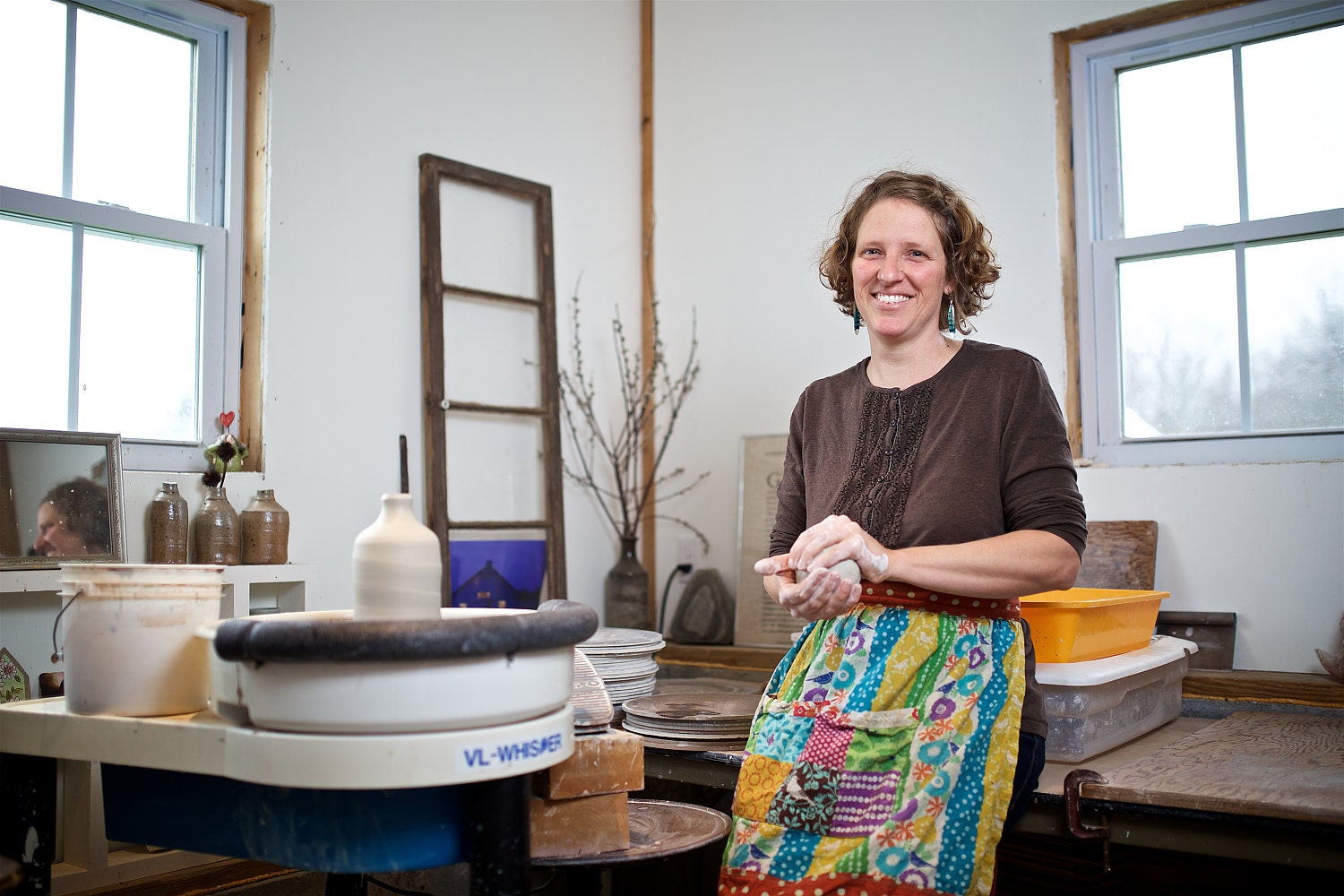 Shortly after meeting, the couple relocated from New Hampshire to Nathan's Vermont property. With plenty of space and a location only two-and-a-half miles off a major highway, the land was ideal for building their own wood-fired kiln and starting a retail pottery shop. Becca and Nathan spent their first five years on the farm building what they needed to make their new business run, starting with the kiln. When designing the kiln, they considered how they wanted their final pieces to look after firing, taking into account the effects of flame, ash and the pottery's proximity to it. "We knew we wanted to have different effects in different parts of the kiln," says Becca. She and Nathan worked out the specifications and drew up the plans. The resulting two-chamber "Asian-style climbing kiln" measures 30 feet across and can hold up to 800 pieces at one time.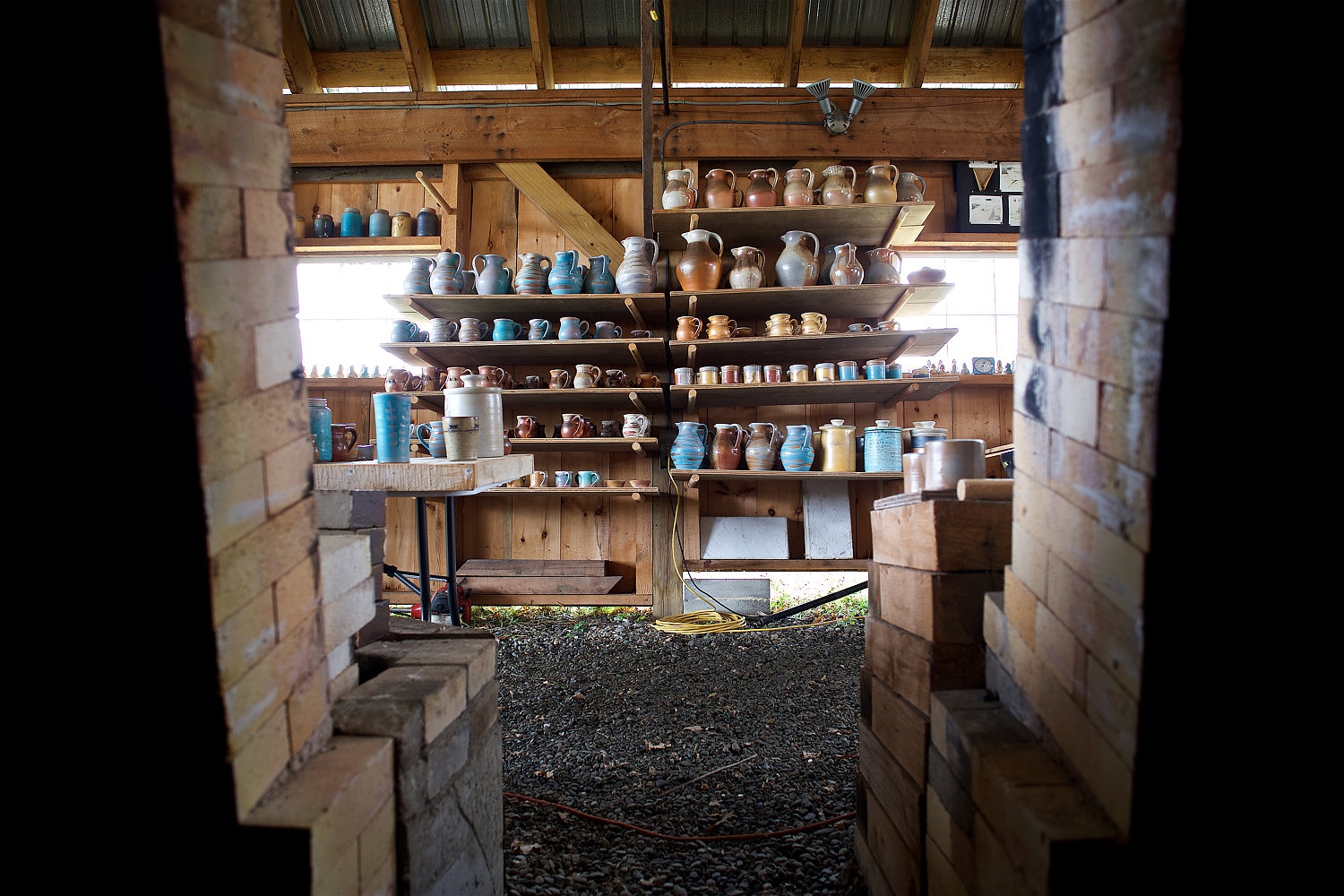 Two Potters' typical schedule revolves around the wood-fired kiln, which they fire once or twice a year. With their responsibilities as parents, it takes three or four months for Becca and Nathan to make enough pieces to fill the kiln. (In the past, it might only take eight weeks.) They coat some of the raw pieces with glaze and slip, in shades of turquoise, orange yellows, and leave some unadorned, allowing the kiln's molten ash to form a natural glaze in sandy and peachy hues. To prepare the kiln, they make any necessary repairs and sand down the kiln shelves, which get encrusted with ash during each firing, and paint them with kiln wash to prevent glazes from sticking. Each kiln firing burns three or four cords of wood (a cord of wood is 4 feet by 4 feet by 8 feet), which they gather as scrap from a local sawmill and from fallen trees on their property. They cut the wood to size themselves, over the course of four or five days. Then, it takes about two weeks to load the kiln.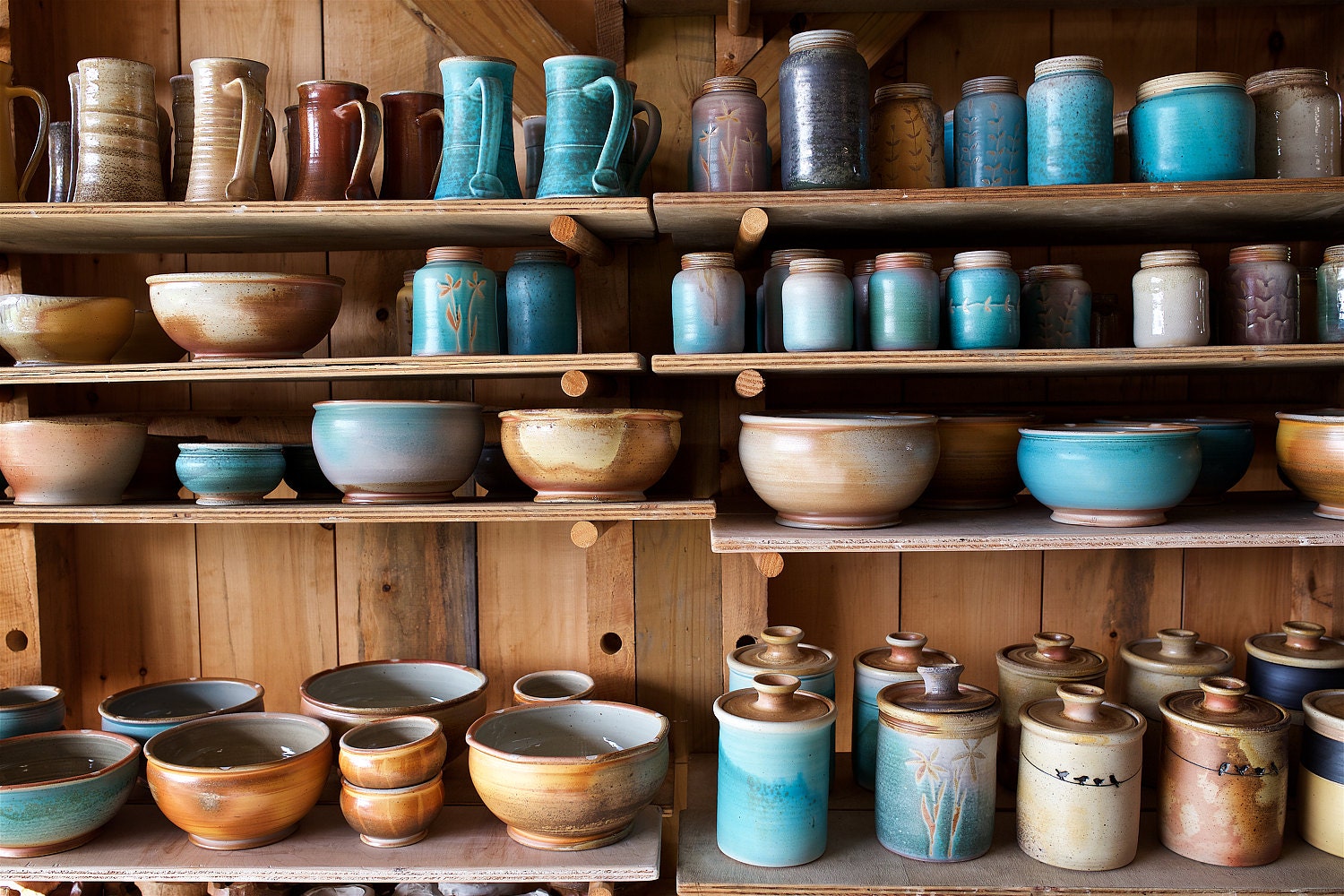 Firing the kiln is a community event that requires an around-the-clock vigil for 96 hours. "This kiln is so much bigger than us. Literally and figuratively," Becca writes on the Two Potters Facebook page. "We knew when we designed and built it that it was unlikely we could fire it alone. It's kind of a community-builder in its own right." Fellow potters volunteer as "guest stokers" feeding the fire for six-hour shifts in exchange for adding some of their own wares to the kiln.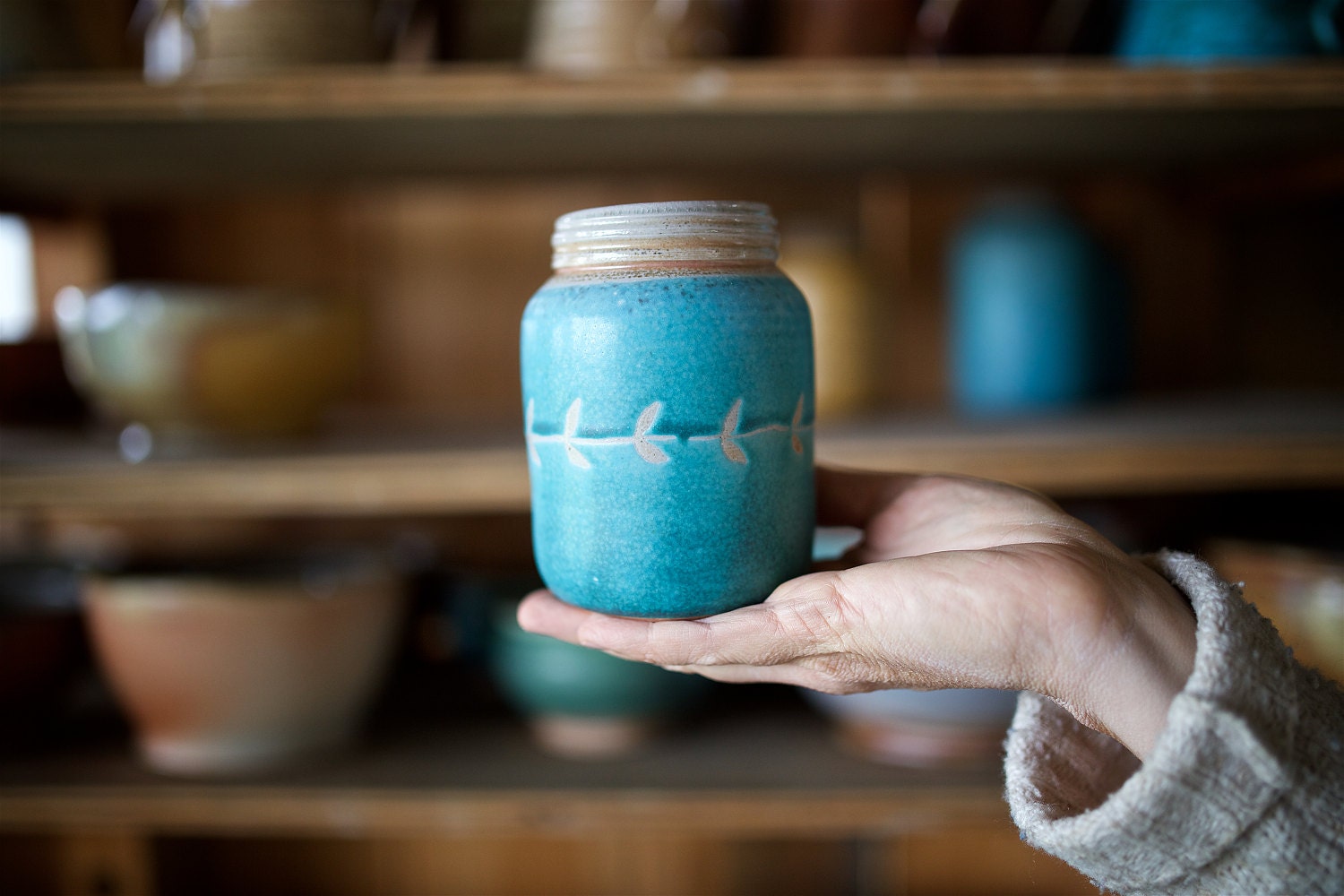 For the most recent firing in October, Nathan and Becca had the help of six guest stokers and Nathan's parents, who came for a week to help with the children. The fire heats up to 2,300 degrees Fahrenheit (cone 12 or 13, in ceramics speak) and takes a week to cool — a week that's ripe with anticipation. "Everybody uses the analogy that unloading the kiln is like Christmas," says Becca. "But it's so much more pressure than Christmas. In a wood kiln, there will be a lot of things that did not turn out as planned. Ceramics in general is a case of expectations versus reality — and maybe that's just life." When the pieces are ready, Becca and Nathan open their doors and invite the public for a festive open studio pottery sale with pies and live music.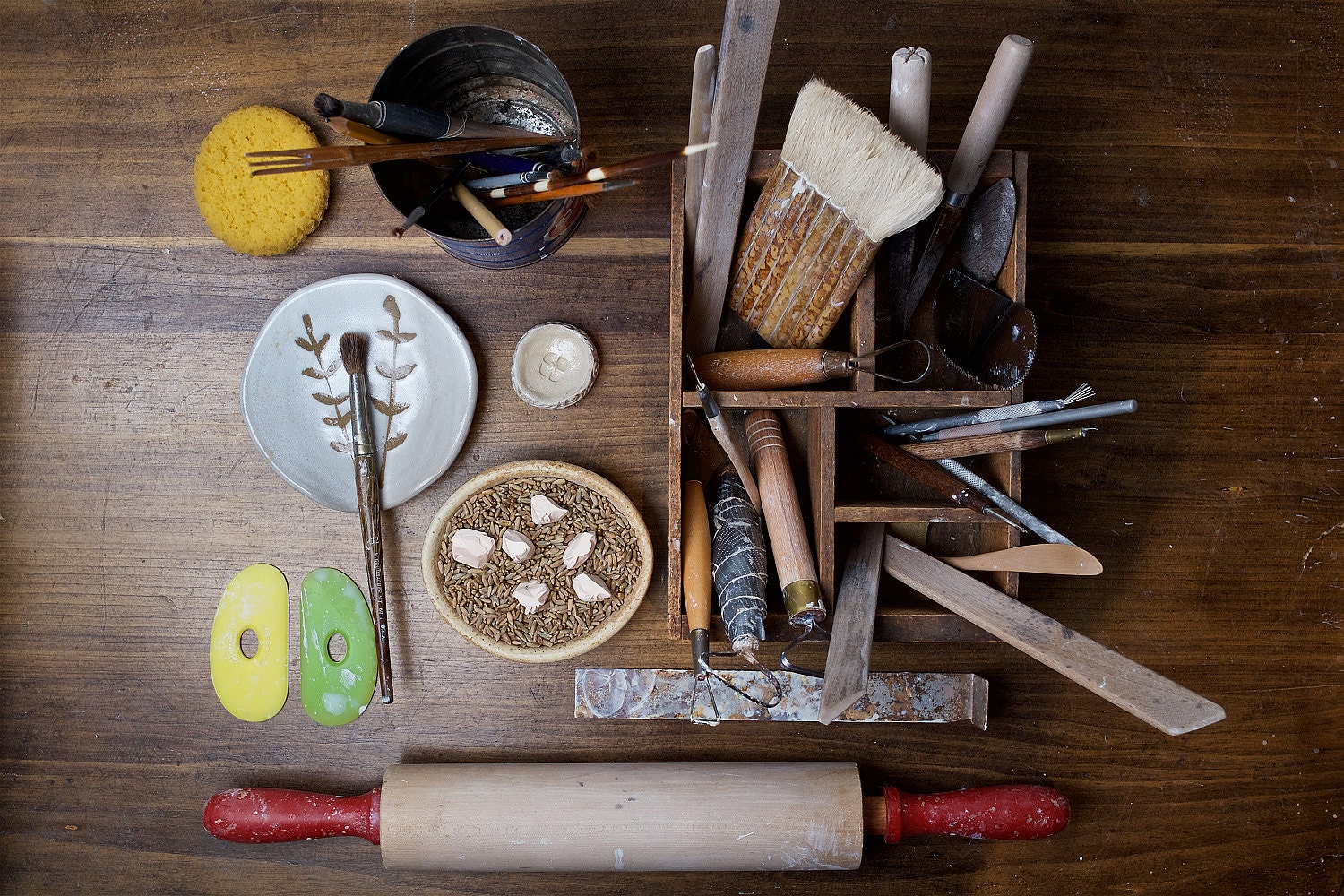 In 2012, after completing the kiln construction, Nathan and Becca started building their studio. To save money, the couple completed a lot of the construction themselves along with their carpenter friend, George Abetti, who helped them design a space that would mesh with their workflow. "Although it is two stories," says Becca, "we never have to carry the pottery upstairs because we built it into the hillside." The open-plan, 800-square-foot bottom floor is divided into two studios, one for Becca and one for Nathan, with a 20-foot cathedral ceiling and a heated floor. Windows let in a flood of natural light, the sounds of chickens clucking and their kids playing, the occasional waft of manure from the neighbor's corn field, and a view of the surrounding hills, emerald green or snow-swathed, depending on the season.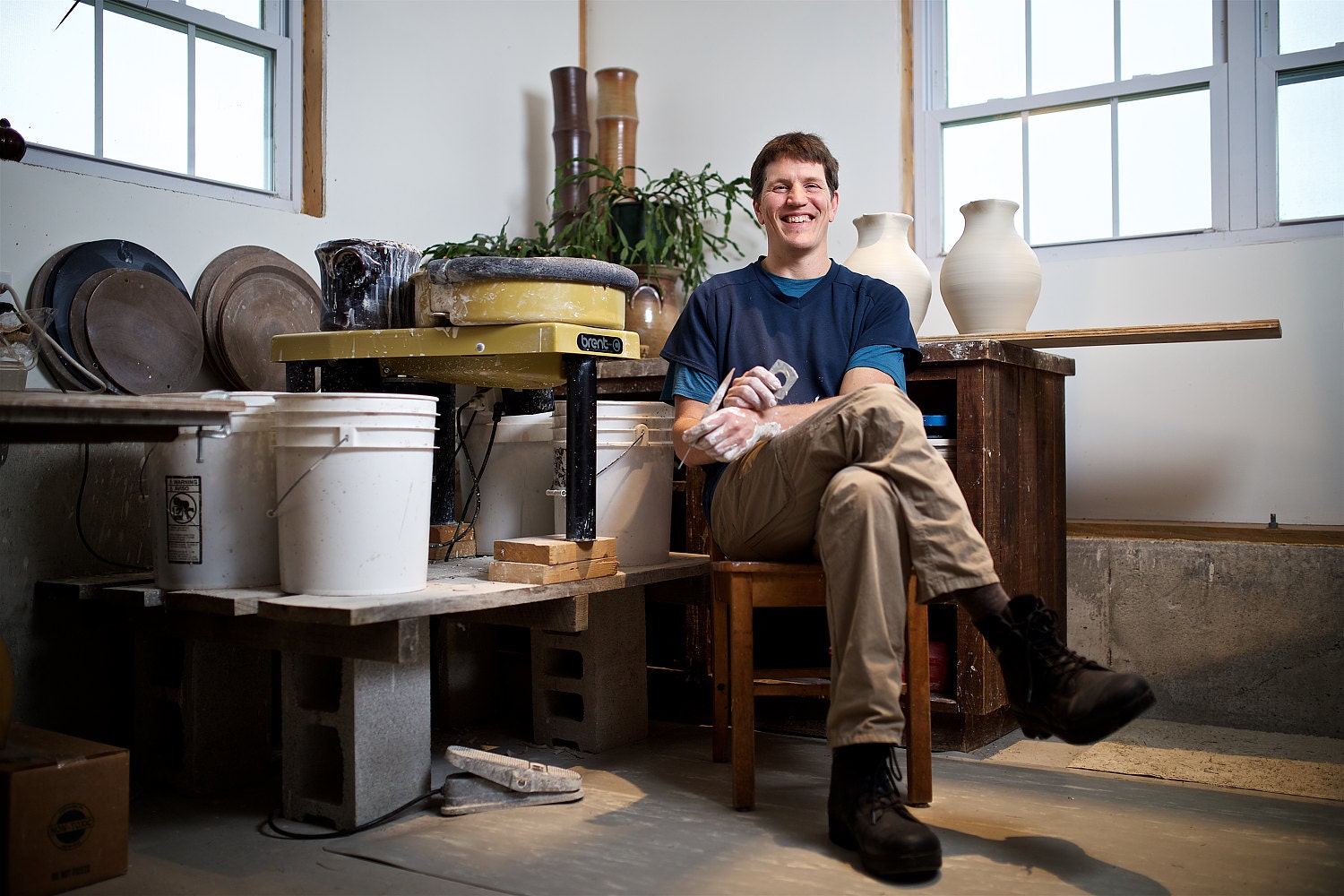 Becca and Nathan take turns with childcare duties and studio work, so they are rarely in the studio at the same time. They start the day with a family breakfast of oatmeal and eggs from their chickens. Nathan works in the morning while Becca takes care of the kids. They reconvene for a family lunch. After putting Zoe down for a nap, Becca works in the studio until dinner time, while Nathan takes care of the children. Becca says when people told her that having two kids was "like 10 times as much work as one," she didn't believe it — until she had her second child earlier this year. Adapting to parenthood while running a business wasn't easy. "I was single and pretty much giving all my time and energy to my work for years. It's part of my identity," says Becca. "So, the thought of scaling back and letting go is hard for me, but it seems to be pretty important these days. I only have so much energy, and my son is not really sleeping."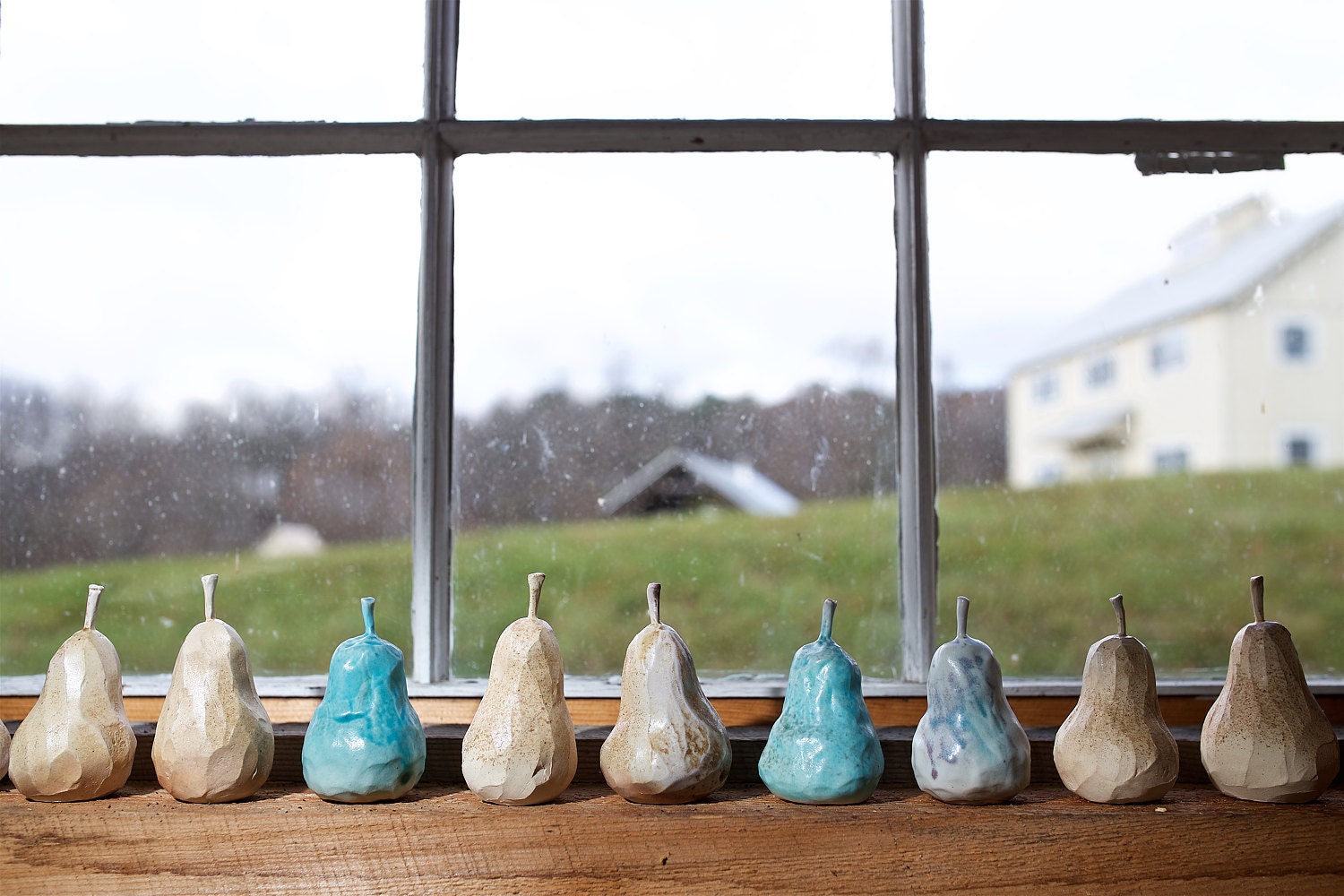 Selling at craft fairs has been a regular source of income for Two Potters. But the new rhythms of family life and work is making traveling to shows increasingly difficult, so Becca and Nathan have been concocting new ideas. "In addition to the wood-fired kiln, we'd like to build a wood-fired pizza oven," says Becca. "I've found over the years that our customers really enjoy coming here and seeing the pottery where it's made." Still, there's something to be said for being able to work in your pajamas, she says. "When I come out to my studio in whatever I woke up in, wrap a box and leave it at the mailbox by the house, here in the middle of nowhere," Becca says, "I feel like I am living the dream."
How have you adapted your workspace to suit your needs? Share in the comments below.
Check out Two Potters to see Becca and Nathan's latest pottery. To pitch your space for the Inspiring Workspaces series, fill out the Seller Handbook pitch form.