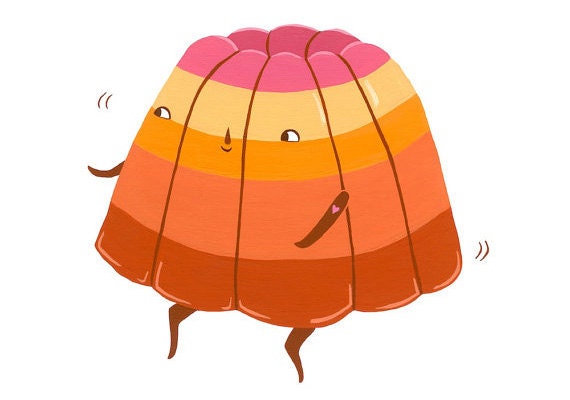 In 2009, shortly after opening their Etsy shop, Dark Cycle Clothing, Adam and Coryn Enfinger found a cool image of a ray gun while doing an online search. They turned it into a silkscreen, printed it on a shirt and listed it in their shop, which is based in Tampa, Florida. "I figured if it was on the Internet, I could use it if it didn't have an explicit copyright on it," Coryn recalls. When the copyright owner contacted her, she quickly removed the listing. The incident prompted the Enfingers to focus on making their own illustrations. As a result, they developed what is now their signature collection of popular t-shirts featuring illustrations of animals riding bicycles. "The experience encouraged us to be better artists," says Coryn, whose shop has made nearly 43,000 sales. "Plus, we're selling much better now than when we were using somebody else's image on our stuff." The Enfingers' early copyright misstep taught them a valuable lesson about intellectual property, or IP. As we noted in an earlier Seller Handbook post, IP law can be confusing. Etsy's legal support team receives a tremendous amount of emails each day from sellers who have questions about alleged intellectual property infringement. Below, you'll find the answers to some of the most common questions we receive.
1. How does Etsy handle infringement notices?
If intellectual property owners or their authorized agents consider something on Etsy to be infringing on their IP, they may send a notice of infringement to us, in accordance with Etsy's policies, to request its removal. Etsy may remove or disable access to the material. Then, we'll make reasonable attempts to notify the member that Etsy has removed or disabled access to the material. Here at Etsy, we do not pick and choose which items to take down for infringement. When we contact a seller regarding an infringement issue, we are not singling out sellers. Our policies, which are based on case law, best practices and the Digital Millennium Copyright Act (DMCA), require Etsy to remove specified content when we receive proper notice of infringement. Many sellers express concern that a competitor has reported them. However, we don't accept notices of infringement by just anybody – only from the intellectual property owner or the owner's authorized agent (referred to here as the "complaining party"). We also require that the complaining party provide statements of good faith made under the penalty of perjury. There could be costly penalties if a complaining party makes material misrepresentations about the infringement. These claims are very serious matters.
2. Can I use any words I want in my listings?
It may be tempting to include names of popular brands or celebrities in your listing titles, tags or descriptions – for instance, the name of a luxury handbag company that inspired your purse design. But using that brand's name in your tags has been considered problematic by certain IP owners. Similarly, just tacking on "inspired by" or "____-like" in the tags or description may not prevent you from receiving a notice of infringement from the IP owner for a number of legal reasons, such as causing confusion. The same goes for any items that were "inspired by" popular books, movies or television shows.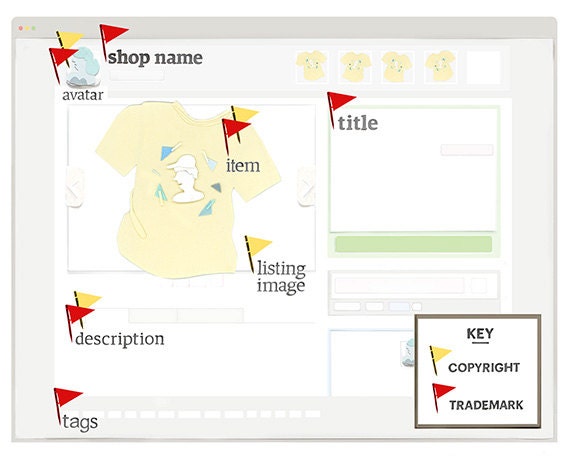 3. I see a similar item on Etsy. Can I sell it, too?
Many sellers write to us saying that they've searched Etsy for a certain item, such as a party invitation featuring a popular cartoon character, to determine if they could sell similar items. Others say that they created the listing using materials purchased from Etsy. These are not reliable tests. Etsy is a venue comprised of third-party content generated by our sellers. The unfortunate reality is that some Etsy sellers may post content that's not authorized, and until we receive a proper notice of infringement and take it down, it may potentially be purchased or visible on our site. It's also very possible that some Etsy sellers do have permission to use certain intellectual property through licensing agreements, for example.
4. As long as I don't relist the infringing item, will my account be okay?
Each time Etsy receives an infringement notice from a complaining party, we keep a record of it and contact the seller. When we receive repeat notices of infringement regarding a particular shop, allowing the shop owner to continue selling can put Etsy at serious risk. Even if the seller doesn't post that particular item ever again, it's possible that other items in that shop may also have problems. We consider each account on a case-by-case basis, and in certain situations, we make the difficult decision to close a seller's shop, in addition to all other shops the seller operates. In this scenario, some sellers have proceeded to open new shops under new accounts. In those situations, we revoke all Etsy account privileges (both buying and selling on Etsy). We understand that closing a shop can be devastating to sellers – and we certainly would rather have our members continue to use Etsy. When in doubt, consider reaching out to an attorney or contacting the intellectual property owners directly with questions before posting certain content.
5. I found content on the Internet. Can I use it?
As the Enfingers learned, if you find an image or design through a search engine or on a blog, chances are that content belongs to someone else. Legal defenses such as fair use consider many different factors, and can be quite difficult to prove. Also, Etsy is not the right entity to consider any defenses a seller may have; we're not a judge or jury. So, when possible, you may consider asking for permission to use material you find online. Taking the time to create your own original content, including designs, product photographs, listing descriptions, policies and About pages, not only prevents infringement, it showcases your creativity and will set your shop apart from other sellers. For more advice on writing for your shop, read How to Craft a Killer About Page and 5 Tips for Writing Stellar Product Descriptions. We realize that many sellers who have received an infringement notice were simply unaware of the matters we've discussed here. If you receive an infringement notice, don't panic. Instead, think of it a learning experience to develop your shop in an original way. Many sellers, who have received such notices, like Coryn and Adam, have given the content in their shops a makeover and, as a result, have boosted their shops' success. To safeguard your shop, it's often best to err on the side of caution. When in doubt, reaching out to legal experts or intellectual property owners with questions, doing your own research and creating original works are great ways to steer clear of potential infringement issues.