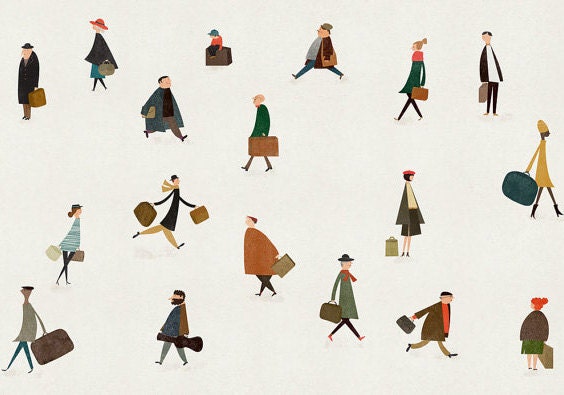 In October, we launched a variety of new community initiatives to build upon the existing channels that foster conversation between Etsy and our global community. At that time, we also began accepting applications for the Seller Advisory Board with the goal of bringing together a group of sellers to provide input about the challenges you face as small business owners and play a key role in shaping the way future decisions are made.
Since then, we received more than 600 thoughtful and inspiring applications, which a team of Etsy Admin reviewed over the course of several weeks. Now, we are excited to report that we have selected 15 sellers to be a part of the 2016 Seller Advisory Board. We selected these sellers based on their commitment to the Etsy community as a whole and the valuable perspectives they provide as small business owners. They will work closely with us throughout the year to gather feedback from the community and provide insight on how we can help sellers succeed. They will also work to gather feedback from more than 200 sellers who were invited to join subcommittees of the Seller Advisory Board. Thanks to all of you who took the time to apply!
Throughout 2016, we'll be providing updates on how the Seller Advisory Board is working together to strengthen our shared marketplace. You can stay in the loop by reading our monthly Etsy Community News articles in the Seller Handbook and by checking out the What's New On Etsy updates posted in the Forums every Monday. Meanwhile, please read on to find out more about our 2016 board members.
Meet the 2016 Seller Advisory Board
Abby Czulada from Mila Bijou Designs: Working closely with Mila, her feline product tester, Abby makes safe and stylish cat collars in Pittsburgh, Pennsylvania.
Annett Winkelmann from Internaht: Located in Dresden, Germany, Annett is the creative mind behind her shop, which is filled with organic clothes for babies and kids.
Becka Rahn from Becka Rahn: Becka makes a variety of practical and wearable items from fabrics of her own design and creates tools and resources for fiber artists. She is located in Minneapolis, Minnesota.
Brandon Madsen from Madsen Modern: Based in Seattle, Washington, Brandon works with his brother, Brian, to find and restore vintage furniture.
Caroline Driggs from CCADesign: Caroline works from her home in Charlotte, North Carolina, making handmade men's bow ties, cummerbunds and pocket squares.
Carolyn Caffelle from The Wishing Elephant: With a refreshing dose of humor, Carolyn creates personalized clothing and gifts for children. She is located in Somersworth, New Hampshire.
Cath Young from My Bearded Pigeon: Working from her studio in Bellingen, Australia, Cath makes ethically-produced and environmentally-friendly home decor.
Caron Somers from Two Blooms Design Studio: As one part of a team of two sisters, Caron creates organic candles and beauty products using ingredients locally sourced from Vancouver Island, Canada, where her shop is based.
Jason Oliva from Jason Oliva: Jason is a painter working and living in New York City. His shop is filled with original works on paper and original items based on his paintings.
Jenny Topolski from J Topolski: From her home studio in Brooklyn, New York, Jenny creates unique hand-crafted jewelry using traditional etching and sculpting techniques.
Lane Huerta from Lovelane: Lane designs, screen prints & sews imaginative children's wear from her shop in the historic district of Savannah, GA.
Margaux Meunier Le Cann from Antonin Plus Margaux: Together with fellow graphic designer Antonin, Margaux makes hand-printed posters, tote bags, and other original objects in Nantes, France.
Rachel Dunn from The Dorothy Days: As the owner, maker, and curator, Rachel sells vintage and handmade items from her home in the English countryside, in Dorset.
Lynsey from Sounds of Silver: Lynsey designs and creates minimalist jewelry in her Denver, Colorado studio.
Terri Ventura from Dime Store Emporium: Terri runs a thriving jewelry supplies business located in Port Washington, New York.
We are grateful for the commitment of each of these sellers, and to the many others who will join this project through their involvement on a subcommittee. As always, we are grateful to our entire community of sellers around the world who help make Etsy so special.