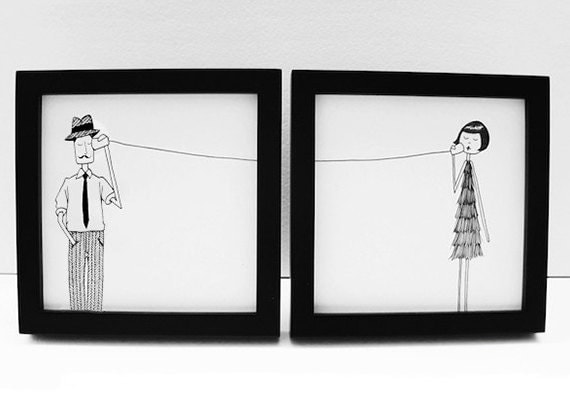 In the eight years since Apple introduced the world to iPhone, we have witnessed a mobile revolution that has changed the way we interact with the world around us. Mobile apps have become an increasingly large presence in our day-to-day lives and influence the way we socialize, get our news and even shop.
More than 50 percent of traffic to Etsy comes from mobile devices, and shop owners are taking notice. Tammy King of OurVintageBungalow in Wichita, Kansas realized that a continuous spike in mobile visits to her shop meant she needed to start paying attention to this trending source of traffic. "I was looking at my stats and I kept noticing that my mobile traffic was right at the top with [desktop] traffic, so I started visiting my shop from my phone as a buyer to see what they were seeing," Tammy says.
Just as you take the time to think about your shop image and branding, it's important to consider your mobile presence in this ever-growing marketplace of tech-savvy consumers. Based on what we know about mobile shopping trends, it's likely that shoppers are seeing your shop for the first time while browsing the Etsy app. With that in mind, we've put together a few steps you can take to make sure you're making a great impression on mobile shoppers.
Think Like A Mobile Shopper
Browsing and discovering new shops and products is an important part of shopping on a mobile device. "Right now we know that mobile shoppers are starting their journey on one device, and ending on another," says Arpan Podduturi, the Group Product Manager for Mobile at Etsy. "Someone might be browsing the app while they're commuting from work, and come back to it at later time when they're ready to purchase," says Arpan. On Etsy, this means shoppers are often Favoriting an item or shop on mobile to come back to later. Eye-catching photos will help grab their attention while a memorable About page will help buyers connect with your story.
Perfect Your Pictures
When Menemsha Abeyasekera of MenemshaJewelry in Ellsworth, Maine saw her shop in the Etsy app for the first time, she knew where to start. "Looking at my shop in the app made me realize that my photos could use improvement," she says. Does your first photo on each of your listing immediately convey to the shopper what the product is? Because photos are one of the first things a shopper will see, it's important that they grab their attention immediately. In the Etsy app, tapping on a photo will hide the rest of the listing and take you into a full screen view of the item, so photos needs to be high quality — and high impact. "Photos are much more prominent in the app, so make sure they're clear and of better quality," Menemsha says.
Get Straight to the Point
Because the listing page real estate on a hand-held device is much smaller than a traditional desktop display, your use of that space should be strategic and well thought out. Roy Stanfield, a Senior Product Designer at Etsy, shares a method he and his team uses when making design decisions. "Think about the most important aspects of your item, and list them from the top down," he says. Titles should be concise, and all the important information about your product should be surfaced at the top, as this is what the buyer will immediately see. "The first six or seven words of your title should accurately describe what your product is," says Roy. Menemsha used to use catchy phrases in her titles, but now moves that quirky copy to the item description to make the most of what shoppers will see first on the app.
Spend Time on Mobile
Mobile is here to stay. Market trends indicate that the number of mobile visits will only continue to rise. Now mobile is just as an important part of Tammy's workflow as any other. "[Sellers] need to realize that this is a part of our lives now," she says. She recommends making viewing your shop through the Etsy app a part of your day-to-day. Just like thinking like a buyer can help you write stronger titles and tags, regularly looking at your mobile storefront can help you see things differently. If you haven't downloaded the Etsy app yet, that's a good place to start. Understanding the way your shop appears to mobile buyers is the important first step before you making any changes to your shop.
Track Your Traffic
In  Shop Stats, you can see how many of your shop views are coming from a mobile device. Does this number stick out to you in any particular way? It's important to monitor and compare trends over time to see if your listings are also attracting mobile shoppers. Make note of the number of views coming from mobile before you make any changes. After tweaking your images or titles to make them more appealing to mobile shoppers, check your Shop Stats and note any changes. Just like optimizing your titles and tags for search, figuring out what works for your shop on mobile might require some experimentation.