Today marks the date of Etsy's 10th anniversary, and that wouldn't have been possible without the heart and soul of Etsy: Etsy sellers. Over the past decade, Etsy sellers have continually inspired with boundless innovations, a generous sense of community and an indomitable creative spirit. Today's celebration is a celebration of you.
Here, you'll meet 10 inspiring Etsy sellers from 10 different countries. Some have had shops since the early days of the site, others have joined more recently. But they've all carved their own paths, followed their passions and built their own growing businesses from the ground up. Read on as they share memorable highlights and important lessons learned from their years in business.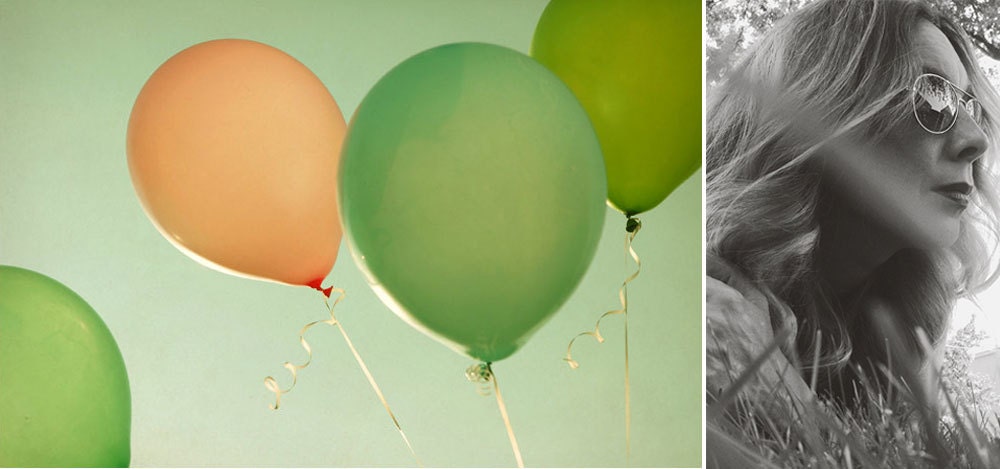 2005: Alicia Bock, United States
When Alicia Bock became a mother, she also became a photographer. She had quit her job in health education to stay home with her newborn daughter, and, though she had always had a camera, she found herself taking more photos than ever — and not just of her baby. With encouragement from friends and family, she started exhibiting her work and selling at art shows. In 2005, she opened her Etsy shop, Alicia Bock, to sell her photos online from her home in Lansing, Michigan. For Alicia, self-employment meant that she could build a creative career with a flexible schedule adaptable to her kids' school schedule. "I get to have my dream job," she says.
Alicia, who shoots with a Canon 5D camera and an old-school, Polaroid film camera, has developed a dreamy fine-art photography style in muted hues depicting travel and nature. Over the past 10 years, her business has flourished. Some interior designers for hotels have discovered Alicia's work on Etsy. Hollywood set designers have found her, too. Alicia's photographs have appeared in both Sex and the City movies and numerous television shows, including Grey's Anatomy and Extreme Makeover: Home Edition. "I love seeing my work as part of a bigger project," she says.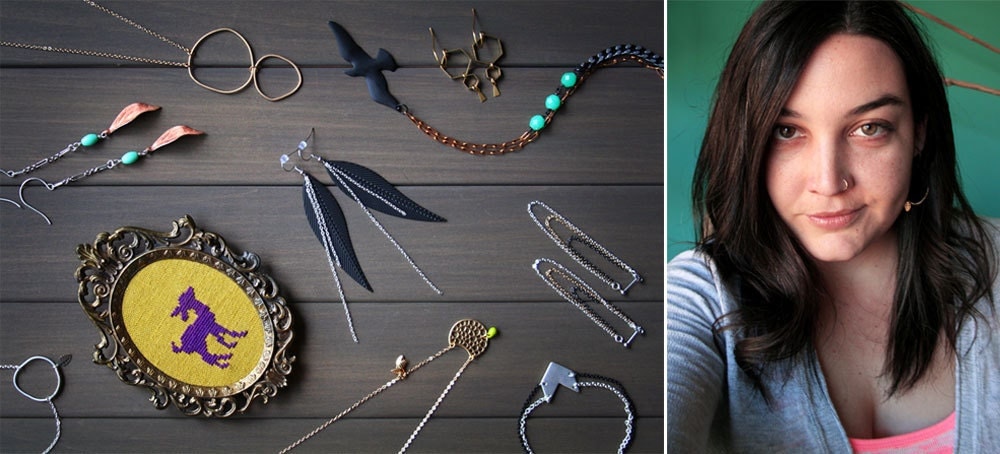 2006: Neawear, Canada
When Janick Gravel opened her Etsy shop called Neawear to sell handmade jewelry in 2006, she worked full-time as a graphic designer. Two years later, she launched a collection of embroidered wall art — and her sales tripled. "I realized that I could live on this and stop doing graphic design, which I wasn't loving anymore," she recalls. "It was a revelation." Ever since, she has been making a living selling her handmade wares, fueled by her own creative concepts rather than a client's demands. "I do what I love and customers buy it, or they don't," she says. In addition to her online shop, Janick's business also has a strong physical presence in her hometown of Montreal. Several local shops carry her line and she sells her creations at local craft markets throughout the year.
Janick says that not only has her business connected her to new and repeat customers, but it has led her to important friends, including a tight-knit group of fellow Montreal Etsy sellers. "I've made these friendships that are so precious," Janick says. "And it all started on Etsy. I don't know what my life would be like without them."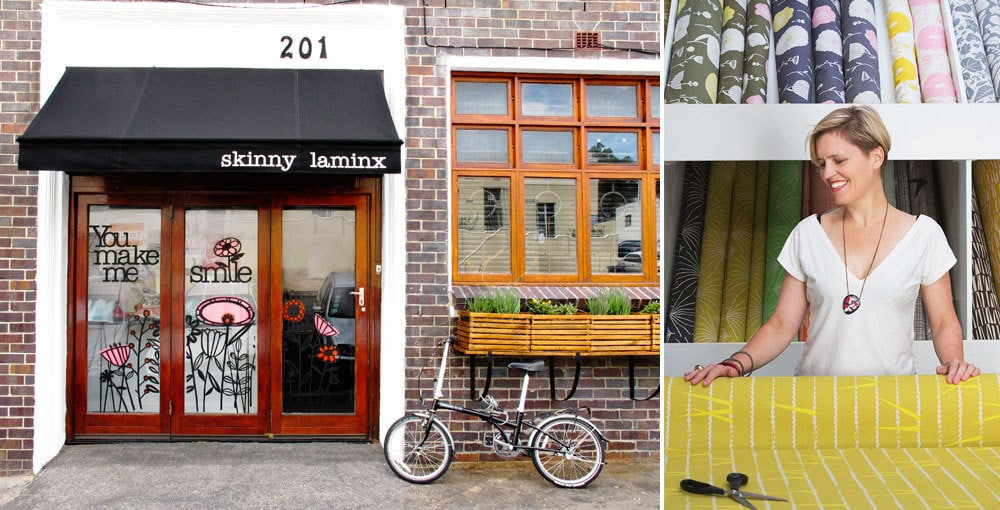 2007: Skinny laMinx, South Africa
Heather Moore had only recently opened her Etsy shop Skinny laMinx in 2007, when Heath Ceramics approached her with a wholesale inquiry. She was surprised that this well-regarded US company had found her shop based in Cape Town, South Africa, where she was printing T-shirts and tea towels as a hobby. Even though her fledgling shop had just a few sales, Heather accepted the wholesale challenge — and it paid off. "This encouraged me to grow and scale," she says. "It's been a great long-lasting relationship." She still works with Heath Ceramics today.
Four years later, Heather opened brick-and-mortar store in Cape Town. Now with a thriving presence online and offline, Heather's printed home goods business has expanded to include a small production team. She designs every item and works with a small group of close collaborators to complete other parts of the process, including screenprinting, fabric cutting and packaging. Reflecting on her business's growth, Heather says she is especially proud that her business is able to generate salaries for her close-knit team — all from something that began as a hobby. "It's quite astonishing to me," she says.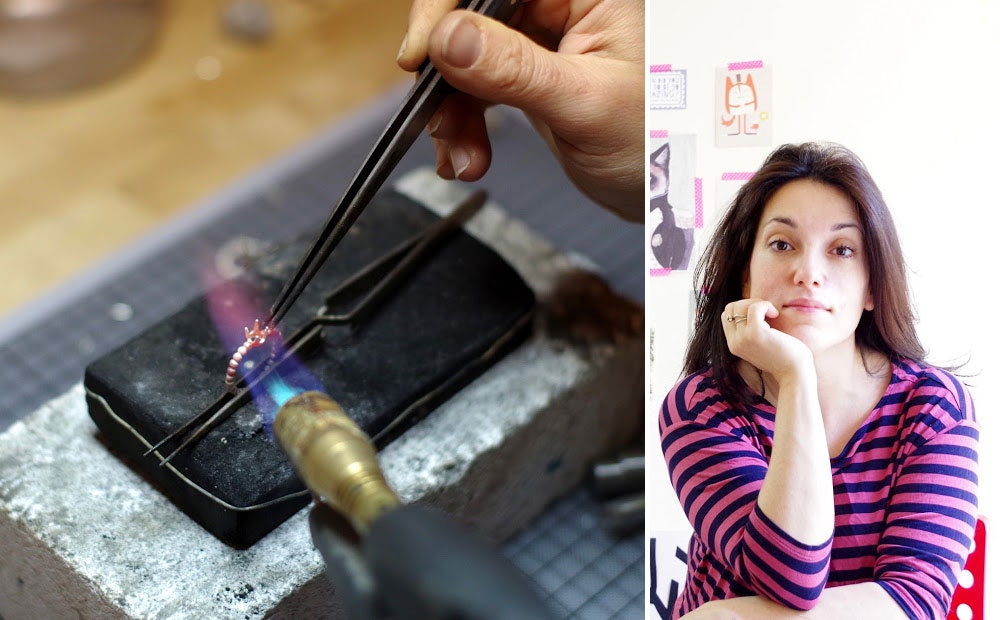 2008: Nafsika, Greece
Nafsika Kokkini started a two-year metalsmithing course in 2005, when her job as a secretary left her with the urge to make something tangible with her hands. After completing the program, she opened her Etsy shop, Nafsika, as an outlet for her new-found jewelry skills. Three years later, when she made her 100th sale, her vision for the business crystallized. "It gave me the courage to continue what I was doing," she says. Her business has since far surpassed that sales milestone. Her key to success? A healthy dose of patience, a refined approach to product photography and a deep understanding of her customers' wants.
Nafsika shares her wisdom with others as the captain of the Etsy Greek Street Team, where she mentors fellow Greek sellers, an experience that she finds very rewarding. "It's not just about selling," she says. "It's about making an impact on somebody else's life." Customers often purchase her flora-and-fauna-inspired pieces to celebrate their own personal milestones, such as marriages. "I feel proud that something I make with my own hands is appreciated by somebody at the other end of the world," she says. Nafsika is currently working toward a new goal: quitting her day job to make and sell her handmade jewelry full-time.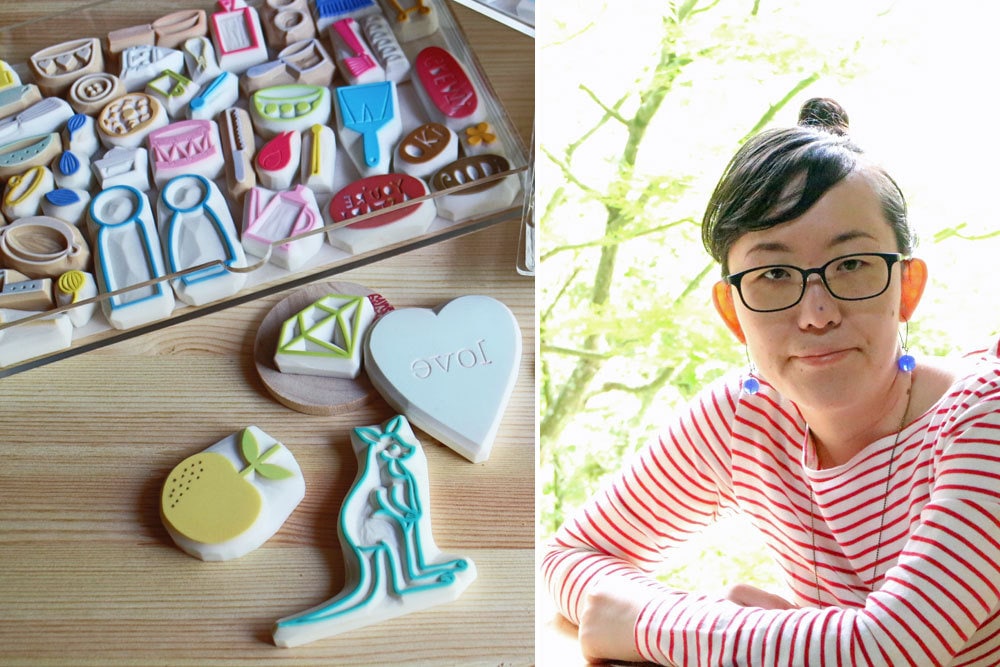 2009: Talk to the Sun, Japan
Working from her home in a farming community in Yamaguchi, Japan, Riyo Kihara spends her days hand-carving smooth white blocks of rubber into hundreds of playful stamps: melting popsicles, heart-topped cupcakes, tiny mushrooms and smiling cats. For Riyo, launching her shop, Talk to the Sun in 2009 wasn't just a creative outlet, it was a way to support herself when she couldn't work outside the home. She had previously worked at a housewares store and at her mother's tea house inside a Buddhist temple. But in recent years, Riyo had to undergo surgeries, which made it difficult for her to get around — or to commute to a job. "My Etsy shop supported my living when I was very sick," she says. "And when I needed to balance my health and my work."
Now on the mend, Riyo loves to make new designs. Keeping up with demand has sometimes been a challenge though. "Some people expect me to be like Amazon," she says. These days, Riyo makes sure to give herself enough time to complete open orders — and to rest — with days off and set operation hours, just like a brick-and-mortar shop would. Receiving handwritten notes from happy customers energizes her. "A customer in New Zealand used my rubber stamps for her wedding," says Riyo. "She wrote to tell me about it and sent photos. That was really special."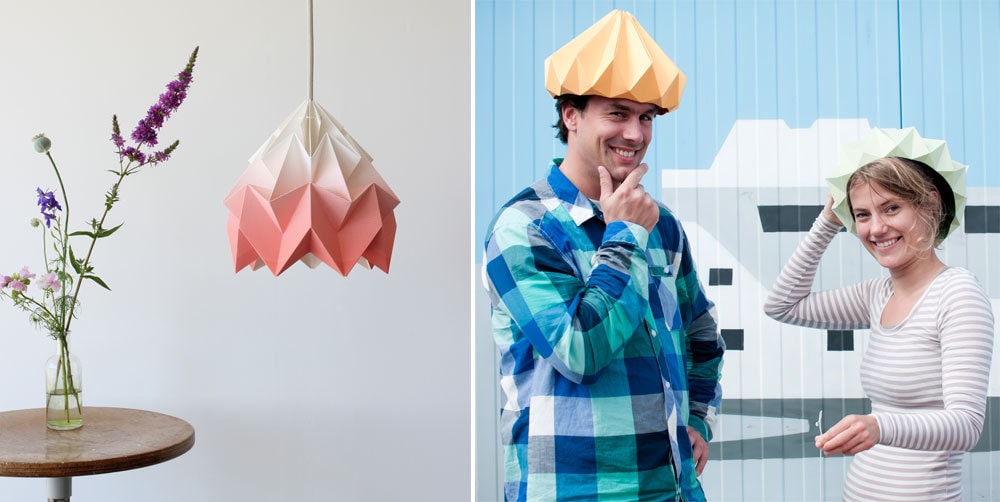 2010: Studio Snowpuppe, Netherlands
In 2010, Nellianna van den Baard decided to leave the architecture world behind. "It was not really my thing," she says. "I wanted to start my own business and make something." Together, she and her husband, industrial designer Kenneth Veenenbos, did just that. Their creation: architectural origami lamps, with shades constructed of carefully folded paper.
The couple launched Studio Snowpuppe in The Hague, Netherlands, with the goal of using natural materials that lend a warmth to the cold light from energy-efficient fluorescent bulbs. "Also, we try to make something that people can enjoy," says Kenneth, "that makes them calm and relaxed."
At first, the couple crafted the lamps completely by hand, but as the business expanded — and Studio Snowpuppe became a full-time job — Nellianna and Kenneth partnered with local woodworkers and other suppliers to help make some of the components. Recent achievements for the couple include getting their products into the museum shop at the Louisiana Museum of Modern Art in Denmark and avoiding conversations about work when they are at home with their 2-year-old son. Most of the time, anyway. "Sometimes you're filled with new ideas," admits Kenneth, "and you really want to share them."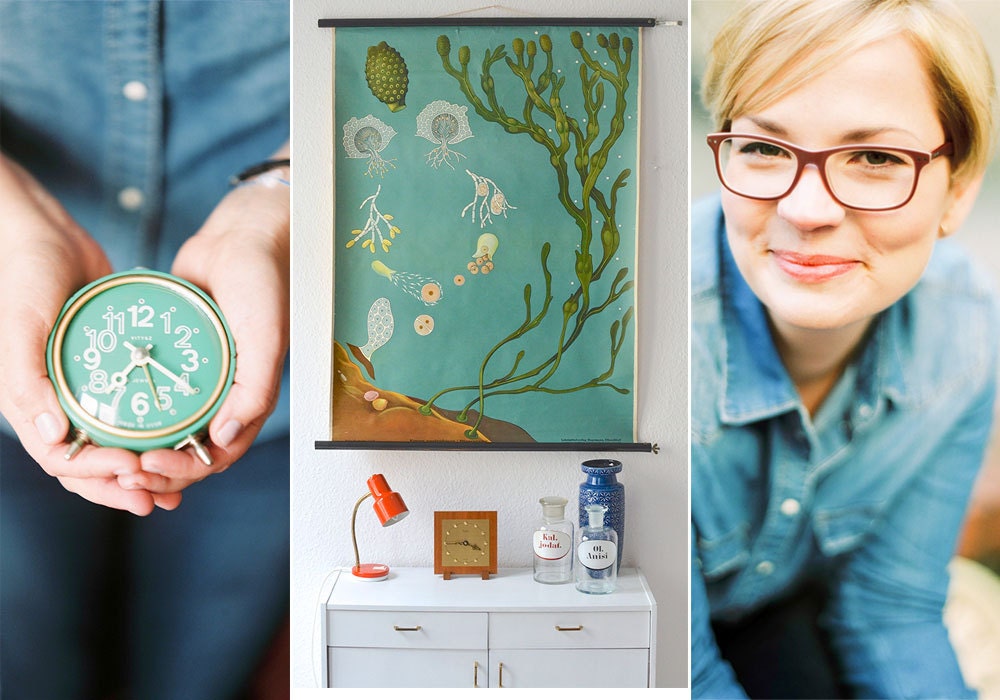 2011: Mighty Vintage, Germany
Growing up in Bavaria, in south Germany, Timea Gremsperger inherited an appreciation for whimsical decor from her mother. "My mom had the weirdest '70s flower patterns," she recalls. "We had them on the wall, the carpet, the window treatments." Timea, who now lives in Berlin, launched Mighty Vintage in 2011. She drives around the German countryside hunting for bold colors and prints at flea markets. Many of her items would look at home on the set of Mad Men: geometric '60s coffee tables, sleek sunburst clocks and flower-covered Pyrex dishes. She rounds out the mix with illustrated botanical charts and decorative Bavarian plates and pottery.Things got serious for Timea in 2013, when she quit her day job as a management assistant at a nonprofit to focus on her shop full-time. She recently took another big step: signing a lease on a larger studio.
Timea is happiest when her items help someone reconnect with the past, "I sell vintage, so I'm a bit nostalgic," she says. "My first year, I sold a baking dish. The lady wrote to me that she had had the same dish for 20 years from her grandmother who taught her how to bake." But the woman had dropped and broken the dish. When she found a replacement from Mighty Vintage, Timea says, "she was beyond the moon."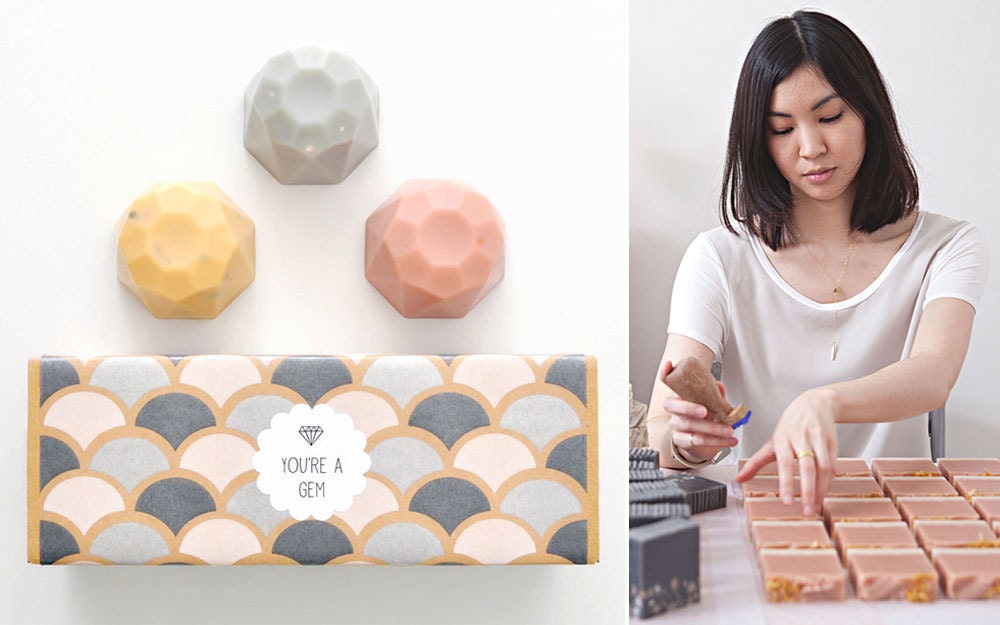 2012: Vice & Velvet, Australia
Soapmaking had been a hobby for Mei Ong since she was a teenager. But it wasn't until she moved to Melbourne to pursue a career as a fashion stylist that she realized it could be a viable alternative to working for someone else. An Etsy shopper since 2007, Mei opened her shop, Vice & Velvet in April 2012. She blends oils, butters and scents to create her vegan products, which include exfoliating body polish, cleansing body whip, moisturizing body mousse and an array of bar soaps. Mei runs her operations from her one-bedroom apartment in Melbourne, Australia. One of Mei's signature products, jewel-shaped soaps that are popular as wedding favors and gifts, originated as a custom order. "It's so fulfilling to be part of someone's special event," Mei says.
Less than a year after Mei opened her shop, she was mentioned in two articles — on the Etsy Blog and in "O, The Oprah Magazine" — which marked a turning point in her business. In 2014, the spotlight was on Mei again, when she won an Etsy Design Award, recognizing Australian designers, in the home and living category. All the attention has made for a lot more work, but Mei is enjoying the ride. "I love being my own boss," she says. "Doing everything yourself is hard, but it's really rewarding. You know you're responsible for your success and failures 100 percent."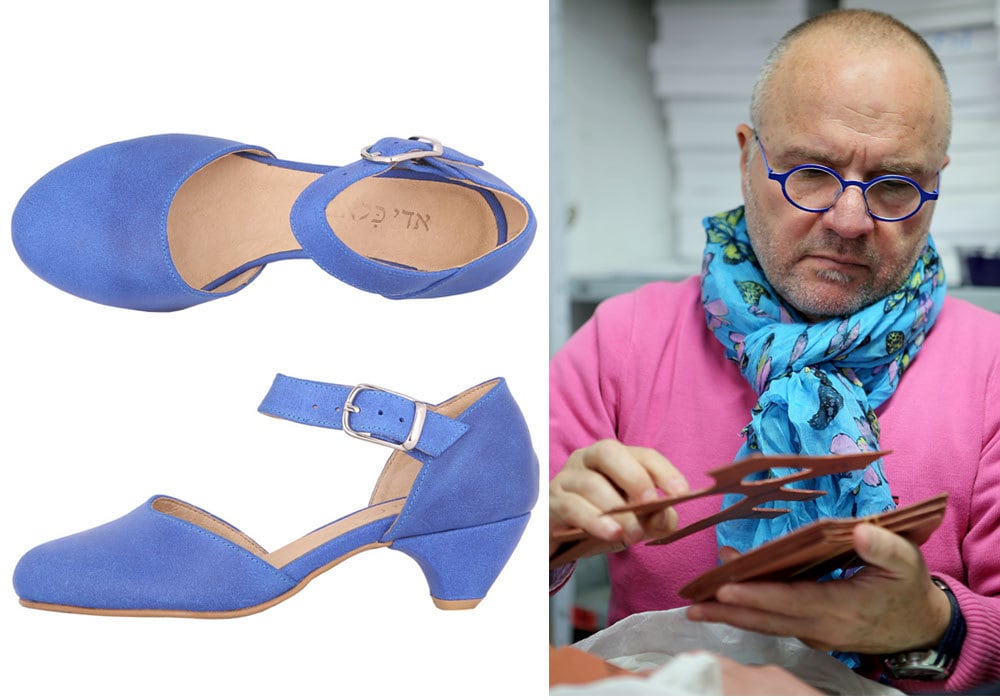 2013: Adi Kilav, Israel
At the age of 40, Adi Kilav decided to pursue an old dream. He returned to school to study shoemaking. Afterward, he slowly built a thriving business from his studio in Jerusalem. Adi quickly went from taking on the occasional custom order to owning three brick-and-mortar shops in Israel. "We offer colors and styles in our shop now that only lived in my dreams before," Adi says.
Initially unsure whether people would buy his shoes online (without the option to try them on first), he sold his first pair of shoes in his Etsy shop, Adi Kilav, in 2013. Since then, Adi has been pleasantly surprised by his plentiful online sales, which helped provide the cash flow needed for his family-run business to grow globally. Adi Kilav shoes have become popular among shoppers in the United States and Canada, and are currently are gaining traction in Europe and Australia. He aims to provide customer service that is as high-quality as his shoes, answering questions with speed and a personal touch. Adi views his customers' satisfaction with his products as essential to his happiness— and success. Also essential? Taking that first big step. "You must follow your dream," he says. "If you do, you will succeed."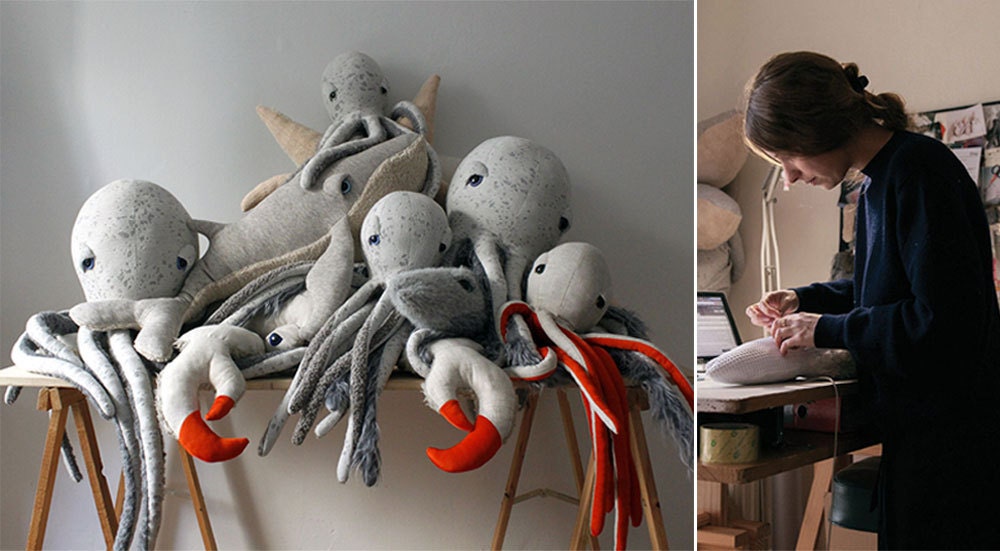 2014: BigStuffed, France
For Dana Muskat, founder of Etsy shop BigStuffed, the delight is in the details. She relishes in the creativity of choosing materials for her oversized plush sea creatures: Is the eye small or big? Is the fur soft enough? Each choice adds to the personality of the pieces. After working with big fashion houses, including Lanvin and Giambattista Vali, she realized she wanted to create something all her own. Dana started her under-the-sea menagerie with a three-foot-long stuffed octopus she made as a gift to celebrate the birth of her niece.
She opened her Paris, France-based Etsy shop in April 2014 and made a few sales in the beginning. She started to take the business seriously when she began making a sale each day. "I'm really proud that something is happening," Dana says. "It's getting big." Dana hopes it will get bigger. She wants to make BigStuffed a lifestyle brand and to collaborate with her contacts from the fashion industry on new products. "I never imagined myself running a business," she says, but she's proud she made it this far. Everyday, her customers motivate her to keep going. "They're so generous with their feedback. It's insane how people will trust you enough to buy something from a picture. I adore the trust the client gives. That's Etsy."
Additional reporting by Taylor Combs, Bobbie Gossage, and Audrey Manning. Photos courtesy of the subjects, unless otherwise noted.
What's your most memorable milestone on Etsy? Share in the comments below, and join in Etsy's 10th anniversary celebration.

Words by Julie Schneider
When Julie Schneider isn't writing and editing, she's carrying on her family's pun tradition, making custom GIFs, or scheming in her cozy art studio. Keep up with her latest projects on Instagram.