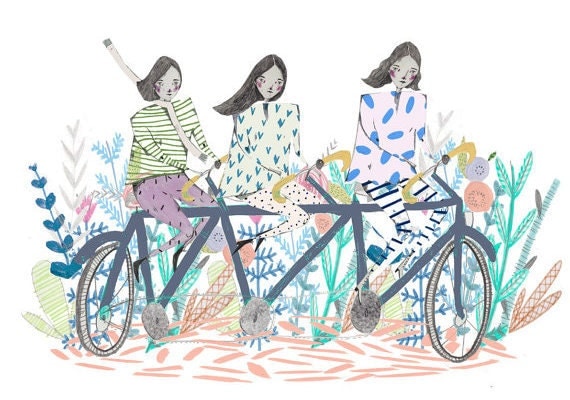 When I launched my Etsy shop, Palmer's Planners, back in 2011, I felt like I was stumbling around in the dark, trying to find my footing. I struggled to write listing descriptions for my digital money planners and take professional-level photos of my products. Meanwhile, I was working hard to pinpoint the right target audience for my shop and develop a smart marketing strategy.
What I was missing, I soon realized, was an online community. In the early days, I didn't have a go-to network of fellow creative entrepreneurs to help lead me into the land of small-business success. Luckily for me, they were out there, just waiting for me to find them. As soon as I did, my shop started growing at the rate I always knew it could. If you're looking to create an online support network of your own, here are six tips to get you started.
1. Join in on the Etsy Forums and Teams.
Visiting the Etsy Forums is like stopping by a virtual water cooler for encouragement and  gentle (but constructive) criticism. The people posting and answering questions there always know exactly where I'm coming from, because they're Etsy sellers, too. I learn so much from reading other member's shop critiques and thoughts on pricing, social media and taking better photos. One forum post, for instance, convinced me to include a discount code with my orders that rewarded people for sharing my shop with their friends. Joining an Etsy Team or attending a local event can be a great way to connect with other like-minded sellers. I love being part of the Made in DC team and learning about what my fellow D.C.-residents are creating.
2. Find experts in your niche.
There's a whole world of creative entrepreneurs out there, but reading through hundreds of blogs can be overwhelming. If you focus specifically on your field, whether it's digital products or crochet, you'll be able to zero in on specific advice tailored to your shop. In my quest for mentors, a Web search brought me to Blacksburg Belle, the website of April Bowles Olin, a creative entrepreneur who offers advice on goal setting, finances and other business matters. Olin's friendly, accessible style appealed to me and I quickly realized she had a lot to teach me, especially about marketing.
I started reading April's blog every day, sometimes leaving comments, and when she released a new marketing guide for creatives, I devoured it. As a result of her advice, to cite just one example, I rewrote my shop description to make it more fun, saying: "I want to break the intimidating world of personal finance into bite-size pieces that melt in your mouth."
3. Take time to develop genuine relationships.
April and I quickly became "virtual" friends. She responded to my Tweets and eventually, a couple of years after our first contact, even wrote about my Etsy shop on her site. None of that would have happened if I had come on too strong at first, or seemed like I was only after the publicity she might give me on her site. In fact, I asked April about this very issue. "The people who are just leaving short comments with a link to something, you can tell they're just trying to promote themselves," she says. "I won't have a good feeling when they contact me." In other words, having friends in your field could help you promote your business, but that should not be the basis of the relationship.
4. Share your experiences, both good and bad.
It always astounds me how much information about their businesses people share online, including failures, marketing strategies and details about how they create products. You can learn so much just by reading someone's blog, Facebook updates or Twitter feed regularly. To become an active participant in your creative community, consider sharing some of your own trials and successes. By doing so, you'll help create resources for other people getting started with their own businesses. People will also have an easier time relating to your story if you acknowledge your mistakes and struggles, as well as your successes.
5. Tap your social networks.
When you write about your shop on social media networks, you might be pleasantly surprised to find other fellow Etsy shop owners in your midst. You can also take a proactive approach by searching for "Etsy" on LinkedIn to see if any of your connections have Etsy shops. Also, keep a look out for Etsy mentions by your friends and followers on Facebook and Twitter.
6. Embrace the competition.
Take a close look at Etsy sellers who sell similar products to your own. Instead of seeing them as competitors, consider them to be among your closest allies in your quest to build a thriving online business. After becoming more familiar with their blogs and social media feeds, consider reaching out to them directly with specific questions about how they built their own business. Chances are good they'll be happy to talk. Also, look to the broader Etsy community for collaboration opportunities. When I was looking for a designer to create my planner covers, a blogger friend recommended Lisa Nelson of My Little Buffalo, an Etsy shop based in Portland, Oregon that sells prints. Now, Lisa designs all of my planner covers. Talk about a win-win.
How do you connect with other creative entrepreneurs on Etsy and beyond? Share your tips below.