Before you know it, fall will be here again, bringing cooler temperatures in many parts of the world, excitement for the fresh school year, and a host of cozy activities to enjoy. To help you prepare your shop, we're sharing our latest round of insights on the products shoppers could be searching for on Etsy next season.
We anticipate that people will savor special traditions and togetherness more than ever amidst larger ongoing uncertainty. Whether this ends up being the year Halloween gatherings return in full swing or outdoor celebrations are solidified as the norm, one thing's for sure: Shoppers will want to make the most of every autumnal moment.
Table of contents
Occasion opportunities
Category insights
How to use this report
The insights here can inspire you to make updates both big and small. Optimize your shop for the upcoming season by:
Getting ideas for new products.
Brainstorming content ideas for your social media promotions.
Updating your photos with on-trend styling.
Refreshing your Shop Banner with seasonal details.
Including seasonally relevant top-searched terms in your tags, titles, and descriptions.
Timing your inventory to take advantage of upticks in relevant searches and in advance of key occasions.
Choosing which listings to promote through Etsy Ads.
Season at a glance
The next several months are full of opportunities to reach buyers as people celebrate Labor Day (in the US), shop for back-to-school items, update their homes with fresh fall decor, stock up on autumnal clothing and accessories, and gear up for Halloween. Etsy Trend Expert Dayna Isom Johnson anticipates a high-energy buzz in the air as shoppers enthusiastically return to activities and customs they may have missed out on in recent years, or create new ones that fit their needs. "People will look to reinvent traditions their way, with personal flair" she says. "Shoppers are ready to think outside the box, and they're welcoming sellers' creative ideas."
Cross-category
Seeking value
Today's shoppers are looking for longevity when they make purchases, especially large ones. Investment pieces made to last offer extra appeal in the face of rising costs and budget concerns. Craftsmanship and quality are especially key for home furnishings and clothing, giving handmade and vintage items an opportunity to shine.
The power of punchy hues
Don't expect shoppers to tone things down too much even as summer winds down. This year's fall season could be unusually colorful, as bright shades show no signs of retreating. We anticipate shoppers will continue turning to bold, playful tones to brighten their homes, closets, and moods.
Academia's allure
Late summer brings a palpable excitement for in-person education and everything that suggests school days, like preppy '90s-inspired fashions popularized by Gen Z TikTok influencers. After years of interruptions, students are eager to get back to the classroom, or channel school vibes in their home learning environments.
Natural charm
Mother Earth and the great outdoors remain a big influence on living spaces, clothing choices, stationery graphics, and more. Between refined rustic styles, the evolution of cottagecore, and the persistent pull of woodland creatures, there are endless ways to tap into this thriving trend.
Soft, soothing edges
Comforting curves continue to resonate across categories, especially Home & Living, through small and large pieces featuring rounded arcs and wavy, undulating lines. Expect to see this aesthetic showing up in kids' and adult furnishings and decor, as well as paper goods.
Occasions
Back to school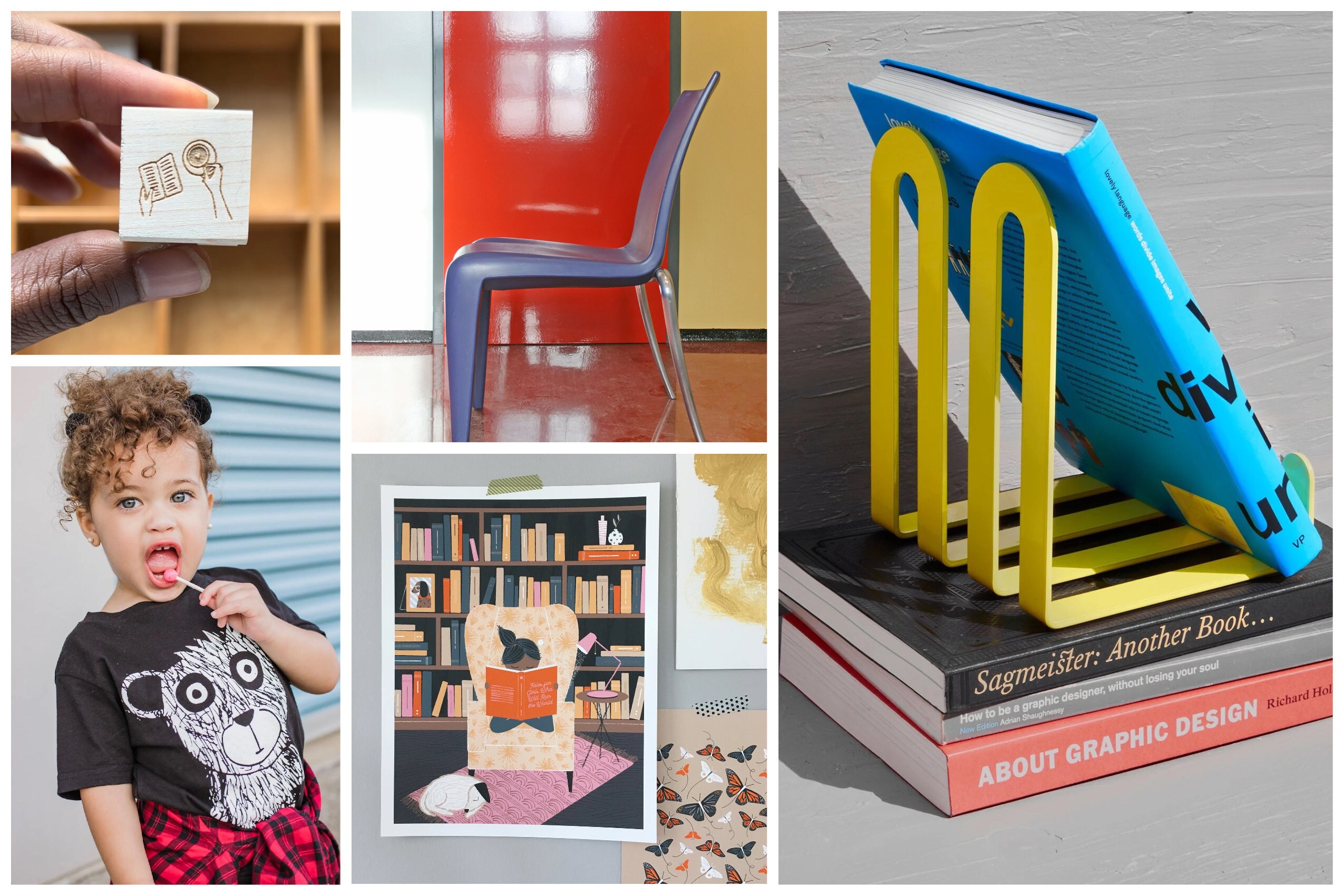 Students are nostalgic for in-person learning, and all the styles associated with it. Collegiate colors and retro classroom designs lead the way for tweens and teens this fall, while bookworm and apple graphics celebrating the love of learning are a go-to for younger kids, showing up on clothing and decor.
Halloween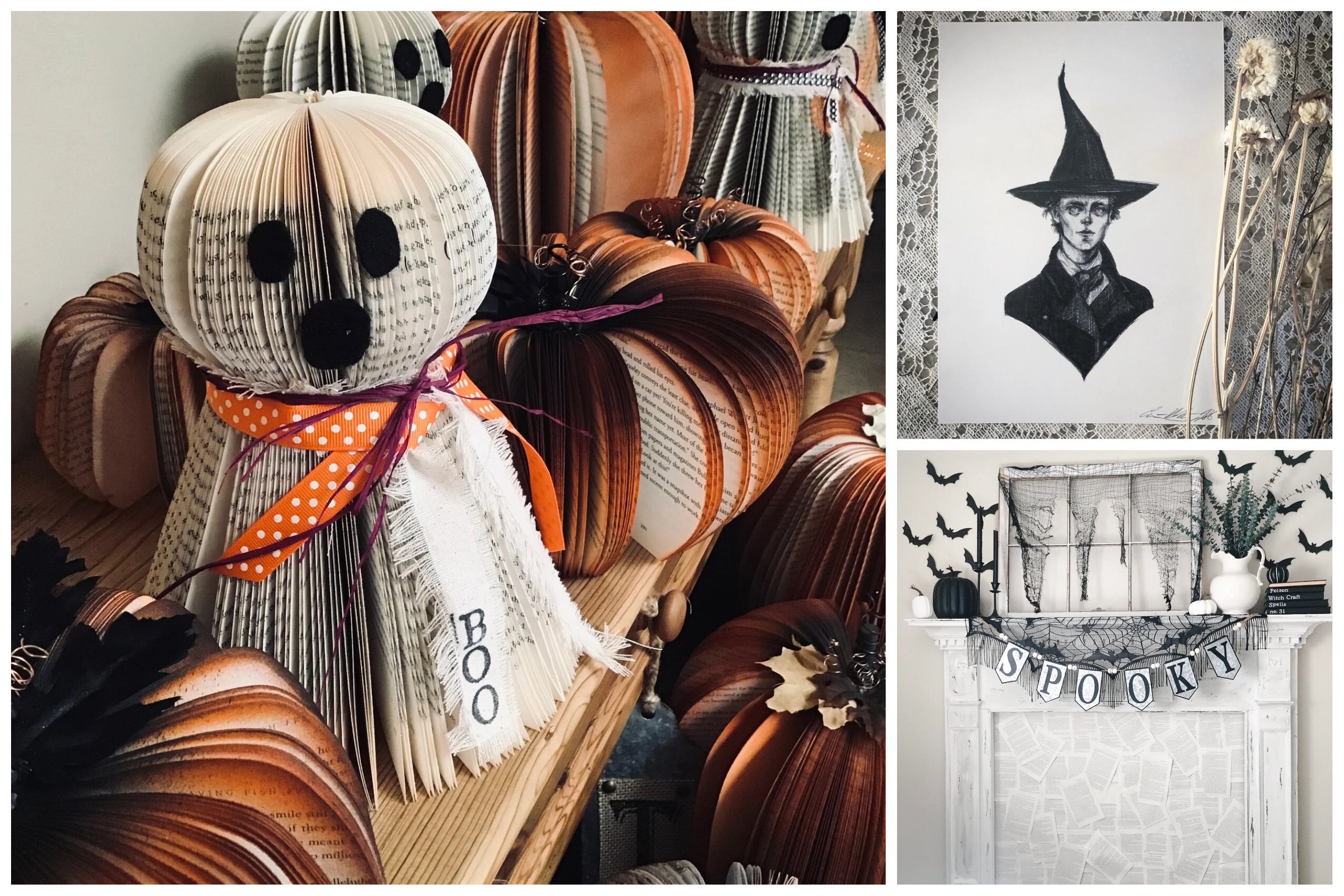 Arguably the biggest event of the season for customers in North America, Halloween offers opportunities to delight shoppers with spooky decor, costumes, and treats. It is gaining popularity in some other markets as well. This year, we're eyeing the following styles:
For a streamlined aesthetic, keep things simple with a fresh, modern palette, swapping out ordinary orange for mango and ginger. Rely on childlike forms using basic drawing and stamping techniques to create cartoonish characters like witches, ghosts, cats, and bats. And keep graphics clean, using all-capital lettering in high-contrast colors.
Embrace nature with foraged finds like branches, while catering to outdoor activities with fire pits and pumpkin carving sets.
Channel the past with vintage-inspired fonts and calligraphy, chalkboard or typewriter prints, and historical witches. Retro-style florals and classic crafts like wood carving add a romantic touch.
Achieve a luxe look by featuring metallics and jewel tones, and rich florals in darker shades. X-ray and transparency effects create an eerie, futuristic feel.
Category insights
The year-over-year (YoY) increases below were calculated by comparing search volume from March through May 2022 to the same period of 2021.
Home and Living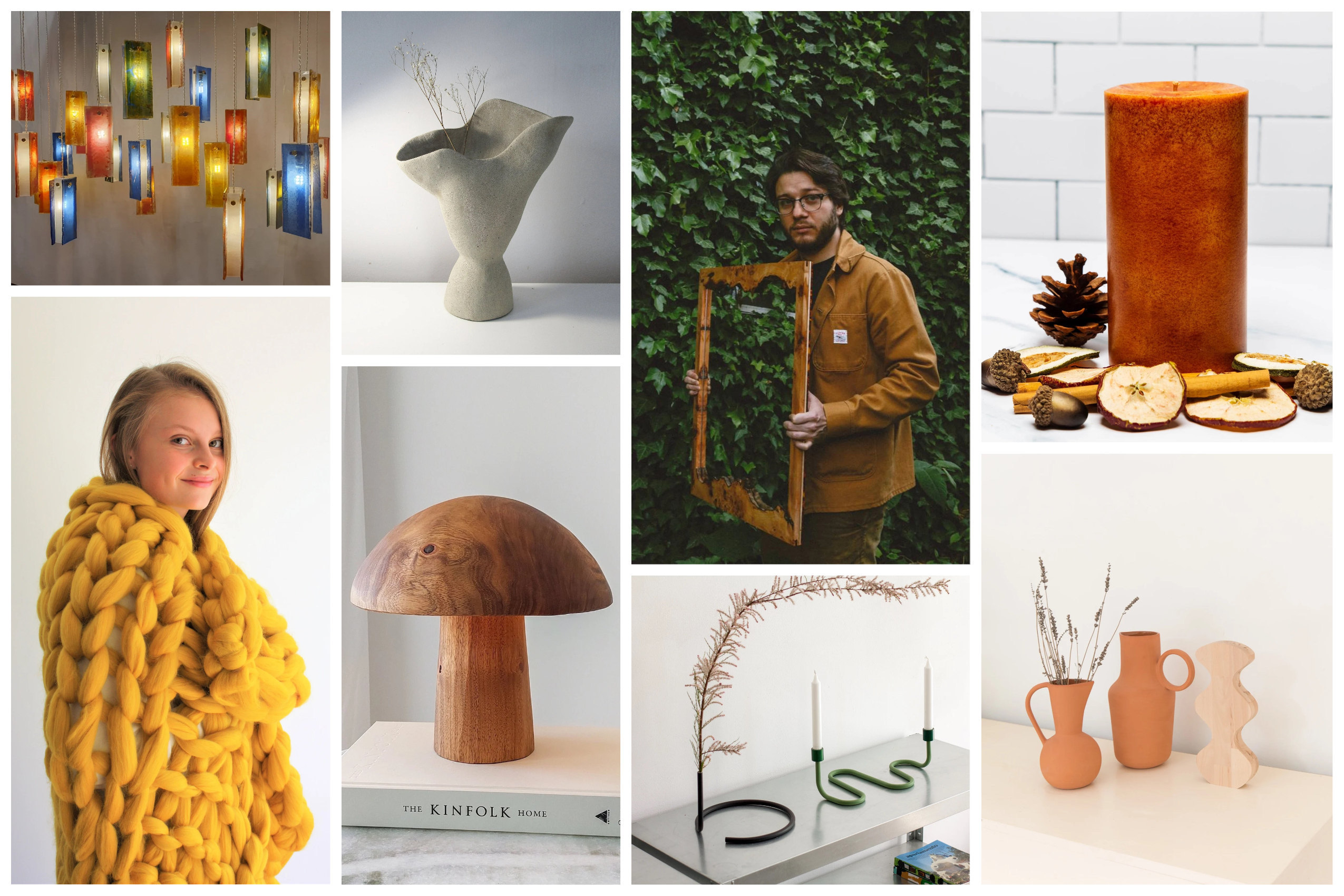 The same key visual themes are at play across rooms for adults, children, and even pets this season. A lot of the trends here create movement within otherwise static spaces, making rooms feel dynamic and lively as they welcome guests and seasonal activity.
A focus on youthful spaces
Even apart from the increase in homeschooling, most children and teens have spent more time at home over the last couple of years than before. Parents are investing in spaces that feel nurturing, soothing, and stimulating for their little ones and adolescents, with an eye for flexible pieces that will evolve to meet their changing needs through the years.
1,988% YoY increase in searches on Etsy containing "bedroom decor teens"
345% YoY increase in searches on Etsy containing "jungle nursery decor"
Bold color
High-energy shades and playful patterns are increasingly popular for interiors. Bright hues make spaces stand out when used in large room-anchoring furniture like couches or smaller eye-catching accessories like vases. Play with mixing color though ombré or gradient effects, and introduce retro geometric prints.
2,044% YoY increase in searches on Etsy containing "colorful planter"
71% YoY increase in searches on Etsy containing "bright wall art"
Cocooning shapes
Rounded edges appearing in furniture and decorative accents remain in demand. Offer shoppers seeking comfort the soft embrace of arching, curved silhouettes, and gently sloped lines. Also still trending: sculptural totem-inspired table legs, vases, and candles.
290% YoY increase in searches on Etsy containing "wavy vase"
Rich brown hues
Earthy tones will abound this season as shoppers trade summer's lightness for coziness come September and look for grounding ways to offset brighter shades. Get inspired by the produce of the season, tasty Halloween chocolate, hot cups of coffee, and the changing colors of leaves.
3,305% YoY increase in searches on Etsy containing "terracotta candle holder"
33% YoY increase in searches on Etsy containing "brown quilt"
Collage elements
Pieced-together creations are inspiring all types of decor, from bedding to table linens and wall art. Consider creative assemblage techniques influenced by quilting, appliqué, paper crafts, and abstract painting. Include visible hand stitching for added tactility and a crafted quality.
3,051% YoY increase in searches on Etsy containing "handmade blanket"
Texture play
We anticipate this 2022 trend to really take off in fall, as cooler temps in many places fuel an appetite for cozy surfaces. Contrast the soft, comforting materials of the season with pops of shiny—even liquid-looking—finishes.
Natural ways in
Outdoor environments are calling, as shoppers spend more time outdoors and continue looking for ways to bring organic elements into their homes. Look to incorporate old-fashioned florals, plant-based fibers, and real greenery, as well as detailed botanical graphics. Explore ways to bring a natural feel to indoor items like furnishings.
346% YoY increase in searches on Etsy containing "rustic coffee table"
Flexible furnishings
Shoppers conscious of budget, space, and environmental impact are looking for products that serve double duty and offer more value for the money. Consider m​odular construction that grows with kids, or packable/foldable furnishings kids can help construct.
Heritage styles
Old-school prep themes resonate in decor as well, especially in teens' rooms and dorm life. Help young people achieve the look with plaids in rich hues and fabrics like wool, warm wood-tone furniture, and keepsake items (like clothing valets) they'll keep long past the semester. For some sentimental flair, incorporate a monogram or two.
3,108% YoY increase in searches on Etsy containing "preppy room decor pillow"
51% YoY increase in searches on Etsy containing "plaid peel stick wallpaper"
Vintage elements
In the same nostalgic vein, shoppers are looking to the past for true value and pizazz. Geometric patterns sourced or inspired by the '70s are gaining steam, while retro furniture construction techniques like caning are picking up in popularity. Try reimagining this look for the season in deeper colors.
1,006% YoY increase in searches on Etsy containing "geometric accent wall"
Dynamic tablescapes
Nothing welcomes house guests like an artfully composed table spread. Help shoppers elevate their hosting game with eclectic, joyful tabletop accessories. Mixing and matching is key here: Show how vintage and new items can work seamlessly side by side.
108% YoY increase in searches on Etsy containing "fancy table cloth"
28% YoY increase in searches on Etsy containing "home table decor"
Camo evolution
We're curious about this latest look for camouflage patterns. It's inspired by nature, including forests, and appears more painterly than military-inspired. Look to wood grains, moss, and the texture of earth flooring for new spins on this classic.
For more fresh ideas, check out Top 5 Home Decor Trends on Etsy.
Was this report useful? Let us know!
Clothing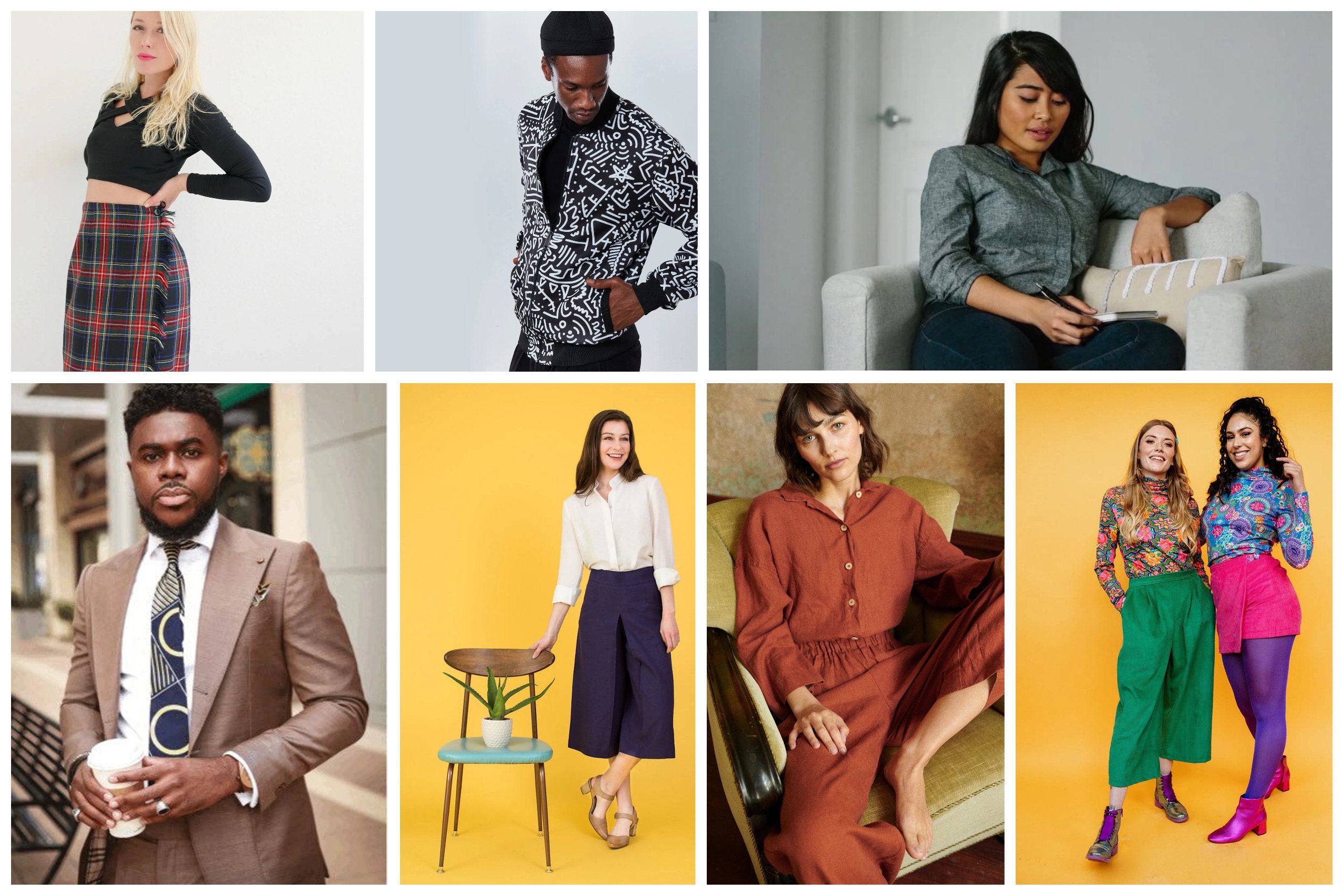 Fall's biggest fashion trends range from light and ethereal layers to tougher, grunge-inspired looks. Fresh-from-the-runway styles include functional staples and daring, dramatic details.
Gender-neutral dressing
We saw Gen Z concertgoers embracing the same festival fashions this summer regardless of gender (think crop tees, pastel sunglasses, and playful accessories), and anticipate this approach to unisex style continuing into winter.
429% YoY increase in searches on Etsy containing "unisex adult clothing"
Formal fun
A return to dressing up is anticipated for fall, with suiting, neck ties, and dresses poised for popularity. Fuller social calendars, cooler weather, and too much time in sweats could have people eager to button up and put their best foot forward.
42% YoY increase in searches on Etsy containing "formal blouse"
19% YoY increase in searches on Etsy containing "silk necktie"
Nine-to-five nostalgia
Whether returning to the office in person or not, some people are longing for the structure of the workday, and even its uniforms. Pinstripes, suiting, waistcoats, and stiffer fabrics like poplin cottons hint at this much-missed dress code, while accessories like glasses, ties, and briefcases deliver retro workplace vibes.
78% YoY increase in searches on Etsy containing "pinstripe blazer"
Playful prep
We're seeing similarly formal styles play out in children's wear, where boarding school approved outfit choices have fresh appeal. Invest in plaid and houndstooth patterns as autumnal alternatives to gingham, and offer fun personalization options like monograms, pins, and patches.
1,050% YoY increase in searches on Etsy containing "boy's briefcase"
167% YoY increase in searches on Etsy containing "preppy shirt"
35% YoY increase in searches on Etsy containing "houndstooth blazer"
Equestrian style
Right in line with these formal and preppy looks, horseback riding aesthetics evoke extracurricular pastimes, athletic skill, and time spent outdoors. Tap into this style with a neutral color palette of white, black, and earth tones. Consider incorporating horses and equestrian motifs into seasonal prints and patterns.
178% YoY increase in searches on Etsy containing "equestrian silk scarf"
Coveted coats
The season's in-demand warm layers include puffers, aviators, and bombers in new fabrics and larger proportions. We're also anticipating interest in biker styles to rise as last year's shacket trend dips. Continue stocking the classic trench, and freshen the moto jacket with a more generous cut.
High-octane colors
Dopamine dressing remains a key trend even into the colder months, with interest in pink, red, and purple all slated to rise.
Visible corsetry
Regency-era fashions continue to thrive, this time with a grunge twist. Fall/winter runways featured models wearing corsets on the outside of dresses, suits, and coats. Consider pairing with a slip dress for a '90s spin. Another layering trend to watch: dresses worn over pants.
58% YoY increase in searches on Etsy containing "regency corset"
Bold prints
Trade delicate ditsy florals for large-scale abstract blooms, or even three-dimensional flowers. Take animal prints in an aquatic direction with watery blue backgrounds, and look to the '70s for geometric pattern ideas.
Revamped basics
The white tank was a star of Fashion Month thanks to its versatility and the addition of logos. Invest in perfecting quality essentials shoppers can build their wardrobes around season after season.
Floor-skimming styles
Longer lengths ruled runways including duster coats, maxi dresses, skirts, and trousers. Show off this element by capturing how extra fabric gently pools at the bottom cuffs or hem of a garment.
203% YoY increase in searches on Etsy containing "long coat"
Sheer and shiny
Shoppers are seeking a little sparkle this season with pieces that channel the spirit of nightlife. Stock a few items that shimmer thanks to sequins, beading, or satin fabrics.
40% YoY increase in searches on Etsy for sequin clothing
Was this report useful? Let us know!
Jewelry & Accessories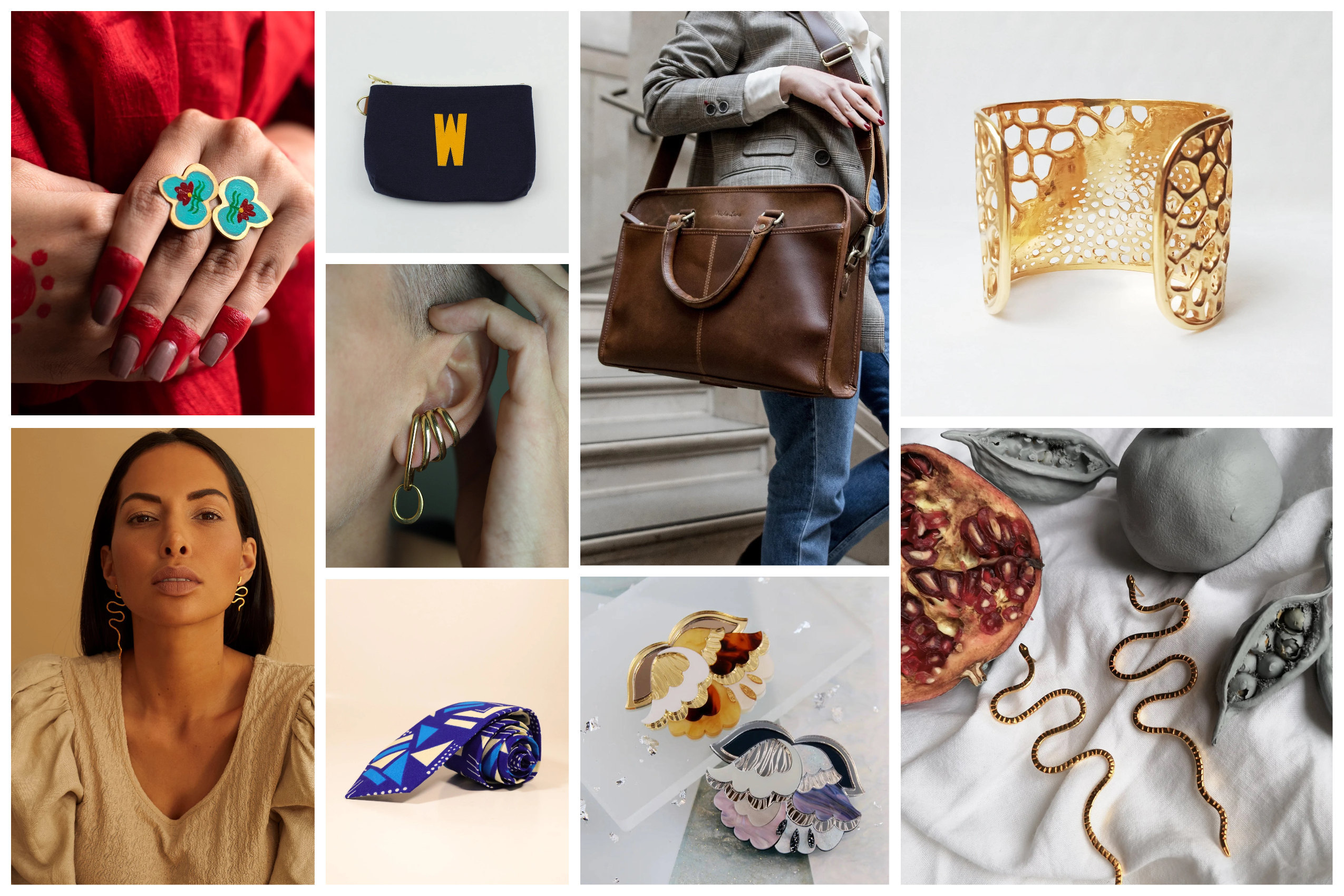 Jewelry moves beyond the staples into less popular subcategories and a more maximalist direction, with items like ear cuffs, bracelets, and brooches competing with rings and necklaces for attention.
The choker
Now rivaling the classic chain, this increasingly popular style is arguably the season's "it" item. Feel free to get creative here and explore light materials like fabric that can be embroidered, beaded, or shaped into collar-like forms. Styles to watch include stacking pearls, three-dimensional flower elements, and the incorporation of heavier jewelry hardware.
618% YoY increase in searches on Etsy containing "satin choker"
Bring on the rings
Moving beyond cocktail ring territory, the freshest ring designs come offered in sets and play with larger-than-life proportions. Focus remains on pearls and crystals, while stones in the blue and green family gain steam. Consider featuring jade, turquoise, or lapis.
1,298% YoY increase in searches on Etsy containing "floral signet ring"
Bold bracelets
Prime playing ground for creative expression, the wrist comes into the spotlight this season. Offer single statement pieces or sets designed for stacking, reserving a spot for watch straps in metals, including gold. Bangles take on bold proportions and materials, featuring metals and crystals with a futuristic feel. Sculptural shapes mix with resin, enamel, wood, and upcycled materials.
324% YoY increase in searches on Etsy containing "clay bracelet"
Eclectic ear sets
Asymmetry and collage are key contributors here, as ear sets are elevated to work-of-art status. Anything goes when creating a stack, including ear cuffs, drop earrings, and studs. Consider pieces meant to be seen from all angles, and personalized details for a custom look. Allow shoppers options for assembling their own sets, with choices featuring details designed to be mixed and matched, like pearls, crystals, connecting chains, and gemstones.
46% YoY increase in searches on Etsy containing "ear cuff dangle"
Brooch beauties
Vintage sellers, take note. Shoppers looking to reduce their environmental impact may seek out antique or vintage brooches instead of purchasing something new for the fall season. Source in beaded, pearl, and large-scale floral varieties. Consider selling in sets made for being worn together, or explore sculpting brooches from recycled metals and other materials.
178% YoY increase in searches on Etsy containing "pearl brooch pin"
Animal magnetism
Accessories are being adorned with unexpected animal shapes. Consider how snakes, lizards, or more playful pet pups can inspire hardware like bag handles, glasses frames, or shoe buckles.
84% YoY increase in searches on Etsy containing "snake pendant gold"
Repurposed relics
Upcycled stones, metals, and charms (from antique treasures, mid-century styles, or even '90s fashions) appear in new contemporary forms and appeal to shoppers looking to shop more eco-friendly by purchasing items with repurposed materials.
391% YoY increase in searches on Etsy containing "gold vintage charm bracelet"
Shimmer and shine
As the holiday season beckons, expect shoppers to put on the glitz. Offer up glamour with crystal mesh and chunky pavé chains.
143% YoY increase in searches on Etsy containing "crystal bead bracelet"
Statement-making handles
This handbag hardware trend has vintage purses to thank, and many bag makers are even incorporating genuine upcycled handles into their creations. Add interest with wavy, winding, or asymmetrical shapes. Scalloped edges and beaded embellishment up the retro feel.
Class-ready accessories
Campuses are calling, and we're anticipating a lift in the popularity of preppy items like ties, backpacks, messenger bags, and argyle socks. Items in primary colors have classic appeal.
Modular momentum
The flexibility shoppers have recently come to require shows up in adaptable accessories. Keep versatility, practicality, and longevity top of mind as you design, with the goal of making pieces that can evolve with shoppers' needs. For example, consider detachable pockets, tech holders, or waterproof finishes made for tough weather.
Was this report useful? Let us know!
Paper & Party Supplies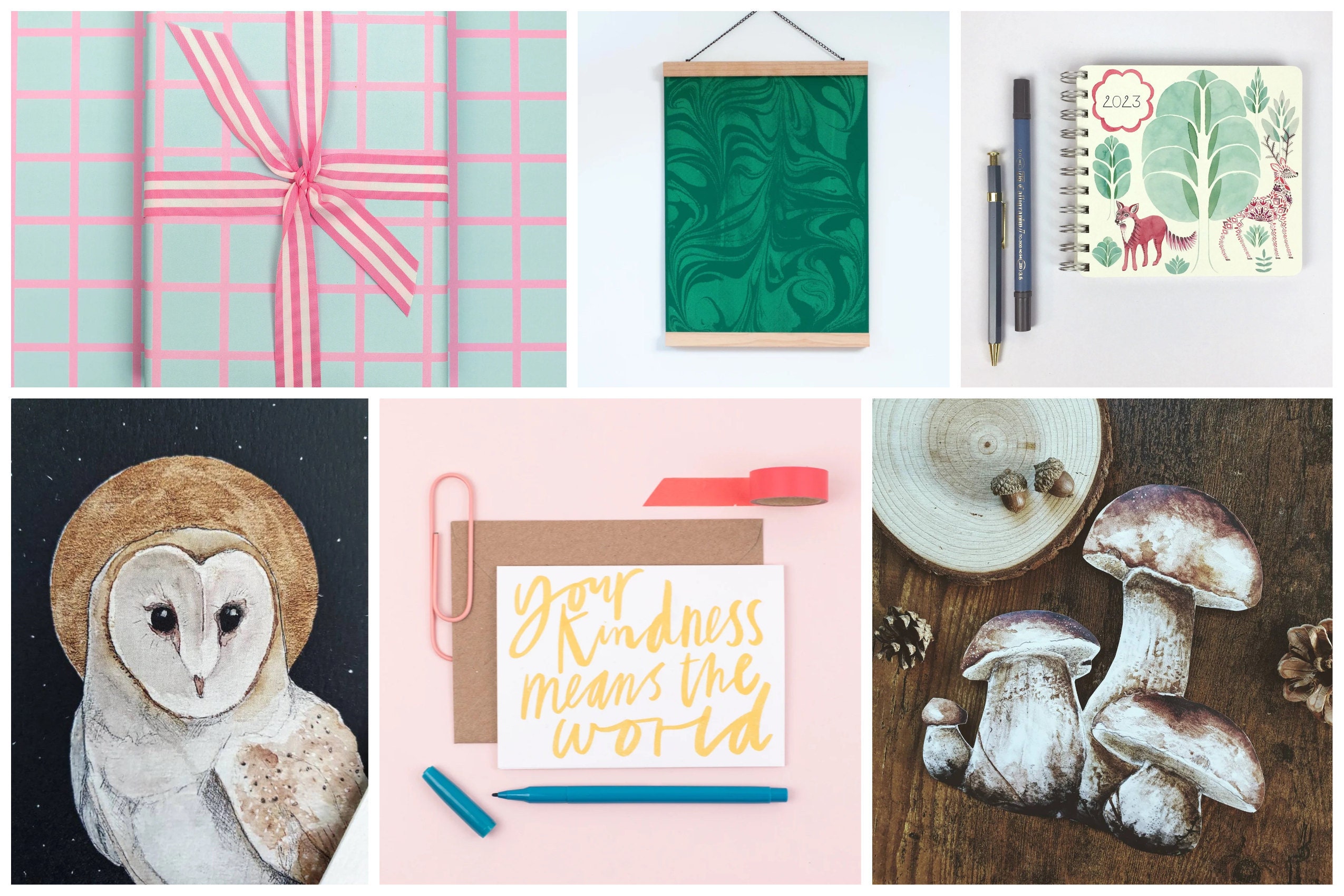 Fall is full of reasons to stock up on paper goods, whether it's school supplies (for classrooms or at home), cards for teachers, autumnal fall activities and decorations, or items for Halloween fun. It's a time for going bold and offering small items big on design.
Surrealist styles
How about a digitally inspired palette? The possibilities of virtual worlds influence colors for the season, refreshing fall's typical shades with surreal metallics and jewel tones. Explore ombré and filtered-light effects, as well as dynamic liquid-like surfaces created with marbling, wavy, and rippled graphics.
1,962% YoY increase in searches on Etsy containing "abstract marble art"
Luxe industrial
Give paper goods an edge by focusing on hardware details, like the metal in a spiral notebook. Metallic touches elevate the ordinary, while the mixing of brushed matte and high-shine finishes keeps things interesting.
Grid graphics
Reminiscent of early computing and nostalgic '80s colors, this trend is prime for stationery and small paper goods, including back-to-school items. These grids aren't just made of straight lines. Try incorporating wavy shapes and warping effects for a retro-futuristic feel.
Words of encouragement
Shoppers looking for hope could seek out positive affirmations in the form of reassuring wording. Consider feel-good sentiments that are evergreen or can speak to this particular moment. Self-care, kindness, gentle optimism, finding comfort in nature, and sensitive sympathy gestures are big themes here.
14% YoY increase in searches on Etsy containing "kindness card"
Homegrown varieties
Introduce hand-embellishment that feels DIY for an intimate, one-of-a-kind feel. Embroidery stitches, collaging, and hand lettering create this effect, while space left for buyers to customize or complete the piece offers extra appeal.
Natural wonders
Forest fun: Leaves appear as silhouettes or within lush wooded landscapes. Pay attention to detail like veining and branches, and use shadow to make plant life look vivid and alive. Go beyond leaves by focusing on bark texture and tree stump rings.
64% YoY increase in searches on Etsy containing "forest birthday invitation"
Realistic renderings: Intricate detailing elevates natural subjects from cartoonish to distinguished. The key here is to embrace imperfection by resisting symmetry and order in favor of more naturalistic patterns. Incorporate botanicals and foraged elements either as design inspiration or actual materials. Think pressed flowers, scans of leaves, and lifelike illustrations.
Overgrown garden: Spring and summer's gardens get lusher and a bit wild for the new season. Outdoor escapes: Scenes of rustic getaways captivate shoppers looking to nature for comfort and excitement.
Motifs of the moment
Autumn harvest: Seasonal produce like root vegetables, radishes, and pears freshen pumpkin themes.
Plaid: Try this richer take on gingham for fall.
Friendly witches: Introduce in modern or vintage styles.
Botanical fungi: Replace cartoonish toadstools with more precise, detailed versions.
89% YoY increase in searches on Etsy containing "mushroom party"
Folksy deer: Hand-drawn elements give this woodland classic a fairytale feel.
50% YoY increase in searches on Etsy containing "deer baby shower invite"
Charming cottages: The cottagecore trend turns its focus on cozy home structures.
Was this report useful? Let us know!
Craft Supplies & Tools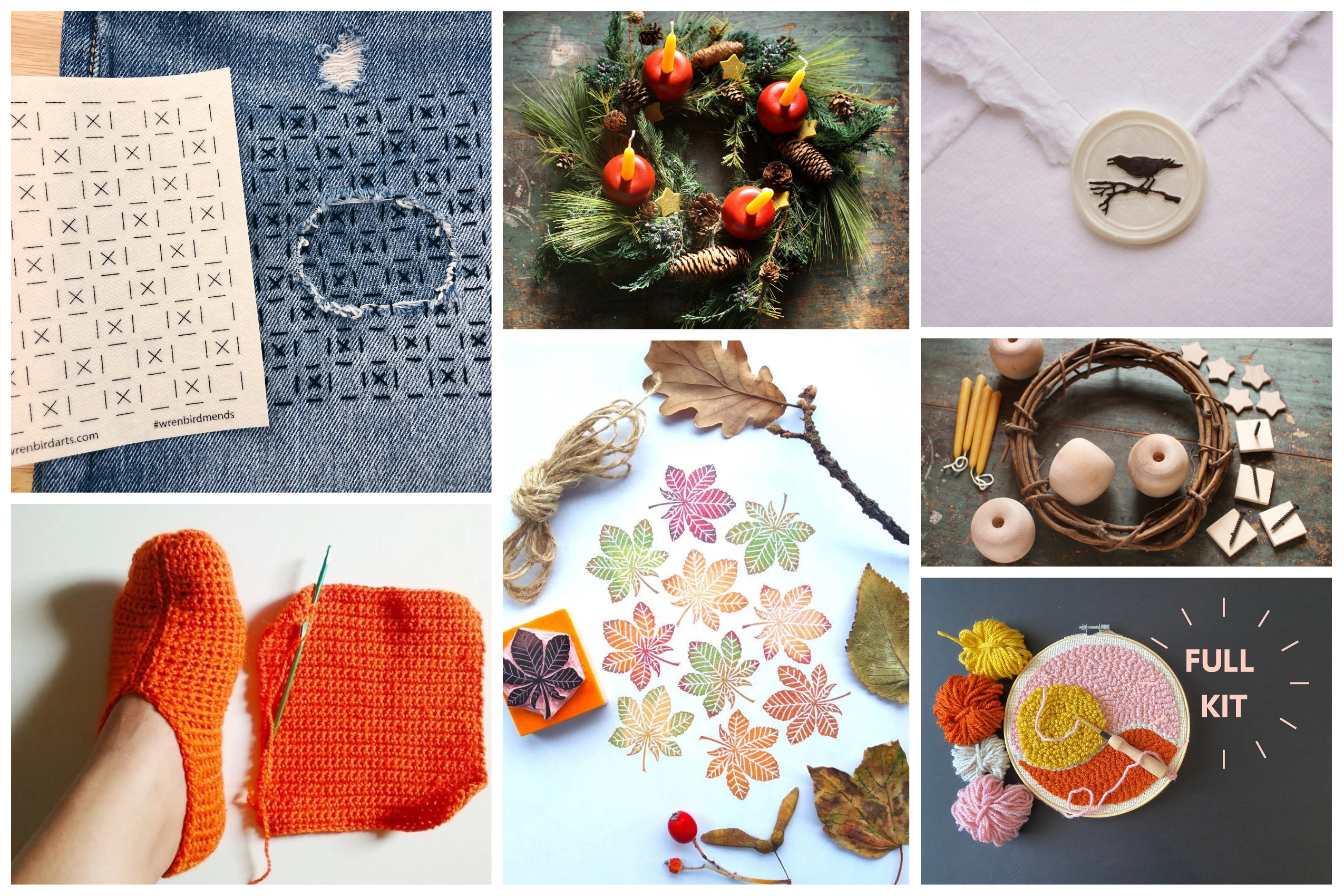 With its back-to-class energy and emphasis on the home, September challenges shoppers to get crafty. This time of year, we typically see an uptick in traffic for indoor hand crafts like knitting, while DIY preparations for Halloween start to rise.
Cozy crafts
Searches related to knitting, crochet, and textural artforms like tufting and punch needle are set to spike this fall in keeping with the usual shift towards colder-weather crafting sessions and early holiday gift making.
931% YoY increase in searches on Etsy containing "crochet pattern boho"
Paper party
Help shoppers navigate busier days with calendars and other practical paper needs. We're seeing particular interest in DIY stationery kits featuring stamps and wax seals.
92% YoY increase in searches on Etsy containing "black wax seal"
Vintage gems
We've noticed an uptick in searches for vintage sewing patterns, often available as digital downloads. Consider offering across crafts, including fiber arts like knitting.
Small-scale satisfaction
Appeal to beginners by offering projects that can be tackled in a single afternoon. For example, DIY bookmarks are a perfect vehicle for learning simple hand-embroidery techniques.
105% YoY increase in searches on Etsy containing "cross stitch pattern bookmark"
Found materials
Encourage shoppers to forage outdoors or upcycle objects they already own. Kits which require kids or adults to get out in nature could be extra enticing as crisp fall air, falling leaves, and vibrant colors beckon crafters outside.
Hands-on home upgrades
People are optimizing their living spaces one DIY step at a time—especially when contractors are hard to find. Offer kits, plans, and materials for upgrading rooms like the bathroom or kitchen.
Denim DIYs
Sustainability-minded shoppers don't have to give up their beloved blue jeans thanks to upcycling opportunities. Offer used-denim fabric, kits, and patterns. Consider popular '90s and Y2K cuts, and reworked accessories like hats, belts, sneakers, and tote bags.
37% YoY increase in searches on Etsy containing "denim fabric yard"
Was this report useful? Let us know!
Weddings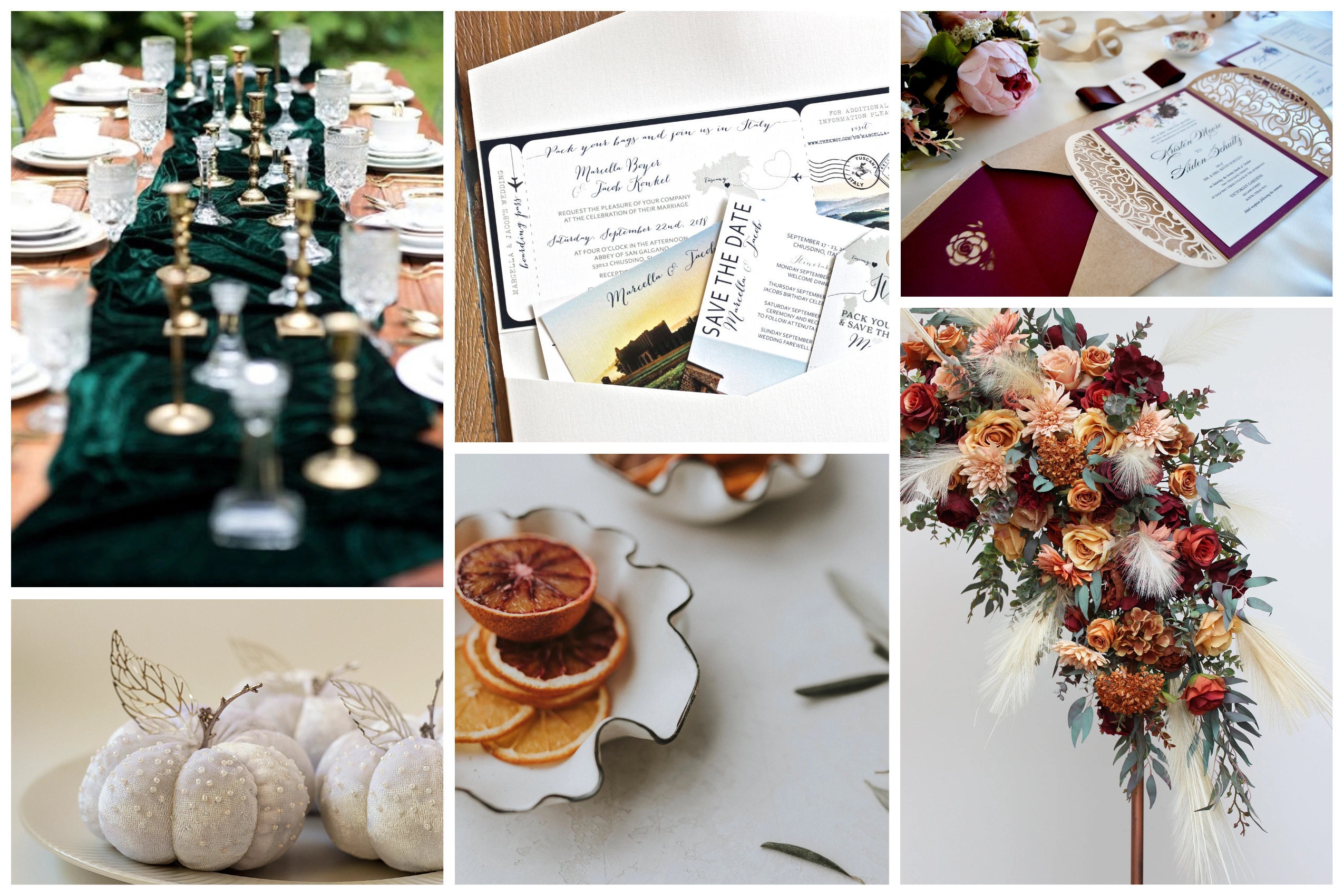 As invitations start filling mailboxes again, weddings are becoming more individualized than ever. Forced to rethink and reschedule their nuptials over the last two years, couples are planning events that reflect their unique personalities and priorities.
Fall romance
Why not embrace an autumnal color palette, dried flowers, fresh foliage, and touches of gold? Channel the drama of the season with rich hues and some sultry metallics.
Texture
On everything from dresses to cakes, dimension and touchability will be key. Incorporate rough natural elements to contrast slicker surfaces.
For keeps
Today's wedding guests are seeking heirloom-worthy gifts that can be cherished and passed down to future generations—but that couples will actually use. Keepsake boxes designed to preserve items like bouquets are practical and sentimental.
Custom tokens
Hyper-personalized items stand out as wedding gifts, accessories, and decor. Think about products that will make the day more special, like thoughtful in-memory charms of lost loved ones for a bride's bouquet, or a framed art print based on the couple's first dance song.
7,338% YoY increase in searches on Etsy containing "wedding song lyric gift"
Sculptural florals
Going along with the texture trend, expect autumnal bouquets to take on new and evolving shapes. Consider flower bunches of all sizes, from single bold stems to small tasteful clusters and statement-making oversized masterpieces. Embrace the irregularity of organic forms.
568% YoY increase in searches on Etsy containing "bridal bouquet cascade"
Gatefold wedding invitations
We're seeing an uptick in searches for this style of stationery. Maybe it's the drama of the big reveal that has couples smitten? Add to the formality with a gauzy layer of vellum embellished with additional lettering or floral designs.
122% YoY increase in searches on Etsy containing "gatefold wedding invitation"
DIY details
Rising prices could result in couples taking on more aspects of wedding planning themselves, like invitations, flower arrangement, and other decor. Offer practical solutions for brides and grooms looking to tie the knot in style while watching their budget.
557% YoY increase in searches on Etsy containing "printable table numbers"
Travel-inspired events
Couples craving a getaway minus the logistical nightmare are looking to create destination wedding vibes close to home. Help them bring their dream nuptial setting to their guests with a little wanderlust. We've seen searches for passport-inspired wedding invitations, beachy favors, and tropical decor all rise recently.
Was this report useful? Let us know!
Vintage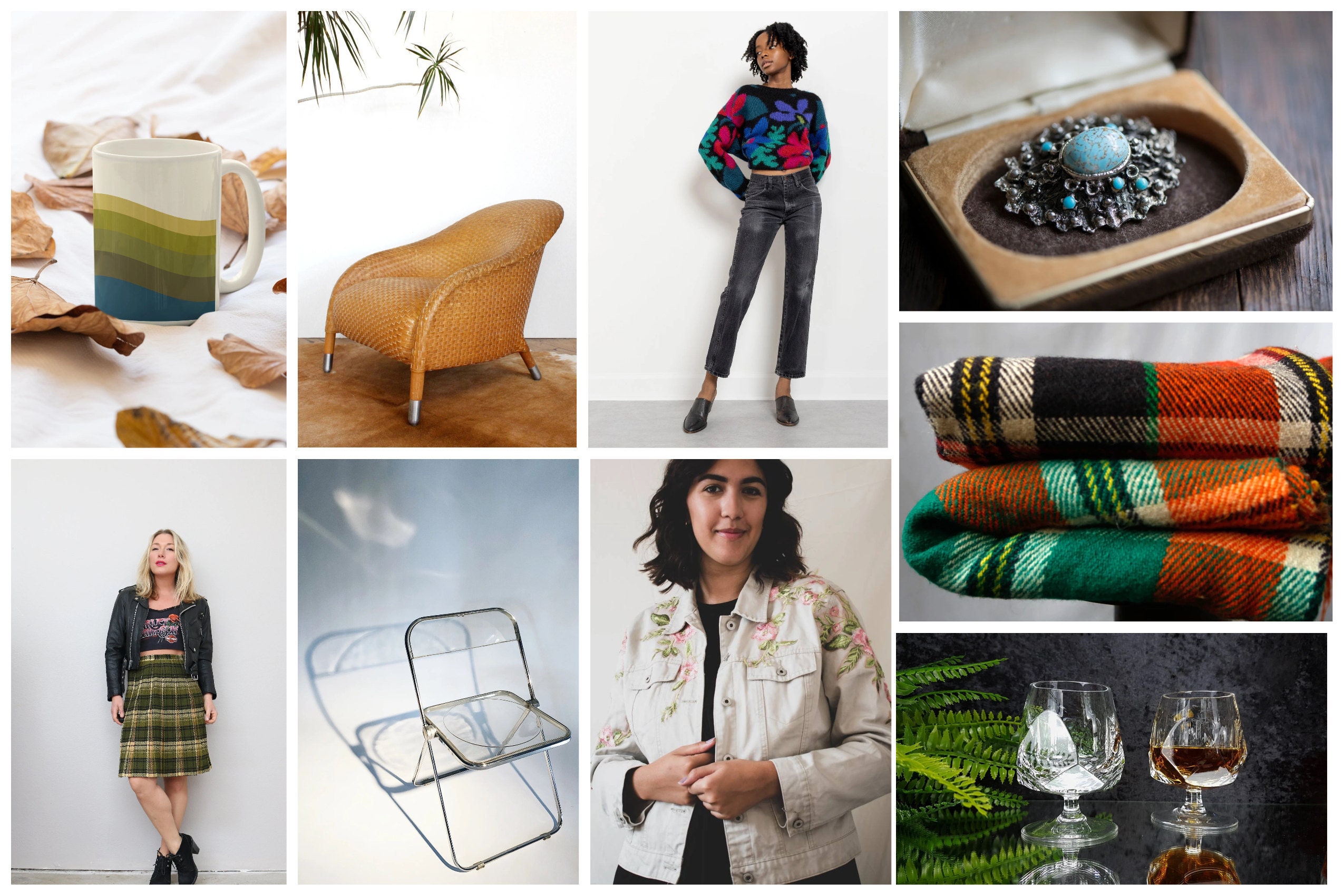 Vintage demand continues to grow as shoppers look to make more sustainable choices, experience nostalgia for the past, and express their individuality by curating a blend of eclectic styles from their favorite eras.
Furniture
Vintage furnishings satisfy shoppers' longing for the past and for avoiding long production delays, and are especially popular among millennials trying to reduce their environmental impact. Curating pieces from different eras into a custom mix can be a source of pride, with vintage pieces offering a uniqueness and potential for creative self expression not easily obtained by mass-produced furniture.
200% YoY increase in searches on Etsy containing "console table vintage"
Mid-century remix
Give this go-to home decor style a refresh by focusing on items in bright cheerful colors and bold geometric patterns. Inspire shoppers with eclectic tastes to mix and match with other eras by photographing alongside items from different time periods.
230% YoY increase in searches on Etsy containing "mid century modern lamp"
'70s splendor
The decade of the moment when it comes to all things home, the '70s recall free-spirited fun, colorful self expression, and natural boho beauty. Capture this essence with bamboo furniture, earthy burl wood, and amber-tinted glass. Elevate the look with high-shine lacquered surfaces, iron, and stone. Other neighboring eras to watch: the '60s, '80s, and '90s.
'90s and Y2K fashions
These later decades run the show when it comes to style inspiration, influencing clothing and accessories especially among Gen Z shoppers. Look to grunge styles, baby tees, hoodies, and sunglasses as key items. We're also starting to observe more interest around Y2K home decor.
680% YoY increase in searches on Etsy containing "crop top y2k"
Tabletop and hosting essentials
Vintage pieces are welcome at the table this season, as eclectic, well-worn originals appear alongside newer platters, dinner plates, and serving ware. As gatherings multiply through the season, shoppers can take pride in crafting warm and welcoming tablescapes for their guests.
71% YoY increase in searches on Etsy containing "napkin holders vintage"
Beautiful brooches
Set to shine this fall and winter, brooches are standouts of the approaching festive season. This year, expect to see shoppers incorporating vintage originals into their holiday looks, as well as pieces crafted from upcycled pre-owned metals, stones, and charms. Consider curating pieces featuring large floral shapes, sculptural forms, and multi-piece sets.
Old-school flavor
The larger allure of academia is magnified when paired with vintage vibes. Shoppers will be on the lookout for studious essentials and retro classroom styles. Think heritage plaids in warm wools, bright learning tools in classic primary colors, and monograms on clothing or accessories.
Pre-owned denim
Nostalgia for vintage cuts and washes remains strong, especially for kids and teens, who may view it as a less wasteful alternative to buying new jeans. Keep wider cuts, '90s silhouettes, and Y2K styles in stock, while experimenting (or selling used denim scraps for) creating recut styles and pieces featuring patches and personalization.

Words by Audrey Manning
Audrey Manning grew up in Brooklyn, just blocks from the Etsy office. When not writing educational content for sellers, she can be found knitting for her Etsy shop, abrooklynheart. Keep up with her on Pinterest.