After another unusual year, shoppers want to start 2022 right, and with intention—be it via an organizing task, starting a new hobby, or paying more attention to self-care. Many people are looking to establish new routines based on shifting priorities, and they're seeking the items that bring them calm, purpose, and delight. When we asked Etsy Trend Expert Dayna Isom Johnson to describe her prediction for the new year, she said, "2022 will be about finding balance in all aspects of our lives," pointing to the Swedish philosophy of 'Lagom,' which loosely translates to "not too much, not too little." "Shoppers are expected to strive for something in that sweet spot, something just right," Dayna says. "From how we spend our time to the purchases we make."
Help shoppers out with well-crafted or carefully-curated items that make meaningful gifts or provide a reason to pause—with a personalized planner, aromatic candle, nostalgic '90s style, or soothing home decor, for example. Many shoppers are thinking about updating their basics and necessities, being more thoughtful about their purchases, and renewing a sense of optimism into their everyday lives.
How did we get here? Let's take a peek back at 2021's top trends. We saw shopping themes influenced by the natural world, a greater need for connection and meaning, and a resurgence of hosting traditions. People refreshed their homes, leaned on thoughtful gifts, and sought out custom details. "Personalized gift," "wall decor," and "gift" were the top-searched terms on Etsy in 2021 thus far, followed by "Mother's Day gift" and "Father's Day gift."
Here's a snapshot of the key shopping themes that emerged in 2021.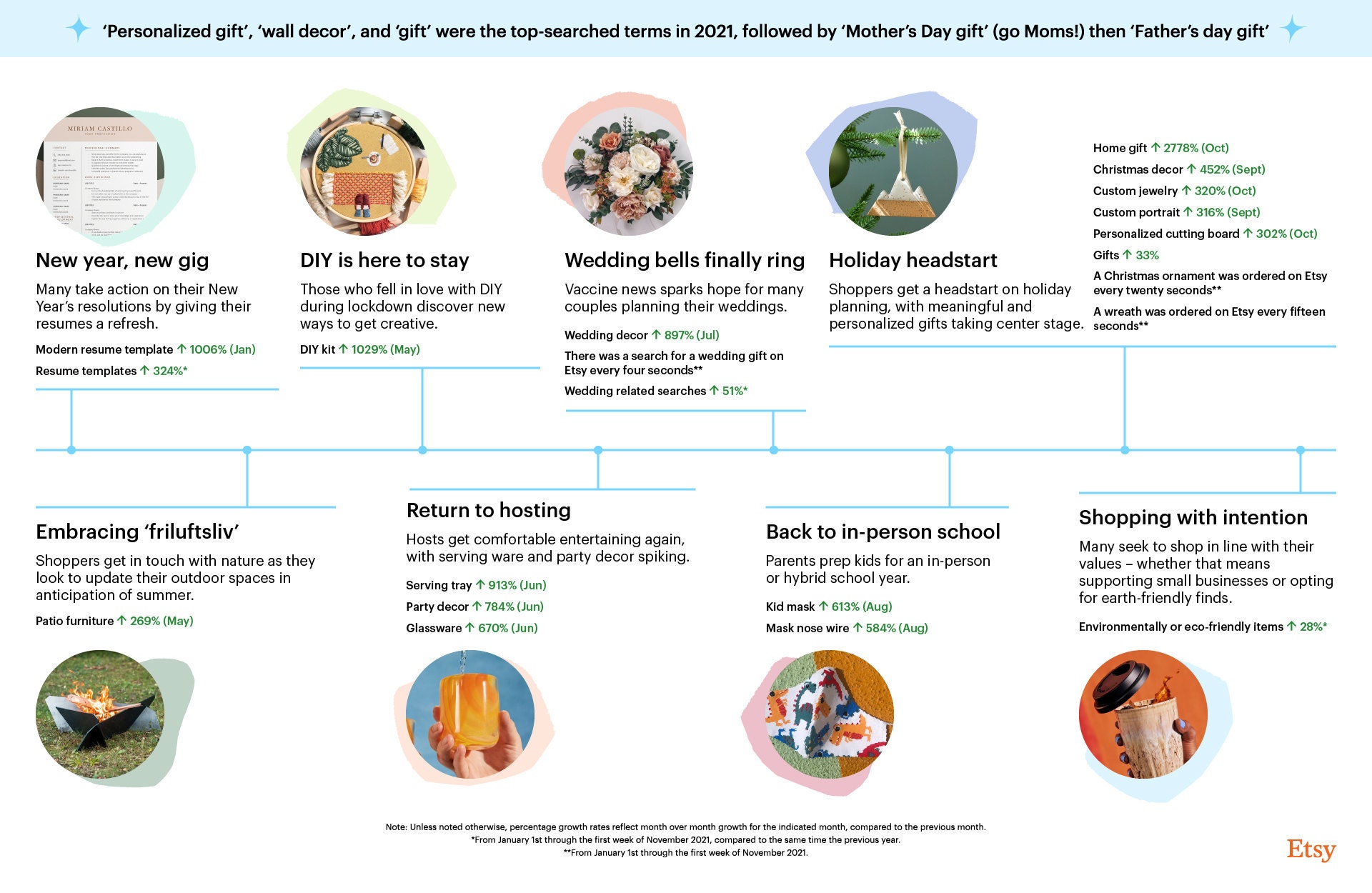 Table of Contents
Occasion opportunities
Category insights
How to use this report
The insights here can inspire you to make updates both big and small. Optimize your shop for the upcoming season by:
Getting ideas for new products.
Expanding your potential customer base with products that appeal to a wider range of shoppers, like male buyers or customers in other countries. We've seen an increase in Etsy traffic from both male shoppers and shoppers in markets outside of the US in the last year.
Updating your merchandising with on-trend styling by featuring relevant seasonal details in your shop graphics (like your Shop Banner) and listing photos.
Timing your inventory to take advantage of upticks in relevant searches and in advance of key occasions.
Including seasonally relevant top-searched terms in your tags, titles, and item descriptions.
Choosing which listings to promote through Etsy Ads.
Vintage sellers: While most of these trends are applicable to vintage sellers, look out for the additional vintage tips throughout this guide to help you hone your curation strategy for the new year.
Cross-category trends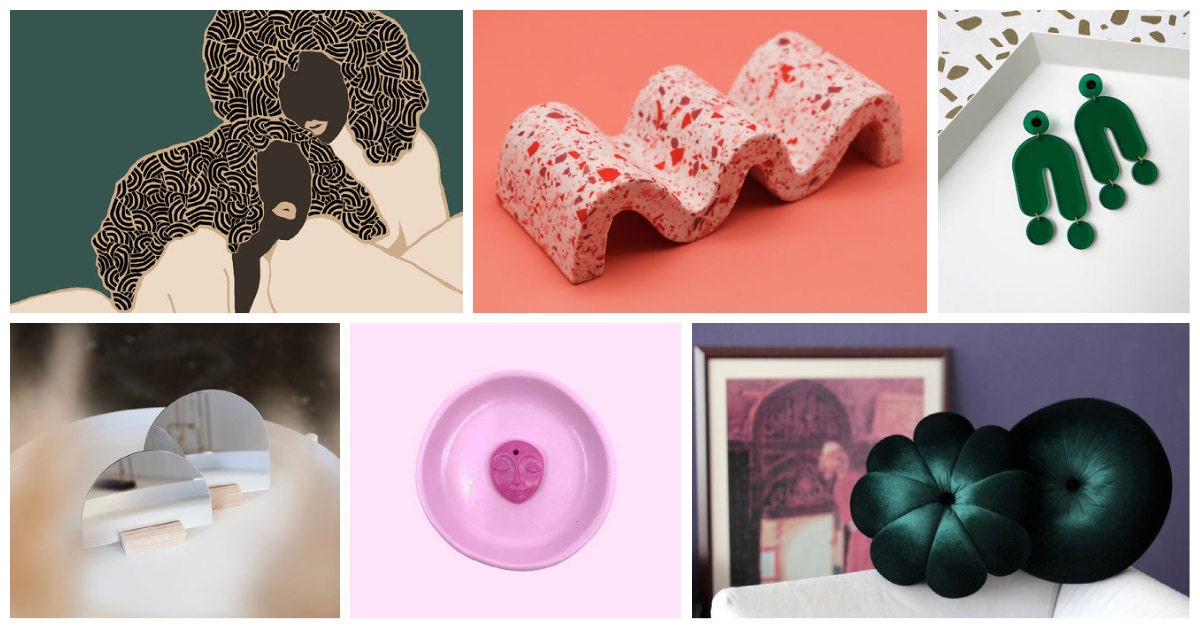 We anticipate interest around these key themes as we kick off 2022. The year-over-year (YoY) increases below were calculated by comparing search volume from July to October 2021 to the same period of 2020.
Finding balance: Building off of the concept of Lagom, shoppers are looking to find more joy in fewer, higher-quality and more meaningful possessions. Help shoppers rethink basic everyday items and offer special products that could become heirlooms.
Etsy Color of the Year: Emerald green: Natural textures and influences will likely still reign strong in early 2022, and this rich, earthy, and lush tone can bring new depth to your products and photos. Symbolizing harmony and growth, along with royalty and refinement, emerald green is bursting with energy.
67% YoY increase in searches on Etsy for emerald green items
Pastel palette: Soothing, softer tones offer a sense of calm imbued with playful optimism, and help balance out stronger statement-making jewel tones like emerald green and deep magenta. Consider incorporating pastel accents and backdrops in your product photographs and styling.
2,627% YoY increase in searches on Etsy for pastel room decor
Abstract shapes: This year's trending forms take inspiration from ancient influences like arches and pyramids, and evolve the rounded edges, squiggles, and scalloped shapes that have become so popular recently.
177% YoY increase in searches on Etsy for squiggles
Flexibility: As people adjust to constant change, they need their belongings to do the same. Shoppers will be looking for multipurpose items that work double duty and fit into their evolving lifestyles.
11% YoY increase in searches on Etsy for storage stools
'90s and Y2K nostalgia: These decades continue having a moment—from edgy punk to bubblegum pop—particularly for Millennials and Gen Z shoppers.
50% YoY increase in searches on Etsy for Y2k
Occasion opportunities
The new year kicks off with a number of key shopping moments, from New Year's-fueled purchases through Valentine's Day, and Mother's Day in the UK.
Here are just a few ways to take advantage of occasion shopping traffic:
Personalization: This is a key gifting trend on Etsy, so consider offering personalization options, and stock early to allow time for production.
Expand your shopping base: Think about catering to a wide range of gift recipients, including shoppers who may be self-gifting. How can you tweak your item or listing to appeal to additional ages or genders?
Last-minute gifting: Appeal to last-minute shoppers by offering digital downloads, quick turnaround times, ready-to-ship items, and fast shipping.
New Year's refresh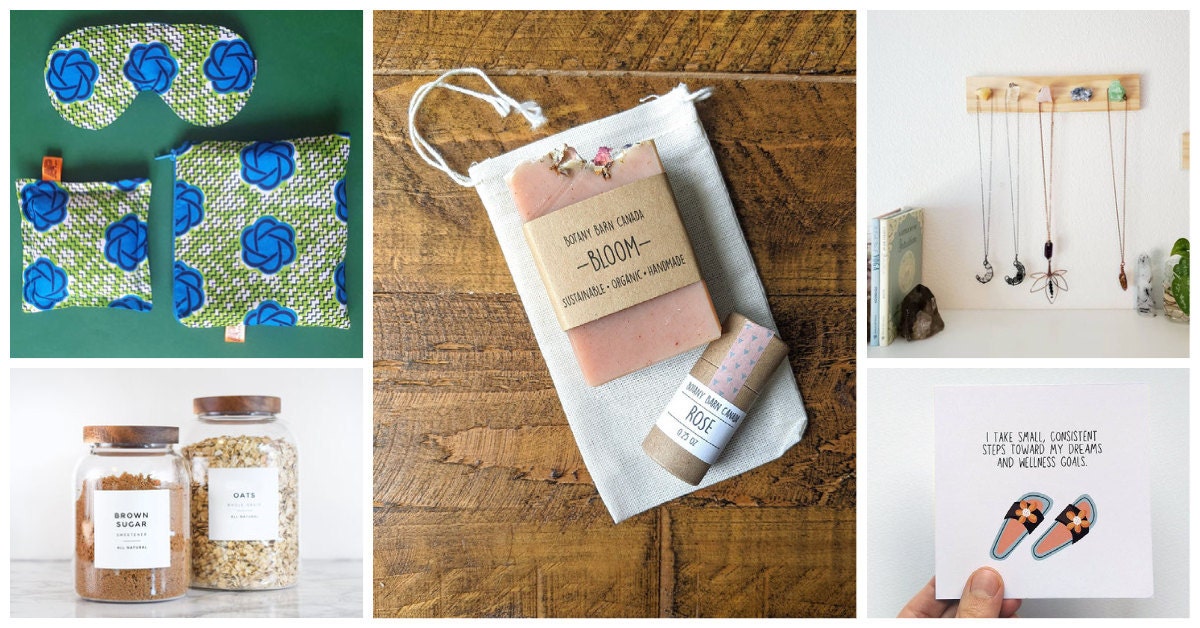 As major gifting holidays like Christmas come to a close, people shift to shopping for themselves and getting ready for the new year by getting organized, refreshing their homes, and carving out spaces for self-care and relaxation.
Inspiration and mood-boarding: Fresh notebooks, seasonal stickers, and planner and journaling accessories help dreamers and goal-setters envision their year ahead.
94% YoY increase in searches on Etsy for digital planners
Revitalizing the home: Shoppers are looking to have their living spaces re-inspire them with new fixtures, eye-catching wall art and vases, and larger furniture items.
'Coffee table' and 'coaster' were top searches among male shoppers in early 2021.
Vintage tip: Statement lighting like '70s lamps are expected to attract shoppers this year.
Organizational tools: Many people use New Year's as a chance to refresh and re-organize. Creative storage ideas for the kitchen or home office are slated to be in demand.
993% YoY increase in searches on Etsy for storage organization
Self-care standbys: Forget starting 2022 with a bang. Shoppers want to start the new year with deep breaths. As taking time to relax and unplug becomes a higher priority, offer key items like loungewear, bath essentials, and candles in soothing shades and scents.
275% YoY increase in searches on Etsy for pastel candle
Valentine's Day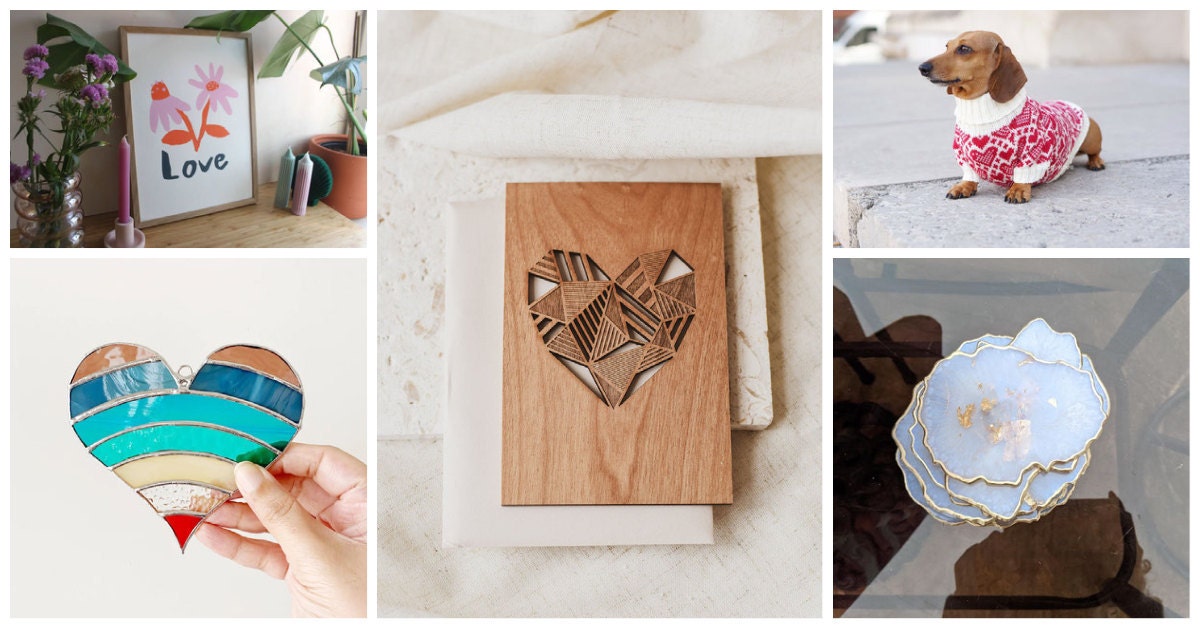 The first major gifting occasion of the year presents an opportunity for your shop to celebrate the bonds between cherished friends, family, classmates, new and longtime romantic partners, and even for oneself. Searches for Valentine's Day typically pick up in late December and peak in late January.
Gifts for every kind of relationship: Consider the many loved ones in your customers' lives, including friends, family, coworkers, and classmates. And don't forget about self-gifting!
'Valentine day gift' was a top search among male shoppers in early 2021.
Something for every budget: While some folks might be looking for big-ticket items like engagement rings, others are hunting for lower-cost gifts. Help make budget-friendly trinkets heartfelt and meaningful by offering personalization options.
Last-minute gifts: Many shoppers wait until early- or mid-February to select gifts. Make it easy on them with downloadable cards, artwork, and DIY project tutorials they can quickly complete on their own at home.
Glass and sheer color: Lovers see the world through rose-colored glasses. Try enticing them with transparent, tinted items like sun catchers, stained-glass jewelry, and crystal prisms. Play with mesmerizing kaleidoscopic effects.
54% YoY increase in searches on Etsy for prisms or suncatchers
'Crystal' was a top search among male shoppers in early 2021.
Mother's Day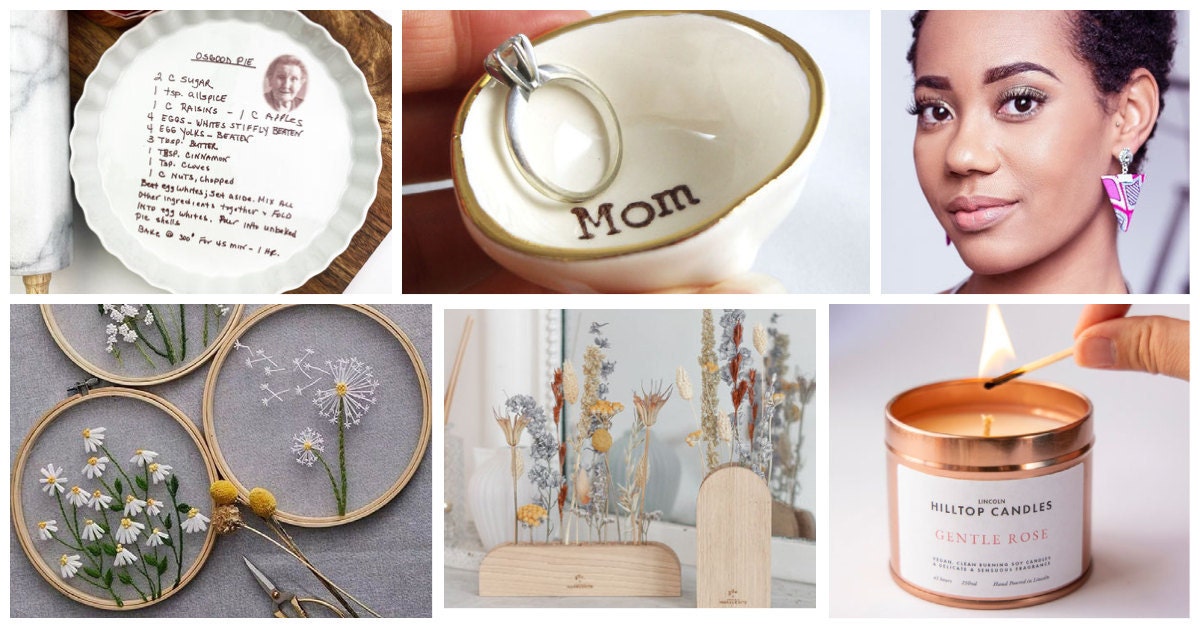 Mother's Day in the UK is fast-approaching on March 27, with Mother's Day in the US, Germany, and other countries following on May 8. Mother's Day shopping is so prevalent on Etsy that "Mother's Day" was one of 2021's top searches. Appeal to shoppers' search for meaningful gifts with easy-to-personalize items.
Togetherness: Buyers are looking to gift mom figures experiences over objects with things like DIY kits and custom cooking sets.
Tasteful trinkets: Personalized keychains and lanyards make popular Mother's Day gifts, especially in the UK.
Go-to jewels: Everyday and personalized jewelry styles make perennial faves for moms. Think engraved or monogram necklaces and pendants capturing the names or initials of children, or even pets. Charm bracelets are another popular choice.
New heirlooms: Shoppers are thinking about ways to honor ancestral backgrounds with high quality items that tell a story. Think: baking dishes with a family recipe printed on it, lockets to house family photographs, or a vintage item that calls back to a cherished memory.
Personalized art: Offer custom items featuring family names, illustrations, or idiosyncratic elements like handwriting or children's drawings.
81% YoY increase in searches on Etsy for personalized items
Home decor: Artful touches for living spaces make great gifts: Consider offering prints of flowers or inspiring scenes, in physical and digital forms.
Playful authenticity: Childlike drawings and whimsy can make gifts and cards feel more special, especially for mothers of young children.
New take on florals: Consider adding pressed flowers or textured embroidered blooms as an alternative to traditional bouquets.
Decadent drinking vessels: Beautiful stemware or a hand-crafted mug elevates the everyday experience of enjoying Mom's beverage of choice and serves as a regular reminder of the gift giver.
Little luxuries: Fragrant soaps, bath bombs and salts, and larger indulgences like beautiful bathrobes help moms relax and take some much-deserved time to themselves.
Category insights
Vintage sellers, look out for tips throughout the following sections for ways to apply these trends to your inventory.
Home & Living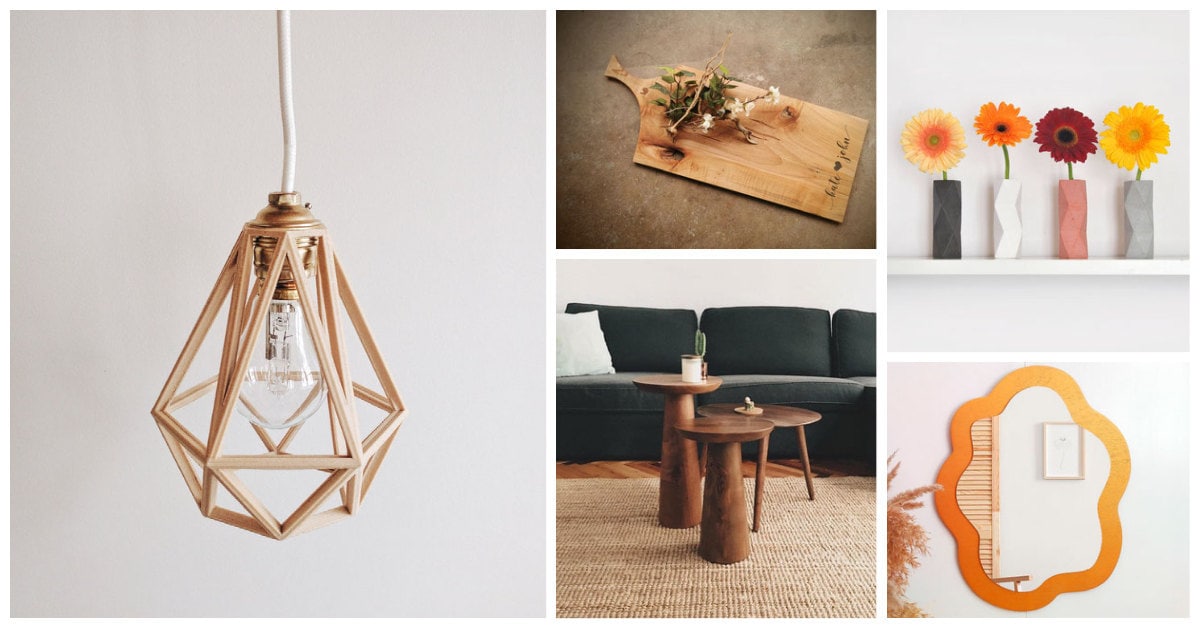 The home has been the center of our lives for the past couple years, and remains so. As shoppers turn the page on a new year, they'll want to refresh and optimize their spaces with revamped routines in mind.
Versatility: Because living spaces continue to serve so many functions, and many people are adopting more hybrid lifestyles—working from home and the office, for example—shoppers need items with the flexibility to suit many living and working arrangements.
14% YoY increase in searches on Etsy for convertible, nesting, or modular tables
Novel shapes: Abstract shapes and squiggles bring some playfulness into functional home decor. Tap into ancient forms with arches, pyramids, and prisms.
71% YoY increase in searches on Etsy for abstract shape rugs
Natural textures: Cottagecore aesthetics branch out in cleaner, more modern directions. Dried florals, crystals like mineral, quartz, and geode, as well as textured, raw edges in wood are on the rise.
A marble moment: This classic material is set to shine in 2022 as demand for slick stone home decor increases. Consider using in small decorative items like candle holders or larger statement pieces like coffee tables. Marble patterns are also a potential hit.
263% YoY increase in searches on Etsy for marble candle holders
Personalized decor: Custom wooden cutting boards, family portrait illustrations, and one-of-a-kind welcome mats are poised to make a splash yet again in 2022, as shoppers look to make their homes feel more unique to them.
'Wall decor' was a top search among male shoppers in early 2021.
Denmark pastels: There is an uptick in Denmark and Danish pastel interior design, the Scandinavian aesthetic which plays up softness and playfulness with a pastel palette and curved, minimalist shapes—and provides early hints of Spring. This trend pairs nicely with abstract shapes and crystals, so consider staging photos that use these items together.
28,705% YoY increase in searches on Etsy for Denmark pastel
Vintage tip: This trend is a great opportunity to surface trending materials from the '90s or stage your items in a Denmark pastel backdrop.
Statement lighting: Equal parts functional and fashionable, statement lighting illuminates spaces while doubling as eye-catching artwork. Many are already on the hunt for statement lights, from sculptural pendants to standout sconces. Jeweled lighting is another exciting sub-trend to explore here.
20% YoY increase in searches for sculptural or decorative lighting
368% YoY increase in searches for '70s lighting
Future feel: Inspired by our increasingly virtual world, this style pulls in many fun and fantastical styles. Think hints of hologram, iridescence, otherworldly lighting effects, transparencies, ombre, fluid forms, and kaleidoscope patterns.
Was this report useful? Let us know!
Clothing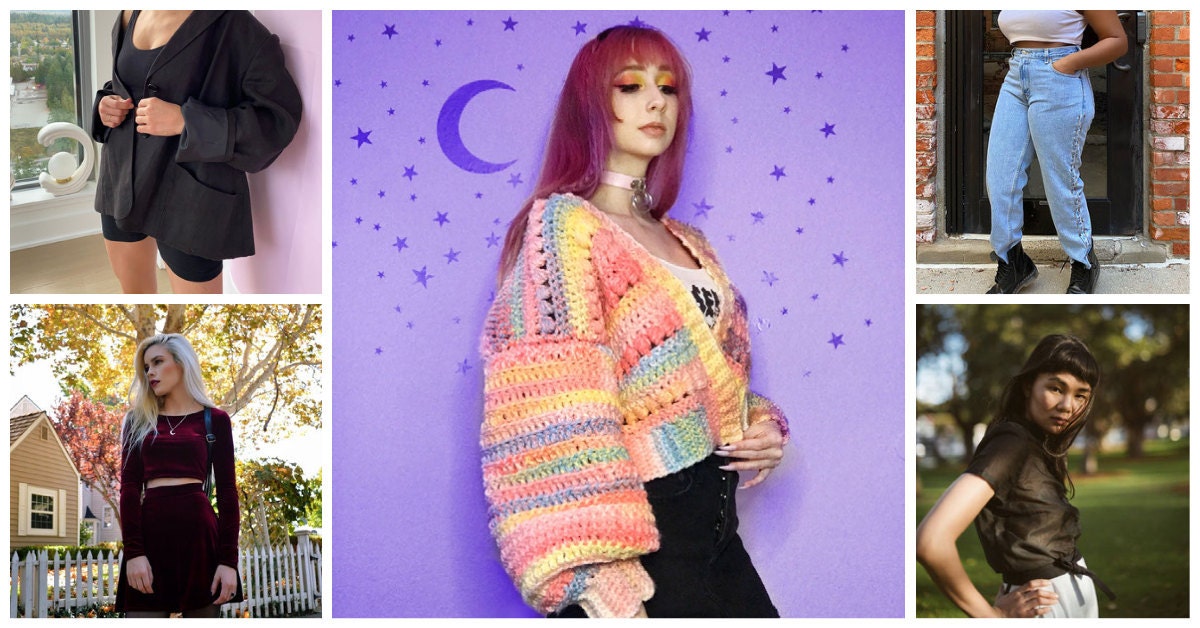 Versatility could be key for clothing in 2022. Following the "not too much, not too little" Lagom approach, pared down separates with inventive details have the flexibility to dress shoppers wherever they are and whatever the occasion.
Updating the classics: Add some unexpected details to the traditional white button-up with sheer material, wrap elements, or delicate embroidery.
Business casual with a twist: As people return to offices on a full- or part-time basis, they're looking to update their professional style. Consider ways to bring some playfulness into work attire by incorporating color-blocked and oversized blazers and refined loungewear.
75% YoY increase in searches on Etsy for blazer dresses
Fresh flavors for a night out: The energy of getting dressed up for New Year's Eve is expected to continue through the winter for flashy party wear moments. Add items to your inventory that have some sparkle or incorporate kaleidoscope print trends.
'90s-inspired: From the happy-go-lucky bubblegum pop era to more moody, grunge-punk vibes, this decade continues to inspire buyers. Think: Neon separates, velvet dresses, oversized blazers, plaid patterns, and slouchy sweatshirts. Bucket hats, sweater vests, and babydoll dresses keep catching the eyes of Etsy shoppers too.
Vintage tip: Appeal to shopper's wish for authenticity and spotlight new-again items from the '90s.
66% YoY increase in searches on Etsy for vintage plaid items
Pastel goth: TikTokers and other young people are playing with contrast this year, pairing the softness of pastel accents with the darker undertones of goth and punk styles.
34% YoY increase in searches on Etsy for pastel goth clothing
Was this report useful? Let us know!
Jewelry & Accessories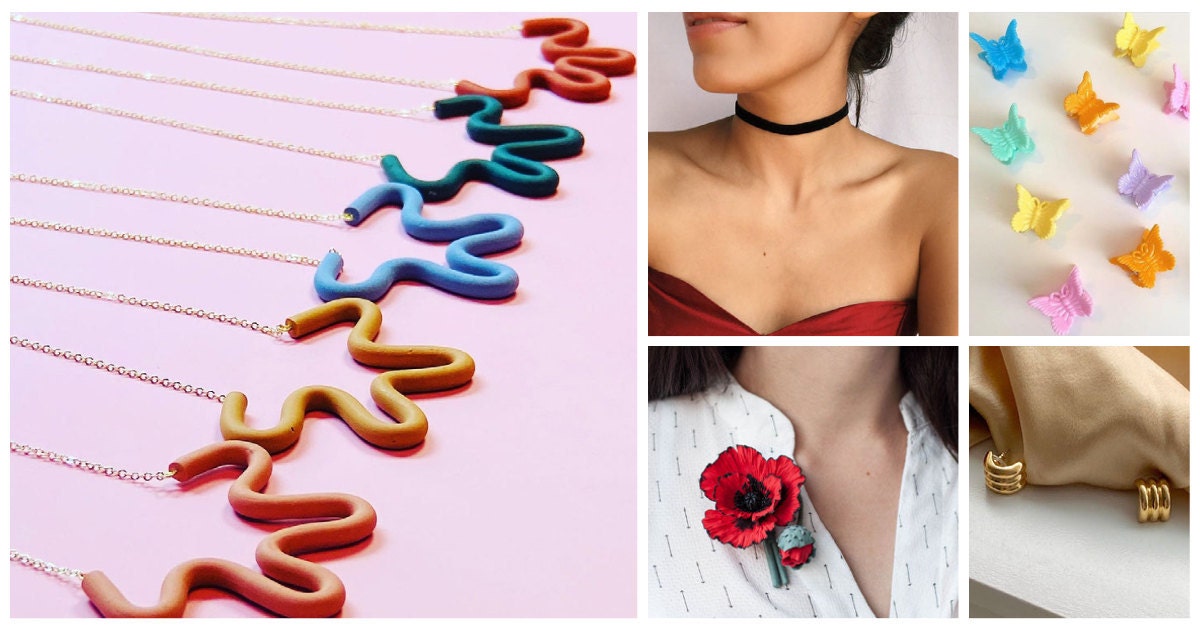 While buyers are largely relying on elevated basics in their everyday wardrobes, they're taking chances with jewelry and accessories, experimenting with opposing styles like harsh, edgy punk vs. soft pastels, and naturally textured stones vs. perfectly rounded edges.
'90s punk: Nostalgia for edgy punk-era silver accents and oh-so-'90s details like velvet and metal studs is expected to drive shoppers into 2022.
365% YoY increase in searches on Etsy for velvet chokers
Vintage tip: Style your vintage silver jewelry with grunge-influenced clothing and backdrops.
Rounded edges and shapes: The novel shapes trend has many applications for jewelry and accessories. Consider featuring squiggles and abstract-shaped earrings, necklaces, and other accessories in your next collection.
Textured stones: The influence of nature has extended to jewelry, and interest in tactile elements like raw crystals or hammered stonework is on the rise.
150% YoY increase in searches on Etsy for moss agate
Statement jewelry: As we emerge more from our homes, shoppers are looking to wow at parties and events in the new year—and to shine in virtual meetings and gatherings. Consider using chunky jewelry or statement pieces to appeal to fashion-forward partygoers. Hop on the oversized-chain trend with creative additions like splashy charms.
'Man ring' was a top search among male shoppers in early 2021.
Brooches: This popular holiday accent is expected to stay in vogue in 2022, especially in Victorian and polymer clay styles.
62% YoY increase in searches on Etsy for butterfly brooches
Vintage tip: Source brooches with unique details like cameos to help stand out from the rest.
Was this report useful? Let us know!
Craft Supplies & Tools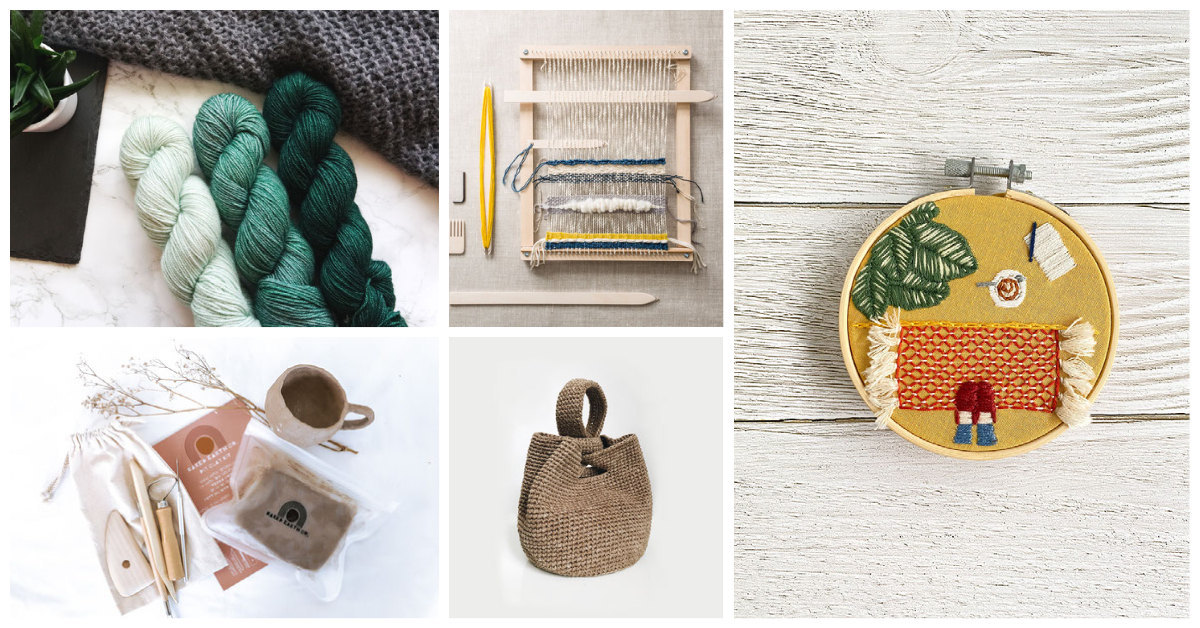 Entering the new year (and cooler months in many locations), crafters are drawn to cozy, highly textured crafts that offer a sense of warmth, multi-dimensionality, and foster connections. Parents continue turning to crafts to draw their children away from screens and to keep them occupied.
Tuft-astic textures: Exploding on TikTok, the art of tufting textiles is inspiring crafters to tackle a wide range of projects using tufting guns, from fabric on small looms and pillows to larger household items like rugs.
Knitting and crochet tutorials: Cooler weather in many places means knitters and crocheters are eagerly picking up their needles again. Searches for patterns, yarn, and other supplies are on the rise.
96% YoY increase in searches on Etsy for cardigan knitting pattern
Connecting over DIYs: There is a continued focus on making new memories together, and we anticipate demand for DIY kits to increase. Consider offering sets or activities intended for group crafting.
Craftivism: Parents are encouraging youngsters to take up a cause with DIY projects that celebrate social justice, allyship, and environmental awareness in kid-friendly ways.
DIY children's room decor: Shoppers are looking for ways to help their kids personalize their spaces with art supplies like wall stencils.
Foraging fun: The outdoors maintain their appeal, even in places where it's winter. Offer craft projects that make use of materials found in nature, or that are intended to be completed outside. Brave parents are even drawing their children outdoors with mud painting activities. Kits containing educational angles could win you bonus points.
Sustainable results: In an effort to reduce waste, shoppers are looking for reusable items like grocery totes, and ways to revamp older items with embroidery and artful mending.
1,180% YoY increase in searches on Etsy for mending
Fit for a beginner: The new year is a popular time to take on a new craft or experiment with new mediums. Consider adding beginner- and easy-level kits to your offerings.
Textures and dimensions: Shoppers are looking for more tactile elements for their crafting practice. Consider ways to make your patterns or projects more three-dimensional with beads, tufted yarns, or hammered stones.
Kitchen upgrades: The New Year could inspire DIYers and cooks to enhance the look of their cooking spaces with tile decals, knob and handle swaps, and storage hacks.
Was this report useful? Let us know!
Paper & Party Supplies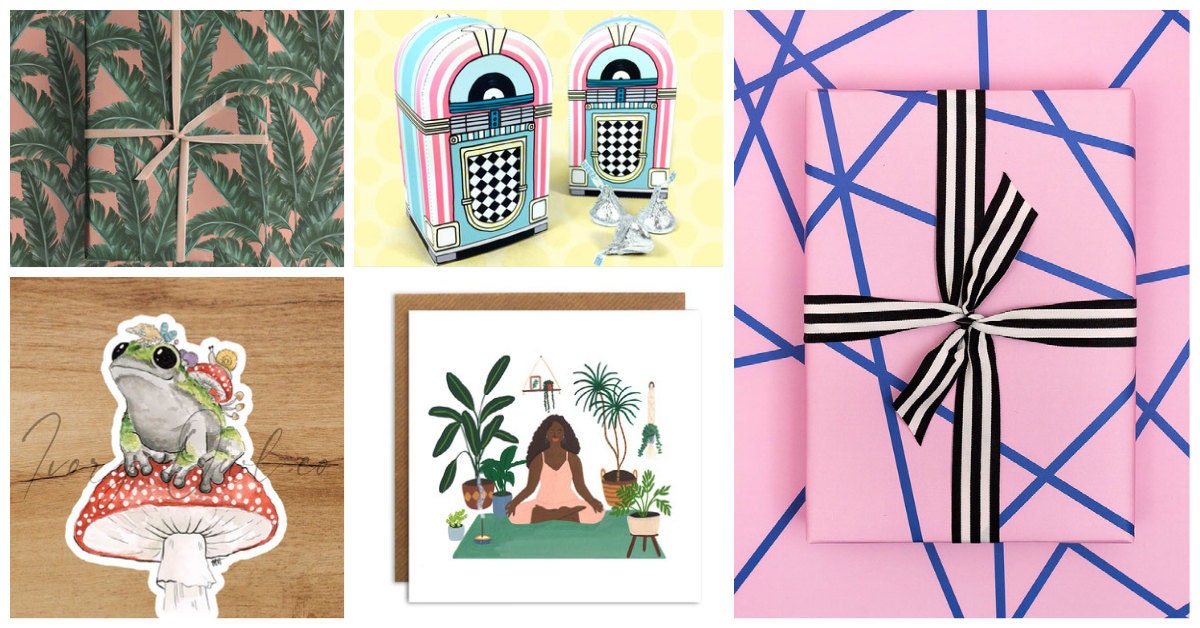 The start of the new year is full of opportunity for Paper & Party Supplies sellers, as shoppers seek out fresh organizational helpers and items for gifting and occasion decor. This season's standouts will be all about connection, custom options, and helping shoppers balance everything on their plates.
Goal setting: Shoppers turn to fresh calendars, planners, and journals to start the new year on an optimistic, organized note. Offer creative solutions for tackling the day and routines, from downloadable meal planning templates to display-worthy to-do lists.
Occasion gifting: Paper & Party Supplies is a top category for Valentine's Day and Mother's Day as demand for decor, wrapping paper, and gift bags flourishes. Also consider offering digital items buyers can purchase and download in a last-minute pinch.
Occasion and greeting cards: With many people still spending holidays and milestone moments apart, we're still seeing increased demand for thoughtful cards to bridge the distance. Also consider needs for everyday greetings, and try offering personalized options.
21,166% YoY increase in searches on Etsy for teacher greeting card
'Birthday card' was a top search among male shoppers in early 2021.
Textured imperfection: Introduce natural edges to add tactile intrigue to your items, or use upcycled materials for a raw, unfinished feel.
Retro influences: '70s-inspired color palettes, nostalgic fonts, and quirky patterns are expected to attract shoppers this year.
Vintage tip: Retro tools and office supplies perfectly complement the look of stationery and paper for this trend. Source or use stationery when styling vintage desktop products.
Tropical prints: The winter season has many people staying indoors and dreaming of warm escapes. Explore incorporating rainforest flora and fauna imagery in deep, energetic emerald green tones.
Geometric patterns: 2021's trending checkerboard, triangles, chevron, and scalloped curves could remain popular in 2022. Try refreshing these motifs in pastel tones.
Mythical creatures: Children's' trends enter a magical realm with fantastical creatures like dragons and fairies. Look to these themes to become big for kids' birthday party supplies.
24% YoY increase in searches on Etsy for dragon toys
Was this report useful? Let us know!
Weddings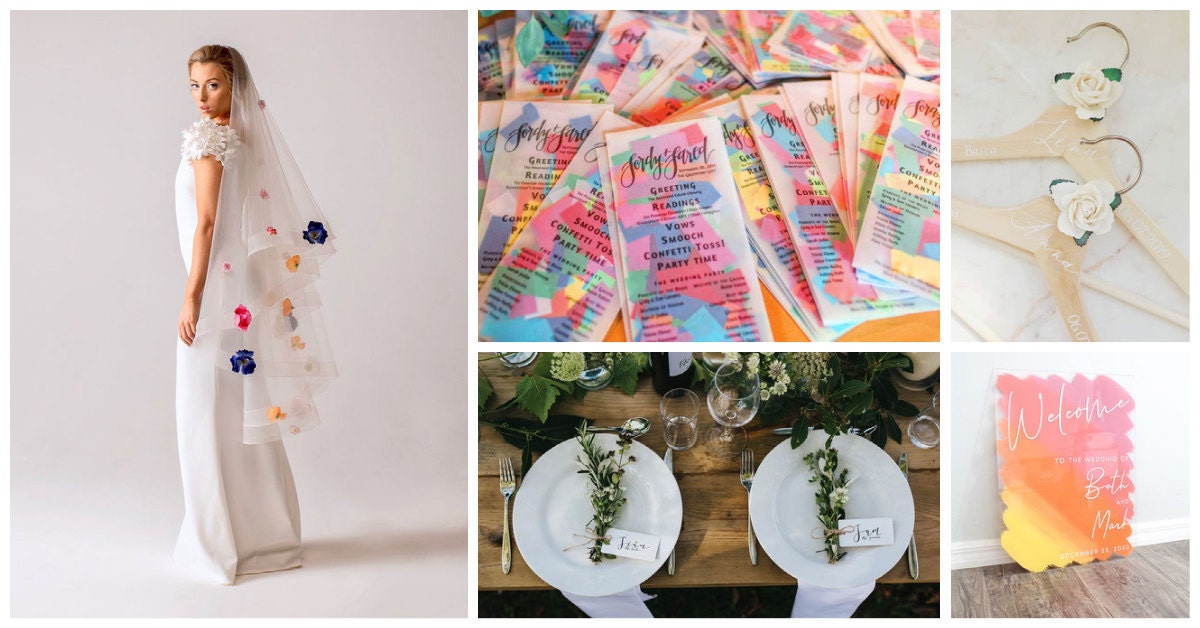 Weddings are filling calendars again. Some couples are choosing to bring back big, bold receptions, but others are opting to keep things tight-knit with the micromonies and smaller celebrations that recently became the norm.
Unconventional color choices: This trend continues strong from the holiday season, from black wedding gowns to bold color accents for the entire wedding party and decor.
19% YoY increase in searches on Etsy for black wedding dress
Cheerful details: Bright hues and punchy patterns become joyful displays of self-expression as couples look to make splashy statements on everything from invitations to centerpieces, and even wedding dresses and suits.
311% YoY increase in searches for colorful wedding items
Versatile, pared-down dresses: Soft draping and repurposable, jersey fabric separates are suited for simple, budget-conscious, or low-key events.
Vintage tip: Promote the potential reusability of vintage separates to eco-conscious brides.
Natural tablescapes: Place settings have become the stars of many celebrations. Tap into trendy cottagecore aesthetics and organic textures with dreamy, calming tabletop details like dainty place settings and dried floral arrangements.
Personalized keepsakes: Couples are looking for customized trinkets and statement pieces that make the event feel perfectly personal, both in terms of decor and as gifts for their guests, wedding party, and each other.
372% YoY increase in searches on Etsy for personalize wedding dress hanger
Retro influences: Bigger events are featuring throwback elements like bold stripes, disco balls, and vintage-inspired posters and invites. Promote a fun photo op by offering splashy items for dramatic backdrops.
Nostalgic romance: Looks inspired by old Regency styles are finding a new resurgence for their soft and inviting vibe. Incorporate this with pastel decor and touches of nature for a lush ethereal effect.
142% YoY increase in searches on Etsy for square neck wedding dress
Share your feedback
Was this report useful? Help us improve future reporting by sharing your feedback.