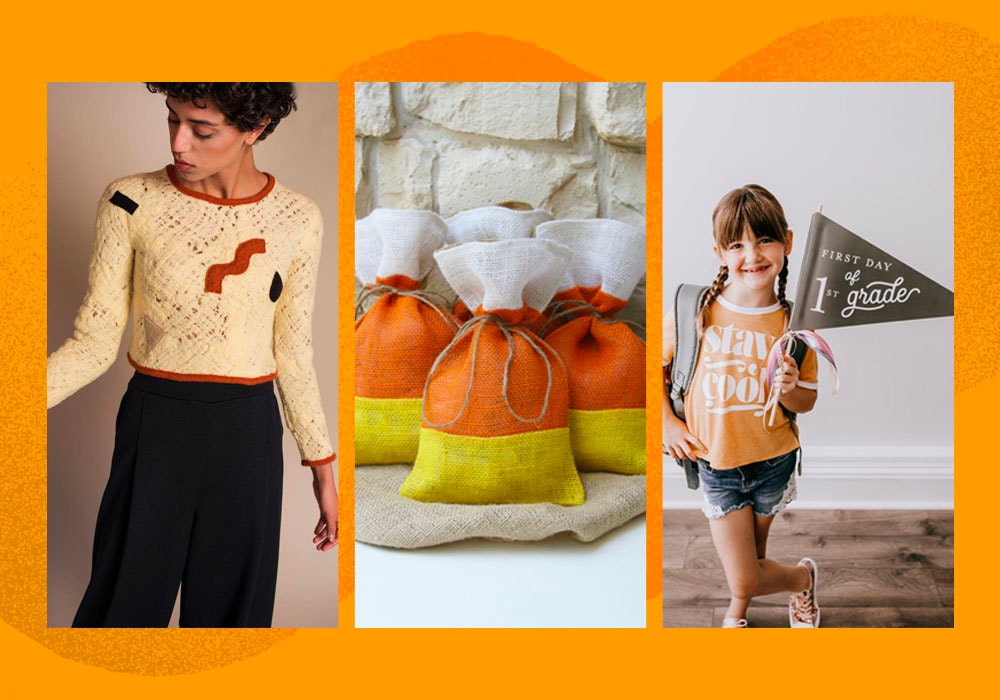 Whether it's the crisp air, the colorful foliage, or the nostalgia-inducing smell of fresh pencil shavings, fall has a way of making everything feel cozy and new. Still longing for autumn traditions that were disrupted last year, this year's shoppers might be tapping into a collective determination to make up for lost time—from the anticipation of back to school in its many forms to the hopes of resuming Halloween traditions with their communities. Keep reading to discover the trends likely to guide buyers' purchases in the coming months, and to learn how you can stock your shop with the items they're looking for.
Table of contents
Category insights
How to use this report
The insights here can inspire you to make updates both big and small. Optimize your shop for the upcoming season by:
Getting ideas for new products.
Expanding your potential customer base with products that appeal to a wider range of shoppers, like male buyers or customers in other countries. We've seen an increase in Etsy traffic from both in the last year.
Updating your photos with on-trend styling.
Refreshing your Shop Banner with seasonal details.
Including seasonally relevant top-searched terms in your tags, titles, and descriptions.
Timing your inventory to take advantage of upticks in relevant searches and in advance of key occasions.
Choosing which listings to promote through Etsy Ads.
Season at a glance
The next several months are full of opportunities to reach buyers as people celebrate Labor Day (in the US), shop for back-to-school items, update their homes with fresh fall decor, stock up on autumnal styles, and gear up for Halloween. Etsy Trend Expert Dayna Isom Johnson predicts that as gathering in person returns, we could see increased enthusiasm for the seasonal staples and traditions many missed last year, like apple picking adventures and trick-or-treating: "People are excited to make the most of the season!"
And with new shoppers, increased sales, and our latest TV ads, there's plenty to be excited about right now on Etsy. From January to March of this year, we saw 16.3 million new and reactivated buyers make a purchase; shoppers spent $2.9 billion on our platform; and international sales grew year over year. Seeing the momentum of last year continuing into 2021 is especially exciting because more shoppers on Etsy means more potential opportunities for your business.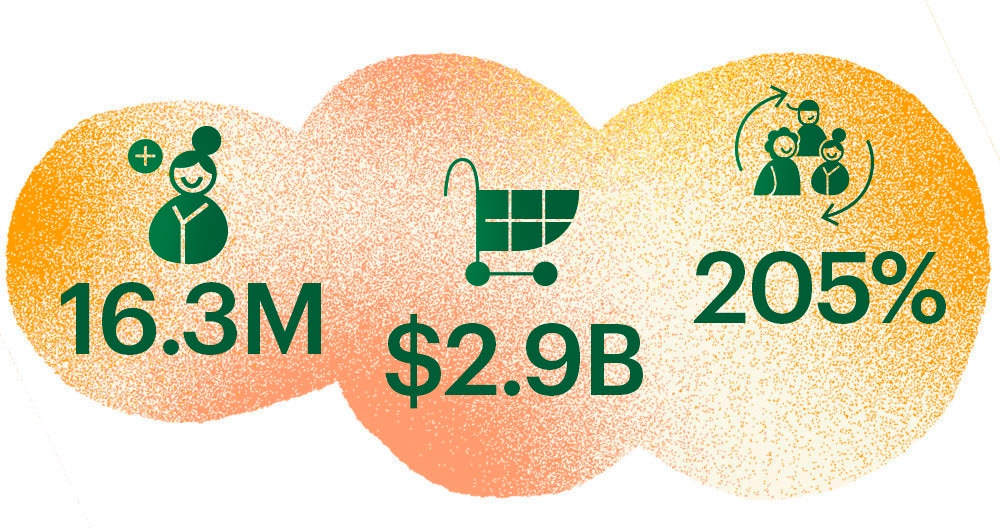 For more buyer insights, read our recent roundup, Etsy Shopper Stats: May 2021.
Cross-category trends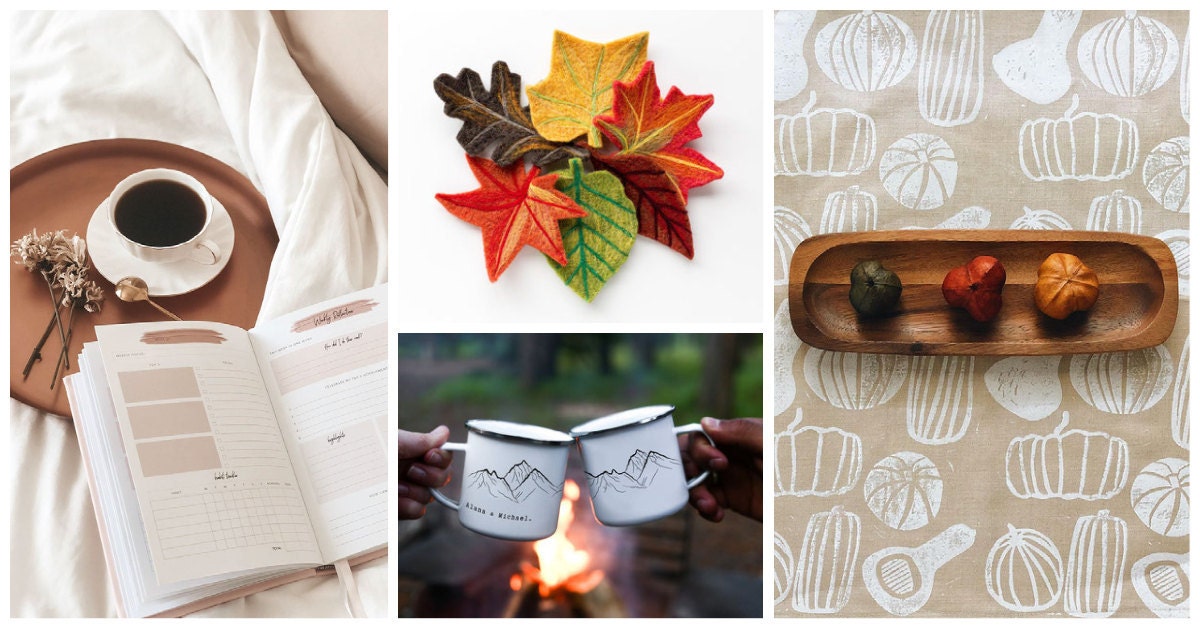 Creativity: A handmade, crafted look is key to many of the season's top styles, as shoppers increasingly embrace a DIY aesthetic and take comfort in hands-on hobbies. Interest in cozy crafting could increase as temperatures dip in the Northern Hemisphere.
Nature calling: Even as some people return to gathering indoors, expect to see outdoor gatherings continue, and for shoppers to keep bringing soothing elements of the outdoors into their homes.
Connection: With the winter holidays approaching, gathering will be top of mind. Long-anticipated reunions with loved ones could shape the season (along with virtual celebrations when in-person gathering isn't possible), while people will look for ways to connect with and give back to the causes and communities they cherish.
Fresh start: Occasions like back to school, potential re-entry to offices, and transitioning to fall offer the promise of a clean slate. This fall could see people redefining what "normal" means to them, and setting intentions while rethinking and re-establishing routines.
Pent-up demand: We could see increasing interest in things that were disrupted last year, like fashion, weddings, and travel-related shopping.
Being present: After a difficult year, people may be eager to really live for the moment, treasuring precious time with family and friends, and looking for activities for bonding or self-reflecting.
Optimism: A sense of positivity and hope could reign as shoppers seek out fall fun and return to beloved social traditions and cozy fall gatherings.
Occasion opportunities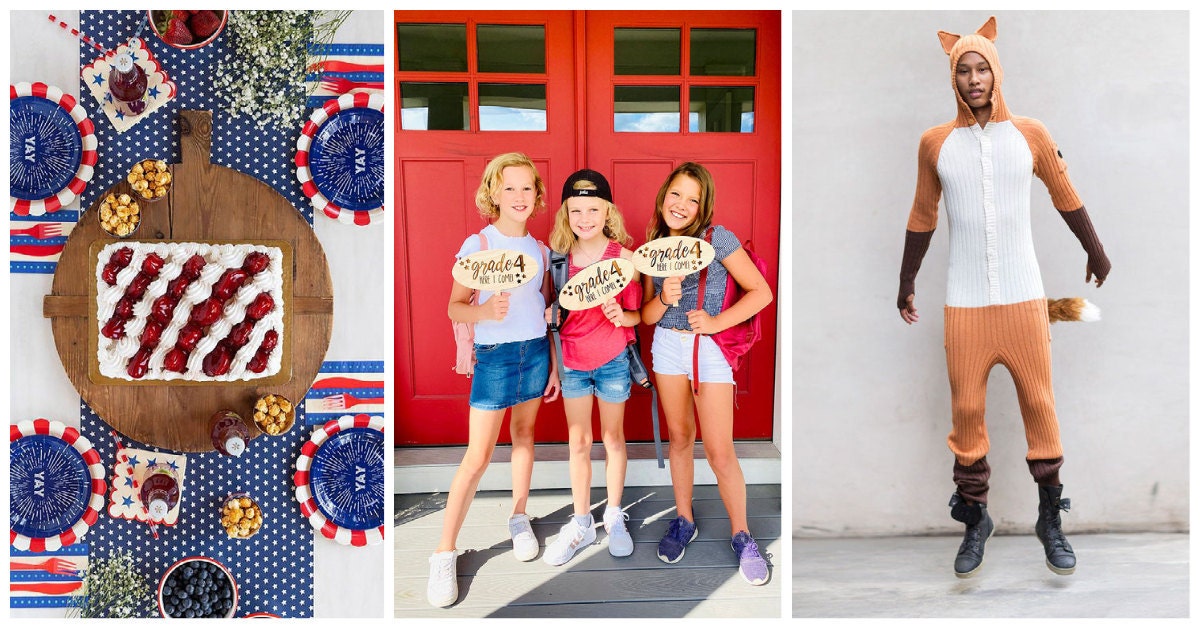 The fall season is full of major shopping moments, from Labor Day in the US (September 6) to back to school (which ranges in time frame based on location), and Halloween (October 31). Find product trends for each occasion within the relevant categories below.
Category insights
The year-over-year (YoY) increases below were calculated by comparing search volume from March through May 2021 to the same period of 2020, except where noted.
Home & Living
The fall is all about cozy gatherings, organizing spaces, and wrangling chaotic routines. Shoppers will look to refresh their homes for potential entertaining and cooler weather.
Back-to-school traditions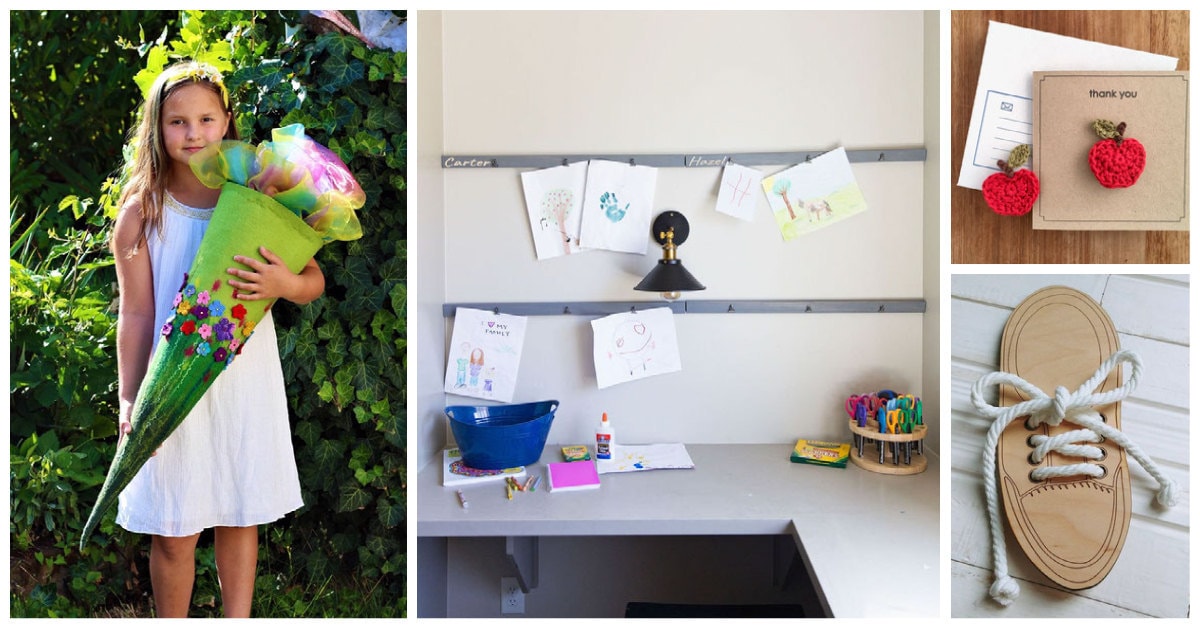 While some parents took to homeschooling last year, many are hoping to celebrate their children's returns to the classroom in the fall. Consider merchandise for in-person and home learning setups, and note that back-to-school dates vary by location.
First-day-of-school signs: Celebratory first-day signs are a great way to get kids excited for a new school year, and they've become staples across September social media feeds. Consider offering erasable chalkboard versions that can easily be reused, as well as other creative sign designs, 2021 references, and messaging catered to home learning.
Schultüten or school cones: In Germany, parents cheer on their kids starting first grade with these large vessels made for holding sweet treats and gifts, including school supplies. The items are a top Etsy search term among German shoppers.
Learning tools: Educational and sensory toys, puzzles (especially colorful wooden custom name puzzles), and fidget toys are Etsy bestsellers, and they only grew in popularity last year.
Home-schooling setups: Parents continue to invest in children's desks, chairs, and shelves for learners who are homeschooled full time or attending classes in part-time hybrid models.
Educator appreciation: Celebrating the teachers who worked so tirelessly this past year is on the rise, as is acknowledging parents who took on teaching roles.
Evolving classroom needs: Keep an eye out for products essential for reimagined classrooms as students return to in-person learning. Tools for practicing social distance (like masks) could remain classroom must-haves.
61% YoY increase in searches on Etsy for Schultüten
82% YoY increase in searches on Etsy for teacher gifts
140% YoY increase in searches on Etsy for classroom posters
3,697% YoY increase in searches on Etsy for fidget toys
Fall decor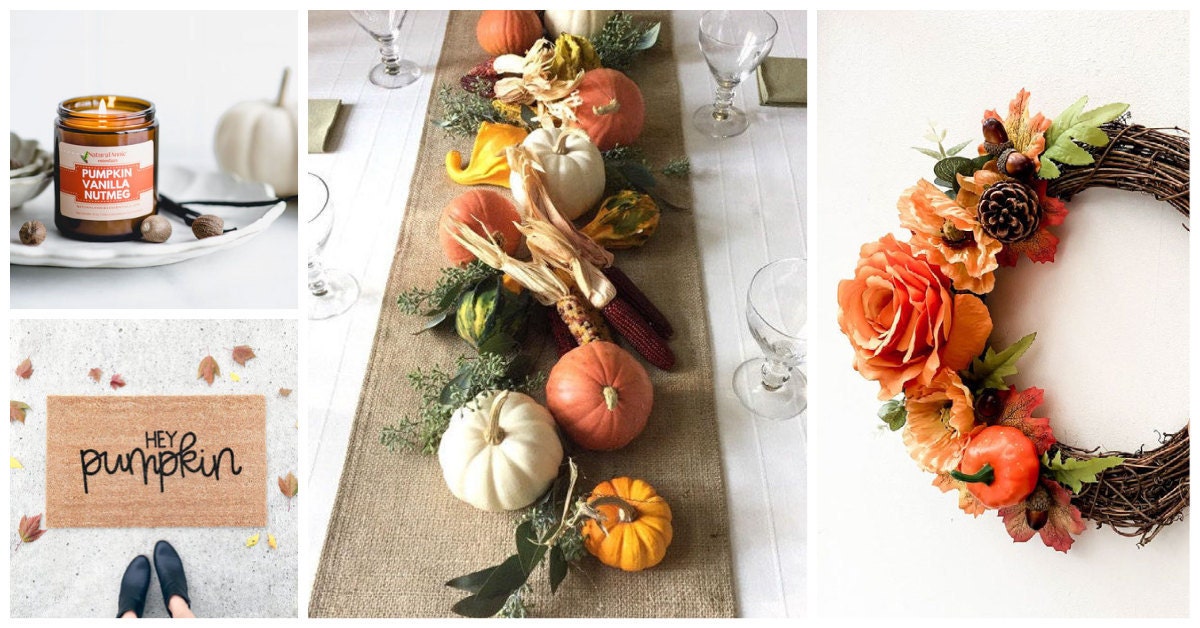 Fresh decor brings warmth—and natural elements—into the home.
Autumnal touches: Pumpkins reappear as motifs in housewares (think pillows, table settings, and doormats) and are sculpted from a range of materials. New takes in linen, flannel, corduroy, and even hand-blown glass join bestselling velvet versions.
Harvest themes: Fresh fruit motifs and faux fruit objects take center stage as symbols of the season's bounty. Note that this theme could be ripe for Thanksgiving, which takes place in Canada in October.
Warm metals: Metallic tones take on warmth for the season in gold and brass. Explore in muted, brushed metals instead of high-shine polish.
Tapestries: These woven wall hangings add instant coziness and nostalgia to any interior, with rich tones and natural scenes tapping into cottagecore style. Modern styles play with tradition and make popular dorm room decorations.
Over the last three months, we've seen an increase in searches for tapestries. Both "tapestry" and "wall decor" are top Etsy searches among male shoppers.
Ancient forms: Housewares take inspiration from prehistoric objects. Think rounded curves evolving from recent squiggly shape trends, in rough textures and earthy tones like terracotta. Imperfect markings are a key element of this look.
Solar shapes: Lunar cycle-themed motifs and shapes harness a mystical feel. Look to prisms, pyramid forms, orb-like structures, and planets as a source of inspiration.
Rough treatments: Messy textures and rippled surfaces give decorative items a dynamic energy. Repetitive ribs create a calming effect while imperfect edges reference nature.
Bold black: Growing in popularity as an accent color, jet black makes a big impact, giving spaces a graphic element even when used in small touches. Explore wire sculptures that highlight negative space.
65% YoY increase in searches on Etsy for glass pumpkins
78% YoY increase in searches on Etsy for fruit decor
90% YoY increase in searches on Etsy for terracotta
31% YoY increase in searches on Etsy for live edges
47% YoY increase in searches on Etsy for metal sculptures
Halloween decor
A mix of classic and contemporary styles, Halloween 2021 blends old and new.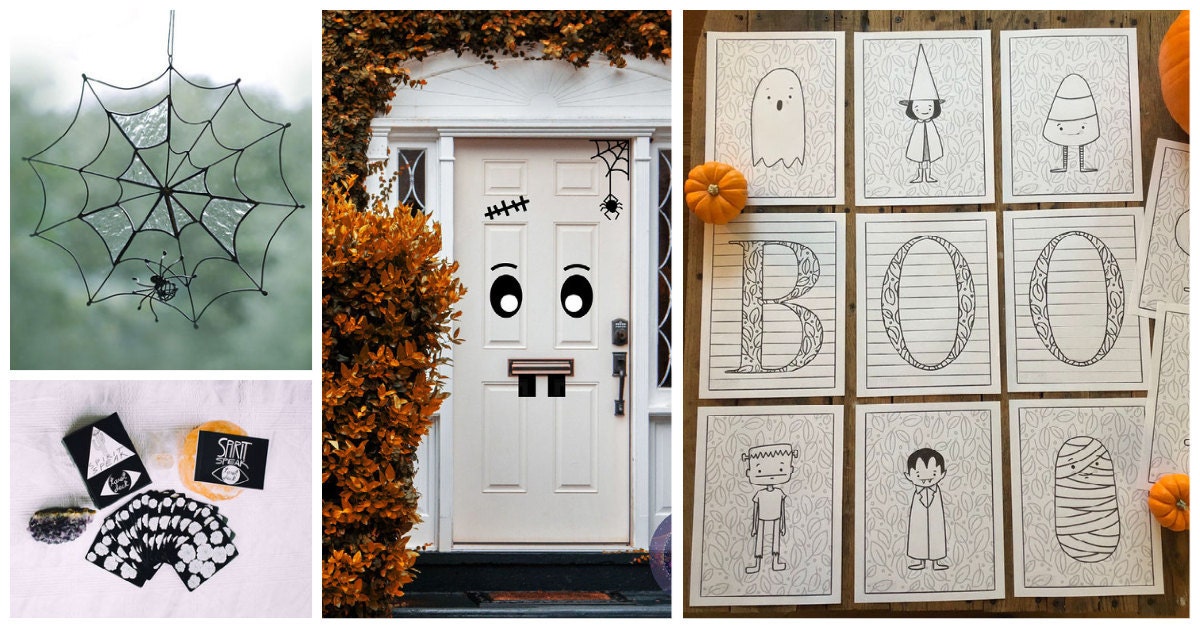 Broader palette: Tap earthy pastels and primary hues for unexpected pops of color that give the classic Halloween shades a bold, modern look. Metallics add a touch of magic.
Outdoor emphasis: Expect to see last year's focus on outdoor celebrations and outdoor home decor continue. Fire pits, cauldrons, and pumpkin carving sets bring people together, while door decor helps shoppers share their Halloween spirit with their neighbors.
Natural elements: Foraged branches and leaves become the cottagecore makings of rustic decor such as garlands and tabletop centerpieces.
Spellbinding styles: Summon spooky supernatural vibes with well-worn witch-style hats in plaid and rustic checkered patterns, spindly bare tree silhouettes, stark black-and-white illustrated owls, and dried wilted flowers.
Creepy crafts: Focus on pieces that emphasize handcrafted construction and DIY details rather than elaborate styling. Knitted pumpkins are a great example of this homespun look.
Magical medley: Fortune telling, tarot cards, crystal balls, candles, incense, and mystical motifs offer appeal past Halloween.
Eerie Victorian details: Old fashioned apothecary styles, cyanotype, and x-ray lighting effects create a romantically haunted feeling.
Anatomical motifs: Graphics like hearts, skulls, skeletons, and eyeballs can go either creepy or cute.
59% YoY increase in searches on Etsy for Halloween outdoor decor
245% YoY increase in searches on Etsy for Victorian Halloween items
34% YoY increase in searches on Etsy for vintage apothecary items
30% YoY increase in searches on Etsy for crystal balls
62% YoY increase in searches on Etsy for tarot cards
Outdoor fall entertaining
We anticipate outdoor festivities to remain a staple. This time last year, "outdoor" was a top search among male shoppers.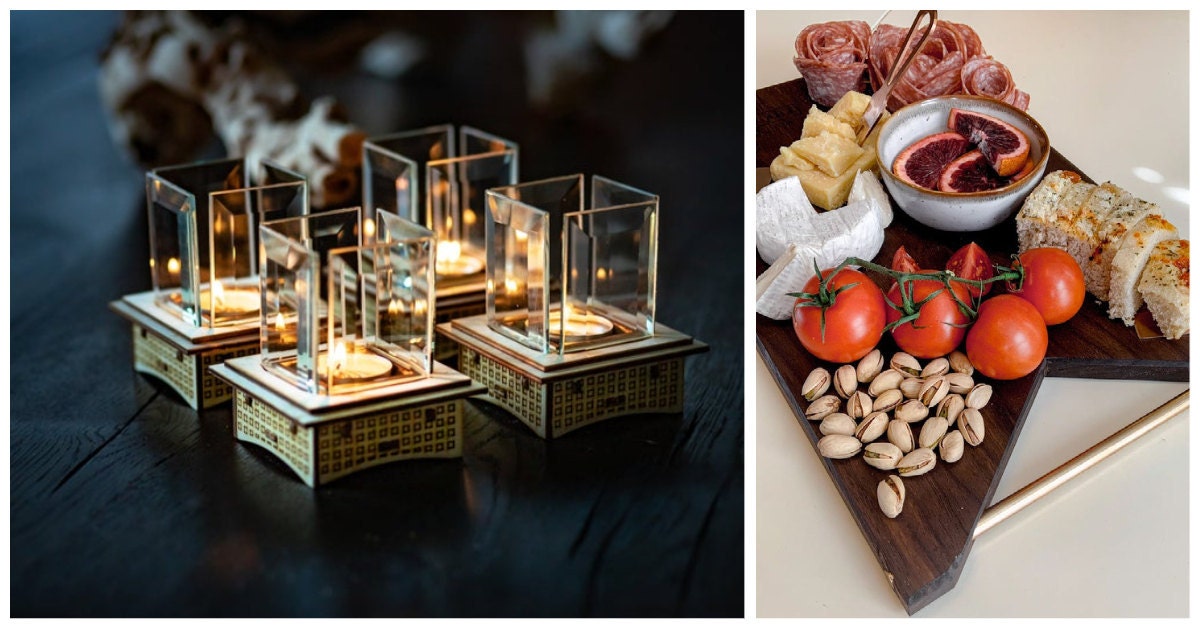 Cozy makers: Bestsellers include fire pits, outdoor furniture (think dining tables and chairs), outdoor games and activities, and outdoor decor including water-resistant pillows, lantern lights, and throw blankets.
Al fresco dining: Shoppers continue to elevate eating outdoors with personalized grilling tools, aprons, s'more-making sets, sturdy dishes, and bowl covers. Offer them in cozy patterns like plaid.
Outdoor games: Summertime staples like cornhole get an autumn makeover with fresh fall colors and themes.
Tray time: Becoming a key item for outdoor dining, trays offer the flexibility and portability necessary for eating or drinking outside.
66% YoY increase in searches on Etsy for lantern lights
42% YoY increase in searches on Etsy for cornhole games
108% YoY increase in searches on Etsy for personalized aprons
39% YoY increase in searches on Etsy for serving trays
57% YoY increase in searches on Etsy for outdoor trays
Jewelry & Accessories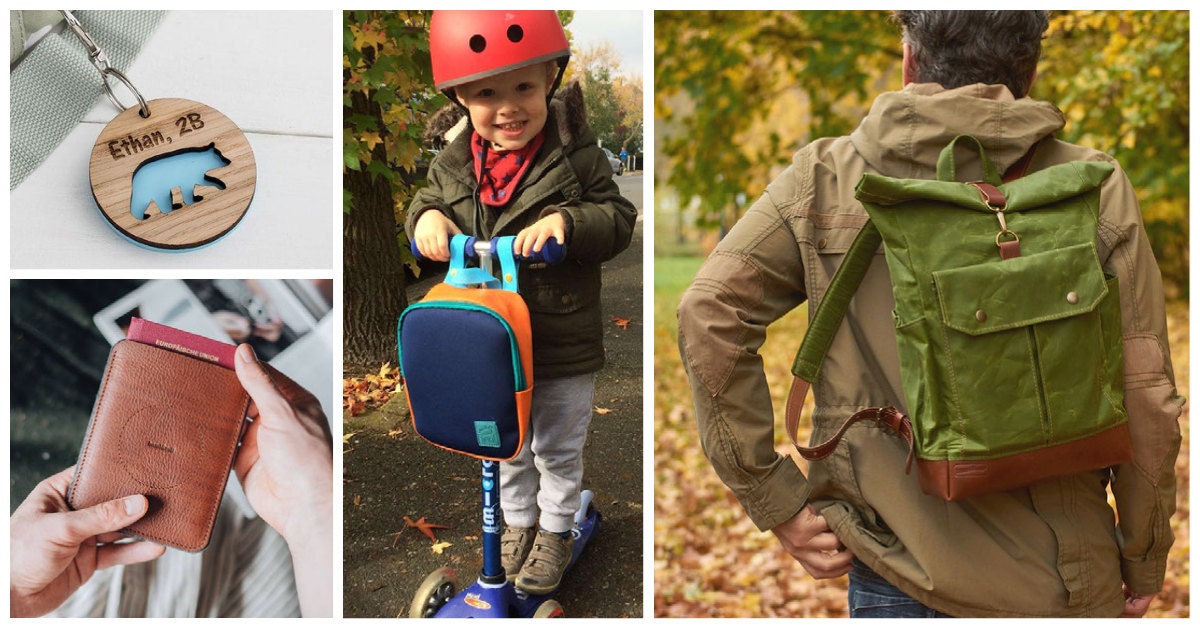 Shoppers turn to small-yet-mighty items to make a statement this season, including affordable jewelry and accessories that complement fall activities.
Travel must-haves: As people set out to explore, we're seeing increased demand for spacious bags, passport wallets, and vaccination card holders.
Festival season flair: With the return of festivals in several countries, we're seeing a bump in body jewelry (including magnetic nose ring styles) and shoe charms.
Key back-to-school items: As some classrooms plan to reopen, classic school supplies like backpacks, lunch boxes, keychains, lanyards, and pencil cases have growing appeal. Keep an eye out for more novel styles like calculation chains and bag patches.
Comforting materials: Cozy faux furs and fleecy fabrics make for a snuggly update to bags and shoes.
Pets on the move: People aren't the only ones getting out and about. We're seeing a trend in the Pet Supplies category around tracking accessories for pups.
Transitional accessories: As shoppers shift from hot summer activities to cooler days, they'll turn to these favorites: the baseball cap and printed scarf.
Ghoulish good looks: Halloween jewelry and accessories are key this time of year, ranging from simple festive touches like candy corn earrings to bold headpieces and masks that make for great costumes.
91% YoY increase in searches on Etsy for weekender bags
26% YoY increase in searches on Etsy for bag patches
45% YoY increase in searches on Etsy for baseball caps
73% YoY increase in searches on Etsy for Halloween earrings
Clothing
Whether heading back to campus, the office, or simply refining their work-from-home routine, shoppers will look to balance their love of comfort with the fresh (and slightly fancier) styles they crave.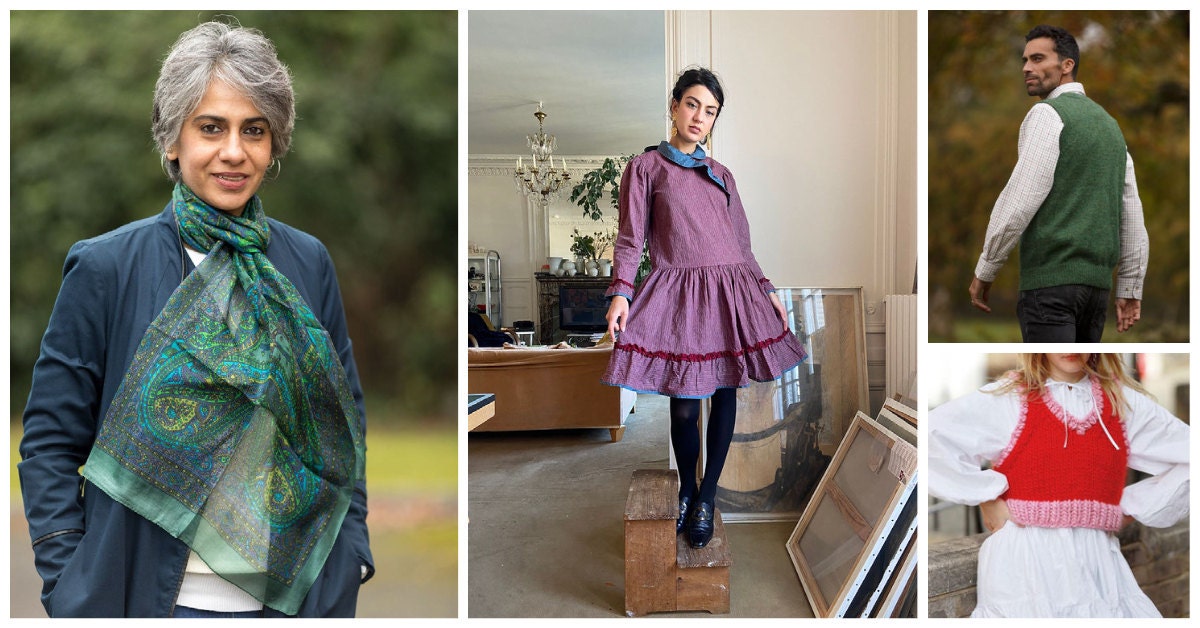 Dressing up (a bit): While many people aren't ready to give up their cozy comfort wear completely, they're excited to get dressed up for a season that could include events to attend.
Adventurous spirit: We're seeing this playful approach to dressing in the increasing popularity of backless dresses, crop tops, and cutout details.
Mini moment: Rising hemlines evoke vintage vibes and the fun-loving excitement of dressing to go out.
Sweater vests: Increasingly popular among women over the last couple years, this layering trend could take off with male shoppers this season.
Easy outerwear: Shackets, bomber jackets, and oversized overcoats are three key made-to-layer fall looks that work across genders. For men's bomber jackets, take inspiration from retro varsity styles.
Plush textures: Faux fur, fleece, quilted patterns, and thick corduroy offer warmth and a comforting appeal.
Sweatpant alternatives: The work-from-home favorite gets a fresh look for fall with a mash-up of luxe fabrics and tailored details with the elastic waists people have come to expect from pants. Knit dresses and skirts offer another comfortable yet refined option.
Versatile dresses: Shirt dresses, fit-and-flare, and loose, any-occasion frocks can be easily dressed up or down should shoppers stay home or venture out.
Form-fitting styles: In contrast, some buyers are moving towards slimmer silhouettes with an unapologetic party vibe.
Romantic frills: Cottagecore and Victorian-inspired looks evolve with an emphasis on soft volume from cascading ruffles.
Vibrant colors: Shoppers are looking to make a sartorial splash via bright color palettes after spending much of last year wearing neutrals.
Head-to-toe tones: Perhaps an evolution of matching sweatsuit dressing, monochrome outfits make a bold statement. Offer in coordinated knit separates.
Prints party: Summer's playful patterns are swapped for slightly serious prints with a '70s feel. Consider logo-style motifs that repeat (including your own custom designs), paisley, jacquard, and a more grownup take on tie dye.
Celebrating fall spirit: People are wearing their love of the season on their sleeves with sassy sayings printed on graphic tees and sweatshirts.
Coveted costumes: An October staple, Halloween ensembles could be bigger than ever as shoppers look to resume fun holiday traditions and start gathering more in groups. If last year's trends persist, look to warm costumes perfect for outdoor socializing and masked disguises.
151% YoY increase in searches on Etsy for cutout dresses
272% YoY increase in searches on Etsy for sweater vests
197% YoY increase in searches on Etsy for fall t-shirts
39% YoY increase in searches on Etsy for jacquard
30% YoY increase in searches on Etsy for ruffles
Craft Supplies & Tools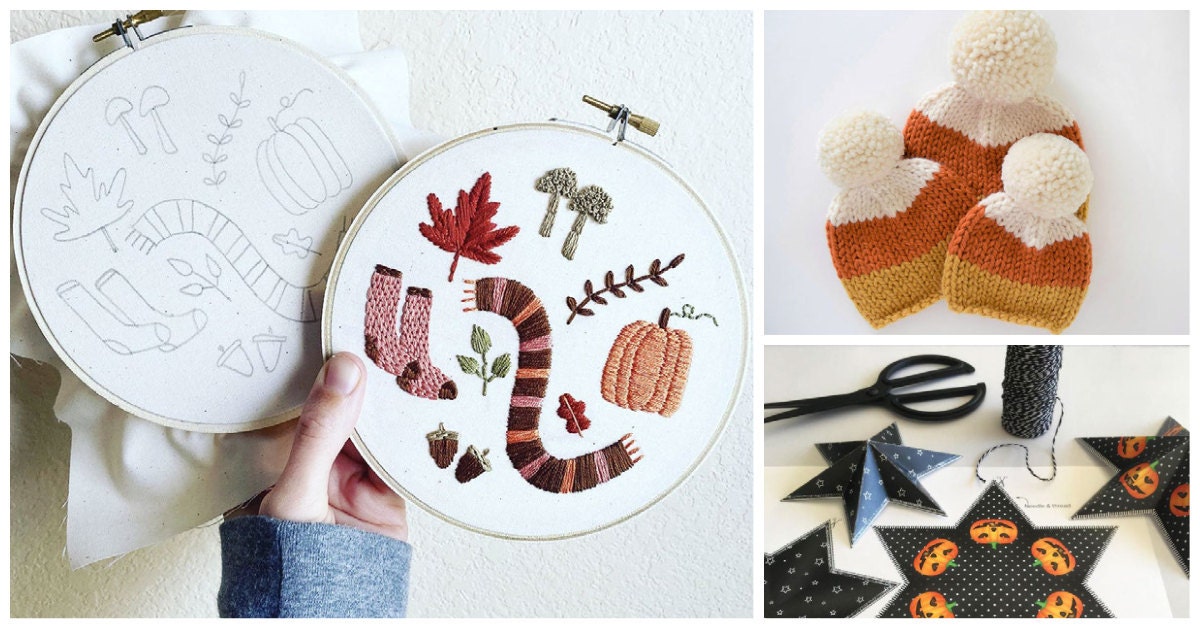 2020's DIY boom continues to make its mark this year as shoppers explore fresh creative pursuits or refine their newfound love of crafting.
First-day-of-school signs: Craft supplies are key to this big back-to-school trend as many shoppers look to DIY their own signs or update reusable signs.
Schultüten or school cones: This German custom is very creative, with cone containers often crafted from paper or cardboard at home. Offer materials or kits.
School and art supplies: Expect parents to stock up for their kids' classroom needs, whether they're physically returning to school or learning from home.
Handmade Halloween: Shoppers could go extra hands-on this Halloween. Offer kid-friendly crafts and approachable adult art projects and supplies (like paint, recyclable paper, markers, and glue) and slightly more ambitious projects for crafty consumers (like knit-your-own pumpkin, quilting, or wood carving kits).
Unisex and men's crafting: We've noticed more male shoppers coming to Etsy for DIY materials and projects, ranging from creative pastimes to home improvement tasks. When marketing your supplies, consider a wider customer base by adding photos featuring male models to your listings. "Craft kit" is a top search among male shoppers.
23% YoY increase in searches on Etsy for school supplies
63% YoY increase in searches on Etsy for classroom signs
65% YoY increase in searches on Etsy for pumpkin carving
1,368% YoY increase in searches on Etsy for Halloween diy
91% YoY increase in searches on Etsy for home improvement
Paper & Party Supplies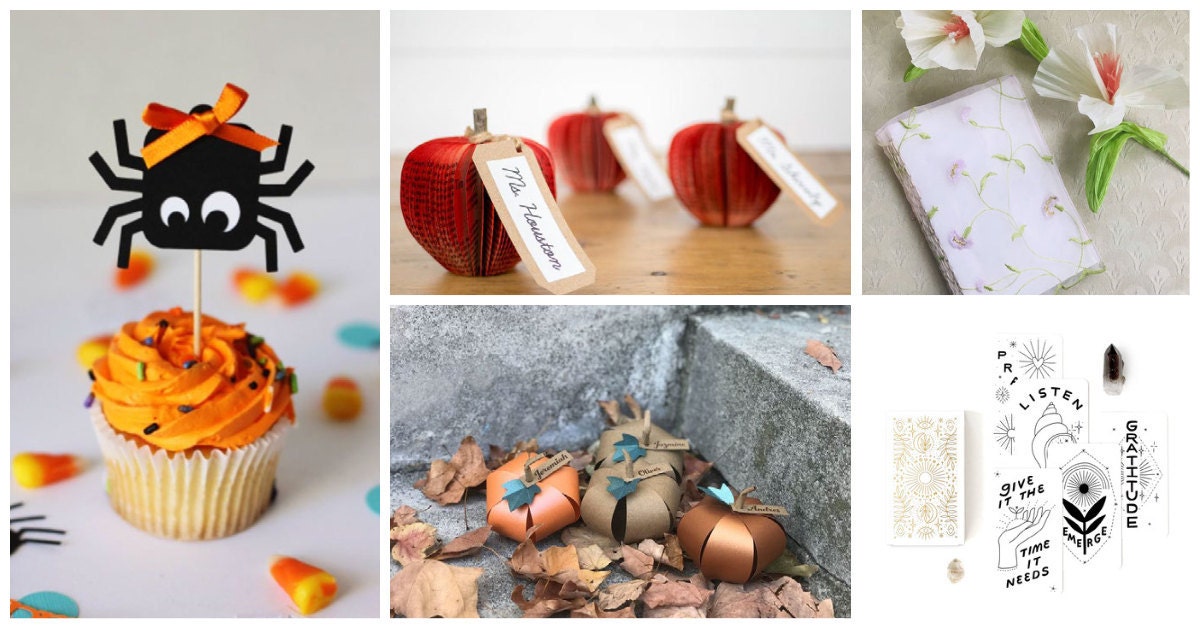 The fall is full of occasions that call for paper goods and party supply finishing touches—like back to school and Halloween. And as some in-person get-togethers resume, we could see revived interest in items for baby and bridal showers, birthdays, family reunions, and holiday gatherings as well.
Back-to-school supplies: A new school year means fresh supplies, even if school is at home. Think notebooks, pens, markers, personalized pencils, desk accessories, and calendars. Stickers provide a fun way to customize the above.
Halloween paper goods: For invitations, decorations, and party supplies, shoppers are turning to eye-catching graphics in a variety of styles.
Keep it clean: No-frills lettering is streamlined yet popping with personality thanks to the following design elements: ALL CAPS lettering, contrasting colors, and heavy marker-like lines.

Ancient artistry: Go for fancy fonts with stylistic looping to resemble gothic-style lettering, or opt for bold lettering reminiscent of ink and quill calligraphy.

Playful motifs: Incorporate cartoonish shapes based on classic halloween staples like ghosts, cats, pumpkins, and candy corn.

Sketchy effects: Explore doodles in spare palettes, hand-lettering, small repeat patterns, and vintage typewriter and chalkboard styles.

Natural elements: Woodland creatures appear amidst ghosts and house spiders in the Halloween landscape.

Old techniques: Etchings and engravings recall a vintage look. Try stippling, shading, prints, negative prints, cyanotypes, and working with black ink for a moody effect.
Heirloom florals: Small-scale flower patterns and toiles take shoppers back in time and tap into cottagecore fantasies. This style feels particularly relevant for bridal events.
116% YoY increase in searches on Etsy for initial notebooks
56% YoY increase in searches on Etsy for ditsy florals
44% YoY increase in searches on Etsy for gothic stationery
97% YoY increase in searches on Etsy for cyanotype
Weddings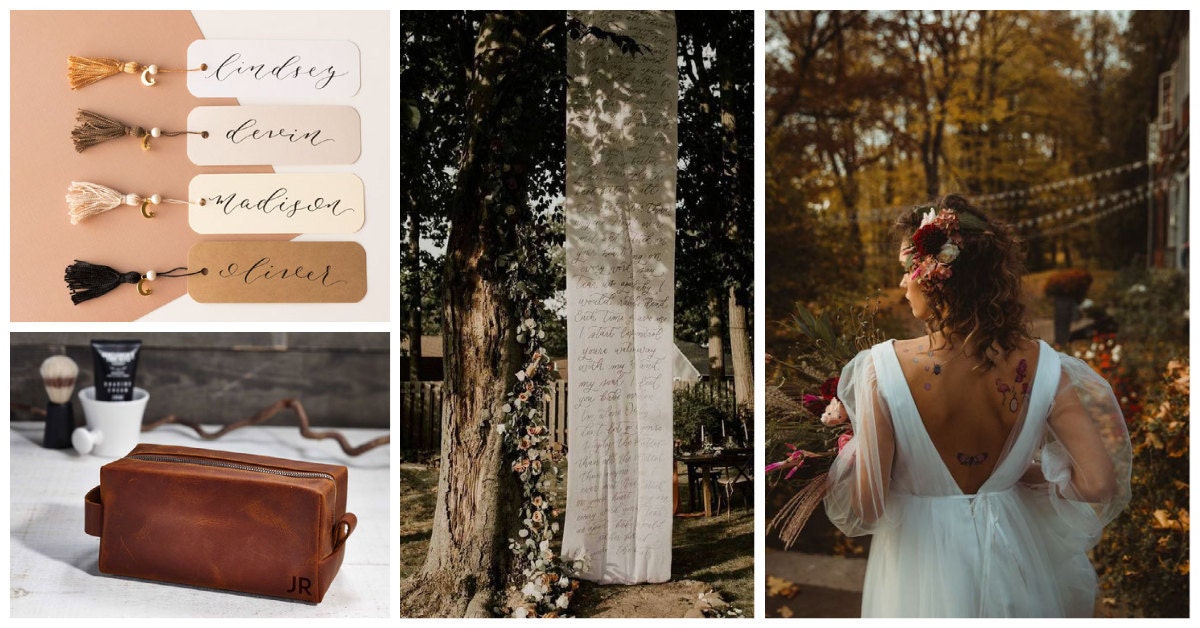 As wedding invitations start to come in, look to demand for wedding inventory to pick up. Prepare for a bump in wedding ceremonies and receptions (including delayed ones), as well as related events like engagement parties, bridal showers, and bachelor(ette) parties.
Groomsmen gifts: With more male shoppers coming to Etsy these days, consider offering a variety of gifts for the groom's party and tapping into creative products with a DIY spin.
Simplified nuptials: Low-key, outdoor, and smaller weddings (including city hall ceremonies and elopements) will likely remain popular. Brunch weddings are a casual yet classy take.
Flexibility: Brides and grooms need low-commitment invitations they can update quickly and cheaply. Look to a trend towards online communication.
Reimagined timelines: While many want to restore traditions, others are welcoming the chance to mix things up with post-wedding bachelor(ette) parties and two-part weddings.
Sentimental and statement pieces: Couple-centric items like hand-calligraphed vows or vow books keep ceremonies grounded in meaning while statement decor (think backdrops and tablescapes) ensure parties make a splash.
Winners for a reason: Lean into proven bestsellers like wedding and engagement rings (including men's rings), bridesmaid gifts and clothing, and decorative signs and backdrops. Custom neon signs are a consistent top performer.
75% YoY increase in searches on Etsy for groomsmen gifts
442% YoY increase in searches on Etsy for simple boho wedding dresses
45% YoY increase in searches on Etsy for simple wedding invitation template
414% YoY increase in searches on Etsy for neon wedding signs
Vintage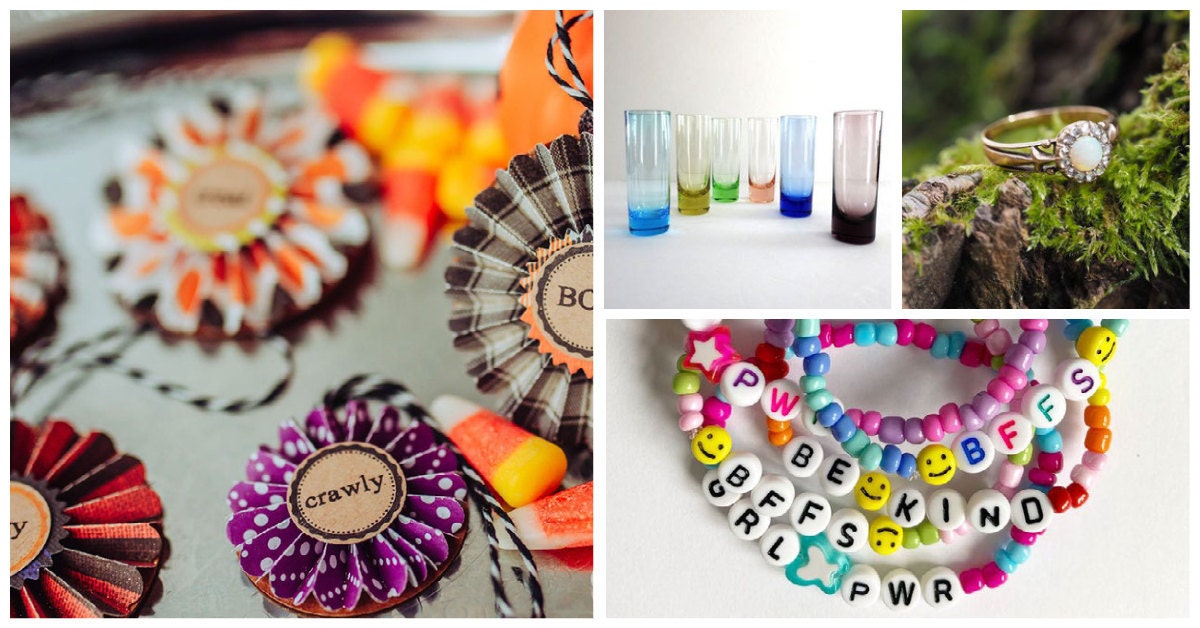 Retro Halloween decor: With classic black cats and ghosts still popular spooky motifs today, it's only natural shoppers would turn to styles of yore for 2021 decor. We're seeing searches for "vintage Halloween lantern," "vintage Halloween planter," and "vintage Halloween candy container" increase compared to last year.
Y2K fashions: Nostalgia for the late '90s and early aughts is fueling Gen Z women's fashion. Consider stocking key casual styles like loose-fitting jeans and shrunken tees, or offering going-out pieces like mini skirts and bodycon dresses.
Found fabrics: Young consumers are embracing mature styles in a move toward eclectic "grandmillenial" style that sources lovingly from the past. Floral upholstery prints and furnishing-inspired fabrics are key to this trend.
Men's vintage styles: We're seeing interest among male shoppers in once-loved clothing pieces, especially classics like hoodies, tees, and retro soccer and football jerseys. "Vintage shirt" is a top search among male shoppers.
Warm metals: Searches for brass and gold are up, and could continue to grow as shoppers look for warmth in their homes and accessories this autumn. Consider stocking brass candlesticks, drawer pulls or knobs, hooks, and vases. Or source gold jewelry: Shoppers are eyeing sparkling gold rings, necklaces, and bracelets.
Sculptural styles: Shoppers are looking to the '60s and '70s for decor finds and inspiration. Ribbed surfaces, totem-like shapes, and contoured forms are an in-season shape for tabletop items like vases.
Candy-colored glass or plastic: The '70s and '80s are the inspiration for this style, which works well with the trend above.
Once-loved charm: New home owners are searching for touches that make their houses feel like homes. For example, we're seeing more searches for vintage house numbers, especially in Germany.
Vying for Victorian: Shoppers are searching for antique styles sourced across jewelry, household objects, and art. Popular searches include Victorian-style clothing, lampshades, wallpaper, wall art, sofas, and tile.
59% YoY increase in searches on Etsy for vintage brass items
89% YoY increase in searches on Etsy for vintage gold mirrors
38% YoY increase in searches on Etsy for gold vintage ring
45% YoY increase in searches on Etsy for vintage Halloween decor
Be sure to subscribe to our seller email list for important updates about your Etsy shop, new features, and personalized tips to help grow your business.
Was this report useful? Help us improve future reporting by sharing your feedback.