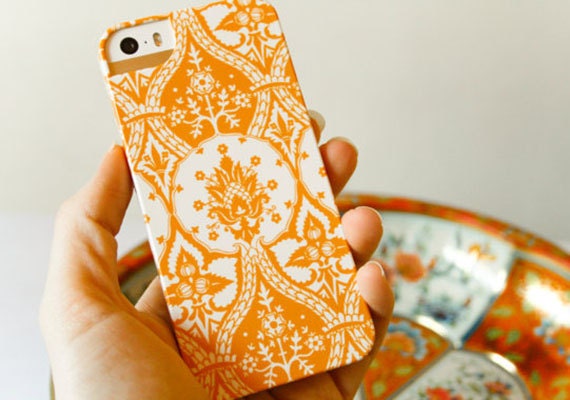 As an Etsy seller, you have a powerful new tool in your mobile toolbox. Etsy's new iPhone app, Sell on Etsy, makes it possible to manage your shop on the go more easily — with features designed to help you process orders, access Shop Stats, communicate with buyers, update listings and more. Later this year, we'll also launch Sell on Etsy for Android (join this Team for regular updates).
Wondering if going mobile is worthwhile for your business? Sarah Mandell says the ability to manage her jewelry and felted goods shop, Once Again Sam, on her mobile phone has been crucial to her success. "Running a full-time indie craft business means I'm constantly on the move," she says. Sarah is often away from the computer in her Greenville, South Carolina studio,  so managing tasks while out and about or attending a craft fair has been key to keeping her business running seamlessly.
Whether you're jet-setting or running errands, Sell on Etsy is designed to make your workflow faster, easier and more fun. Take your business to new places with these real-life tips for mobile shop management.
1. Seize the Day
When managing your shop from a phone or tablet, you can use spare moments to cross tasks off your to-do list. Kristi Quill, owner of typographic signs shop Barn Owl Primitives, which is based in Leesburg, Virginia, has become a master of using these bits of downtime to benefit her business. "As a mom with two kids, having a mobile device to work on my shop is a must," she says. "I spend several hours a week waiting in carpool lines or sitting on sports fields while my kids practice." She uses that time to answer Convos, renew and re-list items, confirm orders, edit photos, create new item listings and monitor shop activity — all from her phone.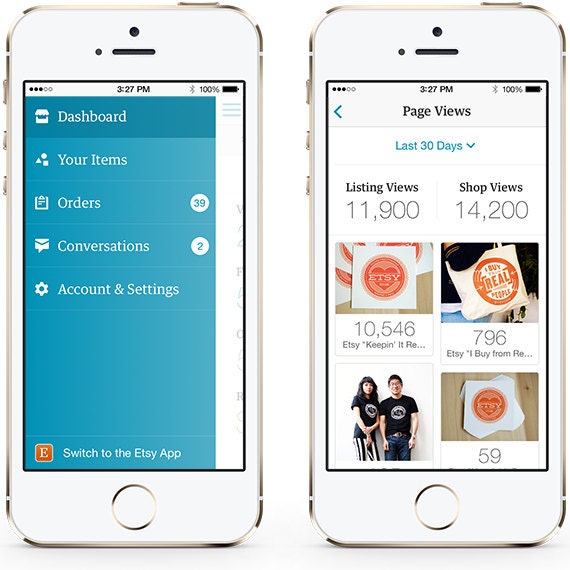 2. Get Alerted
You can minimize your workload by letting apps work for you. After downloading Sell on Etsy, for example, you'll be prompted to allow push notifications. By doing so, you'll give the Etsy app permission to alert you when you receive a Conversation or make a sale. By allowing the app to keep tabs on your shop, you'll reduce the amount of time you spend checking for updates.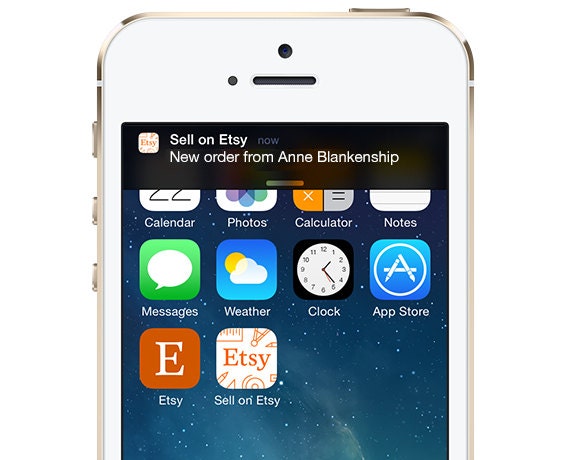 3. Streamline Customer Service
Replying quickly to customer Convos and sending updates on the status of orders will boost your brand's reputation. "I want to be able to respond to questions and send out shipping notifications in a timely manner, no matter where I am," says Sarah Mandell of Once Again Sam. "My fast response time helps customers feel confident about working with me." One big plus? Her customers have no idea she's replying to their questions or setting up a private listing for them while waiting in line at the post office.
You can speed up communication without sacrificing quality by using Snippets, a Sell on Etsy app feature that allows you to save commonly used phrases when communicating with customers. By saving and reusing responses, you'll save time and deliver speedy, consistent answers to common customer inquiries. "I get the same 12 questions every day," says metalsmith Erin Elowe Proctor, owner of jewelry shop  Saturn 5 Studio in Westmister, California. "I have an FAQ section in my shop, but not everyone reads it. So, I use snippets to address these questions."
You can access the Snippets tool within Conversations by tapping on the Snippets icon on the bottom middle of your screen. A new window will appear with a + sign at the top right. Tap the + to create a new snippet by giving it a title and including a message. You can access saved Snippets directly from Conversations.
4. Stay Up to Date
If you're a regular on the craft fair circuit, like Sarah Mandell, up-to-the-minute shop updates are essential. Sarah exhibits at between 15 and 20 craft shows and art fairs each year. When she's at these events, she uses her mobile phone to keep up with inventory at all times, both in her online shop and at her booth. "When an item sells at a craft show, I can unlist it from my Etsy shop in seconds," she says. "This way, there's no chance of any embarrassing and unprofessional mishaps that can happen when a one-of-a-kind item sells twice."
In the Your Items section of the Sell on Etsy app, you can add, renew or make changes to listings on the spot, including editing item quantity, shipping or processing times. Under the Orders section, you can mark an order as shipped, add tracking details, print receipts and contact buyers.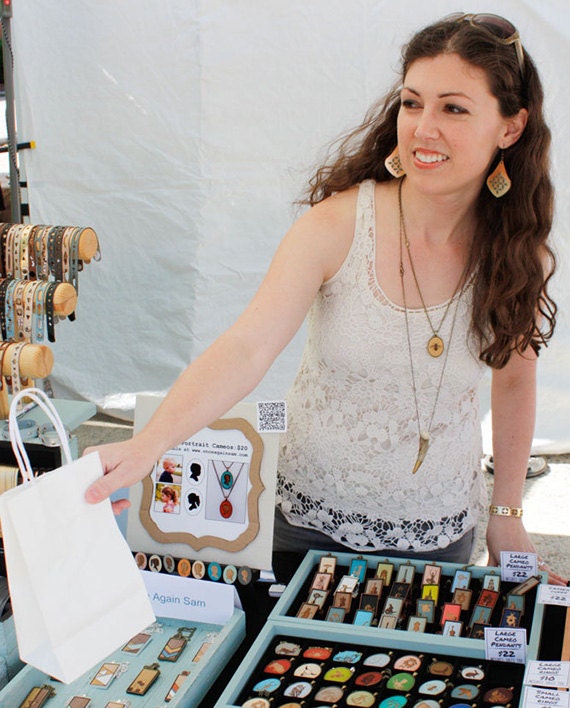 5. Optimize for Mobile Habits
As you get more adept at mobile shop management, you'll start to notice what works on a mobile device and what doesn't. For example, a listing description that might have looked fine on your laptop screen could strike you as far too long on a phone screen. With a growing number of shoppers going mobile, it's important to make sure that your shop images and language are well-suited for a variety of screen sizes and online buying habits.

How do you manage your shop on the go? Share your ideas in the comments.