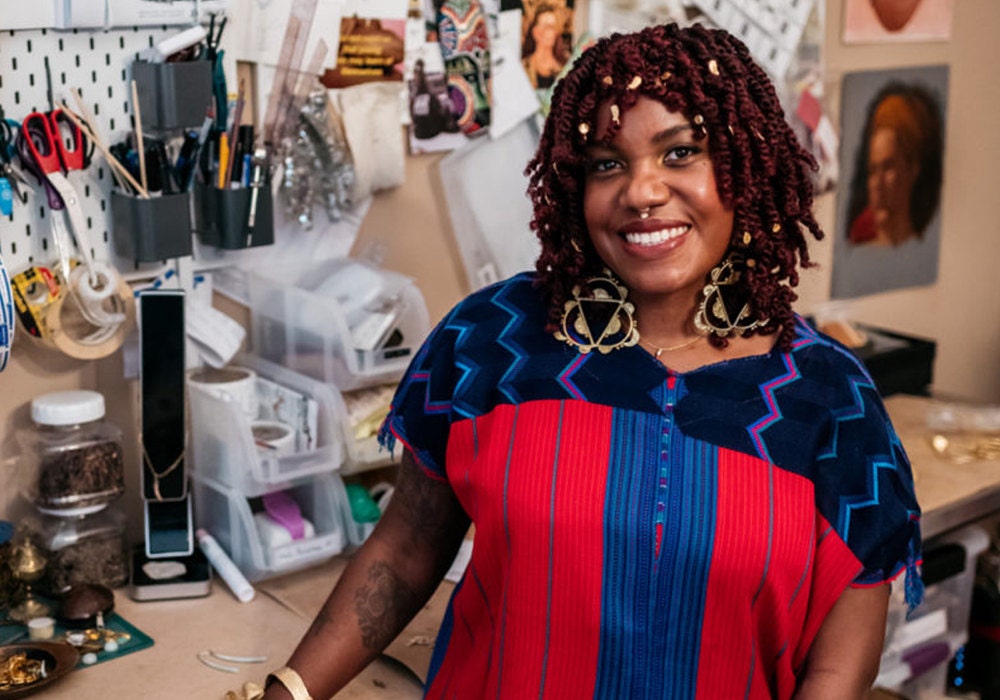 The following is a transcript of a podcast episode released in November 2020. The transcript has been edited slightly for this format. You can listen to the episode on Apple Podcasts, SoundCloud, Spotify, or wherever you get your podcasts.
Dayna: I am so excited to chat with one of my personal favorite Etsy sellers, Alicia Goodwin of the incredible Lingua Nigra. First of all, I want all of the listeners to know how much of a fan I am of Alicia's. I wear at least one of her items every day. So to kick things off, let's introduce our listeners to your expertise. Alicia, let everyone know: How long have you been a seller on Etsy and what do you make?
Alicia: I have been on Etsy since the Stone Age, since we were writing on stone tablets in 2007. I make jewelry, I'm a jeweler. I make unisex jewelry but most for women and femmes. I want to start doing more home goods—hopefully wall hangings—but I say that every year and I haven't done it. The wall hangings are just going to be like big jewelry. It's going to be like gigantic earrings.
Dayna: We're all virtual right now but I just jumped out of my chair for those who can't see me. I think what I love so much about Alicia's jewelry, and what I can't wait for in this pending home line, is all of the intricate detailing that you have in your metalwork. It's like nothing I've seen before. Every piece looks different and unique. It almost looks like she takes a brush and brush strokes hot metal herself. But it's just incredibly beautiful, so let's talk a little bit about how you would describe your design aesthetic.
Alicia: My design aesthetic is very nature-inspired, very natural, very organic. I just really like the handmade aspect of things and seeing how that person worked. It doesn't have to be super perfect to be really beautiful.
Dayna: I can see that. And also your jewelry almost takes you back in time. The metal kind of looks like an antique piece. It looks like a piece that has lived many lives, but is also brand new and shiny. I could go on for days and days and days, because I love it so much. But were you always a jewelry designer? Did you start making other items? Let's talk about how you got to the place that you're in now.
Alicia: When I was a kid, I did a jewelry class at Kennedy King College in Chicago. It was really great. I learned how to make rings and wrap wire. After that summer, I caught the bug. I used to buy supplies at a place called Frank's Nursery and Crafts. It was a nursery with plants, and then you could make jewelry and other craft things. I'd get beads there. The next year, the baby hustler that I was at 11, I sold the jewelry. Before that I was selling mood rings, but I didn't make those.
I thought I was going to be a fashion designer. I was sewing and all through high school I really wanted to be a designer. So I went to FIT and I got my degree in fashion. But I interned at one place and it was a "no" for me. I didn't really have a game plan. I just knew that I couldn't do fashion, but I still wanted to do something creative.
My mom was paying for school, thankfully, and I knew I had 365 days left on that. I was thinking, "OK, what else could I do"? At FIT, there are people who don't graduate because there are so many classes you can take and so many degrees that you start and stop and I took a million classes. So across the hall was the jewelry studio and I was like, "I like jewelry. I should do that!" I remember telling one of my friends and he was like, "You should've been doing that in the first place." I'm like, "Really?" I never thought that I wasn't going to be a fashion designer.
I went into the program and it was hard. It's a one-year program which is four semesters in two, so it's really accelerated. I had two jobs. I made it happen. After that I just kept on making my own jewelry. During that program, I used two techniques that I really love: acid etching and reticulation. I used those in my own work and then as I worked for other people, I would use their benches. I worked for one woman for a year and a half and I would use her bench in her live-work space in Clinton Hill. I'd work on her stuff, then work on my stuff, then walk all the way home to Crown Heights.
At that time, I didn't have an end goal, I just knew I wanted to make things and it was cool because I was learning a lot from her in her business. But then people would literally stop me on the street or on the subway and ask me where I got my stuff from. I had these really cool coins from when I was 11 and I went to Spain for the World's Fair. So I had all these pesetas and I made them into gigantic earrings. With New York being the international place it is, people would stop me in the street and give me coins from their country. They would be like, "Oh look, I have these coins from Jamaica, I have these coins from Russia. Here make jewelry with them, these aren't worth anything."
Eventually in 2005, I got a full-time office job that was still in jewelry. This was after working for several really great designers and makers in their studios. I worked for Lee Angel and they were still making things in New York and Rhode Island, so that's how I found a caster, who I'm still with to this day. You always remember people who give you a chance. I asked him, "Oh, do you have any minimums?" And he said, "No, you can make one thing, and I don't care." A lot of people weren't like that. It definitely helped me to grow.
When I worked with the first woman who had her own line, she had a sales rep. My boss was having a hard time fulfilling the order. And the sales rep said, "If you fulfill this order, I will help Alicia out. I will give her a wholesale order in Japan." I don't know how I got involved in this! I guess because I was making everything for her. So she got me the wholesale order in Japan and they placed this order. I made it and then they returned everything because everything looked different.
Dayna: They weren't ready! They weren't ready for the uniqueness. But here's the thing, it's so crazy to hear your journey to getting to your true passion. It's almost like you re-answered the call of your 11-year-old self. Your 11-year-old self knew exactly what she wanted for grown-up Alicia and then you just came back to that. So can you just give our listeners a sense of what makes your process of making your jewelry so unique?
Alicia: So I have a few different techniques to get to my end result. One is wax carving. So there's jeweler's wax but back in the day it was beeswax. So if you go to a museum and you see all this beautiful jewelry from the Mesoamerican era, it's usually made out of beeswax and it's the lost wax process. Now it's a big block of wax that's harder, and it comes in different hardnesses, and you carve it. It's almost like sculpting clay. It's a reduction method, but it's nice because you can add wax back on if you want to so it's really forgiving. It's probably the cheapest way to create jewelry, because you can sit and make an entire collection and not cast it.
So with that, I'll make rings and hoops and then I'll send it out to somebody who'll cast it in brass. And then when it gets back, I'll finish it. I make it smooth and then I'll paint random textures on it with black paint. It's a thicker paint for acid etching. And then I'll set it in acid and the acid will eat away whatever I hadn't painted on.
Dayna: Oh, so that's what makes the textured look and feel. For the listeners—who will soon purchase some of Alicia's things, because I'm sure you're going to fall in love with it like I have—when you run your fingers over it, you can feel the texture. I think that's what makes the design so unique. I can feel it in my favorite hoops that I'm wearing right now. And I have bangles in the same design and in both I can feel the different layers of texture.
Alicia: Yeah, and with the earrings you have—you have on the large poetic hoops—I'll get a sheet of acid. When I want something to curve and move in a different way, I'll make it in wax. And then I'll also get a sheet of brass and I'll paint on the front and the back and set that in acid. Then I'll bring that out and clean it, so I take off the paint. So that's how you have the texture on the hoops and bracelets.
From that sheet I'll cut out different shapes, like the hoops. Or if I want to make another bracelet, I'll make a longer strip. Then I'll form it and send it to my caster. He'll make a mold of it, make multiples, and then send them back to me and I clean everything up. I'll solder things and then send it to my gold plater. So those are two different ways to get to one technique, which is the acid etching.
And then another technique is reticulation, which is the separation of alloys. So in sterling silver you have sterling and copper. In brass, it's copper and zinc to get that really pretty gold color. And since copper and zinc are mixed together, when you heat them up over a certain period of time, the metals separate. As they separate they make these really pretty mountains and ridges. It takes forever and it gets really hot so I do it in batches. I'll do a huge gigantic sheet of it, so I don't have to do it for years and then I'll just cut out all these different shapes from it. It almost looks like Shar Pei skin or a Rex cat skin. Or a topographical map to make it sound prettier. So I'll cut out those different shapes. I have these really pretty little earrings that I call "shower of faith" and they have fringe. It's a little half crescent that's reticulated. So it's like a flat but it's also dimensional.
Dayna: Now that I get to really hear about this process, Alicia, you really are part scientist, part jeweler, because this is a very technical process. I think one of the other reasons that I love your jewelry so much is that it truly does feel like each item is one-of-a-kind. It feels like it was made just for me, though I'm sure other people feel that way too. And speaking of these other people, as much as I like to consider myself your number one fan, you do have quite a few other people with some large followings who are of the celebrity clientele. Would you be able to share with us who some of those celeb favorites are?
Alicia: The film director Ava DuVernay has quite a few Lingua Nigra pieces. Amanda Seales wears Lingua Nigra and she has the same hoops as you have on. She wore them for her HBO special which was really nice. There's some good press. I have some good stylist friends who get my work on some amazing people, who I love. Macy Gray, that was a really amazing shoot. It's really fun to see the work out there.
Dayna: Oh, I'm sure. It's pretty awesome to see your hard work, not only pay off just in terms of sales, but also being worn by people that you admire and you love and that they spread the word as well. As the years have gone by, you've also been featured on Etsy many times, whether that's in emails or a Featured Shop, and also through magazines and websites. With all of this exposure, what did that do for your business and what was one of your proudest moments in terms of features?
Alicia: I think the Featured Shop was great. That was something I'd aspired to do for so long. It was just something cool to see. Also because you didn't know, like one of my good friends would be on and they wouldn't tell anyone until they were on it. It was like, "Surprise, guys! I'm a featured seller." It's so amazing. It's such a game changer because you get to be in front of so many eyes.
Dayna: I want to talk about one of the things that I love so much about being a part of our Etsy community, both as an Etsy employee and a shopper. I think about the fact that we met through me purchasing your jewelry, and then built a relationship and became friends after that. I think I'm not the only one who has great memories of being a loyal customer to an incredible seller on Etsy. But I'd love to know from your perspective, what's been one of the most memorable stories from a customer?
Alicia: There have been a few people who have messaged me about wanting something that I either don't have in stock or something for their wedding. One woman wanted earrings for her wedding and it was nice because she took pictures. That was the best part. It's so trippy to know that this is literally coming from my thoughts and she wore it on one of her most special days ever, for something she maybe planned years ago. I feel like I'm at her event. I feel like I'm at everybody's event. Jewelry is such an emotional thing. It's such an emotional purchase even if you're not purchasing it for yourself. People message me and say, "This is for my sister or my daughter-in-law. Can I add this message?" It's cool to know that person is thinking of them and using my work as that extra something to say "I love you," "I'm thinking of you," or "You're really special to me."
Looking at all the feedback and the comments just from the past two months have been really nice. Just really, really sweet. Especially considering my delays, post office delays, and supply delays. People were like, "It was worth the wait," or "I'm so excited to wear these!"
Dayna: I think it's important for shoppers to really take a step back and understand that when you're purchasing on Etsy, you're purchasing from a real person. I am talking to the maker right now who is responsible for making the incredible items that I love to purchase. Think about all of the work and dedication and all of those techniques that we were just talking about. That is not an overnight process. That process takes love and care and dedication. It takes time. I think a lot of times it's important to really understand that this is not coming off of a commoditized shelf. This is coming from a real person who has poured their love into the item.
Earlier we were talking about all of the features that you've had and the rise in visibility for you. Alicia, you know that as a global brand, we've always tried to strive to have a diverse marketplace that reflects the diversity of our world. It's what makes Etsy so special because we are, in fact, global. And also, as you know, for the past couple of years together, with you and many other sellers who I've worked directly with, we created an Editors' Picks page dedicated to supporting Black-owned businesses. You alluded to it a bit, but have you seen a difference in support from the community since that page has launched?
Alicia: Oh, I have definitely seen more support. It was definitely a game changer. I knew that since I shared a quote for the newsletter that I might get a few sales but I didn't think I was going to be blown out of the water and I was. The notes of encouragement and support have been really great.
Dayna: I'm so happy to hear that. Because I think now more than ever, not only do people want to step outside the box of sameness, but they are also very conscious of the types of business that they support. Now and every month is always a time to support Black-owned businesses so I was very happy to hear the positive reaction that you heard from our buyer community.
And, look, I may be biased but shopping on Etsy feels different than it does on any other platform. Because, again, I am talking to the person who made my earrings right now. We are friends. You engage with your customers on a whole other level on a day-to-day basis. So how do you think shopping is different on Etsy than on other platforms?
Alicia: Oh, wow. On other platforms, you don't know who the maker is. On Etsy, you can add what the seller's studio looks like. You can see how they write the descriptions and how it's made. You can ask them questions about how it's made. It's nice just to develop a relationship and you don't see that on other platforms. On Etsy, it's like, "I made this with my hands and maybe with the help of a few other people. Here's the story behind it and this is why I did it and this is how I did it." I'm quite the shopper on Etsy, so I'm right with you on that.
And it's really great to just see how all these people make these niche markets and places for themselves. They carved something out. Like I bought from this one company during quarantine and I needed a model and obviously I can't have a model here in my studio. So I looked on Etsy to get silicone ears and noses and it was really great. One seller was able to make it in brown skin tones, which was very important to me. It really worked out. You can find almost anything on Etsy.
Dayna: That is so interesting because I don't think about things like that on the maker's side, right? Because as a personal experience for me, I want to make sure I can support independent makers however I can. For example, I just bought this incredible piece of artwork from a shop named Art By Monday. It's a beautiful piece of artwork and I wanted to make sure that the frame was not just a typical, regular frame. So I searched Etsy for a custom frame. The shop owner and I were talking about the size and I sent them the link to the art that I purchased so they could make sure it fits right.
When I think about the fact that you said, "I'm a jewelry maker and I need silicone ears," I'm thinking, "What?!" That doesn't even come to mind, but it's really a true testament to how people who support independent makers want to do it full circle. Whenever you can, you want to be able to support and uplift each other's businesses.
My role here at Etsy is to spot trends that people, like yourself, and the rest of our incredible community are coming up with and creating on a daily basis. But as the maker, I'd love to ask you about any trends that you have recently created that you want to become a trend. Or a trend that you've seen that you now want to incorporate within your product line.
Alicia: I think the indigo shibori trend is still going strong. And natural dyes in general, people are trying to use less toxins and that's been really cool. I have one earring that's a little cone shape that I carved out of wax. I got cotton yarn and I hand-dyed all this yarn in indigo. Then I made a little tassel from it that goes inside of it. So it's a little pop of color against the gold and it looks really pretty.
In general, I wish I could incorporate a gold fanny pack. That's my thing—buying fanny packs from Etsy. But there's still a hoop trend that's always going, and fringe. And because of video calling, I'm seeing more big statement earrings. I'm looking at my bench from where I'm sitting now and there are so many things that I want to add on and put into the world.
Dayna: Alicia, my girl, I can't thank you enough for chatting with me today, sharing your inspiration, the ins and outs of one of my favorite brands, and one of my favorite people. I want to end this with something fun: I want to do a quick lightning round of creative options. You down?
Alicia: Yes!
Dayna: OK, just say the first thing that comes to you off the bat. Hot glue gun or drill?
Alicia: Hot glue gun.
Dayna: Crochet or embroidery?
Alicia: Crochet.
Dayna: Florals or geometrics?
Alicia: Florals.
Dayna: This is a tough one, earrings or necklaces?
Alicia: Earrings.
Dayna: Baking cakes or baking clay?
Alicia: Ooh, hmm...baking clay.
Dayna: Nice. I feel like I gave you some ones that you really had to ponder, so I appreciate that. Thank you again for joining me.
Alicia: Thank you, this was fun!