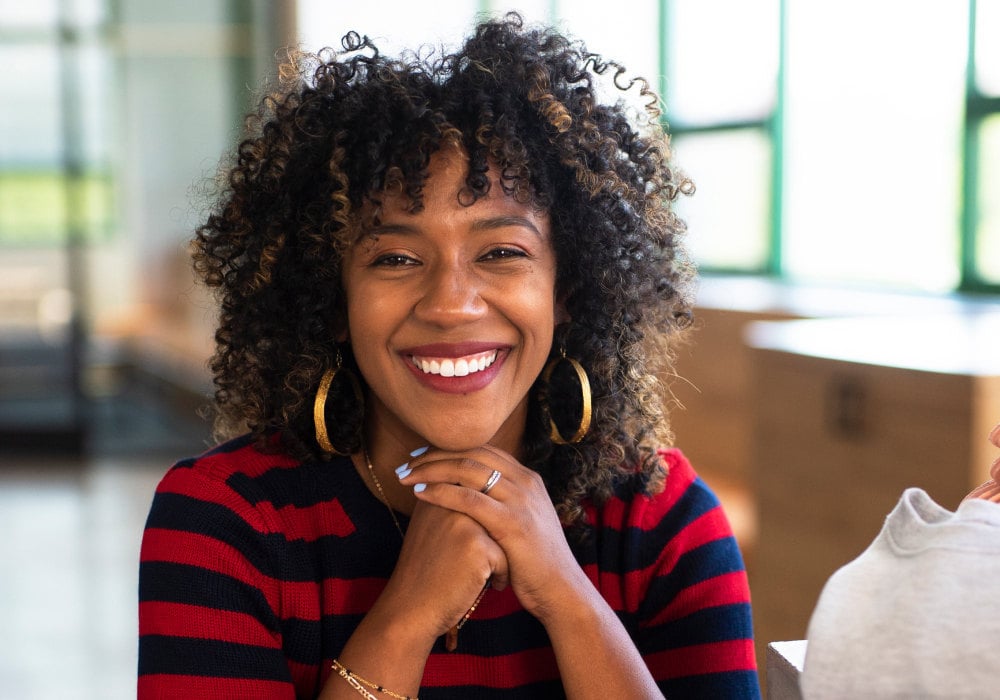 The following is a transcript of a podcast episode released in October 2020. The transcript has been edited slightly for this format. You can listen to the episode on Apple Podcasts, SoundCloud, Spotify, or wherever you get your podcasts.
Tess: Etsy Trend Expert, Dayna Isom Johnson, is here to share an update on what's trending for holiday this year. Before we dive in, can you tell me what you've been noticing more generally speaking about how buyers are shopping this year?
Dayna: Yeah, this year it's certainly going to be different from past celebrations but I do have some key ideas for our sellers to keep in mind. The first one is that, because of shipping challenges, people are going to want to shop much earlier than usual and they're spending more time online than ever before. This is because, of course, we're all at home on our screens all day, which means more time for them to shop.
The next thing is that people are trying to get ahead of those potential shipping delays. So, again, they're going to start shopping earlier because they want to make sure that these items are going to get to their friends and family in time for the holiday season.
The last thing to keep in mind is that budgeting is going to matter more than ever for shoppers because they may be faced with some financial difficulties and so they want to make sure that the items that they're purchasing are the best options for their family and friends. They're going to be on the lookout for Cyber Week. This is expected to be a major shopping time so I would love for our sellers to consider participating in a sale, if it's right for your business.
Tess: Yeah, that makes sense. It's never a bad idea to get started early on holiday, whether you're buying gifts or selling them, but it seems like that's especially pertinent this year. So what are some new trends that have been popping up since we last talked?
Dayna: The first one that I really love is one that I'm calling "interesting insects." We're continuing to see momentum for celebrating the outdoors and nature, as we've had to spend so much time inside. This is a great option to incorporate these interesting insects into your designs. Last year we started seeing bees creep in as sort of an "it" animal, and now all of the insects are swarming in. I've seen some sellers start to incorporate this on wrapping paper, on ornaments, on lots of different items. It's fun, it's fresh, it's different.
I also think that this could be a great opportunity for our vintage sellers to take advantage of this as well because of those vintage illustrations or prints of insects. There are so many other items that are from yesteryear that could be incorporated in for our vintage sellers.
Tess: Definitely. Actually I purchased one of those vintage prints you're talking about just this year from an Etsy seller in Germany. It was for my friend's birthday and it had all of these beautiful butterflies on it. She loved it. OK, what else are folks looking for right now?
Dayna: I love festive accessories because with most of the celebrations happening virtually this year, shoppers are still going to be looking to find something beautiful that's going to allow them to shine brightly in front of the screen from the waist up. So because of that keyboard-up styling, I would love for sellers to think about brooches and pins. Searches are starting to go up for those as people are thinking through their holiday looks. Again, vintage sellers, this is a great opportunity for you because there are so many incredible brooches and pins from decades past.
Another item that has continued to see increased interest is dangling earrings. People are really focusing on their faces, on their waist-up looks, and wanting to have those statement pieces that you can see from the screen. Next is hair accessories. Last year, we talked about headbands having a moment and that is continuing to be popular through this year. And again I think we can thank our virtual celebrations for that, due to the focus on pieces that can be seen from the waist-up.
And another thing that's very interesting—again, vintage seller shout-out—is retro frames. This is coming on the heels of our granny chic trend that I called out last year. I'm talking about all of those lanyards, the cat-eye frames, and all different shapes of retro frames.
This is an exciting time for all of our accessory sellers to really make a mark and show shoppers the incredible breadth that they have to offer for those virtual parties. And the great thing about vintage is that it's a sustainable choice for shoppers. Vintage sellers, I think this is a moment for you all to really take part in this granny chic trend that is continuing into this year.
Tess: So I've heard that some people are still going to be doing some celebrating outside, so how can sellers consider catering to those shoppers?
Dayna: For those shoppers who are going to have small gatherings at their homes outside for the holiday season, the goal is to keep everything cozy outside. I've talked about trends in the past that focus on bringing the outdoors in. Well, this time around we're bringing the indoors outside because shoppers want to make sure that their family and friends feel just as cozy in their outside entertaining areas.
They're going to be looking to add fire pits, chunky blankets and pillows, s'mores kits, all of these wonderful things that can be used outside to keep friends and family cozy. Food sellers, think about items that can be enjoyed outside. Cedar planks for grilling perhaps, and, again, those s'mores kits. For furniture sellers, shoppers are going to look for those key furniture elements to make a cozy and special place for their family and friends to come together.
And because these gatherings are going to be so intimate, they're also going to want to deck out the table decor. When you're planning an event for ten people rather than 20 for Thanksgiving, or however many, it allows you to get very creative. They want name cards, beautiful ceramics, interesting candles. All of these items that make the celebration extra special.
Tess: Yeah, and I know that people are still obviously buying facemasks so what's the latest in mask trends?
Dayna: Yes! For people wanting to look festive, they're still going to be on the hunt for coordinating masks and mask accessories. So for that little additional pizzazz for your mask gear, floral prints have continued to gain momentum. Holiday prints so that you're matching the season. Personalized photos to make it an interactive talking point if you're engaging with other people. Really anything that's going to allow shoppers to have an Instagrammable moment because everyone loves to share their fun pictures on Instagram, so however you can be creative with that.
The other thing that continues to gain momentum are coordinating lanyards and mask cases. As we continue buying these masks, we want to keep up with them and make sure that they're not getting lost so I've started to see sellers do coordinating lanyards, which matches back to that granny chic moment. It's an opportunity for people to continue to show their personality and their personal style.
Tess: I can see people doing matching face masks in front of the festive backdrops that I know we talked about in our last trends episode. And I know we're going to be talking about backdrops again in a little bit, but keep going: Tell me about mask accessories.
Dayna: The things that I'm loving are these mask bags, which help you to keep up with the mask. But again, it doesn't have to be a plain bag. Add some personality to it. People know that now that this is an everyday item, you want it to look cute and you want it to match your personality. So however you guys can add your unique creative flair to it, do it.
The other thing that I talked about was those mask lanyards, but I want to talk specifically about the type of materials that are being used. I've seen chain material, so it looks kind of like a necklace. I've also seen plastic or acrylic lanyards that look like chain interlinks. There's also fabric or rope so it's comfortable on the neck. And finally, leather for a little touch of luxe.
The other thing that I really love—and I've already purchased it myself—is coordinating either headbands, hats, or bandanas for your dogs to match your mask. Yes, I bought the coordinating mask and doggie bandana for my little Mojo.
Tess: Aw, what does it look like?
Dayna: Oh, it's so cute. It's actually chartreuse, the color that I talked about earlier this year, and then it has little white triangles, like a geometric print. I love it. And I'm just going to go ahead and say I think Mojo equally loves his bandana too.
Tess: Etsy sellers are amazing at putting fresh new twists on classic holiday celebrations and gifts. Are you seeing innovations on the classics this year?
Dayna: Oh, yeah. With so much time at home, it's more important than ever to make sure that shoppers are creating a joyful and memorable experience at home for the holiday season. I know it's a priority for me and I think it's a priority for all of us. We want that joy, that positive experience at home.
Because of that, here are the items that are starting to bubble up. The first one is my personal favorite: coordinating holiday pajama sets. This is for the whole family. The parents, the kids, the fur babies, whoever you want involved in this. It's just a really fun way to have everyone matching in your family and taking those cheesy, fun family photos. It's just a wonderful memory for families to have.
The next one is personalized ornaments. The more personalized, the better. Any time that you offer shoppers the option to make something personalized, it just makes it even more special and really commemorates a special time in the family's life.
The next trend is something that people are always looking for around the holidays, but especially this year as they look to refresh their holiday decor because of all of the time spent at home. I'm talking about personalized stockings. So however you can add names, add special dates, add anything personalized that shoppers can discover to update their holiday decor.
Tess: Since a lot of families won't be able to travel this year, what are some ways that sellers might think about gifting in a way that feels extra special?
Dayna: It's such a bummer that so many families are not going to be able to spend and celebrate together in the same home this year but I've started to see some trends arise from this. The first one is "long-distance gifting," and I think one thing that's really starting to soar in that area are care packages. I've seen quite a few sellers starting to create both personalized and non‑personalized care packages. These care packages are showing off a plethora of special items that make your gift recipient feel like you hand-selected each of those items for them. And when it arrives packaged beautifully, it can really add to the excitement someone could have when they open it.
Another thing that's related to that is New Year's care packages. I truly think that this one is going to take off, especially after those care packages for the holiday season. This is going to allow shoppers to really spread positivity to the people that they love. So specifically for New Year's care packages, if you want to include gratitude journals or candles or self-care products. All of those things to help make someone feel excited about the next year.
Tess: Speaking of which, I know shoppers start searching for New Year's items in December. What other trends are you seeing for that holiday?
Dayna: Yes, so the first trend is "reimagined resolutions." It's been a tough year for all of us, and this is going to affect how people look at New Year's resolutions. Shoppers are going to continue to look for items that are going to help them grow and be motivated for the next year, like inspirational illustrations and journals.
There's also going to be a need to help the planet, so sustainability is going to be a major factor in terms of what people are looking to achieve personally. I think they're going to continue to increase that consciousness about what they purchase, what those items are made from, really wanting to support small businesses, and purchasing things that are going to affect the world in a positive way. I also think overall wellness is going to continue to be strong, with natural beauty products, athletic wear, and comfy, cozy gear.
Tess: And how are people going to be approaching the actual celebration that night?
Dayna: So there are a few different things, and they're all very different. The first one is comfort and glam. Shoppers are going to want to put that extra effort into their look for the year but they still want to remain comfortable, especially if they're celebrating at home. For instance, I think there are a lot of people who will want to perhaps wear an over-the-top sequined blouse on the top and then sweats or tights on the bottom. That way you can look good if you're celebrating from the keyboard up. Or you're just like me: I like to feel a little jazzy for the New Year but I don't want to walk around the house in super-tall heels and be uncomfortable.
And shout-out to my vintage sellers with this comfort and glam. There will be people who want to wear over-the-top sequined tops or jeweled earrings or stone earrings, whatever it may be. For our vintage folks, this is a time for you to call out that these items are perfect for New Year's festivities
The second one is brand new: daytime festivities. People want to celebrate with their family and friends outdoors in the daylight. Many folks are going to opt for outdoor brunches at home. That means that they're going to look for daytime decor for the celebration because, again, as things pivot in the world people still want to celebrate and they still want to spend time with friends and family, and this is an option for them to do that outdoors and still celebrate the New Year.
The final option is the virtual toast, so this is when that background continues to matter. This is when you're going to snap screenshots and share on social media. This could be either a competition between your friend and family group for who has the best party backdrops, or perhaps you want to coordinate with each other and everyone has the same banner in the background. All of these options are still about celebrating. They just all have a different twist, and I think shoppers have different ideas for how they want to bring these to life.
Tess: Do you have any final tips?
Dayna: I just want to reiterate two other themes that I spoke about before in the last holiday episode. These are great fresh takes on holiday themes. In the last holiday trends episode, I talked about citrus being a very strong theme for the holiday season. Think lemons, grapefruit, oranges, kumquats, all of those summer-y types of citrus fruits. But I started to see that creep into the holiday season, so on wrapping paper, on ornaments, all those mainstays for the holiday season. It's a great fresh take that you could consider incorporating into the items that you make.
And the second one is shibori. This is tie-dye's sophisticated sister, and tie-dye was such a huge winner this year. I've seen a lot of you sell shibori items using the natural indigo dye. I know many of you had great success selling tie-dye items and shibori is continuing the interest in that type of look.