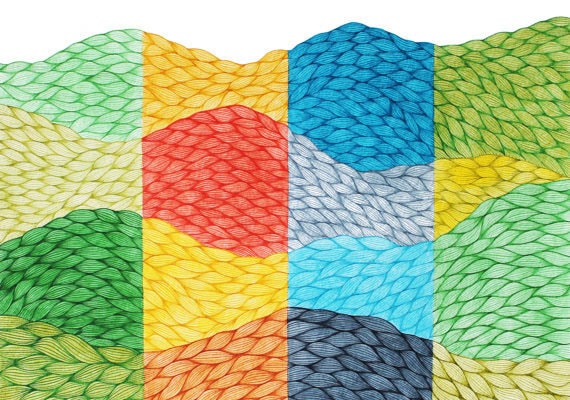 Summer rolled in with a gusto this year, bringing with it warm temperatures and for some sellers, a decrease in the number of views and sales in their shops. For those of you that felt the impact in your shop, you're not alone. This seasonal slowdown is well known in the retail world and its implications are felt both on and offline.
So, as a seller, how can you use your downtime to your advantage? Start planning for the holiday season! We asked the selling community how they beat the seasonal blues. Their top 4 holiday preparedness tips are below — read on!
1. Evaluate your shop and make changes
Find the cracks in your listings.
"I find the slow time a good time to go back through stored items and older listings. As my shop is mostly ready to ship sometimes I end up with designs that were less than popular. It's a good time to figure out why. Was it the fabric, the general design, does the listing need a makeover? Then I try to figure out if I can take it apart and make it into something that might be a better seller for me." —  gothiccreations
Offer a range of price points to appeal to more buyers.
"The one big mistake I make every single year is not taking the time to make a few more elaborate, more expensive items to entice buyers in the holiday season. I know I will usually sell some higher-priced items in December, and get good traffic from them as well, but somehow I manage to create fewer of them than I intend every year. Let's hope that changes!" — cindylouwho2

Review and reshoot lackluster photos.
"During the slowdown I've taken the opportunity to organise some photography sessions. It's a lot easier to plan a few fixed dates throughout the summer to get all your model shots done. A local photography student contacted me with regards to building her portfolio for college, so I jumped at the chance. She gains experience, and I gain free, quality images." —  missbelluk
List true quantities to save time and make purchasing multiples easier for buyers.
"This summer I've decided to make multiples of items in popular colors and take advantage the quantity listing feature." — JeanieBeanHandknits

Get started prepping your shop for the holidays with Etsy's Shop Critique Worksheet.
2. Add new products and stock up.
Create backstock for busier times.
"Building inventory is essential or I would never make it through the busy season. I take a look at my Shop Stats and history of my shop to see what may need more inventory and look at upcoming trends to select new colors to offer. This is really my prep time so I am still very busy but more behind the scenes busy." — Midwest Crochet
Test out new products.
"Another advantage to introducing my new stuff in the summertime is that I have a good three months to test market things. That way I know what the hot sellers are and I can build up my inventory on those particular items. When orders were coming in fast and furious last September through December, I barely had time to create new inventory and was so glad I had stockpiled some of my more popular items!" — SusanFayePetProjects
Don't forget shipping and packaging supplies.
"I decided that I would start preparing earlier this year by taking the summer to get the essentials prepared. I'm stocking up on packaging and wrapping supplies, and making hundreds of Thank You note cards." — VictoriaCampDesigns
Keep seasonal items listed year round.
"This year, I kept all of my listings active during the warmer months, including my Thanksgiving and Christmas color combos for my Mason Jar Centerpieces. I've noticed quite a few more sales from the Southern Hemisphere, as well as purchases of some fall items from people planning ahead with their decor." — meganEsass
Prepare custom orders in advance.
"My best sellers are personalized items. They have really taken me to the next level in sales. Christmas and Mother's Day surprised me and there was a lot of late nights and stress. This year however I'm beginning my preparations now by doing everything in my work process up to the point of personalization." — BlueLeafBoutique
Learn more about the benefits of Adding More Items to Make More Sales and Prepping for a New Product Line.
3. Market your shop.
Consider seasonal marketing opportunities.
"I do see people sometimes reach a desperate state when sales are slow and money is not coming in. It may lead to them considering dropping money on advertising that might be better served in a busier season. I find that promoting during my busy seasons and acquiring new customers, has led to me having more repeat customers that now keep me afloat during the down times. Thank goodness for my regulars!" — BrokenGhostCouture
Determine whether a sale is right for your business.
"Christmas in July is an amazing opportunity to not only offer your customers a little discount, but to give them a preview of your holiday line. Traffic is historically better during this 10-day period, so why not show them everything you have to offer?" — letterhappy
Discount in a smart way.
"I totally agree that huge discounts in the summer will come back to haunt you. I love Christmas in July, but if you're to offer some incentives, be sure that they're strategic and reasonable given your costs to maintain your inventory." — SmokingHaute
Connect with your community.
"I use social media to connect not to market. I share new items with fans and followers but I don't overdo it."  — ittybittybag
Create a business plan.
"I started with writing my business plan for the next six months. For us, crazy times start in September, so I need a very specific plan on what to do/buy/promote when and where."  — JustineJustine
Check out the Top 10 Marketing Tips From Full-Time Etsy Sellers to read more. If you're crunched for time, there's still hope; learn How to Write a Creative Business Plan In Under an Hour.
4. Search out press and promotional opportunities.
Pitch press outlets and bloggers for holiday coverage, don't wait for them to find you.
"Last June, I pitched an article and sent some work to a publication and will be featured in that magazine's biggest issue release this Halloween, perfect for my shop. I'm hoping to be ready for the promotion!" — loopyboopy
"This is what I'm doing — connecting with blogs. Had one successful feature article and giveaway and have been offered another on a popular mommy blog that will feature in September."  — palomitaragdolls
Get the word out with our Top 5 Tips for Getting Press.
What are your top tips for making the most of seasonal slowdowns?