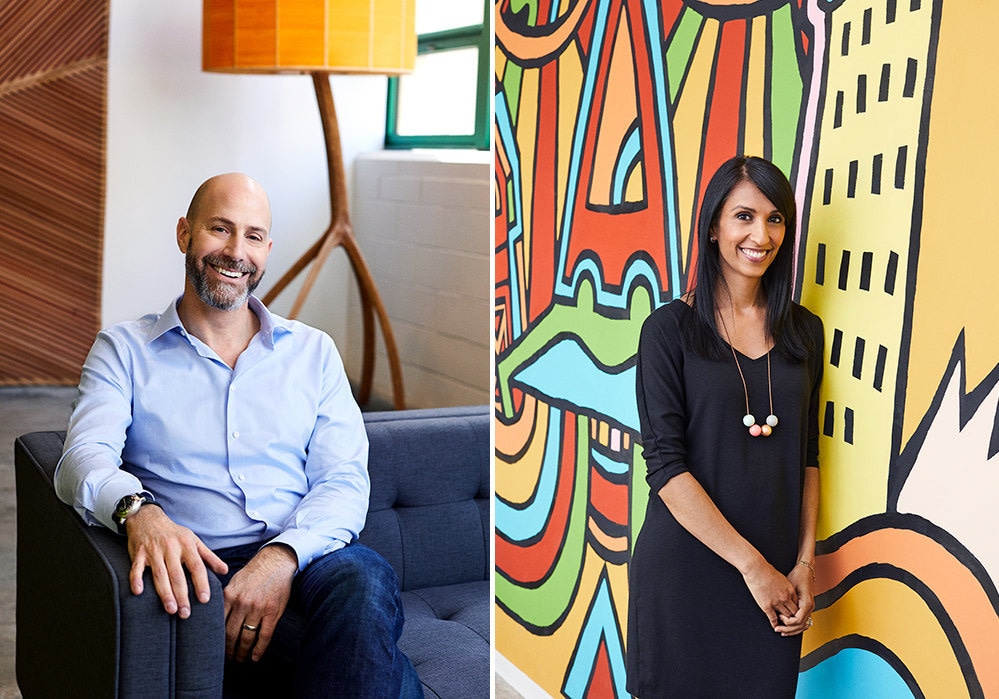 The following is a transcript of a podcast episode released in July 2018. The transcript has been edited slightly for this format. You can listen to the episode on iTunes, SoundCloud, Spotify, or wherever you get your podcasts.
Tess: We announced some big changes last month and we know there's a lot on your mind right now. That's why today our CEO, Josh Silverman, and our General Manager of Seller Services, Kruti Patel Goyal, are going to talk about those announcements and then answer your questions.
Before we get started we have a quick note from our lawyers. This episode contains forward-looking statements, including statements related to our new pricing model, the impact on our business, the businesses of our sellers, our future growth, and the timing and success of our planned investments such as our marketing strategy and product roadmap. Forward looking statements involve risks and uncertainties which are described in more detail in our SEC filings including our first quarter Form 10-Q and our actual results may differ materially.
Josh: Thanks, Tess. Hi, everyone. I'm Josh.
Kruti: Hi, I'm Kruti. Josh, why don't you tell us a little bit about how you came to Etsy.
Josh: I was on the board and was so compelled by the opportunity to become the CEO of Etsy because what I observe is we're living in the sea of sameness. People are buying more and more of the same mass-produced goods from the same few logistics companies and the world wants an antidote to that. And I believe that there is no one better positioned than Etsy to be the antidote to that sea of sameness. And even more importantly, automation is changing the nature of work in powerful ways, which is having a negative impact on millions of families all around the world. But creativity can't be automated, and I think it's an amazing opportunity to take your creative energy and turn it into a business you can run from your living room and sell throughout the world.
Etsy's mission of keeping commerce human is so relevant and so powerful today. That's why it's such a great privilege to have the opportunity to be part of this amazing community. And Kruti, you've been here for years helping to build this community so I'd love to hear a little bit about what brought you here and your journey.
Kruti: Sure! I joined Etsy in 2011. The thing that really brought me here and has kept me here all these years is that Etsy is such an amazing platform for entrepreneurs to start their businesses and grow their businesses, and to be able to access a global market of buyers.
When I first joined I started out running a brand new team at the time called Marketplace Integrity and Trust and Safety. After that I went on to run our international team, and from there I ran our Corporate Development and Business Development team. In that role I got to spend a lot of time thinking about the long-term strategy for our Seller Services business. In the previous five years we had gone from having no Seller Services to having almost half of our business be our Seller Services. About two years ago I took on my current role as the General Manager of our Seller Services team. In this role I manage all of the groups that build and maintain the tools and services that our sellers use and support the community.
Today we wanted to talk a little bit about some of the changes that we made to our fees. Josh, I wanted to ask you if you could tell us a little bit about how we came to make this decision in the first place?
Josh: Absolutely. Etsy has the commitment to being the best value and the easiest place for a creative entrepreneur to start, grow, and build their business and that commitment is deep and lasting. But when we looked at what that means, the best value doesn't always mean the rock-bottom, lowest possible price. And you know that yourselves, as makers, when you're trying to deliver something great and beautiful to your buyers, you're not buying the cheapest possible raw materials and spending the least possible time on them. You want to make something that's really high quality and then price it as affordably as possible to the buyers. And that's how we think about it as well. You deserve world-class services.
There's a set of things which it's our job to provide because it's too hard for each individual seller to provide, like the ability to market you at scale. Each person is a small voice in a big ocean but together we can be a powerful voice and Etsy can help amplify you. Getting a world-class search engine that can look through 50 million items and find the ones that are the most relevant involves things like investing in world-class artificial intelligence and machine learning and getting world-class tools to help you be more effective. We're doing those things.
We've been scrappy and effective at doing those things within the fee structure we have but you deserve more and better. And we think we can do that. We think we can make Etsy by far the best value of any option in the market for creative entrepreneurs and unlock the full potential of our platform together.
Kruti: Right. And we did not take the decision to change our fees lightly. We spent the better part of the last year interviewing and doing research with thousands of sellers across geographies and across categories to understand how to make these changes in a way that felt fair and a way that delivered the most value directly back to sellers. We learned that many of our sellers didn't know the current fee structure which was surprising to a lot of us here. We also learned that what felt most fair was making a change to transaction fees rather than something like listing fees which are fixed. The reason that sellers told us that this felt the most fair is because you're only paying transaction fees when you make a sale. So that's where we focused our fee changes.
The other thing that we learned was that sellers felt like they were willing to pay more to Etsy if they felt like they were getting real value for it. In particular they asked for a greater commitment to growth on Etsy. We know that Etsy is a great place for businesses to get started but many of our sellers were telling us that they wanted more support as they grow. So we also focused our fee changes around that.
Alongside the seller research, we did a lot of buyer research. We wanted to understand what our buyers expectations were, how we could get more buyers to buy on Etsy, and get them to buy more consistently because that's ultimately what drives sales for our sellers. One of the big things that came up is this misalignment in terms of expectations around pricing, especially around shipping pricing. Buyers were telling us that their expectations around shipping prices were set very much by what they're seeing on other online marketplaces and other retailers and those prices are far lower than what they're seeing on Etsy. This is part of what played into our decision in terms of structuring our fee changes so that those fees apply across shipping as well. We'll talk a little bit more about that in the Q&A section because this is a question that has come up a ton in our community forums.
Josh: Right. We did our homework and talked to a bunch of sellers and buyers and there were a few themes that came up. One is that we only win when our sellers win, so we need a fee structure that's really well-aligned with that. And two is that if we're going to be changing our fee structure, it's important that we're investing back into areas that sellers really value and doing it in a way that creates a better buyer experience to drive more sales.
Kruti, what were some of the areas that sellers said they wanted to see us investing more in?
Kruti: There were three key themes that we heard over and over from sellers about what they wanted us to invest in. The first was bringing them more buyers and bringing them more sales. The second was about creating best-in-class seller tools to help them more efficiently manage their businesses and to drive more growth. The last theme was about providing better customer support, both from Etsy to sellers as well as seller-to-seller through our community spaces.
The other theme that we heard a lot about from sellers was that they wanted us to help them take their businesses to the next level. They wanted to see more commitment to their growth as their businesses changed and evolved. We know that Etsy's a great place for sellers to get started but what we were hearing was that they wanted to see more as their businesses changed.
That was the key learning behind us introducing these new subscription packages. We wanted to make it clearer what tools to use at different stages of growth and we also wanted to just make it easier as you grow to know what you should use and when. We're committed to building features that support you at every stage of your creative journey, whether you're running your shop as a hobby or as a full-time business with multiple employees.
Josh: Great. I know one of the things we've heard is, "Why now?" I'll share from my perspective. I believe that Etsy is in the first inning of our potential. There is so much room for us to grow, and as evidence of that I look back at May of 2017 when I joined as CEO. At that time, what we call gross merchandise sales, meaning the sales from all of you sellers, was growing at 11% year-over-year. In the first quarter of 2018, less than one year later, sales are growing at 20% year-over-year. We've almost doubled the rate of growth of your sales. And the best is yet to come, if we make the right investments to be able to unlock the full potential of Etsy.
And when we look at what's holding us back we observe that our fees are a fraction of what many of our competitors charge. And while we love delivering great value, we want to make sure we can invest at a level that allows each of you to achieve your potential. That means investing in marketing to make buyers aware of all of the wonderful times that your products can be relevant to them, and it means investing in the kinds of tools and support that you need. This feels like exactly the right time to be unlocking that growth and taking Etsy to the next level.
Tess: Now let's get into the questions from our community. First up, C.D. from Stash Traders asks, "Why are you charging a fee for shipping?"
Josh: This is something that I know has created a lot of conversation in the community and I want to assure you that this is a decision we thought through very carefully. Let me unpack it a little bit.
It started with our buyer research. What our buyer research says is that what's perceived as the high cost of shipping is one of the biggest things that's holding back the success of our sellers on Etsy. What our buyers say is while they really value the handmade, crafted, or vintage products that are sold on Etsy, they see no reason why they should pay more for shipping on Etsy than anywhere else. And that was a bit of a surprise. There was a belief, certainly among many in the staff and I expect in the community, that people will pay more or they'll recognize that because Etsy is person-to-person that people would understand that and pay more shipping. The buyer research was definitive: They won't.
And when they say they won't pay more for shipping what they mean is they won't pay more on Etsy than they'll pay anywhere else. They don't know the postage service rates and they don't care about what the actual cost of shipping is. They know what they pay everywhere else. So their perception of what is "fair" shipping is determined not by what postal services charge, but by what they see on other e-commerce sites. That was a really important insight. In fact, buyers said that they were 50% less likely to buy an item if they thought that the price of shipping was even a little bit more expensive than they were used to, and they were very unlikely to ever come back. Seeing something that they perceived to be a high cost of shipping was not only hurting the sales of the individual seller, but it was hurting the sales of everyone.
We also asked buyers what they think fair shipping is. First, they said that more than 50% of the time they're not asked to pay anything for shipping. Second, when they are asked to pay for shipping for items of less than $50 in value, they think anything more than $5 is high or expensive.
I want to stop and pause for a second because the other thing that buyers said is that they value Etsy products. They're willing to pay $50 for that beautiful product. But having to pay $10 for shipping felt wrong. In fact, it feels wasteful for them to pay for shipping when everywhere else they don't have to pay. We saw time and time again that if the buyer had to pay $60 for an item and shipping was free, they felt great about it. But if they paid $50 for an item with $10 shipping, they felt bad about it.
Kruti: I think the key takeaway for me there was that buyers come to Etsy because they want something special. They're often willing to pay a premium for the craftsmanship and the quality but they don't feel like there's anything special about the shipping.
Just to be clear, no one's saying that sellers should eat the cost of shipping or that shipping is free. I've heard from a lot of sellers that shipping isn't free, and that someone always pays for it. That's absolutely right. What it comes down to is that shipping prices are a part of your overall pricing strategy and shipping is one of our sellers' cost of goods. It's part of your operating cost structure in the same way that any supplies are and what we're hearing from buyers is that they want to see that cost incorporated differently. They're willing to pay for the cost of quality but not necessarily the cost of shipping.
Josh: Exactly. And so it feels counterintuitive to say we need to get the cost of shipping down, but then add a fee to shipping. I understand how that can feel counterintuitive, but every other marketplace has made the transaction fee cover shipping and the item cost because it creates a level playing field. It causes sellers to think about shipping as just another cost of goods sold, just like the cost of your yarn or buttons or anything you use to make your product, because that's what all of your competitors are doing.
We know that no one has free shipping. There's no postal service on earth that ships products for free. When someone else advertises free shipping what they mean is that they've included the cost of shipping in with their cost of goods sold. And we needed a fee structure that makes that a level playing field. When we were charging a fee on the item cost and not charging a fee on shipping, it created an incentive for people to charge less for the item and more for shipping, which is exactly the opposite of what we wanted to do.
So Kruti, we have a role in this too. What can we do to help sellers get more affordable shipping prices and make shipping more transparent for the buyers?
Kruti: There are a few things that we're doing and that we're going to be investing more in. So first, to help our sellers to ship efficiently we provide a tool called Etsy Shipping Labels, where we negotiate rates directly with carriers. We work specifically with USPS and Canada Post right now, but we're expanding those partnerships this year to other markets. Through this, we're able to pass on better rates to our sellers than any of our sellers could get individually.
A second thing is that we want to make sure that we're supporting our sellers to help them price as effectively as possible. Recently we pulled together a team of support representatives who are specifically trained on how to think about pricing and they're here to help sellers think through what their pricing options are, particularly in light of the new fee structure. Through our contact page you can set up a call with one of our support representatives and talk to them about your specific pricing. This is really important because we hear from our sellers all the time that there's no one-size-fits-all solution and we know that that's true. It really depends on what you sell, how heavy your items are, where you're shipping to, and so we want to make sure that we're providing personalized support to help you think through pricing.
Tess: The next question is from Vintage Beach. They ask, "Can you confirm that buying into the new levels will not impact placement in Etsy search?"
Kruti: Yes, we can definitely confirm that the new subscription packages won't have any impact on placement in Etsy search, and that they won't influence search results in any way. It's important that search results reflect the most relevant results for buyers, so that's what we're focused on investing in in our search algorithms. We've been investing a lot in improving search over the last year and a half. We know there's still a lot of work to do but we want to make sure that everybody knows that won't be affected at all by what you choose to subscribe to. The subscription packages are a way for sellers to adopt the tools that they need to help them grow at different stages and that's all.
Josh: Search is so important because for the tens of millions of buyers who show up with different needs and different desires, showing them the exact right set of products for their state of mind is critical. And there have been step function improvements in technology in the past few years that allow us to do this much better. And what that means is depending on everything we know about the buyer—where they've come from, what time of year it is, who they're shopping for, what keywords they search for—we can show them a customized set of search results that will most likely be something they're going to like and they're going to buy.
That's what serves our sellers best. It means that for sellers it's no longer the case that you can type in a query and know exactly what your ranking is going to be every single time you type it in because it depends on several factors. But that's what's going to serve our sellers best on average because it's really about delivering exactly the right set of products to each buyer in each occasion and we're making great progress in that. And that is part of what's been driving this reacceleration of growth over the past year.
Tess: Kathi from Mixie & Moxie asks, "What marketing plans do you have other than ads on the TV show, Making It?"
Josh: We invested $78 million last year in marketing and we've committed to spending at least a $110 million in marketing this year, so that's 40% more. One of the strengths we have is that there are tens of millions of people out there who've already shopped on Etsy who know what Etsy is and they really like Etsy. In particular they like that very human interaction they had with the seller when they bought something on Etsy. It's things like the handwritten note that make all the difference. But what we hear from those buyers is that they don't know when to think about Etsy and they're not reminded. We've got to catch them in the moment.
We've found that the most powerful place to do that is on Google because Google is where many people start their search when they know they want to buy something. It's a great place to remind them that Etsy is a relevant option. We've seen that be very effective and so we're scaling really well there. But we're testing in other channels as well. We're testing in other online channels and I know that we did a recent podcast that goes deep on a lot of the online marketing that we're doing with our Affiliates and Paid Search.
We're also testing in offline channels, like subway and television ads, to see what's going to be the most effective. Ultimately we want to make sure that we put every dollar to work as hard as we can on your behalf, on the behalf of all of the sellers. We're very thoughtful and rigorous about making sure that when we invest we do it in a way that drives your success.
I also want to take a second to talk about our international markets. International is such a great strength that we have one global marketplace. It makes the marketplace better for all of the buyers and all of the sellers, and so our marketing efforts tend to be global. In particular, all of these digital marketing efforts we do are global on day one. So the Google keyword buys that we do, for example, we do in many different languages all around the world. We also have seller teams in several of our key international markets that we support with our own staff that are local, on-the-ground in markets in Canada and in many markets in Europe.
Tess: Sheila from An Extra Blessing says, "Will these fees help the small shops at all?"
Kruti: We've heard this from many different kinds of sellers actually, who want to get a better understanding of how will these fee changes help them given their specific situation. First and most importantly, we know Etsy is not a one-size-fits-all platform. Sellers are on Etsy for all different reasons. Some are working part-time for extra income. Some have a goal of quitting their day job. Sellers have different needs. Our goal is to offer tools that meet their needs at different stages of growth.
Our new transaction fees are going to help us do this through delivering the most value to all of our sellers and that's why there's such a big focus on the three areas that we talked about earlier. First, bringing you more buyers through more marketing. Second, building better tools so, as you grow your business, you're spending more of your time where you can be most effective. And finally, delivering value in the area of customer support and community tools. These are all investments that we think are going to help all sellers because they help the entire marketplace.
Josh: Our goal is to help all sellers whatever their motivation, and to help them get as big as they want to be. And from all different backgrounds, people who make products, vintage sellers, people who are based in the US, Europe, and other markets all around the world.
Kruti: And if you opt for Etsy Standard instead of one of the new paid subscription packages, you'll still have access to the same features that you have now through Etsy. You can pay for tools a la carte like Promoted Listings, Google Shopping Ads, Shipping Labels, and Pattern without subscribing to a feature bundle. We want to make sure that Etsy continues to be accessible for all sellers and useful for you at whatever stage of growth that you're at.
Tess: Katarina from Pure Copper Creations says, "Could you explain the advantages of the monthly packages you'll be offering?"
Josh: Sure. One of the things we heard from our sellers is that they'd like a clear path to growth and we spent a lot of time talking to sellers about how their life cycle tends to develop. For many people, they make things, they love what they make, and their friends tell them, "You should sell that because it's amazing and people would buy that." So they give it a try on Etsy and, lo and behold, they find that they are making sales and people do love their product. It starts to move from being a hobby to being something more than that. And when it starts to become something meaningfully more than that there tend to be two things that they start to ask us for. One, they want to control their brand in a more intentional way, and two, they want to be investing behind that brand.
On that first piece, that's where Etsy Plus is designed. Etsy Plus has a set of features that allows you to build and control your brand more and to invest in it. It allows you to do things like own a custom domain and then do more to personalize the look and feel of your shop and the packaging in which your products arrive. It also provides credits for Promoted Listings so you can invest in the growth in your business.
Kruti: Before you move on, I want to just talk about a couple of the features that I think are really critical to being able to show off your brand on Etsy. One of these features is shop home customization. That's going to help you to catch the eye of potential customers when they come to Etsy because they allow you to show your featured listings and featured sections differently and in a more prominent way. Etsy Plus also includes new banner templates, because we heard that sellers want to be able to include interactive carousels that let their buyers browse multiple items.
Another feature we're going to offer as part of Etsy Plus is back in stock notifications. That allows shoppers to visit sold-out listings to let you know when they're interested in buying them and get notified when that item is back in stock.
Josh: Great call. And the next stage then that the sellers tend to achieve is now they've got a thriving business and they have multiple employees. With multiple employees things get more complex and there's a set of advanced business management tools that they're seeking. That's the idea behind Etsy Premium, which we intend to launch in 2019: To have a more robust set of tools that allows businesses that are scaling at that level to continue to thrive.
Tess: C.A. from Lewis Design Co says, "What is the long-term strategic goal or move for Etsy?"
Kruti: Our vision is to offer the best value for turning a creative passion into a viable business. We've talked about these areas that we're focusing on investing in, but when I think about it from a Seller Services standpoint, Etsy has always been a really great place to start a creative business. All you need is inspiration and $0.20 to get started. What we want to do over the long-term is make sure that it's a great place to continue to grow your business as it evolves and continue to manage your business once it's scaled. That's the long-term vision that these changes really represent.
Josh: And Etsy has something so unique and so special: A marketplace that has tens of millions of buyers who come because they value products that are unique and special and handmade. And it's got about two million sellers who are passionate about bringing their creative energy and their wonderful products to the world. And it's so hard to get something like Etsy where you've got a lot of wonderful makers and a lot of wonderful buyers meeting. We have that. And it's a privilege to grow that.
There are plenty of places out there that will allow you to go and become a business person and do a lot of work to try to find buyers. Most of our sellers say they want to spend their time and energy making great products and connecting with buyers and let us do the work of bringing them buyers and bringing them tools to be more effective and more efficient. We're really excited about the potential to continue to grow this thriving community in the years to come.
Learn more about the updates discussed in this episode in our announcement. To request a call for help with pricing, go to our contact page and select Selling on Etsy > Payments and Billing > Understanding my Bill and Fees, and request a phone call. Member Support calls will be available only in English.